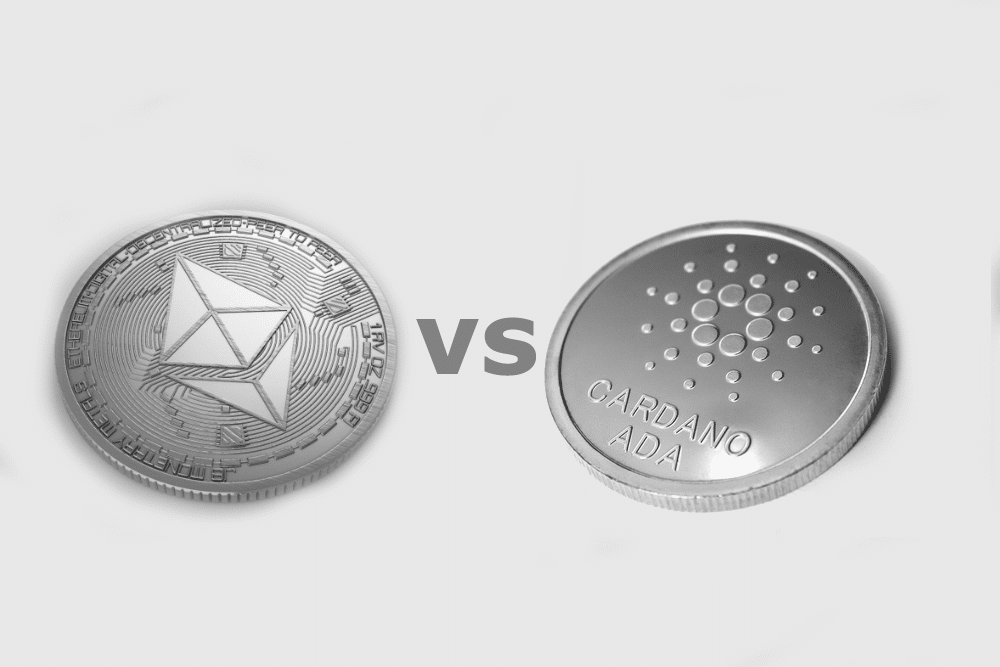 After Bitcoin, Ethereum has consistently been the second-most followed and used cryptocurrency. It is perhaps the most important considering the impressive number of altcoins and applications leveraging Ethereum's infrastructure.
CARDANO
ETHEREUM
Original author/s
Charles Hoskinson
Vitalik Buterin, Gavin Wood
Organization
IOHK
Ethereum Foundation
Date released
27 September 2017
30 July 2015
Price (as of 17/06/2021)
$ 1.58
$ 2592
Ticker symbol
ADA
ETH
Consensus mechanism
Proof-of-stake
Proof-of-work
Block generation time
+/-7 20 seconds
+/- 7 seconds
Halving
No
No
Supply limit
45 billion
N/A
Ever since the inception of Ethereum, several smart contracts and dApp (decentralized application) blockchains have come into the market, all with ambitious goals, some of which include overtaking Ethereum's dominance.
One of these projects is Cardano, a project several analysts describe as an alternative to Ethereum and a so-called third-generation blockchain.
While ETH, Ethereum's native token, has always been a valuable coin, Cardano's ADA has performed astonishingly in 2021, gaining significant mainstream attention and comparisons with Ethereum.
Are there any similarities between Ethereum and Cardano, and why do some consider Cardano as the 'Ethereum killer?' Let's find out.
What is Cardano?
Cardano was always destined for great things with a name inspired by a 1500s Renaissance Italian polymath. Many might not know Cardano and Ethereum have a shared history as the former's founder, Charles Hoskinson, was also the latter's co-founder.


So, what is Cardano? In many respects, Cardano plans to be very much like Ethereum, a blockchain supporting smart contract dApps creation. However, it technically has not fully-fledged these features as yet, making it somewhat of a work in progress.
So, currently, it only acts as a peer-to-peer cryptocurrency known as ADA on its platform. One of the big distinctions is that Cardano utilizes a proof-of-stake consensus mechanism compared to Ethereum's proof-of-work or mining.
Cardano was one of the first to implement proof-of-stake successfully and is the largest in this niche. Proof-of-stake differs from computer mining in that the blockchain automatically verifies transactions and secures the network based on the ADA stake or holdings of users.
As a result, this system is more expansible, cheaper, and environmentally sustainable. With two more planned evolution stages in the future roadmap, Cardano plans to further disrupt the education, retail, agriculture, government, finance, and health care sectors.
Cardano has been a hot topic over the last year. From an all-time low of $0.01 in March 2020, Cardano peaked at $2.45 in May 2021.
What is Ethereum?
Ethereum is the most actively utilized blockchain used for smart contracts and building a plethora of decentralized applications like exchanges, wallets, non-fungible tokens, lending protocols, etc.


Ether or ETH is the cryptocurrency on the network used to pay developers 'gas fees' for confirming transactions. Describing itself as the 'world's programmable blockchain,' Ethereum is one of the most innovative and influential projects in the space.
While Ethereum has eight cited co-founders, Vitalik Buterin is the 'frontman' and is said to have originated the concept. Gavin Wood, another co-founder, is credited with contributing to much of the programming.
Ethereum dominates close to 20% of the entire crypto market cap. At least 800 coins, including Chainlink, USD Coin, Uniswap, Wrapped Bitcoin, and Aave, are deployed on Ethereum's platform. In May 2021, Ethereum reached an all-time high of $4356.
Ethereum is currently going through a long-anticipated upgrade dubbed 'Ethereum 2.0' to address congestion issues by moving towards proof-of-stake. This advancement also aims to introduce sharding, a dividing mechanism to split the network into 'shards' which will drastically lower slowness.
Pros and cons of Cardano
Pros:
Most crypto experts consider Cardano a third-generation blockchain, posing more scalability than Ethereum and more decentralization than Bitcoin.
Because Cardano has been utilizing a proof-of-stake consensus mechanism, it is far more scalable than Ethereum, resulting in quicker transaction confirmation and lower fees.
Furthermore, as PoS doesn't require electricity, it is considered more ecologically friendly than coins using mining. It is for these motivations the Ethereum Foundation is considering proof-of-stake as well.
Cardano has a fixed supply of 45 billion ADA, making it a deflationary coin. Through the basic law of supply and demand, Cardano is likely to become more valuable over time.
Cons:
Cardano has technically not fully developed, unlike its counterpart. The project will still go through the planned stages. Although this does indicate even more potential, the use cases of Cardano aren't as clear currently compared to Ethereum and others that have been complete for several years.
Pros and cons of Ethereum
Pros:
Ethereum is far more developed and has a first-mover advantage in the ambitions that Cardano hopes to achieve. As already mentioned, a substantial number of existing projects are already leveraging some part of Ethereum's blockchain.
Ethereum is far more decentralized than many other cryptocurrencies.
Ethereum has already proven multiple use cases in a variety of sectors.
Cons:
Aside from being more expensive from an investing perspective, Ethereum has been plagued by high gas fees due to the overwhelming number of transaction requests for some time. It is for this reason why Ethereum 2.0 has long been proposed to solve these challenges.
Another detraction is Ethereum uses of proof-of-work or essentially mining, which requires heavy usage of electricity deemed environmentally unfriendly.
Most crypto experts consider Ethereum a second-generation blockchain.
ETH is an inflationary coin, meaning there is no capped supply. Some analysts believe this attribute to be a slight drawback when assessing potential future value.
Final word
Many projects have come to the forefront with ambitions of being the ultimate blockchain, with Cardano and Ethereum being contenders. In summary, let's look at some of the pros and cons of both Cardano and Ethereum.