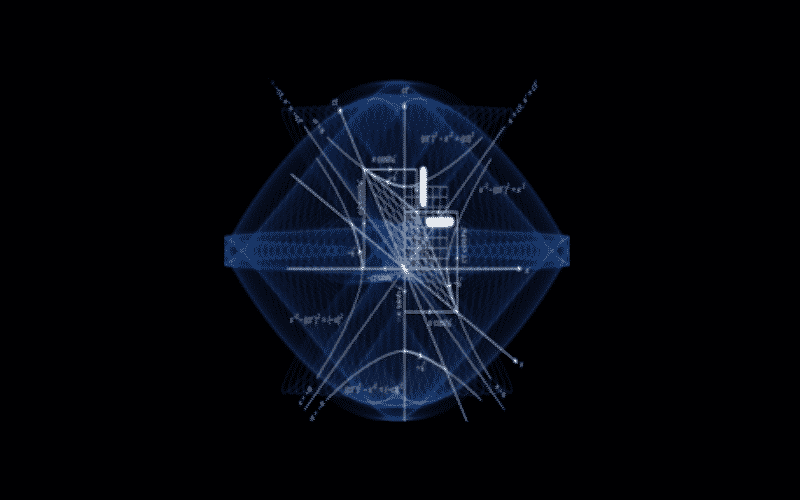 GerFX Density Scalper is a trading solution that was released on MQL5. The advisor has average success on the site. The system looks overpriced.
Is investing in GerFX a good decision?
We aren't sure. The robot costs five times more than it should be and we have no refund policy supported.
Company profile


Paul Exler is a developer from Germany who runs Exler Consulting GmbH. He has a 4538 rate and five years of MQL5 experience. Paul has eleven products and nineteen signals in his portfolio.
Main features
We have some details and other parameters explained:
The advisor was designed to work with our accounts automatically.
Wr can rely on the customizing files.
The only time frame is H1.
But we can work with M5 either.
The presentation has a claim that our balance is at risk and we have to be ready to lose if something goes wrong.
The system works with SL placing on every open order.
"Night scalpers are dependent on good brokerage conditions, like low spread and slippage, which might be worse on large lot sizes."
Trading is allowed on MT4 and MT5 terminals.
The devs say that the robot is similar to QuantFlow Scalper but optimized in a few ways to reduce slippage.
We can customize various parameters.
The system doesn't work with such risky strategies like Grid and Martingale.
We can open orders on: EURUSD, GBPUSD, EURCHF, USDCHF, USDCAD, EURCAD, EURAUD, AUDUSD, AUDNZD, AUDCAD, CHFJPY, (experimental: USDJPY, EURJPY, EURGBP, EURNZD, GBPAUD, NZDUSD, NZDCAD).
We can enjoy the instructions provided in the blog.
"If GMT auto settings are used, the EA will automatically try to detect the GMT offset."
We have to work with it on a VPS service only.
We should use data about upcoming news.
It has to be tested with real spreads.
We have to avoid trading during high impact news.


There's a list of parameters provided.
The system has to be set on trading during the right hours.
Price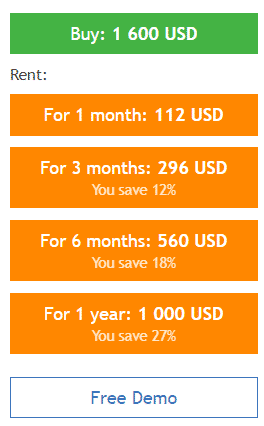 The price decreased from $2000 to $1600 for a copy. This offer is insanely overpriced. This system can't cost that much. We have many rental options on the board: for a month for $140, for three-month for $370, for half a year for $700, and $1250 annually. A demo copy of the system is provided.
Trading results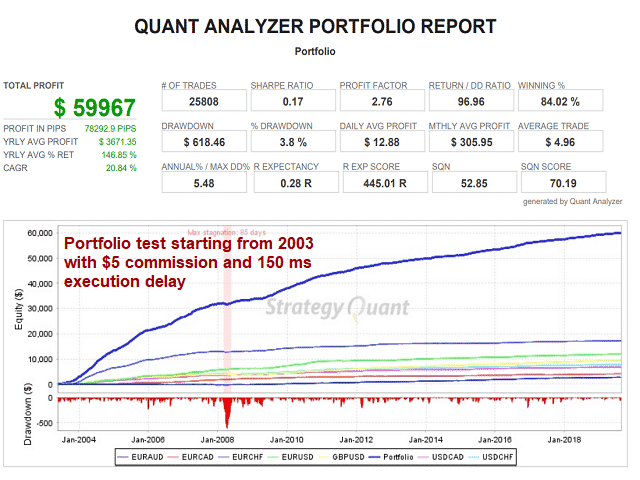 There's an ultimate report that was received on StrategyQuant functionality. The profit factor was 2.76. We have an average win rate at 84.02%. The maximum drawdown was pretty low – 3.8%. The total profit has amounted to $59,967 or 76,292 pips.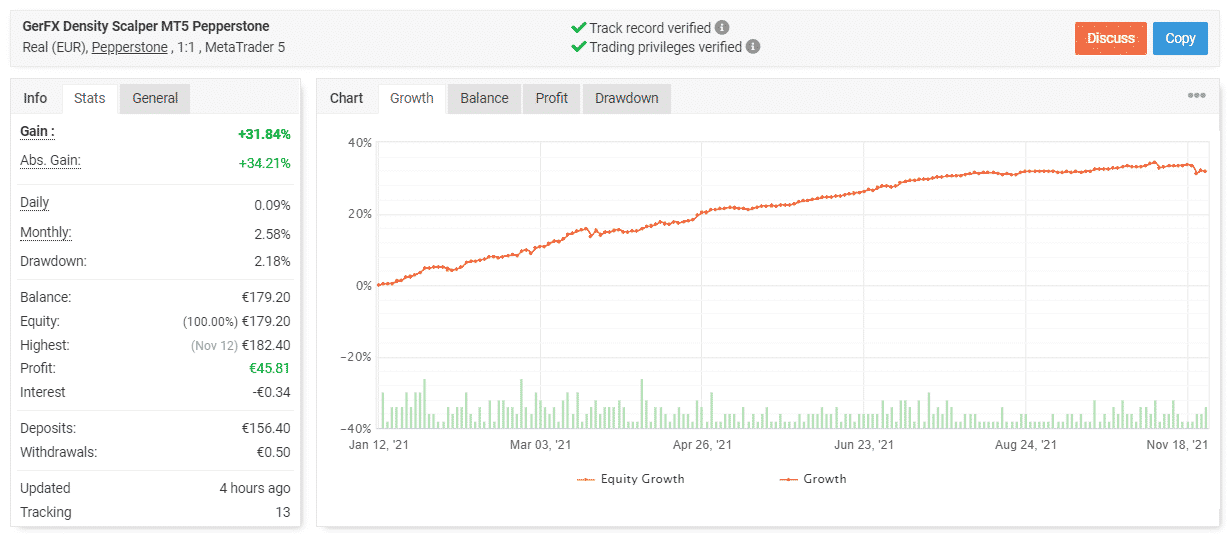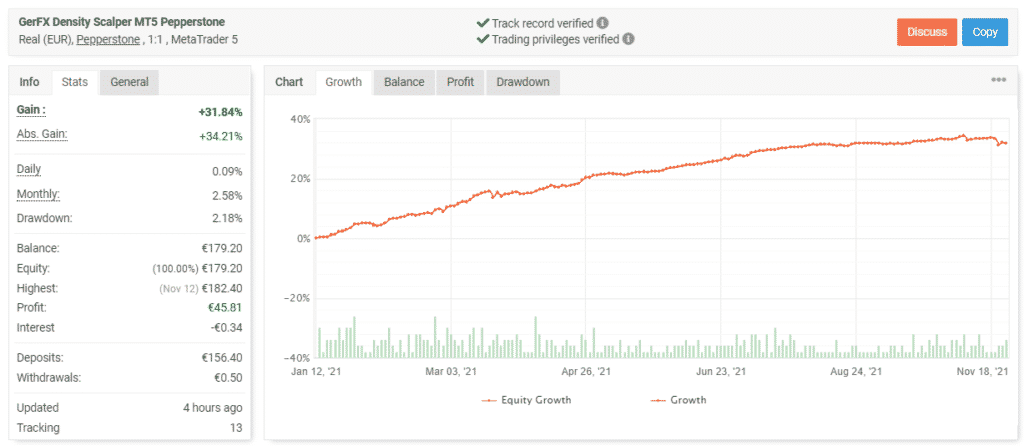 The system works on a real EUR account with weird leverage of 1:1. The broker is MT5 Pepperstone. It's a good one. The account has a verified track record, so the data should be trustworthy. It was created on January 12, 2021, deposited at €156.40, and withdrawn at €0.50. Since then, the absolute gain has become 31.84%. An average monthly gain is 2.58%. The maximum drawdown was 2.18%.


It has closed 419 deals with 934.7 pips. An average win is 3.91 pips when an average loss is -3.89 pips. The accuracy for longs is 80% while for shorts, it's 76%. An average trade length is 44 minutes. The profit factor is 2.43.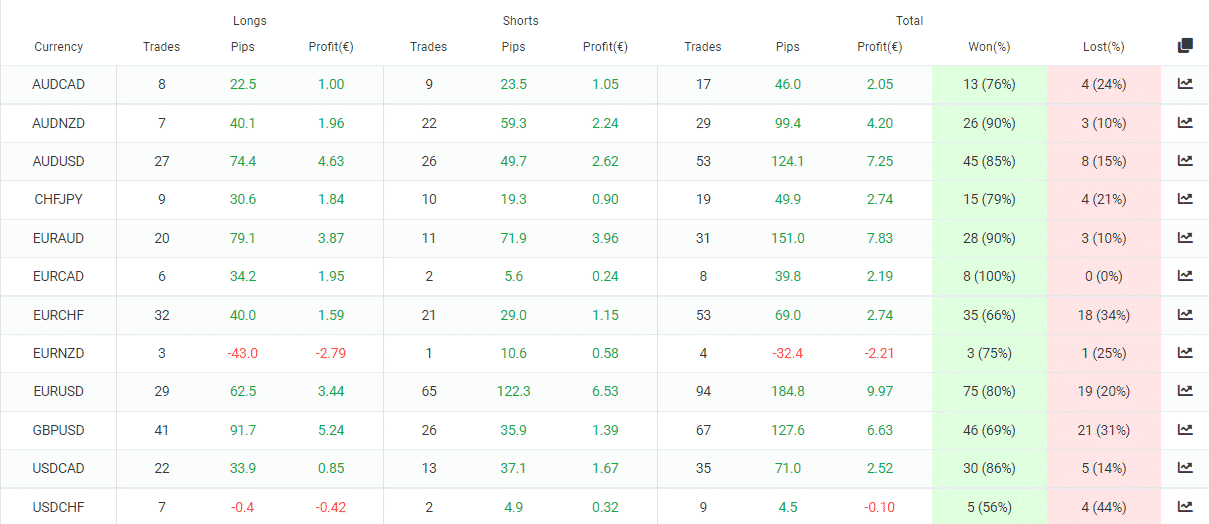 We may note that the system works with various cross pairs. EURUSD is ahead in trading with 94 deals and €9.97.


The system focuses on scalping during the night session when the market is calm.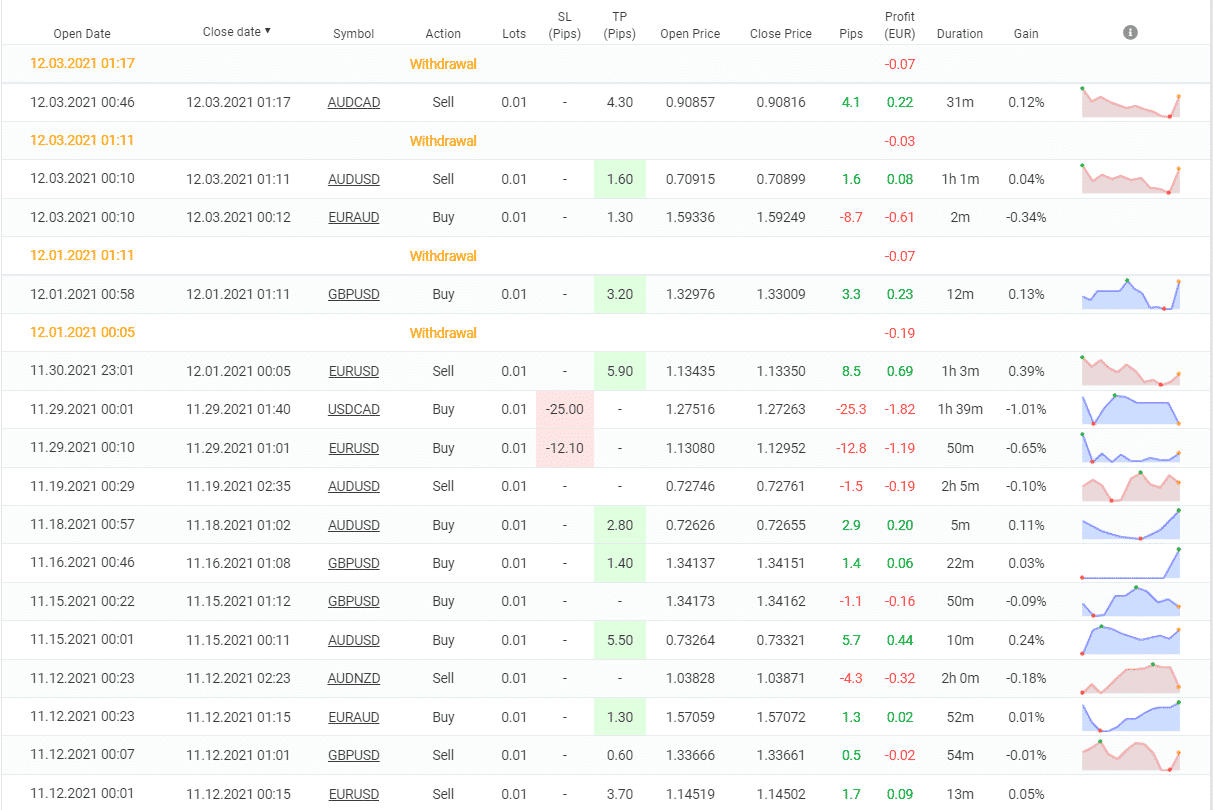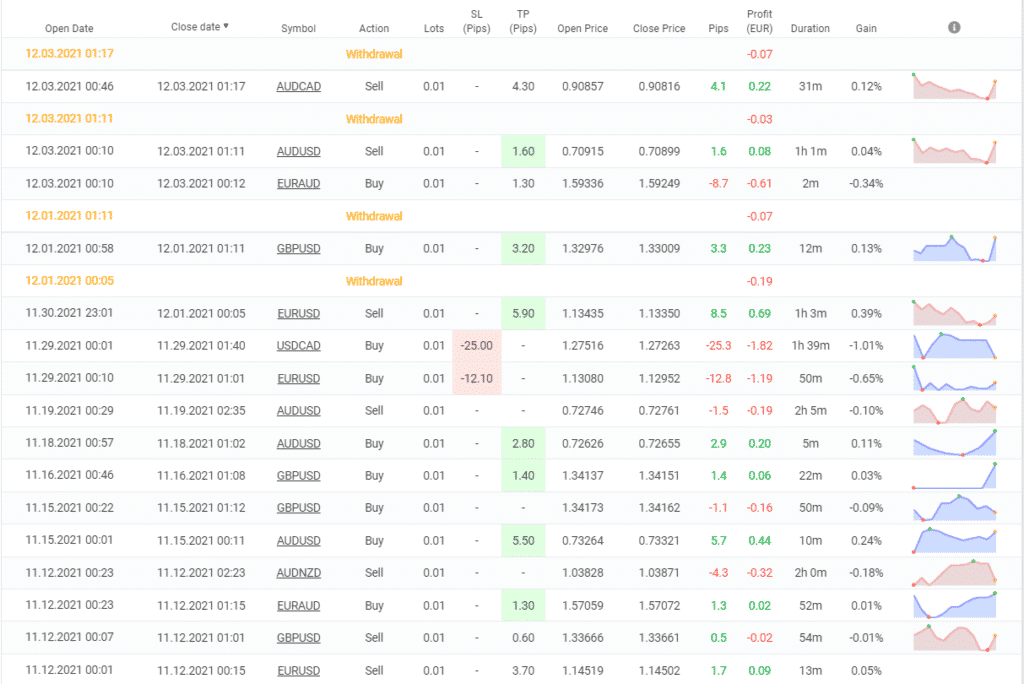 The system has deep SL levels compared with average profits.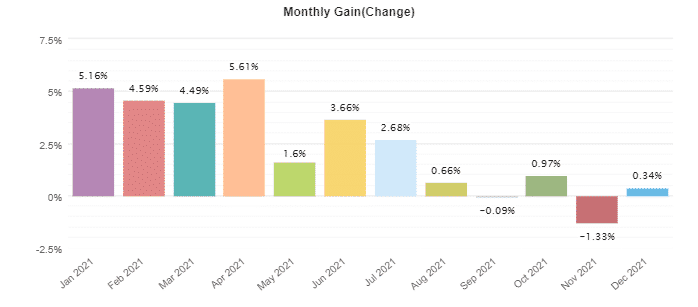 It's easy to see how low profitability has been since August 2021.
People feedback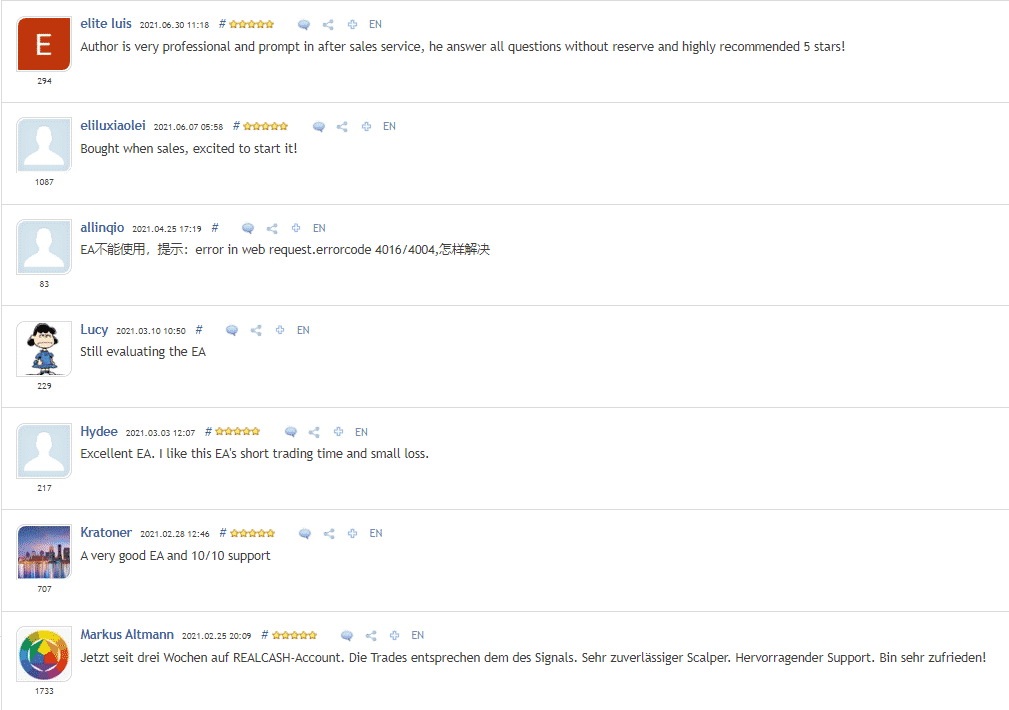 Customer reviews are mostly positive but it's hard to trust them.
Summing up
GerFX Density Scalper is a scalper that focuses on opening orders when the market calms down. As for that type of robot, the profitability should be much better. So, the system can't cost that much and it should be updated.