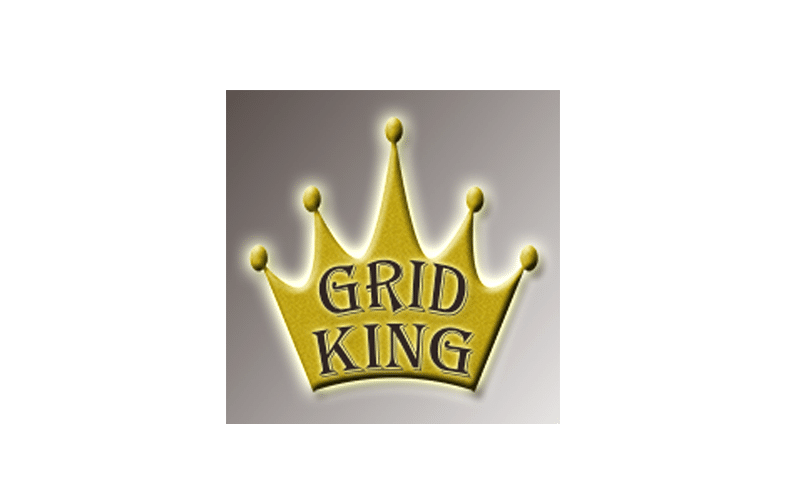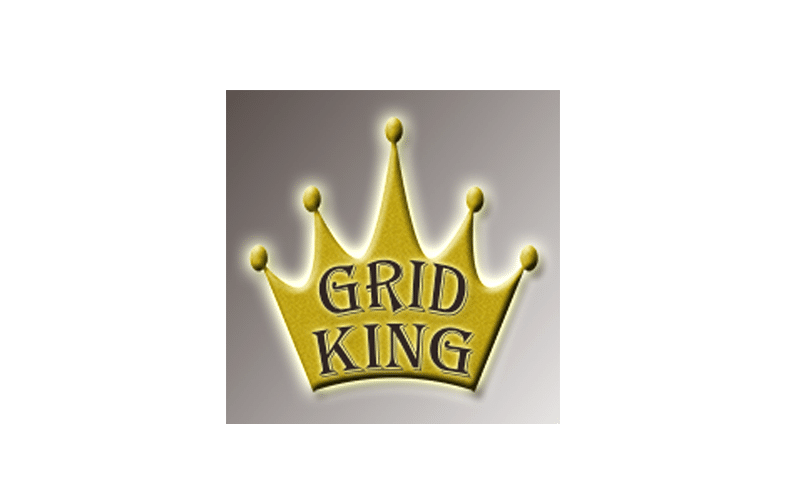 Grid King is a Forex robot for the Metatrader 5 trading platform. The vendor selling this EA claims that it is a revolution in grid trading. We are naturally wary of robots using the grid strategy, which is generally considered risky by the majority of Forex traders.
Is investing in Grid King a good decision?
To gauge the reliability of an automated trading system, we need to look into different factors like price, vendor transparency, features, live trading performance, and customer reviews. We have considered all these aspects while conducting our review. As per our understanding, the vendor is trying to hide the true performance of the robot, which they are selling at a high price. Thus, we don't think it is trustworthy.
Company profile
On the MQL5 website, where the robot is sold, the vendor has described in brief what the system is about and how it functions. We have broker recommendations and links to five different trading accounts on MQL5. There is a list of EA characteristics as well as recommendations for setting it up. Finally, there are some screenshots of backtests conducted on different currency pairs.
The vendor sells the robot on MQL5 under the name Profalgo Limited. This company is registered in Malta and is headed by Wim Schrynemakers. However, we don't know anything about this person's background or credentials, except for the fact that they have been developing robots since 2005. Other systems built by this developer include The Reaper EA, Advanced Scalper, Red Hawk EA, Gecko, Momentum EA, Swing Trade Pro, Night Owl, and GBPJPY Price Action.
Main features
While trading with this robot, you can get started with $1000. It is compatible with all the major and minor currency pairs and is not sensitive to commission or spread. The vendor recommends running it on H1 charts using leverage of 1:300 or more. Currently, it only works with non-FIFO brokers.
There are four different modes for Grid King, namely Conservative, Very Conservative, Aggressive, and Very Aggressive. The vendor mentions that it uses a Spread Equalizer Algorithm, but fails to explain how this algorithm works.
Grid King opens a grid of orders above or below the current market price at ascending or descending levels. It is an advanced technique that many novice traders would not find suitable. This trading scheme can lead to large losses, especially when the market turns volatile.
Price
You can buy Grid King for a one-time price of $390. The vendor claims that there is only a single copy of this EA available at this price, after which it will be raised to $790. This is too expensive for a grid robot, and the fact that there is no money-back guarantee makes it a risky investment. There are three rent options for this EA for 3-month, 6-month, and 1-year periods and these cost $199, $249, and $299, respectively.
Trading results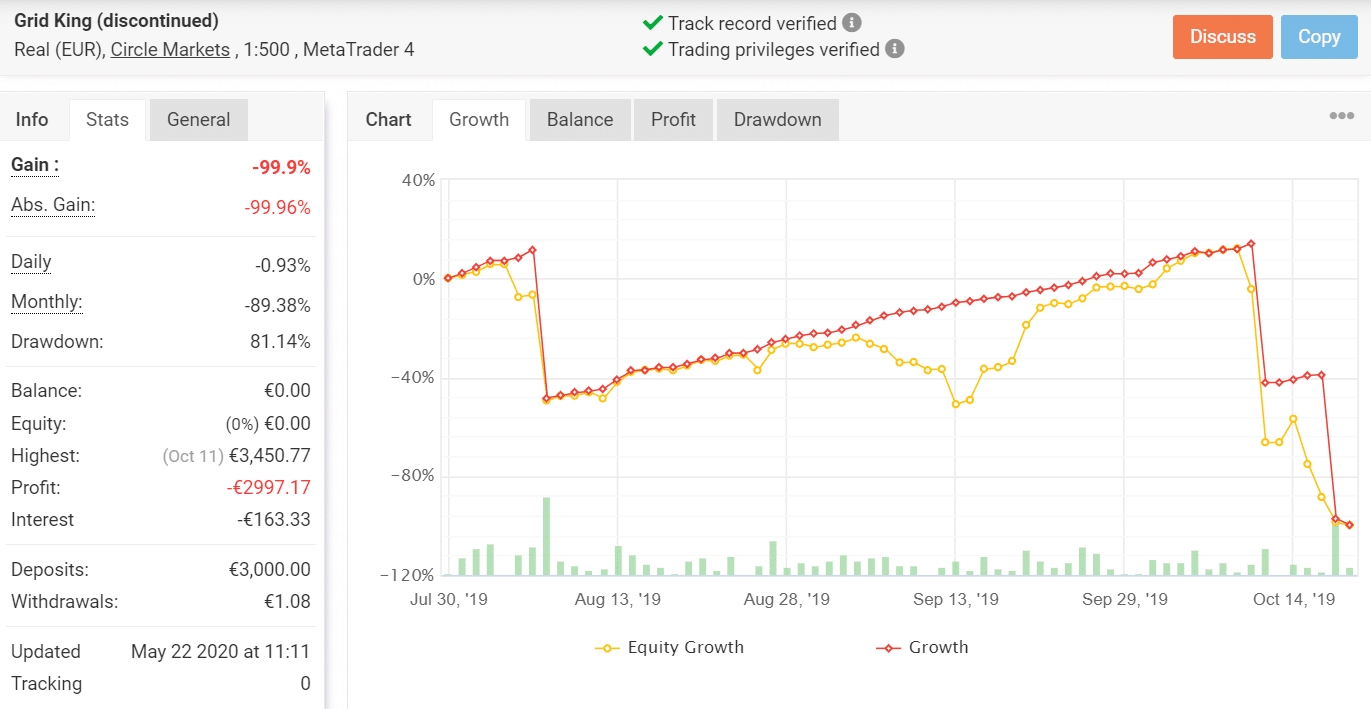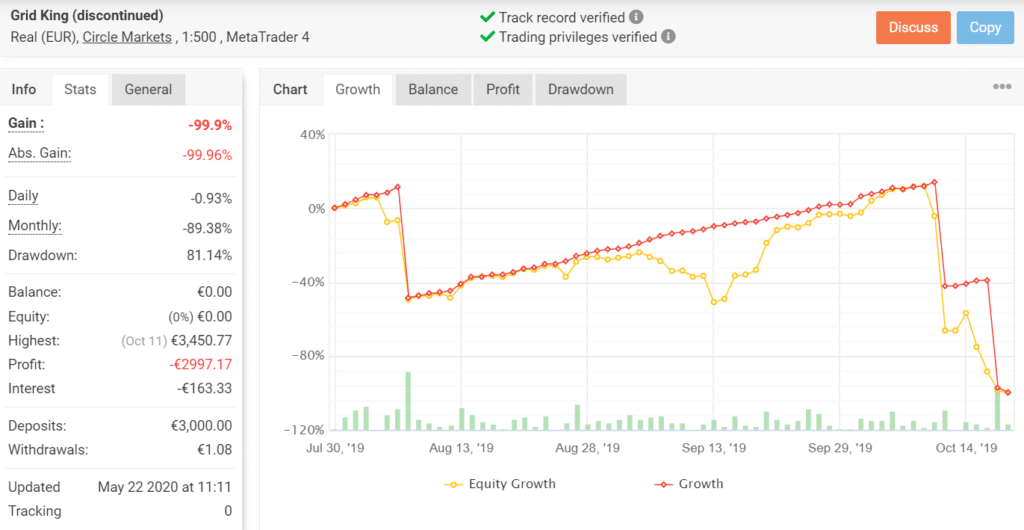 Although the vendor has not shared the verified trading results for this system, we managed to find a trading account on Myfxbook after doing some digging. The trading results have been discontinued since May 22, 2020, and we can see why. The EA has suffered huge losses during its live trading stint and has exhibited high drawdowns, so clearly, the vendor does not wish to reveal the results.
It has placed 1202 trades through this account, winning 63% of them. Despite winning most of its trades, it has not managed to generate any net profit, rather suffering a total loss of 2997.17 Euros.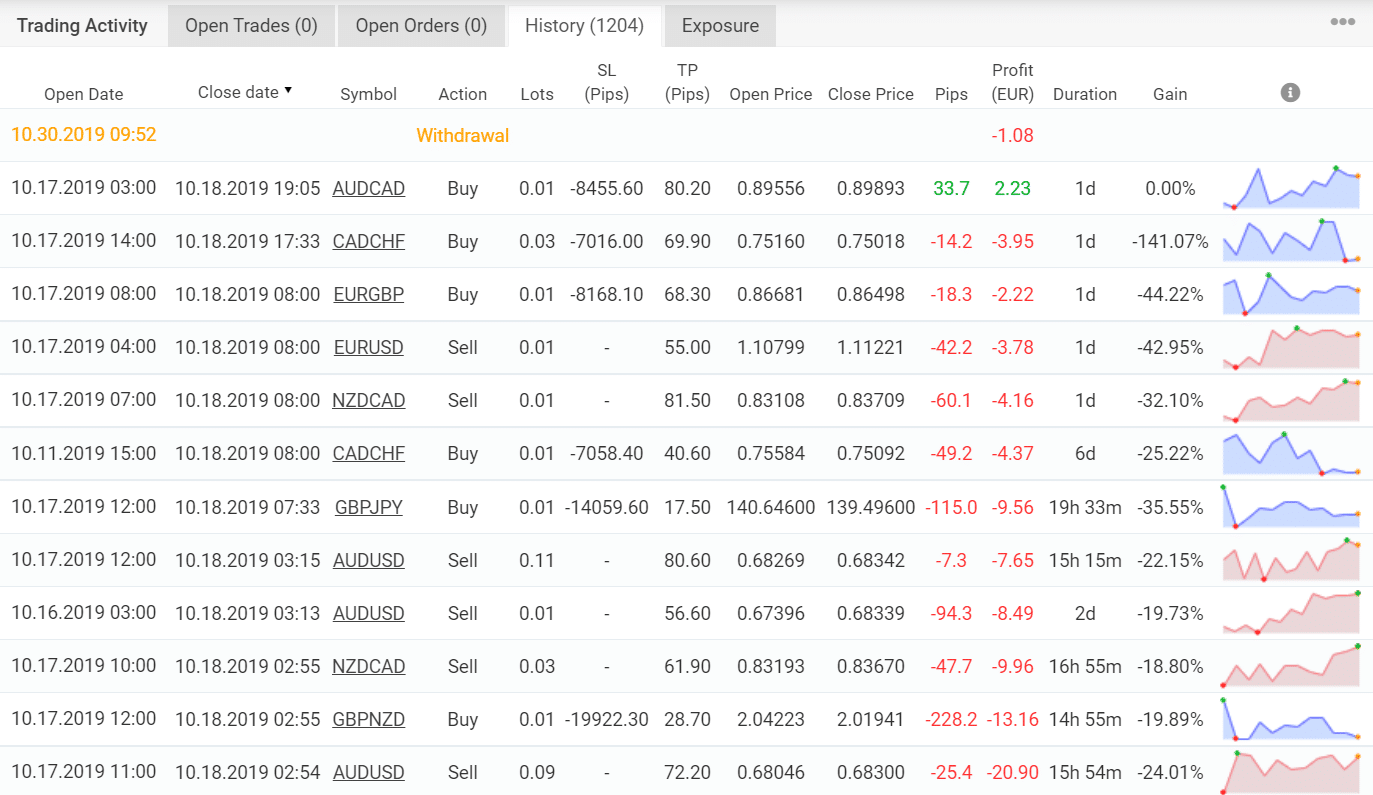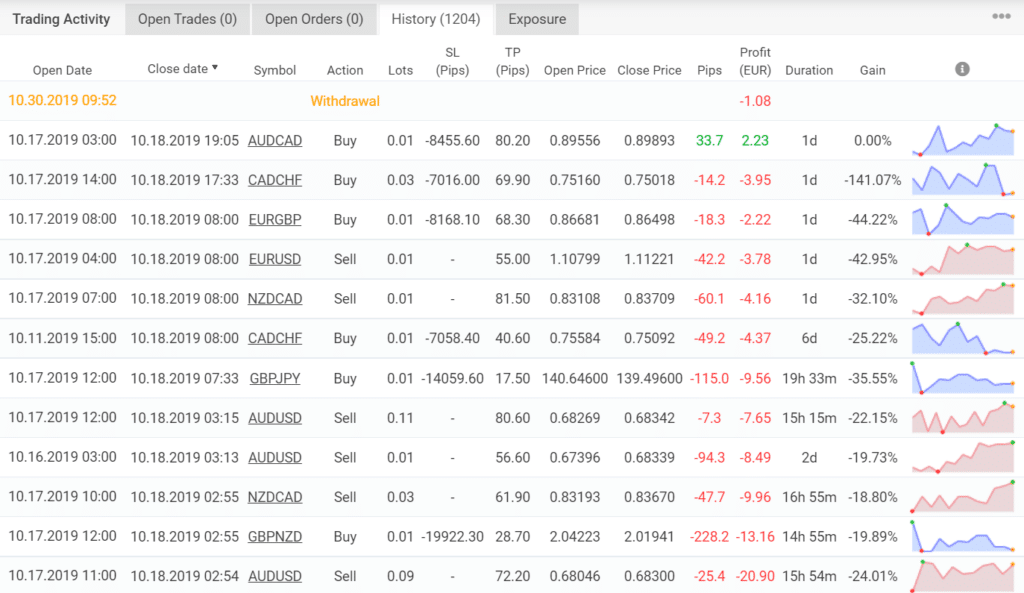 From the trading history, we can see how dismal the performance of the EA is. There is no way we can trust a system that loses so many trades and has a drawdown of 81.14%.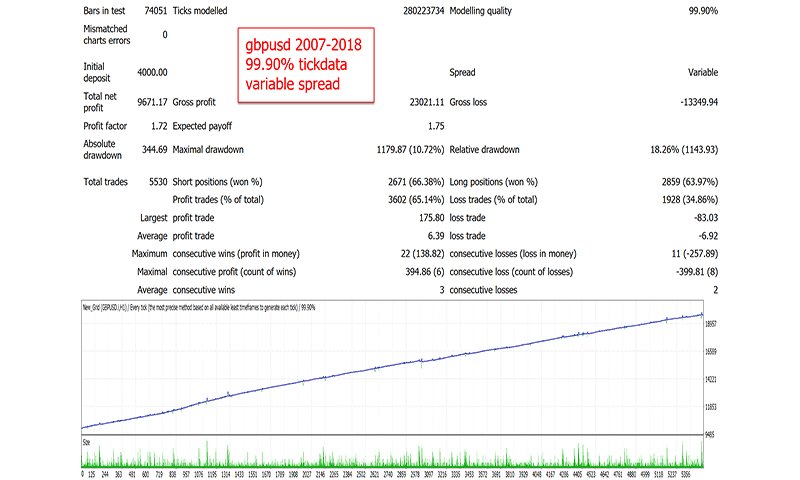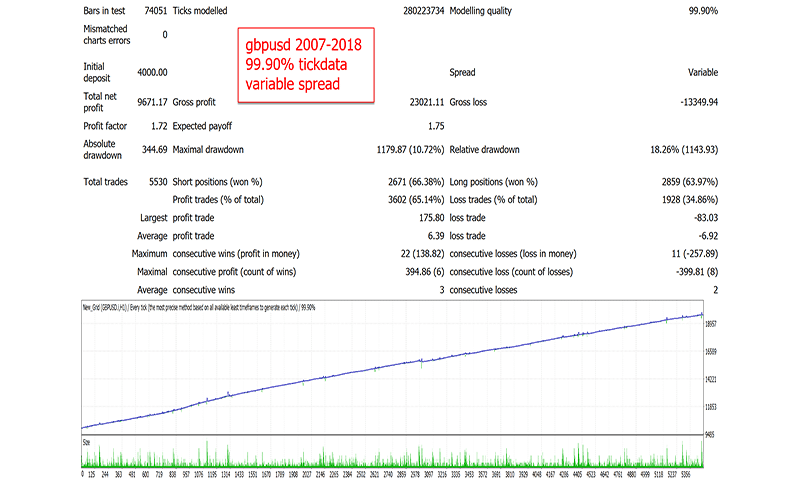 The win rate for the backtest is slightly higher at 66.38%. It was carried out from 2007 to 2018, during which the EA managed to make a total profit of $9671.17. The relative drawdown of 18.26% is significantly less than what we saw in the live statistics.
Customer reviews


We couldn't find any authentic user reviews for Grid King on websites like Trustpilot, Myfxbook, Quora, and Forexpeacearmy. The reviews on MQL5 could have been manufactured by the vendor and hence cannot be trusted.
Summing up
Grid King is an overpriced EA for which lacks a refund policy. Its live trading results have been discontinued and it seems that it does not have much of a reputation among Forex traders. Therefore, we don't think you should invest in this robot.