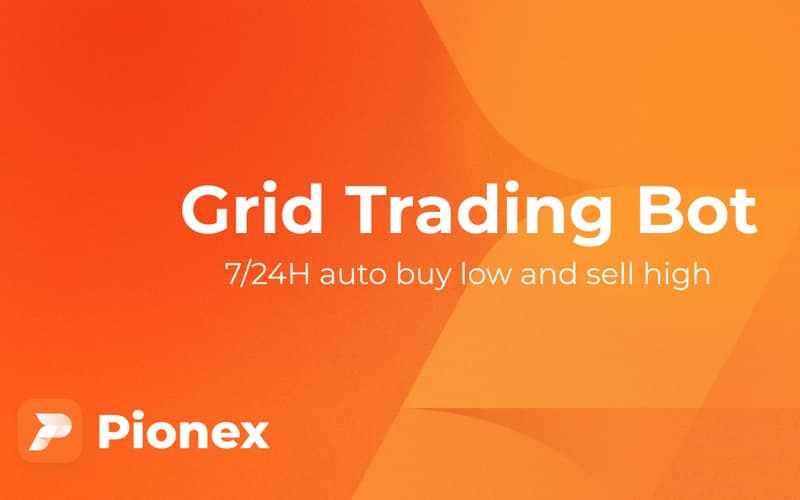 GRID Trading Bot is a program that allows users to automatically buy low and sell high and earn money in the crypto market as a result. By getting rid of emotions, the bot also allows you to make sound trading decisions. The vendor behind this tool is Pionex, a reputed crypto exchange platform that has been around for a few years now.
Quick summary
The system comes with a few features, which are listed below:
It trades automatically.
The bot works with grids of orders.
It has customizable parameters to help traders configure the strategy according to their needs.
The system supports a single exchange.
Iy includes an optional stop order and take profit order.
GRID Trading Bot: pros and cons
| | |
| --- | --- |
| Pros | Cons |
| Free | The grid strategy used can be risky |
| Supports multiple currencies | Works with a single exchange |
| Fully automated | Insufficient customer reviews |
| Easy to use | |
What is GRID Trading Bot?
The GRID Trading Bot is an automated tool that focuses on eliminating emotional decisions from crypto trading. This way, it helps a user to lock in tiny profits from price fluctuations. The ultimate goal is to make it easy for traders to attain steady, passive profit with low risk.
| | |
| --- | --- |
| Price: | $0 |
| Withdrawal fee: | No fees |
| Deposit option: | N/A |
| Supported countries: | All |
| Supported exchanges: | Pionex |
| Free trial period: | N/A |
| Multiple currency support: | Yes |
How does it work?
The bot is designed to automatically implement the grid strategy for you. For the bot to begin trading, you are required to set a price range and state the number of grids you want. The system then places sell orders when the market price goes up a bit and initiates buy orders when the price reduces slightly. It continues to trade as long as the price remains within your set range. This makes the tool ideal for the fluctuating sideways market.
Pricing and fees
You are not required to spend anything to obtain this trading bot. It is free. No trading fees are charged either. However, a small fee will be deducted by Pionex to cover the cost of transacting on the platform.
Privacy and security
The safety of this bot is dependent on the host exchange (Pionex) and the user. In this regard, several recommendations are provided to help improve the security of your account. Some include enabling your 2FA, using a unique email address and password, securing your internet connection, getting the KYC identity verified, etc.
Reliability
The bot has the grid as its main strategy. Although this approach can be profitable, a user can suffer immense losses if the market takes an unexpected direction.
How to start trading using GRID Trading Bot
You can start trading with this bot as soon as you open an account with Pionex. Just go to the official Pionex website and follow the registration process step-by-step. Access the bot and configure it as directed or customize it to your preferences.
Who is GRID Trading Bot suitable for?
GRID Trading Bot could be suitable for traders who want to take advantage of the frequent price fluctuations in the crypto to make profits.
GRID Trading Bot support
The bot provides customer support through a knowledge base, tutorials, FAQs, email, and blog articles.
GRID Trading Bot community
We found a single review of the bot on Quora, and it is not good. As you can see below, the user lost money with the bot after making a small profit of $10. Notably, one testimonial is not enough for us to gauge the overall experience of traders with this tool.

The Review
You can access this product for free on Pionex and let it automate your grid strategy for improved trading outcomes. It is also easy to use as you only need to make a few adjustments and let it do the hard work of assessing the market and placing trades. Even then, the grid strategy is relatively risky and can lead to significant losses in unfavorable market conditions.
Review Breakdown
User interface:

0%

Ease:

0%

Price:

0%

Features:

0%

Support:

0%