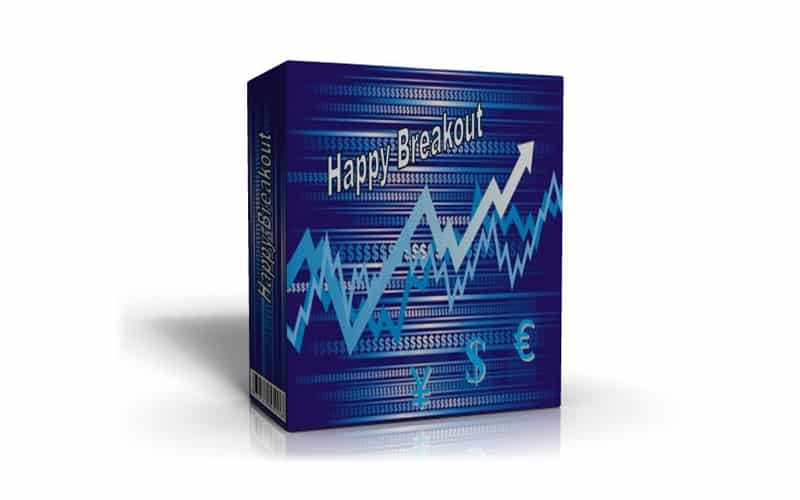 Happy Breakout trades on the EURUSD and the GBPUSD currency pairs. It supports ECN brokers and requires a VPS or hosting server with minimal network latency to the broker's server. The vendor recommends that you test the EA with minimal risk prior to using it on a live account.
Is investing in Happy Breakout a good decision?
This system trades safely on both past data and in the current market conditions, based on the low drawdown generated on both occasions.
Company profile
Happy Forex is the vendor of this robot. The company has been around since 2016, and to date, it has produced several systems that aid users to trade automatically. Some of these tools include Happy Martigrid, Happy Way, Happy Galaxy, Happy Neuron, and many more.
Main features
See the features of the robot below:
It is fully automated.
It doesn't work with the grid, hedging, arbitrage, and martingale strategies.
It incorporates autodetection of 4 or 5 digit quotes.
The recommended timeframe is M30/H1, while the minimal deposit is $100.
The trading platform is MT4/5.
The maximum spread is 10 points, whereas the maximum stop level is less than 10 points.
While selecting a broker to use, you need to ensure that they have a low commission, low spreads, and high quality implementation.
Operating systems that you can work with include Windows 7,8,10, Linux, and Mac OS.
The EA's strategy is constructed on the breakdown of the most vital support and resistance levels. However, the devs don't explain this strategy further. Notably, a fixed stop loss and trailing stops are applied to minimize losses.
Price
The price of Happy Breakout is €550. At this cost, you will also get 9 other systems free of charge. Other features available include a single license for an unlimited number of real/demo accounts, a 30-day money-back guarantee, free updates, and upgrades.
Trading results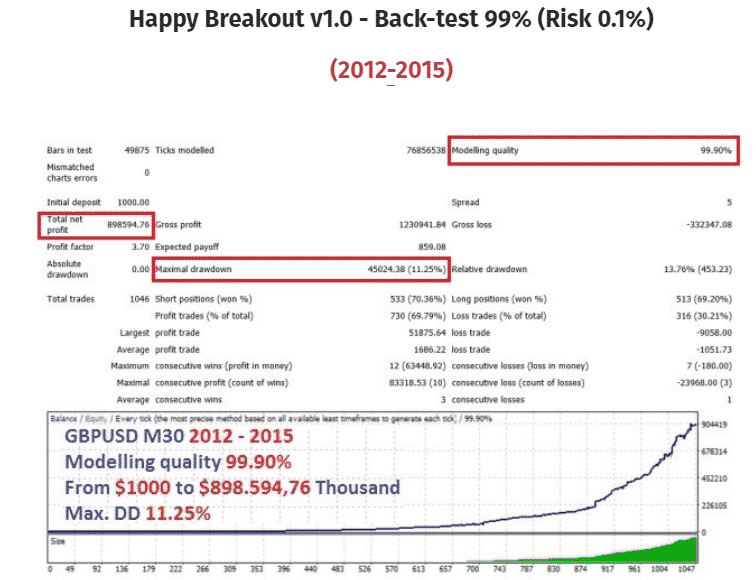 The results above inform us that the devs backtested this EA on the GBPUSD currency pair using an initial deposit of $1000. After opening and closing a total of 1046 trades on the M30 chart from 2012-2015, the investment increased to $898594.76. At the same time, a maximum drawdown of 11.25% was generated. This means that the strategy applied wasn't risky. The success rates for short and long positions were 70.36% and 69.20%, respectively.
The live trading results for this EA can be found on FXStat.

Happy Breakout has been trading on this live account since November 2019, and until now, the profit made is $3742.07. The system has managed to keep trading risks in check, as illustrated by the low drawdown rate (17.93%).

From the 1183 orders completed, we have an average profit of $54.48 against an average loss of -$227.59. The robot mostly works with long trades (610) compared to short trades (573). There's a profit factor of 1.08, which reminds us that the returns on investment are average.

The year 2020 was good for this account because the robot was profitable throughout the period except for October.
Customer reviews
No customer reviews are available for this robot. Therefore, we are not sure if the above trading results can be reproduced in traders' accounts.
Summing up
Happy Breakout has run a live account on FXStat for several years, and completed thousands of trades while at it. The backtest results also show that it can make huge profits in the long-term. Lastly, you can rest easy while using the EA since risky strategies like the grid, arbitrage, and martingale aren't used.