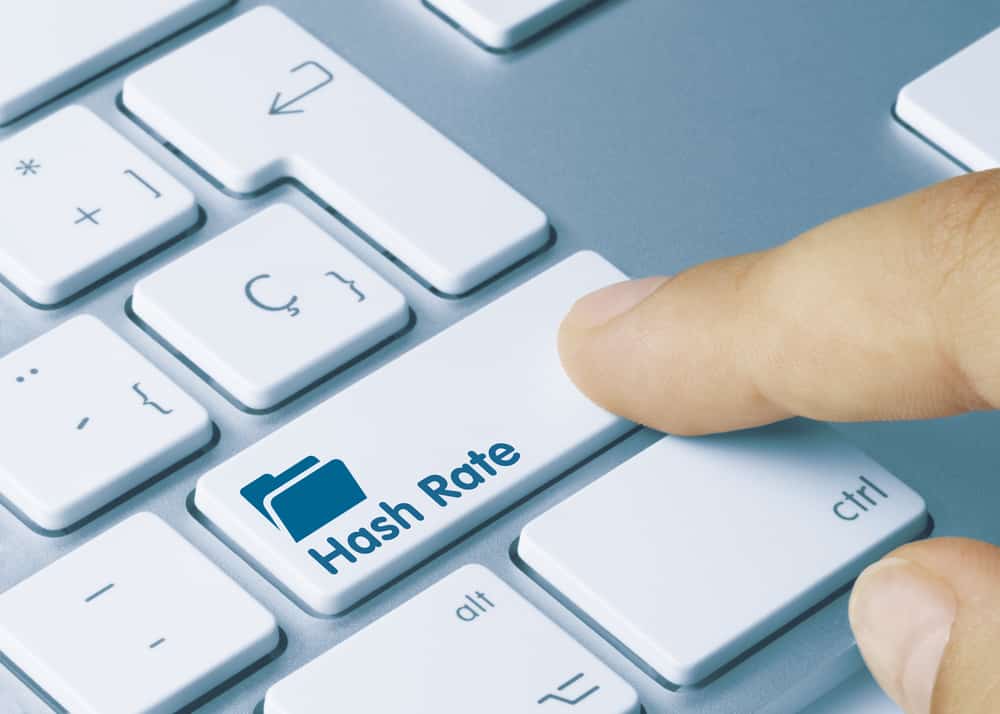 Hash rate is a major component in Bitcoin and blockchain operational logistics. A hash rate is the number of operations carried out during a certain period of time. 
One of the most significant elements in determining the hash rate is the speed of a miner's performance.
The Bitcoin network's hash rate for the first time has hit 10 Th/s. For security considerations, the Bitcoin network must do heavy math operations.
It can therefore calculate 10 trillion operations per second – the greatest feasible computing power.
This is done with a huge worldwide mining network (powerful computers built for this task). These robots mine bitcoins by solving difficult mathematical puzzles.
Each machine must make millions of guesses every second to solve these issues. It needs plenty of electric power. Bitcoin miners use around 129 energy terawatt-hours worldwide.
How the hash rate  works
A "hash" is an alphanumeric code of a set length used to display words, messages, and length data. Crypto projects employ a number of hash algorithms to produce various kinds of hash code.
Think of them as random generators of words where every method is a separate system for random word generation.
A totally new hash is produced every time a value is updated on the Bitcoin chain. Miners compete to generate a hash less than or equal to the hash 'target.'
Because each hash is random and unpredictable, millions of guesses can be taken before the goal is achieved.
Each new block "confirms" all the transactions recorded inside the chain. Whenever a new block is added to previous blocks, past transactions are constantly reconfirmed and become increasingly hard to alter.
Block rewards are reduced by half or around every four years in every 210 000 blocks. Every time a new block is mined, miners get 6.25 bitcoins as of 2021.
The next Bitcoin halving is scheduled to take place in 2024, and BTC block rewards are expected to fall to 3,125 bitcoins per block.
Is there a correlation between bitcoin's hash rate and price?
As the Bitcoin price grows, the hash rate usually increases. If the price of Bitcoin falls, the hash rate falls.
For instance, suppose the price is rising. Every day all participants are mining Bitcoin to generate revenues. There is hence more money to be earned if the price increases.
As a result, machines that previously had no use are now employed for mining. Alternatively, machines that did not break even when it came to power costs are suddenly again lucrative and switched on.
Why does the Bitcoin hash rate fluctuate?
As Bitcoin is mined by computers with different processing power, hash rate performance varies. Temperature can also impact mining performance, decreasing the hash rate.
Other elements such as the Bitcoin price, electricity costs, and summer cooling might lead to the decrease of miners' numbers.
What's the importance of the hash rate?
The hash rate is an essential measure for assessing the strength of the underlying network of the digital currency called the Bitcoin network. This quantifies how difficult the next block in a chain is for miners to uncover.
A 51% assault is when more than 50% of a chain hash rate is controlled by a single individual or organization.
This attack might stop transactions or restructure them and reverse payments of their own. Dual spending problems would occur, and then the integrity of the underlying blockchain would be undermined.
Therefore, a decline in hash rate raises the chances of a 51% attack, making the network more susceptible to risks.
Calculating the hash rate
The individual hash rate is a different rate for each crypto-currency mining equipment. Most mining is done now in various countries' networks and operating systems known as peer-to-peer networks (P2P).
Secondly, you may approximate the hash rate via many means. It varies depending on your hardware and your sort of cryptocurrency.
If you are mining Bitcoin or other cryptocurrencies, you will soon get information about your mining device's hash rate.
Download software designed for this purpose, enter the address of your cryptocurrency wallet, and start mining. Depending on the number of algorithms you are testing, you may get a very good estimate of your device's efficiency.
Finally, hash rates are generally assessed by hash per second and sols calculations (solutions per second). Sol indicates the total number of operations executed per second, the measurement utilized on only one chain.
Network hash rate  and individual hash rate
The objective of crypto is to identify a hash value that is sufficiently small. This number value target is known as difficulty and changes across blocks. The miners are thus looking for a nonce with which the hash value of the block is below the target problem. terawatt-hours hash rate
Thus the hash rate implies how many hashes per second are tried – essentially how many nonces are tested.
Individual hash rate simply means the hash rate produced by a single entity and the aggregate hash rate of all miners.
There is no limit to the network hash rate since, in principle, everyone with a lot of computer power can merely attempt the same nonce all the time. The maximum number of distinct nonces is determined by the size of the nonce integer.
Bottom line
In bitcoin digital networks, hash rate, also known as hash power, is the unit of computing power. As more digital coins are mined, hash rates accelerate, and difficulty rises.
Popular cryptocurrencies mining on a desktop or laptop computer is no longer possible due to great difficulty.