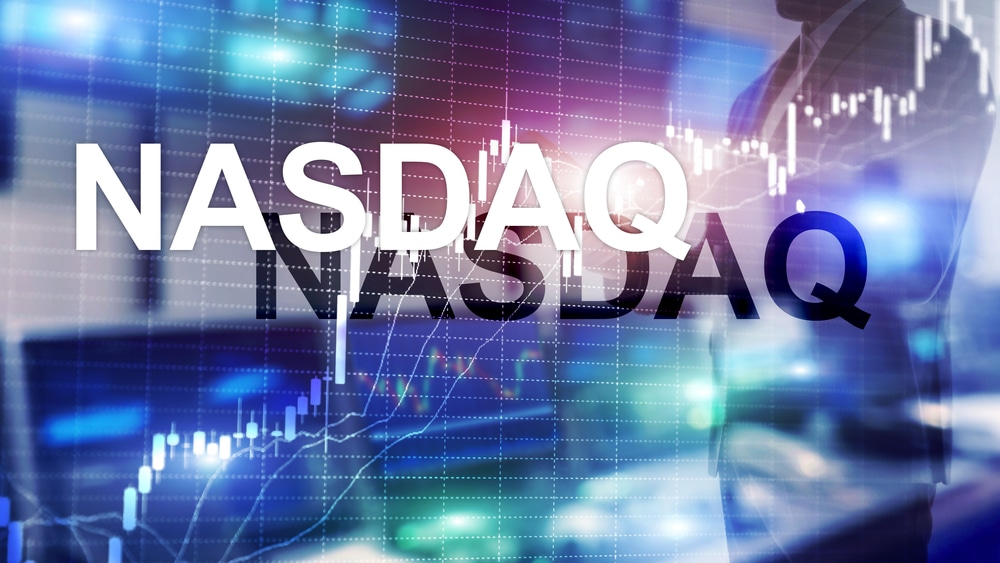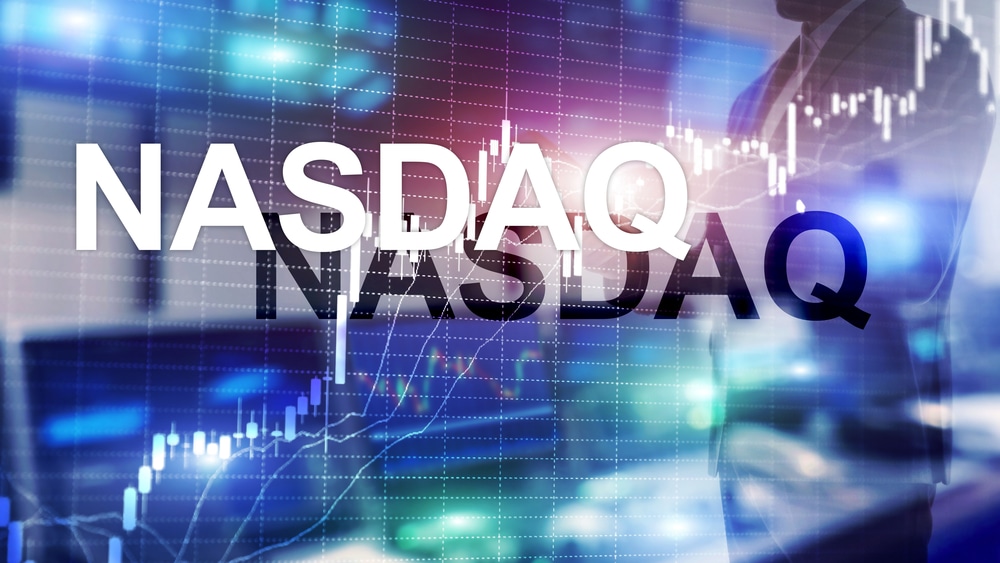 The Nasdaq 100 index has been under pressure lately. On Tuesday, the index declined by almost 2% as the market concerns about high interest rates continued. The index ended the day at $13,544. Futures linked to the index declined by another 1.5% on Wednesday morning.
Higher interest rates concerns
The Nasdaq 100 is a popular index that tracks the biggest technology companies in the United States. The most significant constituent firms in the index are companies like Microsoft, Apple, Nvidia, and Tesla.
For years, the Nasdaq has outperformed other indices like the Dow Jones and S&P 500. This is simply because technology firms have had more growth than those in other sectors.
However, the index is also viewed as a risky asset considering that many of its constituents have relatively pricier valuation multiples and low profitability. Therefore, the index tends to be vulnerable in a high interest rate environment.
Recent economic data from the United States signal potential tightening even though the Federal Reserve has insisted that the status quo will remain.
Indeed, Janet Yellen, the Treasury Secretary, thinks that rates should start rising gradually. In a statement yesterday, she said that the Fed should start gradually raising rates. She later walked back these comments, saying that she was not directing Powell and the committee to do that.
There is evidence that higher rates or quantitative easing tapering will happen sooner than expected. Recently, data from the United States have shown that the economy is powering on all cylinders. The labor market is robust, inflation is surging, and productivity has started to rise.
Therefore, in case the Fed changes tune, the Nasdaq 100 will be vulnerable. When this happens, investors tend to rotate from growth stocks to value stocks.
Growth stocks most vulnerable
Tech companies in the Nasdaq 100 index are not created equal. There are some companies like Microsoft and Apple that can justify their hefty valuations. Furthermore, these companies generate hundreds of billions of revenues every year, are aggressively buying back shares, and are sitting on billions in cash. Companies like Facebook and Google are also dominating their industries.
However, there are some growth companies in the Nasdaq 100 whose valuation is hard to justify. In periods of rotation from growth to value, these firms are the most vulnerable. For example, DocuSign shares dropped by more than 5%, while Zoom fell by more than 2%.
Okta shares fell by more than 4.6%, while Match Group declined by 6.5%. While Zoom is a market leader in video communication, its $90 billion market cap is a bit pricey. Similarly, DocuSign is valued at more than $40 billion, which is also not cheap.
Looking ahead, the Nasdaq 100 index will react to some important earnings this week. Later today, PayPal will publish its results that are expected to show strong user growth. Other companies in the index that will publish earnings are Booking Holdings, Uber Technologies, Twilio, Square, and Moderna.
The index will also react to the latest non-farm payroll numbers. If the numbers come out strong, the index could decline since it will raise bets on higher rates.
Nasdaq 100 index technical forecast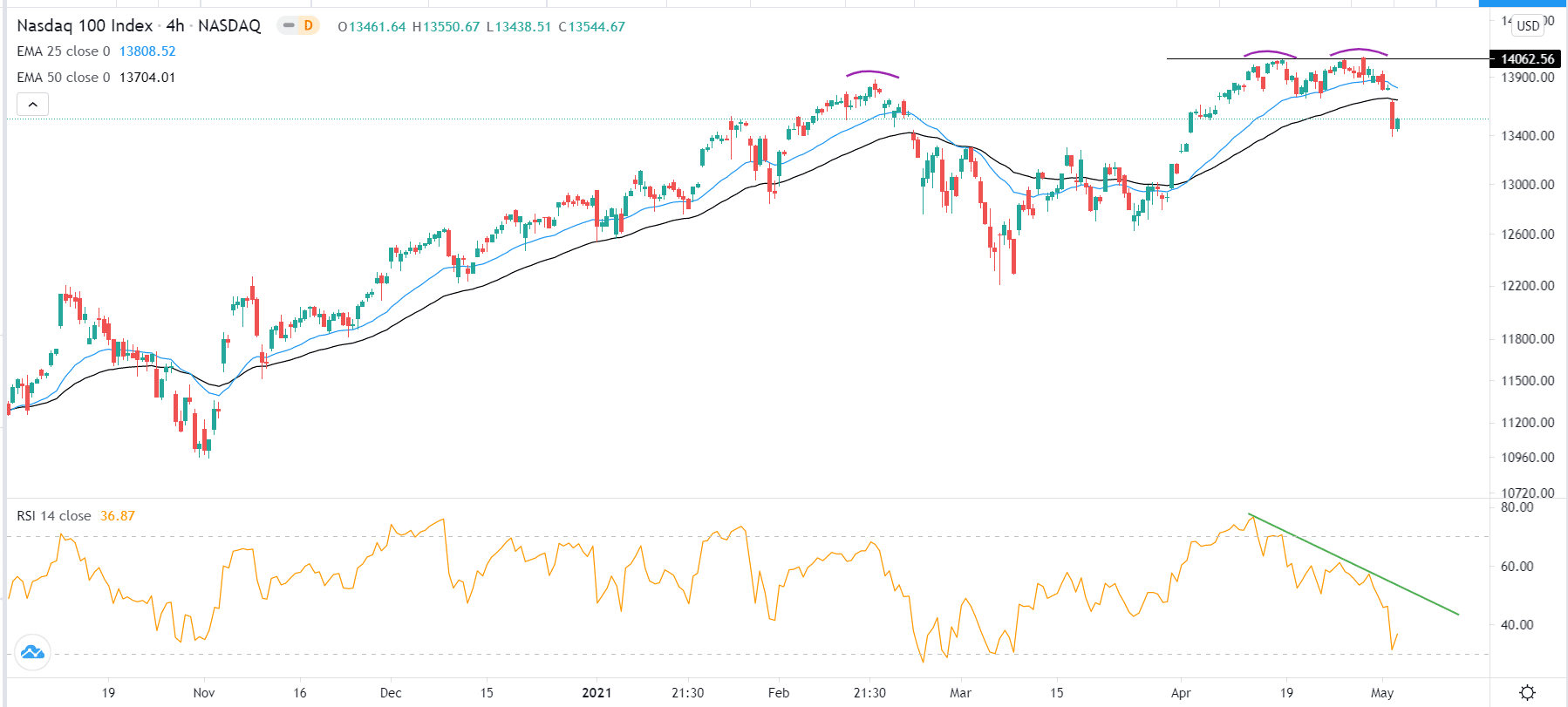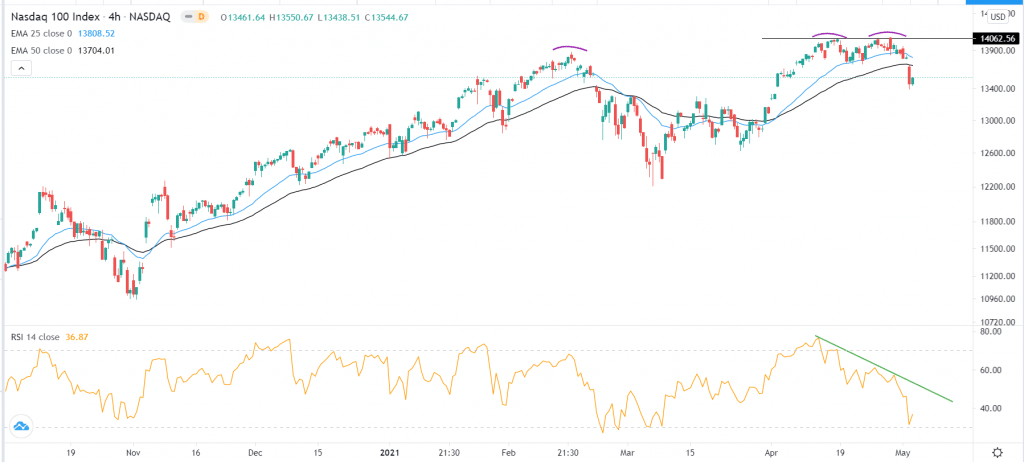 On the four-hour chart, we see that the Nasdaq 100 index faced substantial resistance at its all-time high level of $14,062. In the past few days, the index has dropped and moved below the 25-day and 50-day exponential moving averages (EMA). The Relative Strength Index (RSI) has also continued to drop and is approaching the oversold level. Therefore, the index may keep falling as bears target the next key support at $13,000. Nonetheless, we cannot rule a major comeback in the next few weeks.