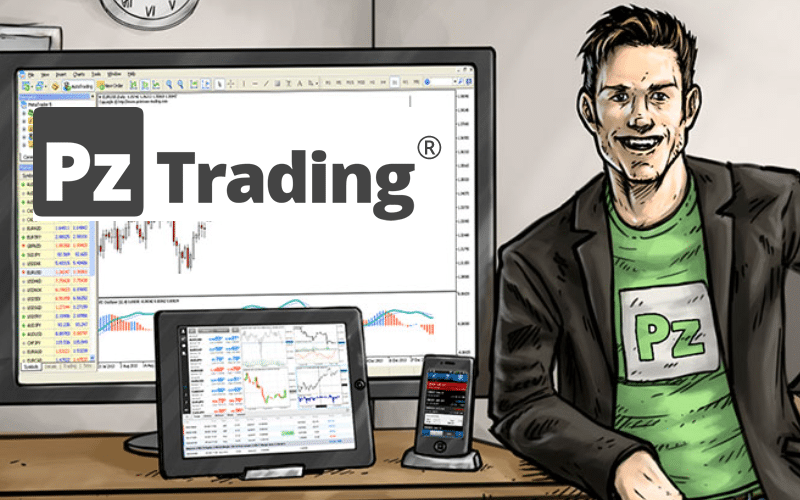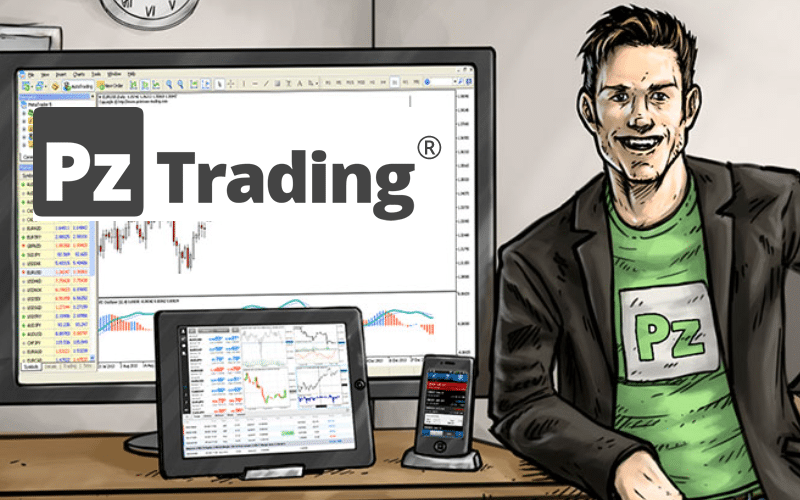 Point Zero Trading sells advisors and indicators through their own platforms. There is much intel about how the software will help us to get financial freedom.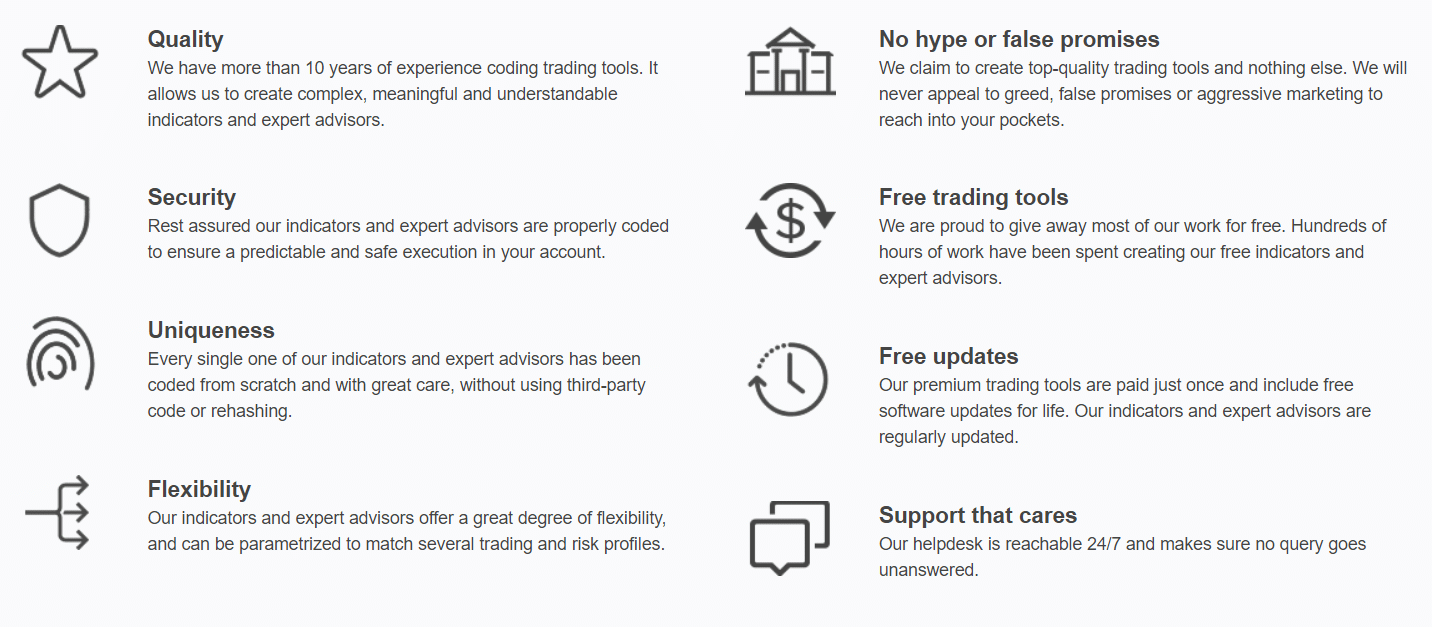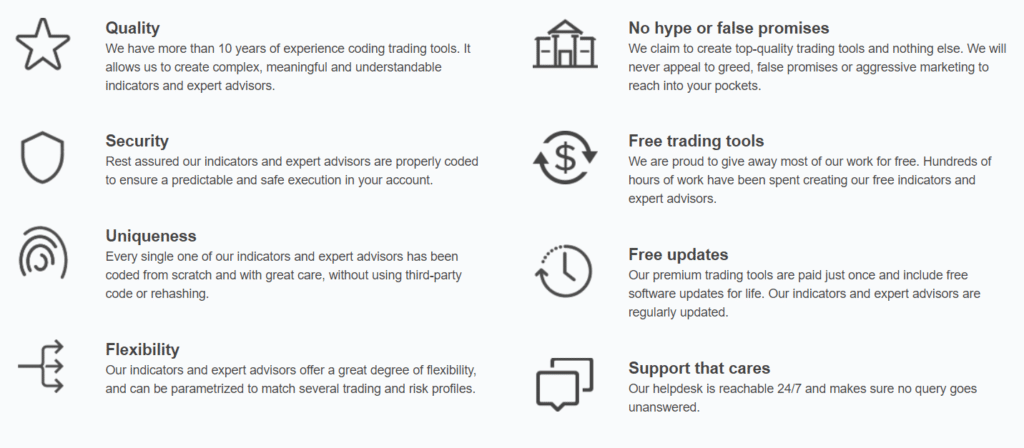 The main values are quality, security, uniqueness, flexibility, no false promises, free trading tools provided, free updates, and support.
Is Investing in Point Zero Trading a Good Decision?
We don't think so. The developer didn't focus on some particular systems to make profits stably and predictably, but the most important is to keep them up to date to fit market conditions.
Company Profile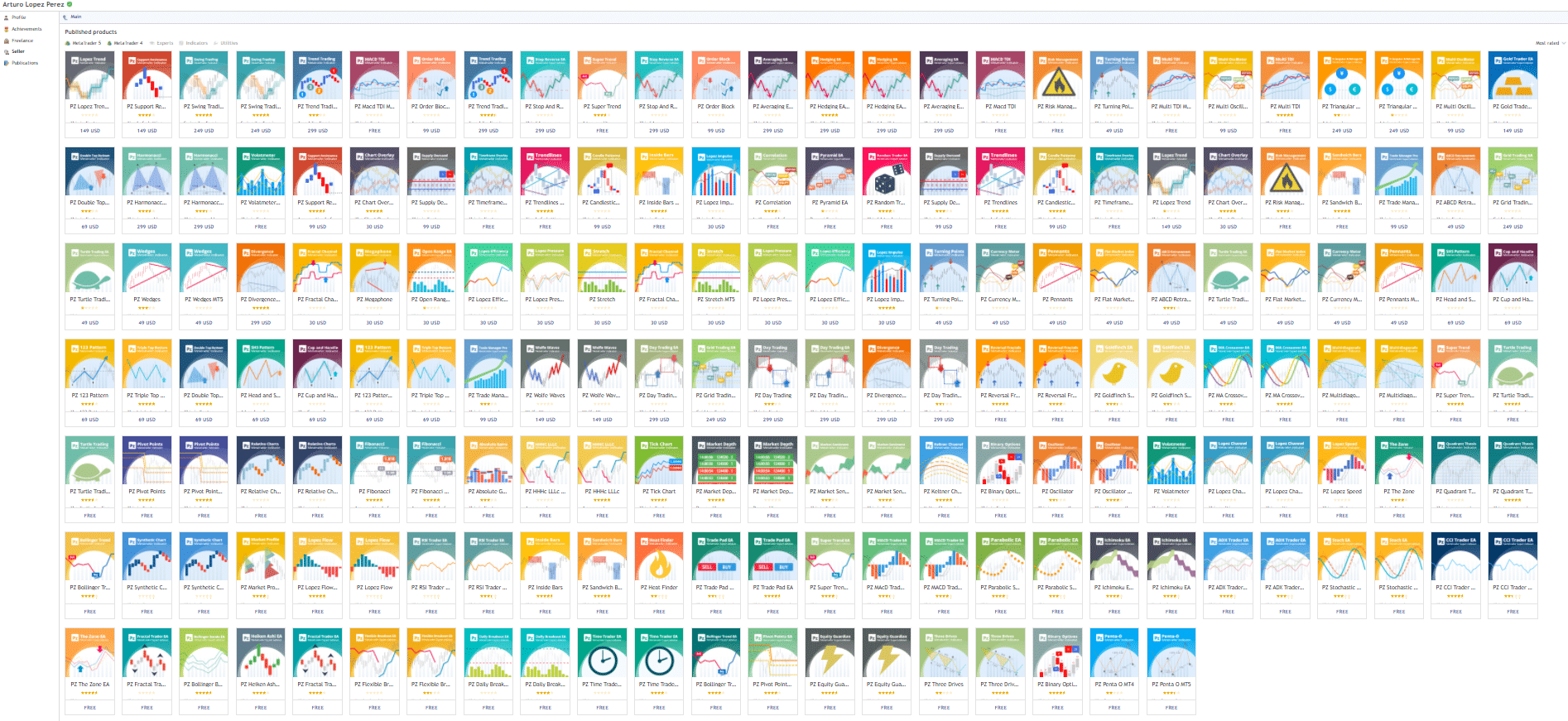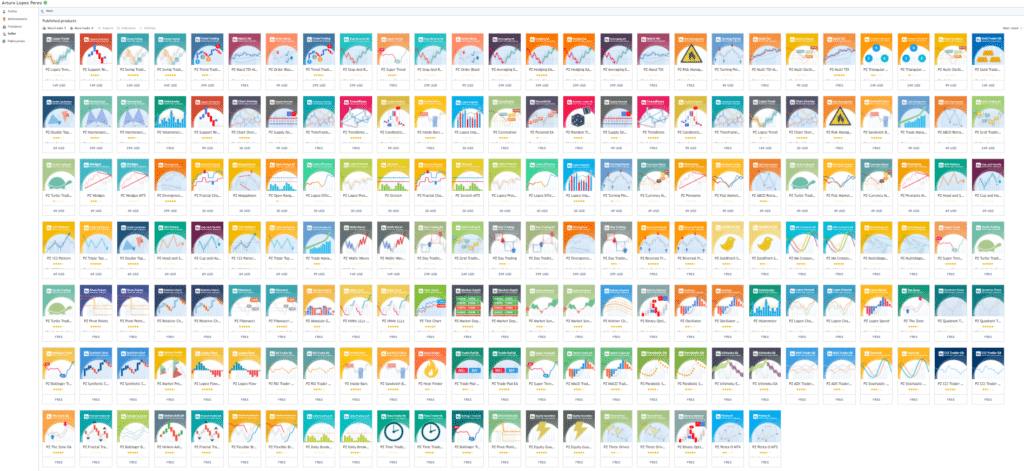 It's how the company's portfolio looks on MQL5. We'd like the developer to underline which systems helped to make profits for him not from selling, but from trading.
Main Features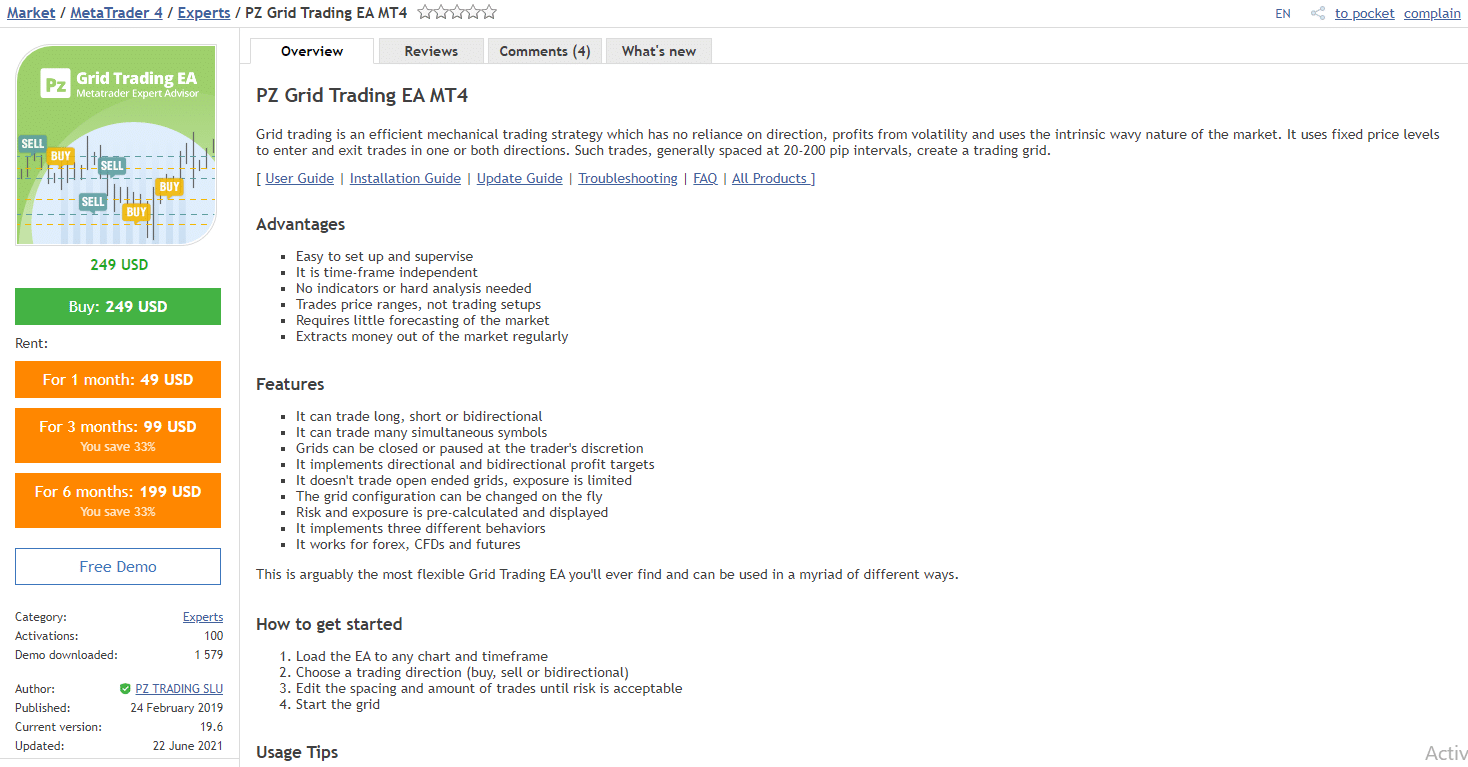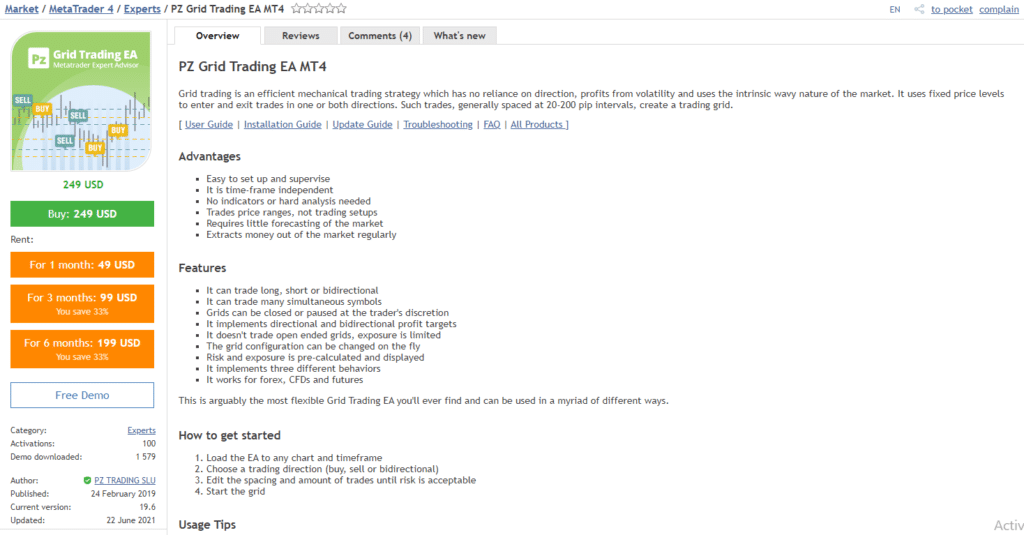 There's one of their robots on MQL5 published. Grid Trading EA was published on February 24, 2019, by Arturo Lopez. The current version of it is 19.6 from June 22, 2021. The system was purchased 100 times, and was demo downloaded 1578 times.
We don't have much information published on the site:
PZ Grid Trading EA was designed as a fully automatic trading solution.
It takes a little time to install it and use it.
It uses a Grid of orders strategy to make profits from the market's moves.
It can utilize the wave effects from the market.
The system calculates when pending orders should be placed.
It places pending orders in both directions.
The common Take Profit levels vary from 20 to 200 pips.
We can work with any currency pair.
We are free to use it in any time frame.
It doesn't require data from terminals.
It focuses on Price Action and Range strategies to place Grids.
It can trade in one or both directions.
We can close deals or even a whole Grid manually.
The grid configuration can be changed when we want.
We can customize risk manually.
We can trade Forex, CFD, and Futures.


There are some useful tips shared.
The system requires it to be run on a VPS service.
The expert advisor uses the same magic number for all symbols.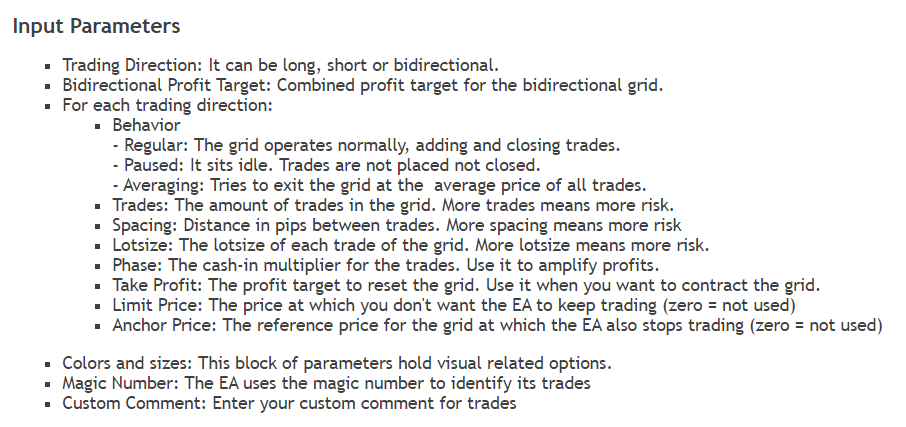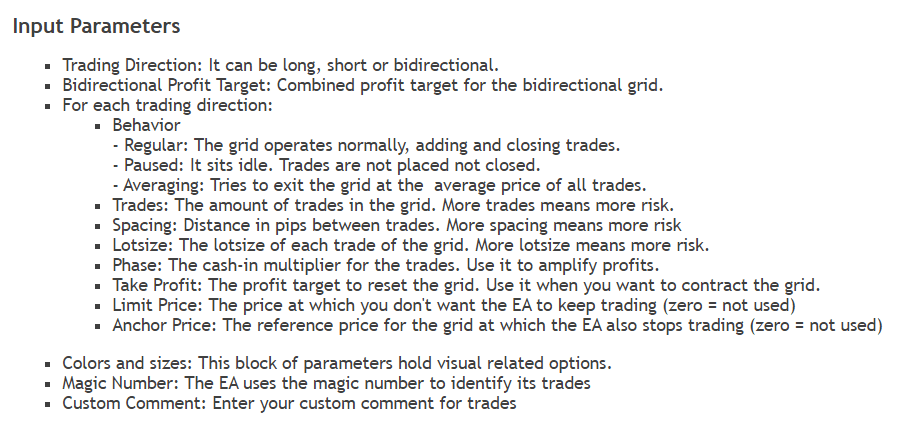 The robot places SL and TP levels for each open order.
Price
PZ Grid Trading EA can be bought for $249 for a single lifetime copy. There are three rental options. The one-month subscription costs $49, the three-month costs $99, and the six-month costs $199. We can download a demo copy of a product to check settings and execute tests on a terminal.
Verified Trading Results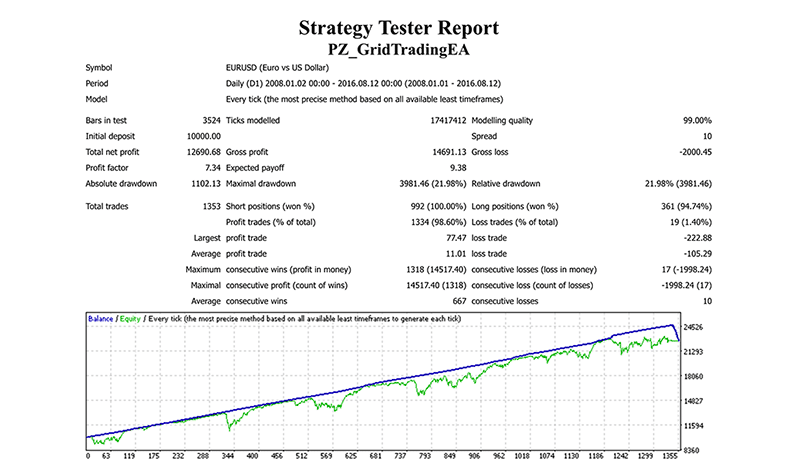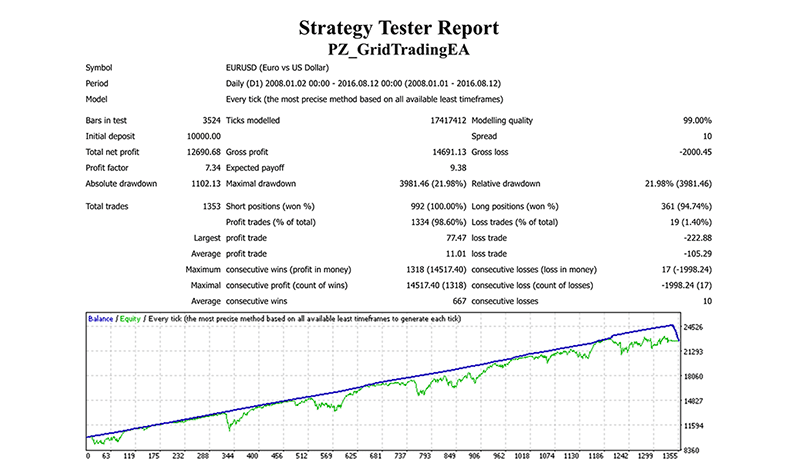 We have a report of EUR/USD on the D1 time frame. It's insane to buy a swing trading robot. The period of data was 2008-2016. The modeling quality was 99.00% with 10 pips spreads. An initial deposit was $10,000. The total net profit was $12,690. The Profit Factor was 7.34. The maximum drawdown was 21.98%. The system managed to close 1353 deals. The win rate was 100% for Shorts and 94.74% for Longs.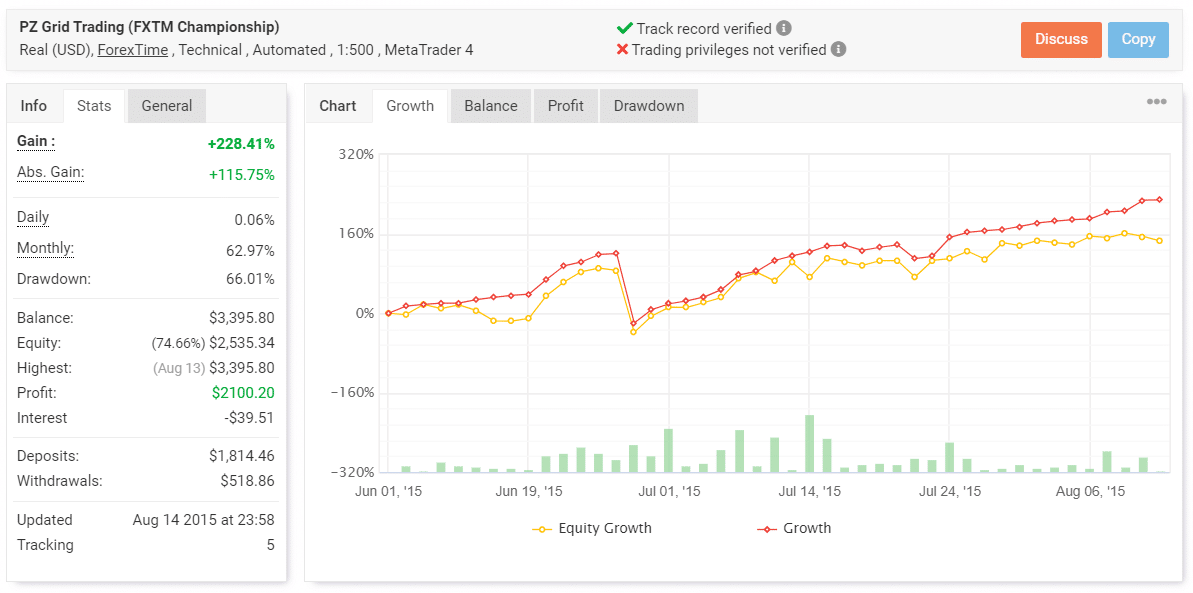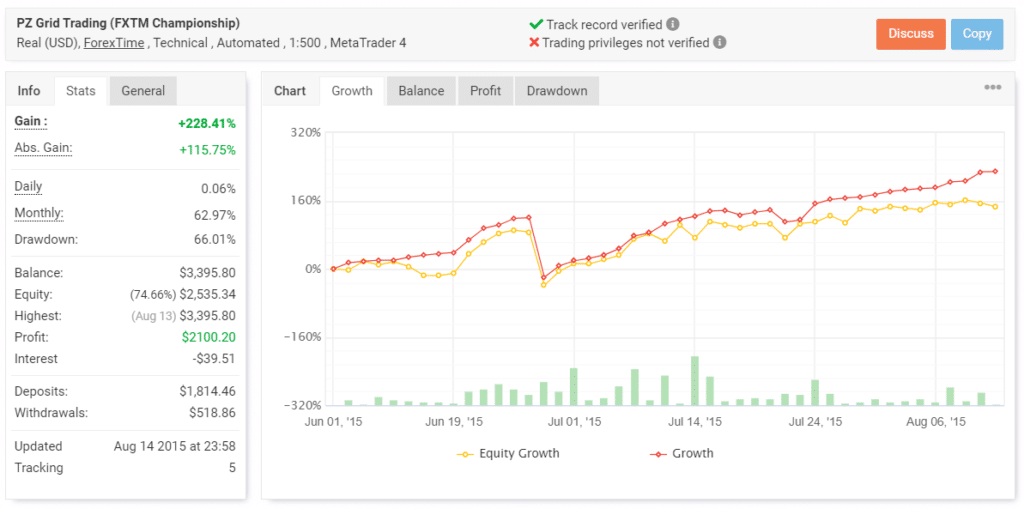 PZ Grid Trading EA used to work a real USD account on ForexTime automatically. The leverage was 1:500. The platform was MT4. The account has a verified track record. It was created on June 01, 2015, deposited at $1814, and withdrawn at $518. Since then, the absolute gain has become +228.41%. An average monthly gain was 62.97%. The maximum drawdown was deep as Hell – 66.01%.


The system has closed 228 orders with 14,879 pips of the profits. An average profit was 202.84 pips when an average loss was seven times deeper -1448.14 pips. The win rate was 87% for Longs and 94% for Shorts. An average trade length was two days. The Profit Factor was 2.60.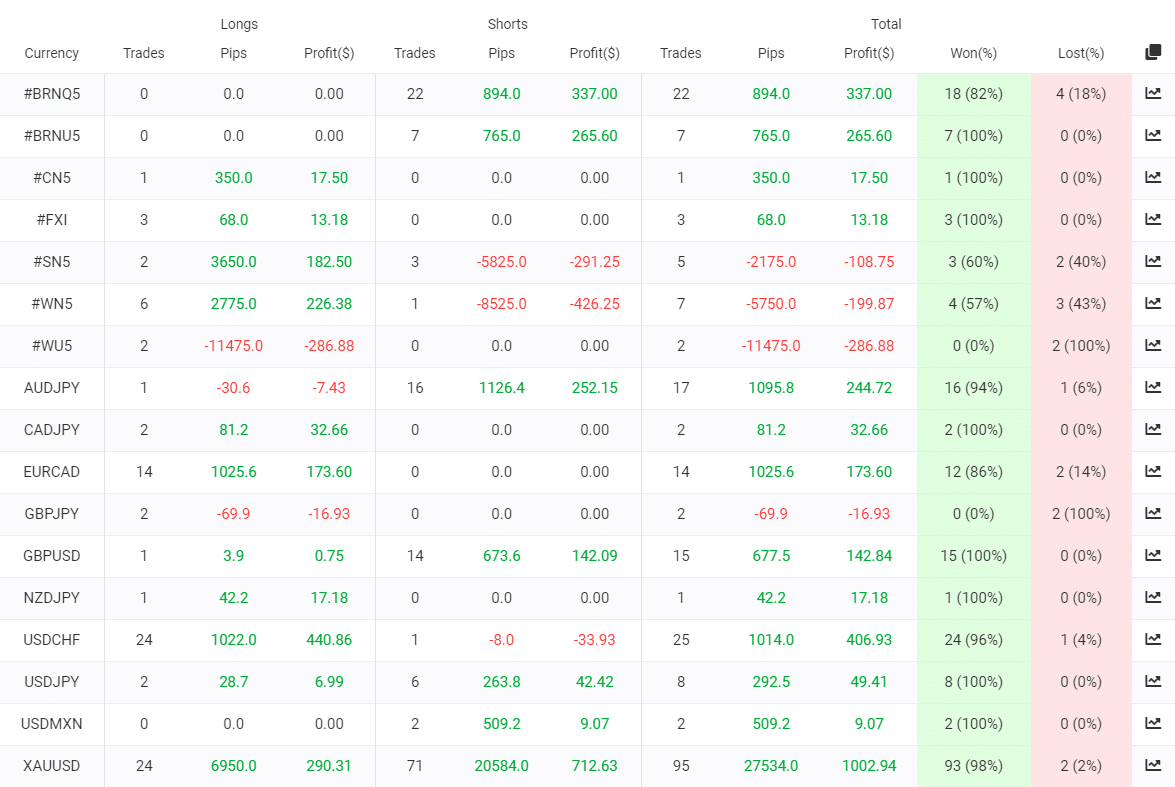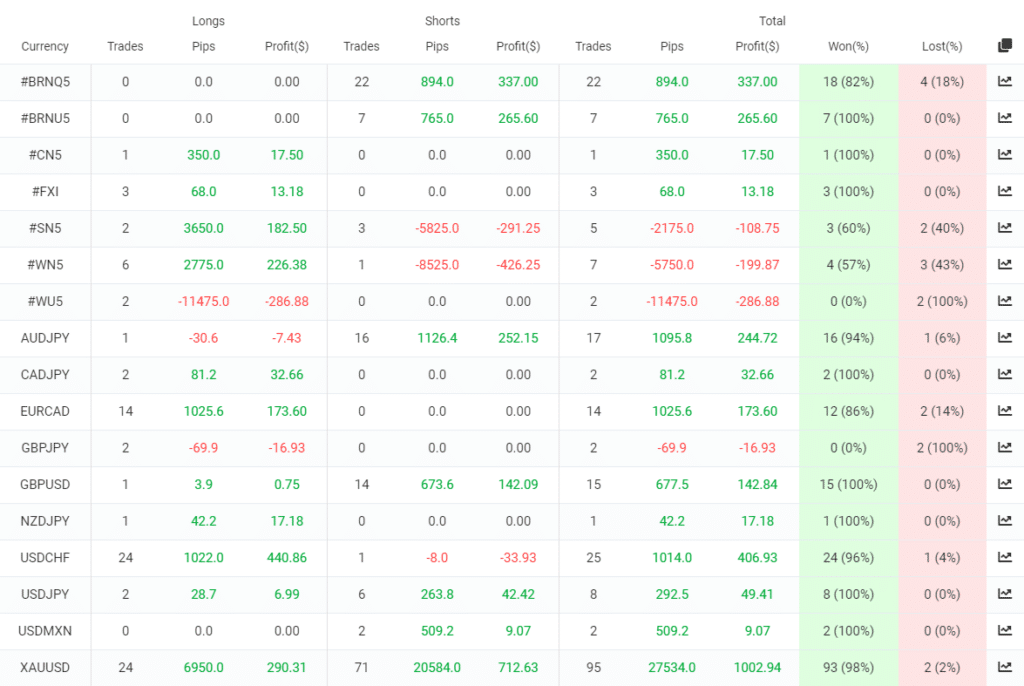 The advisor opened orders on many cross pairs. The most frequently traded and the most profitable was Gold, with 95 deals and $1002.94.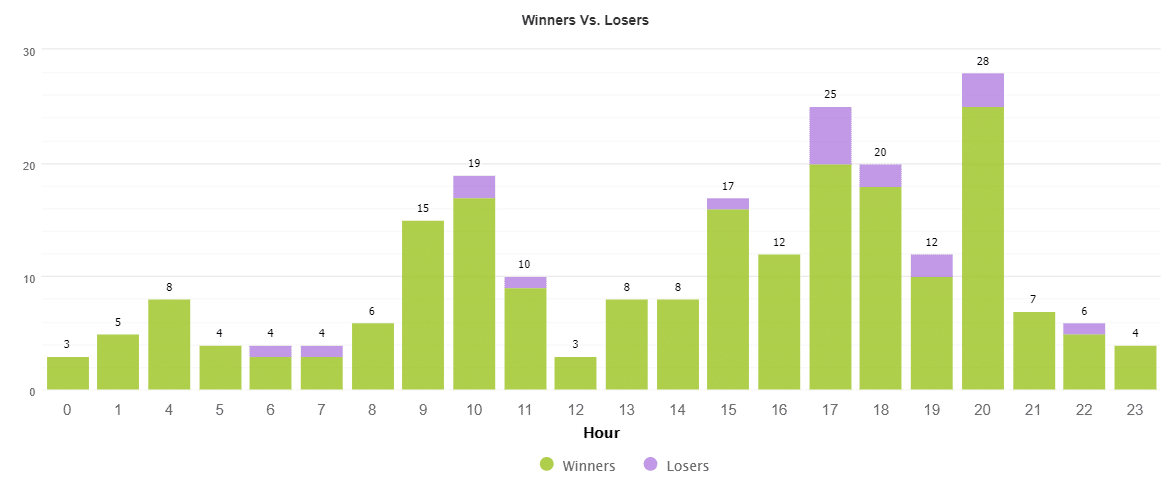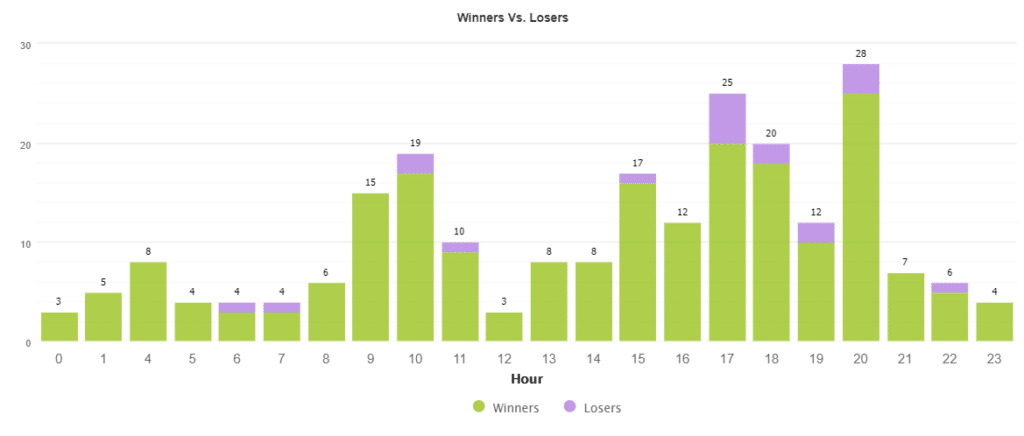 The robot traded mostly the American session when usually Gold is traded.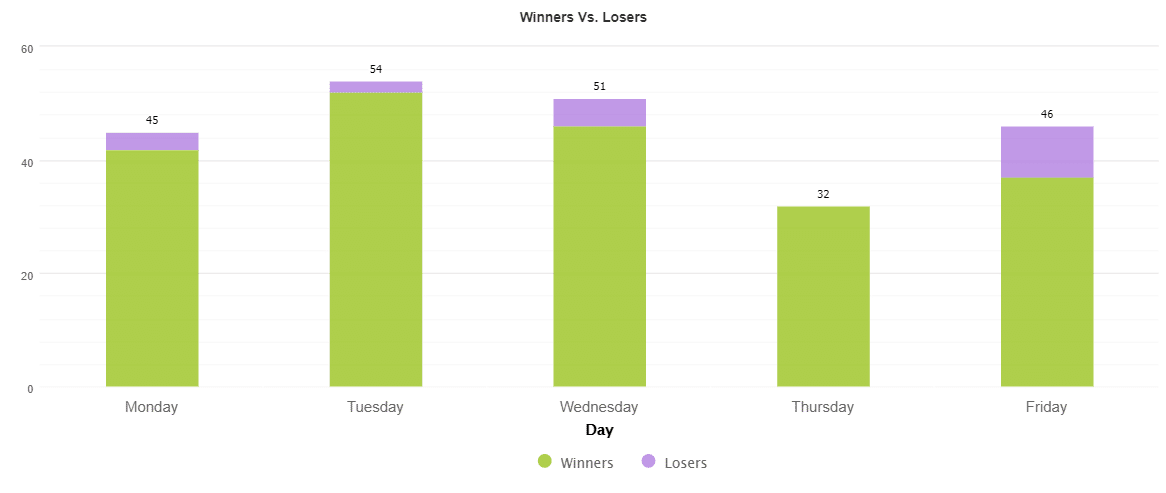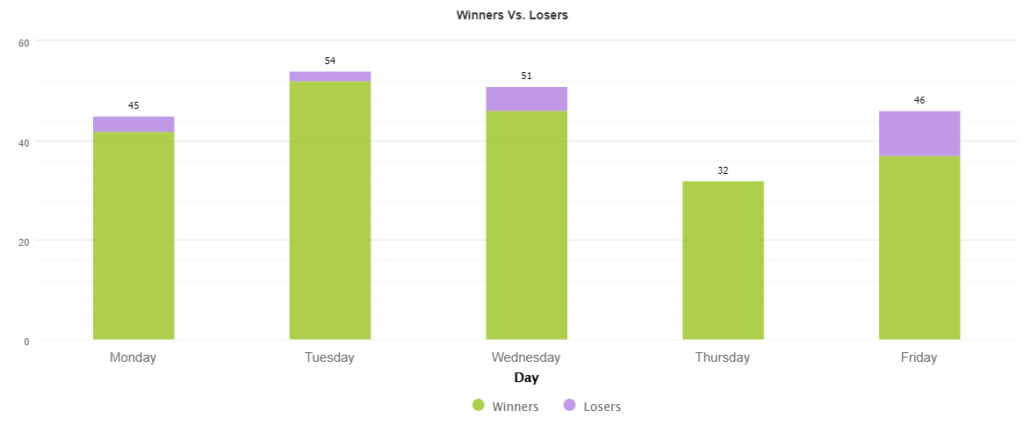 Thursday was the less traded day.


The system had to lose only four deals to lose 10% of the account. It's high-risk trading.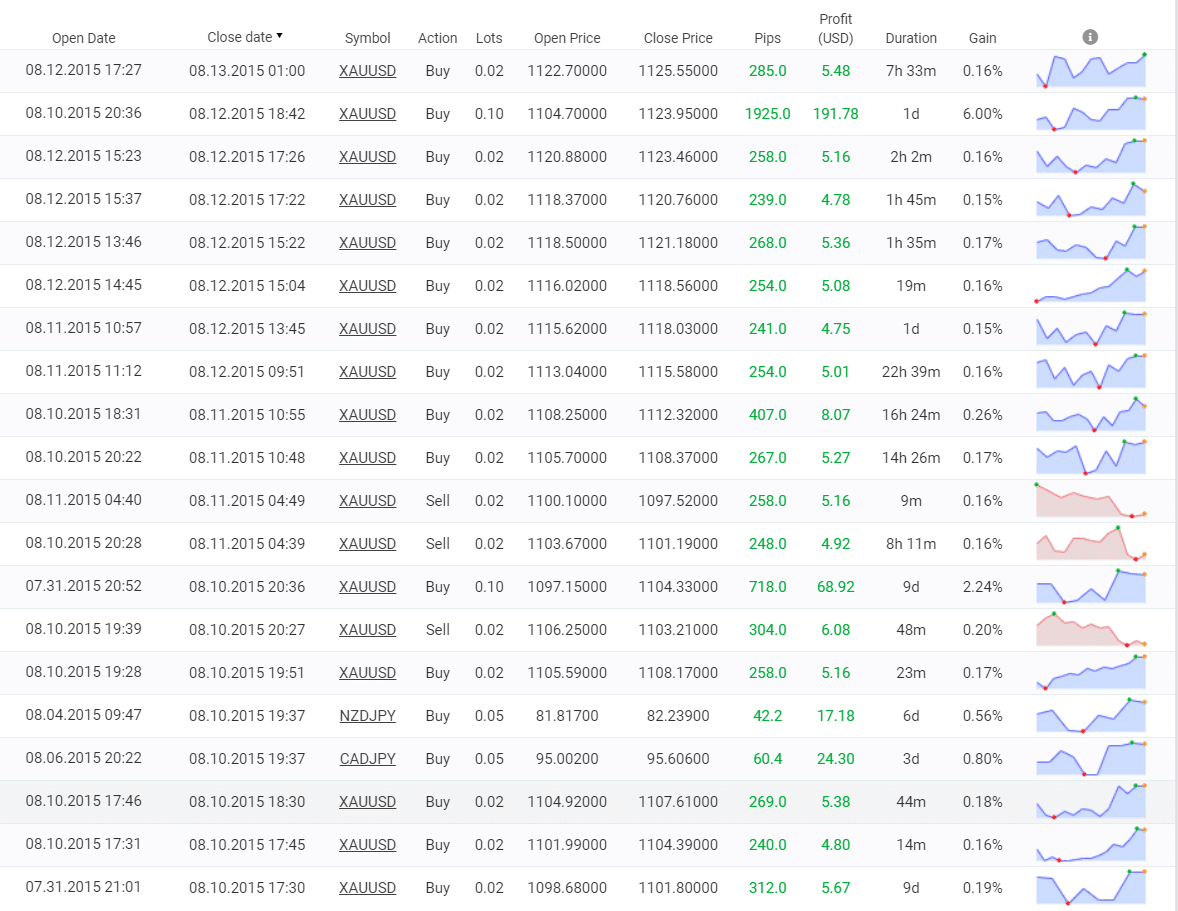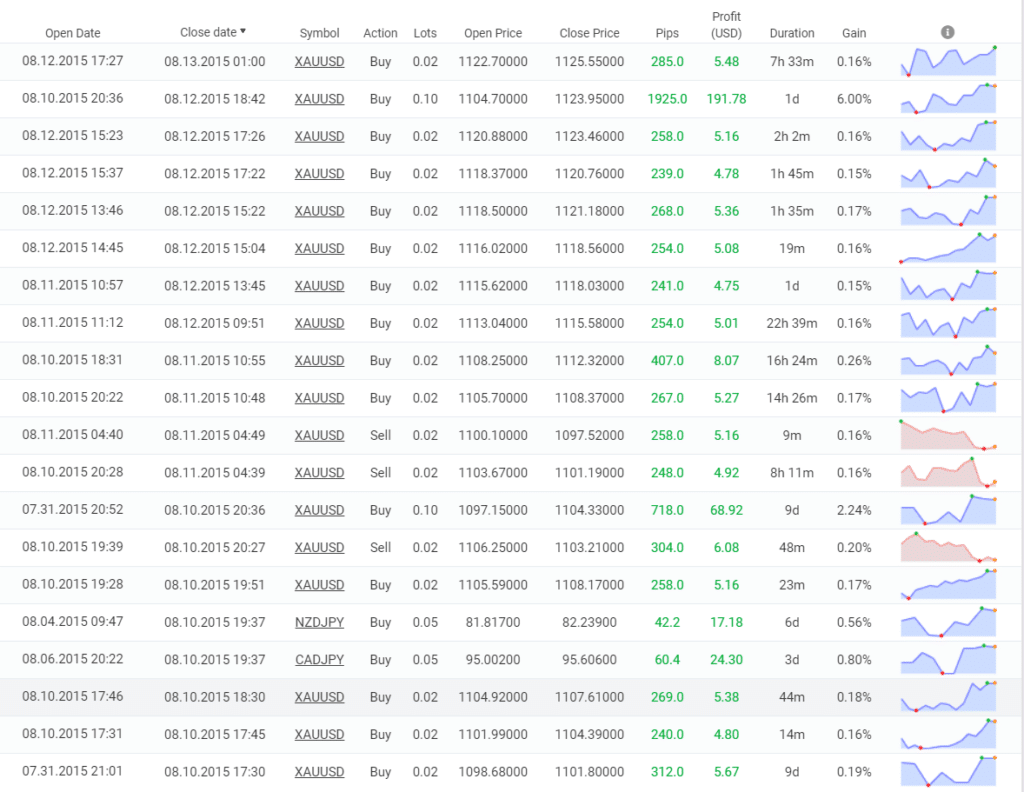 The robot used Martingale to increase lot sizes from 0.02 to 0.10. We have no idea why the developer decided to stop it.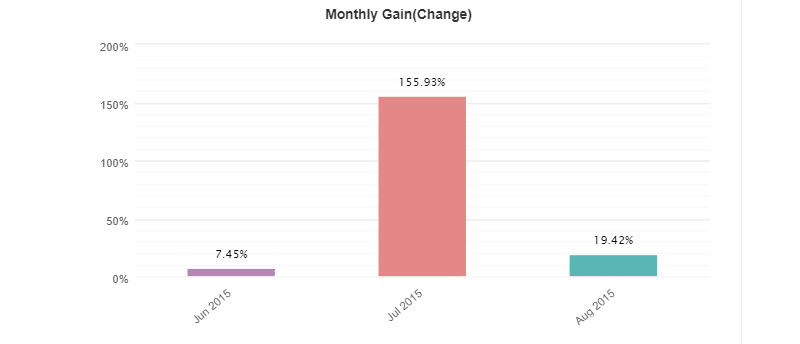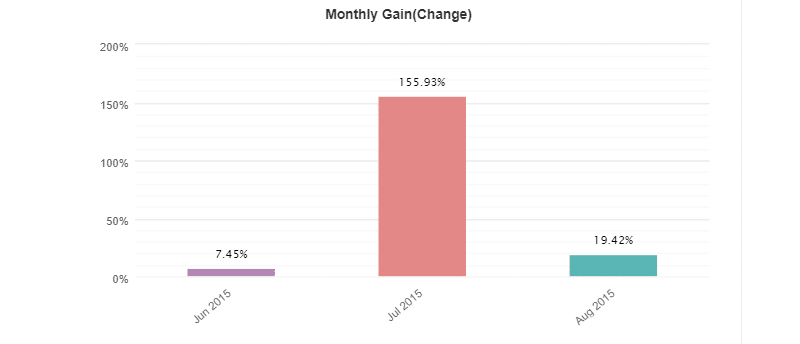 From June 2015 to August 2015 was only a period of trading activities.
People Feedback
We have no reviews published. It's suspicious. It's hard to understand why 100 clients decided not to share their experiences.
Summing Up
PZ Grid Trading EA is a robot that could be profitable six years ago. The system traded on the real account and was stopped by the developer without any reliable reason for this. So, in 2021, this system is just a scam.