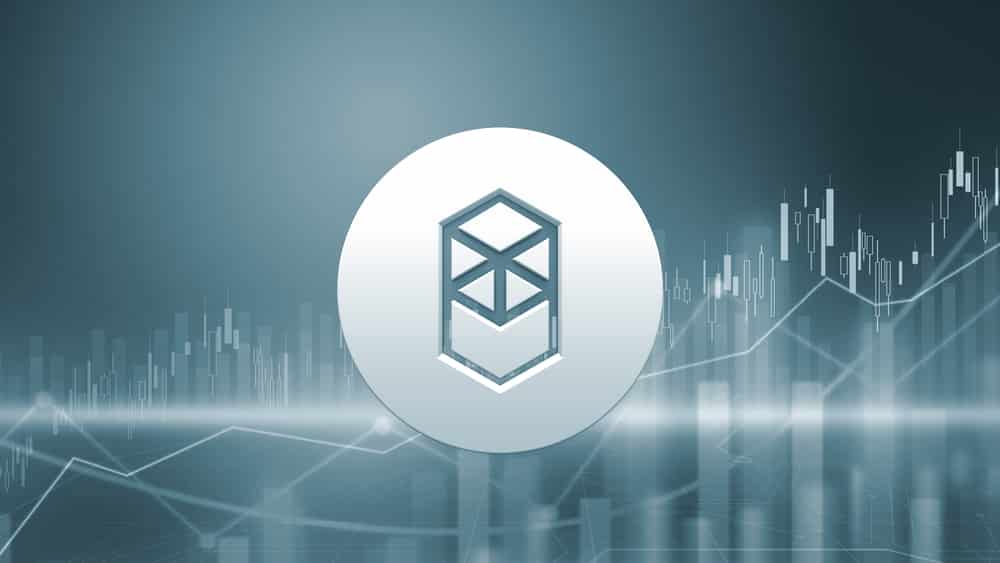 Fantom network and token: Let us dig deeper
Fantom is a next-generation blockchain-based platform touted for its speed, low fees, and scalability. It is seen as an alternative to Ethereum for developing decentralized applications and powering of decentralized finance (DeFi).
The open-source blockchain platform came into being in 2018 as developers sought to address problems associated with transaction speed and high costs in the digital ledger. While addressing the limitations of previous blockchains, it also enhances security and scalability.
Fantom blockchain runs smart contracts that allow it to perform advanced transactions and enable peer-to-peer payments. The use of smart contracts has seen it emerge as one of the biggest players in decentralized finance, therefore, enabling financial services that don't require a central governing body. In addition, it is being used to digitize real-world objects into non-fungible tokens, which are digital objects that can be traded, bought, and sold.
Fantom (FTM) is the native currency that powers the Fantom network acting as a medium of exchange on which all transaction fees are settled. It also acts as a governance token giving holders the right to vote on any changes on the blockchain.
At inception, the Fantom Organization released 3.175 billion FTM tokens, which means the supply is fixed. Currently, there are 2.55 billion FTM tokens in circulation with a market cap of $916.21 million. The total value of FTM tokens locked in a decentralized finance platform stands at $306 million.
Fantom FTMUSD price history & technical analysis
Fantom coin has shed more than 80% in market value year to date. The coin has dropped to nine-month lows of $0.23 and looking increasingly bearish. All the major indicators have turned bearish, affirming short sellers in full control.
The Relative Strength Index has dropped to lows of 26, signaling an oversold condition. In addition, the FTM is trading below the 200EMA, affirming the coin is in a downtrend. With the coin trading below $0.50, the risk of plunging to lows of $0.15, and the next support level is high.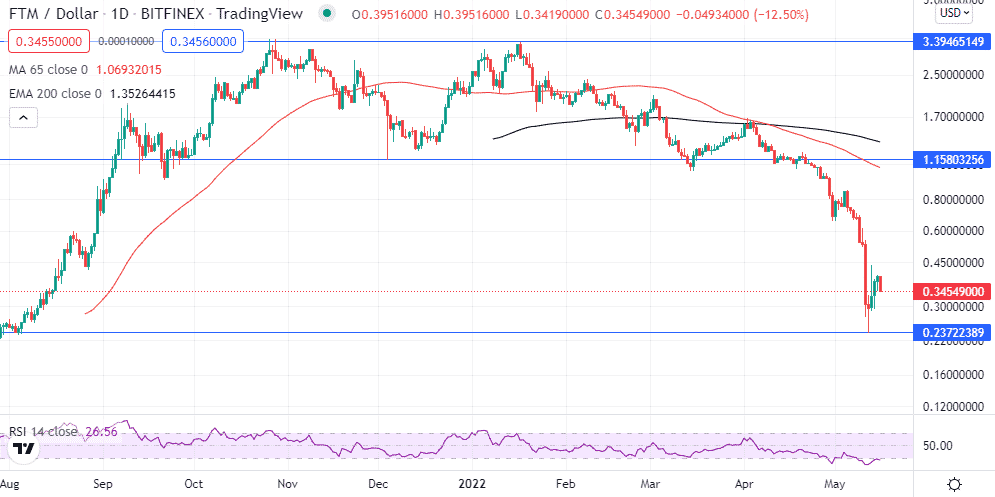 Additionally, FTM bouncing back and finding support above the $0.50 could fuel a run back to the $1 level. With all the major technical indicators affirming bearish momentum, FTM looks set to remain under pressure amid the ongoing crypto crash. Consequently, now may not be the best time to buy the coin.
Fantom FTMUSD price prediction for a year
After the recent slide below the $1 a coin level, Fantom's short-term outlook remains bearish. However, the coin's long-term outlook remains bullish, going by the market estimates. Estimates on Digitalcoinprice.com indicate the coin could rise to highs of $0.5 a coin and average highs of $0.46 a coin, representing a 100% plus rally from current levels.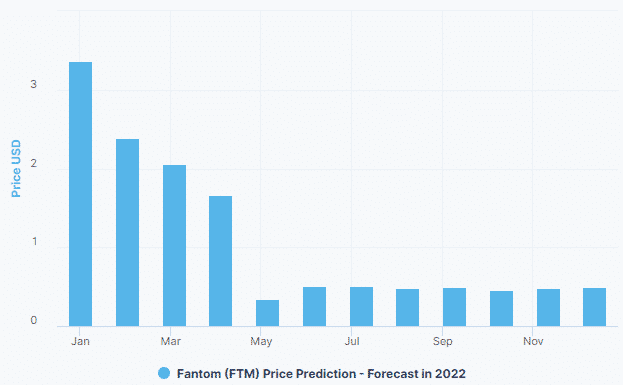 Analysts on Walletinvestor.com, on the other hand, expect the coin to rise to highs of $2.06 from current levels representing a 700% plus rally from current levels. The bounce back after the recent sell-off depends a great deal on the overall cryptocurrency market bottoming out after the recent crash.
Fantom FTMUSD price prediction for 2025
The prospect of Fantom coin price tripling in value over the next three years is high, going by how volatile such digital assets can be. Consequently, estimates on Digitalcoinprice.com indicate the FTMUSD could appreciate reaching record highs of $0.76 by 2025. In addition, it is expected to average $0.69 in 2025, representing a 200% plus gain from current levels.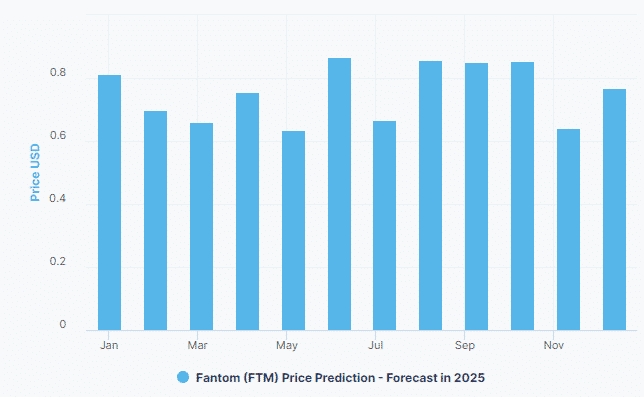 The 200% plus gain from current levels depends a great deal on the adoption of the cryptocurrency sector. Adoption of the Fantom blockchain to develop decentralized applications and use them in decentralized finance will be key to Fantom rallying to highs of $0.76 by 2025.
Fantom in Questions & Answers
Is Fantom coin real?
Fantom is a real coin with tremendous potential. Growing use cases around the Fantom blockchain is one factor that affirms FTM's long-term prospects. The blockchain is increasingly being used to enable the development of decentralized applications and in the digitization of real-world objects into non-fungible tokens.
However, the use of Fantom in Decentralized Finance should fuel strong demand for FTM, which should see its value appreciate significantly going forward.
Will Fantom coin price reach 1 dollar?
Yes, there is a high chance that the FTM coin could reach $1 over the next year as it is oversold. The prospect of a bounce-back is high given the cryptocurrency's volatile nature.
Should I buy a Fantom coin?
The broader cryptocurrency market is under pressure, and Fantom is one of the coins feeling the brunt. Conversely, now may not be the best time to buy the coin. The coin bouncing back and finding support above the $0.50 would make it an exciting buy on the dip.
How much will Fantom be worth in 5 years?
Estimates on Walletinvestor.com indicate FTM coin could be worth $7.5 a coin over the next five years.
Where do I buy FTM tokens?
FTM tokens can be bought in major exchanges such as Binance, Gate.io, and OKEx.