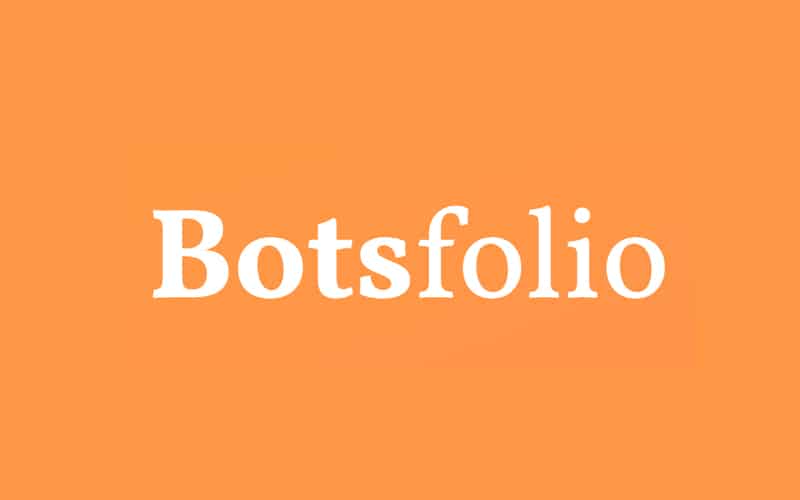 Botsfolio is a trading solution that helps us with trading on our account on the crypto market. The developers provide various explanations about the system and its features. So, we have checked the system's features to figure out if it's good to go.
Quick summary
The system can work on the market automatically.
It trades with API keys.
We are allowed to customize various parameters. So, the robot will work better for us.
Botsfolio: pros and cons
| | |
| --- | --- |
| Pros | Cons |
| Affordable pricing | No risk advice given |
| A screenshot of possible trading results provided | No backtest reports provided |
| A profile on Trustpilot created | No actual trading results available |
| | Much negative feedback published |
What is Botsfolio?
| | |
| --- | --- |
| Price: | $4.75, $9.50, $14.25, and $19.00 |
| Withdrawal fees: | No fees |
| Deposit option: | N/A |
| Supported countries: | Every country where crypto currencies are allowed |
| Supported exchanges: | Binance, Huobi, CoinbasePro, Pionex, FTX, KuCoin, OKEx, Bithumb, Gate.io, Bitfinex, Poloniex, Bittrex, liquid, ProBit, BigONE, Indodax, Lbank, Bitbns, Bitget, Bybit, BitoPro, CEO Global, HBTC, Hydax, MEXC, and ShuBao |
| Free trial period: | N/A |
| Multiple currency support: | It supports over 6000 crypto currencies |
How does it work?
We have systemized information about the bot in the following list.
The system works automatically.
It's possible to work without previous trading experience. 
We are allowed to work with default risks. 
It's possible not to code the system and be profitable. 
We can configure bots to make them to fit our trading expectations. 
It can diversify your portfolio properly. 
We can trade using long and short strategies. 
It will work 24/7 on the market. 
There are automatic investment strategies.
The robot manages the pro folio using API keys. 
It should be connected to our exchange account. 
There's a dashboard to check the market's conditions. 
Pricing and fees
The developers provide us with four packages. There's a 15% performance fee that will be charged from obtained profits. The pricing varies depending on the portfolio value.
Portfolio Value $1.0k-$3.0k–$4.75/Month+performance fees.
Portfolio Value $3.0k-$10.0k–$9.50/Month+performance fees.
Portfolio Value $10.0k-$50.0k–$14.25/Month+plus performance fees.
Portfolio Value $50.0k-$100.0k–$19.00/Month+plus performance fees.
It's possible to work with ETH, Bitcoin, Bitcoin Cash, and Litecoin. We shouldn't rely on a refund policy.
Privacy and security
The system works with our crypto assets, using API keys.
Reliability
There's a possible 7.95% ROI if we work with the robot's default settings.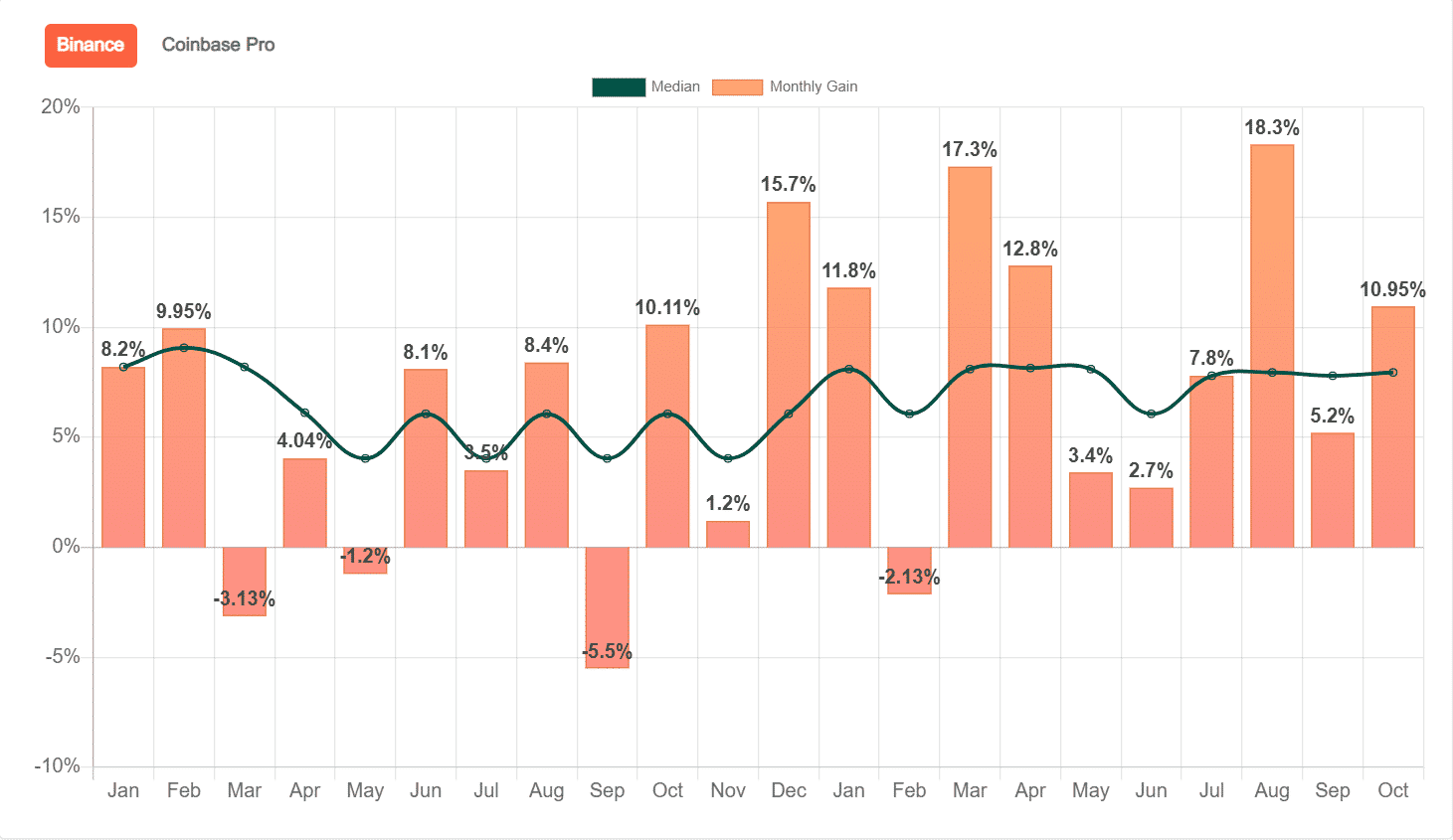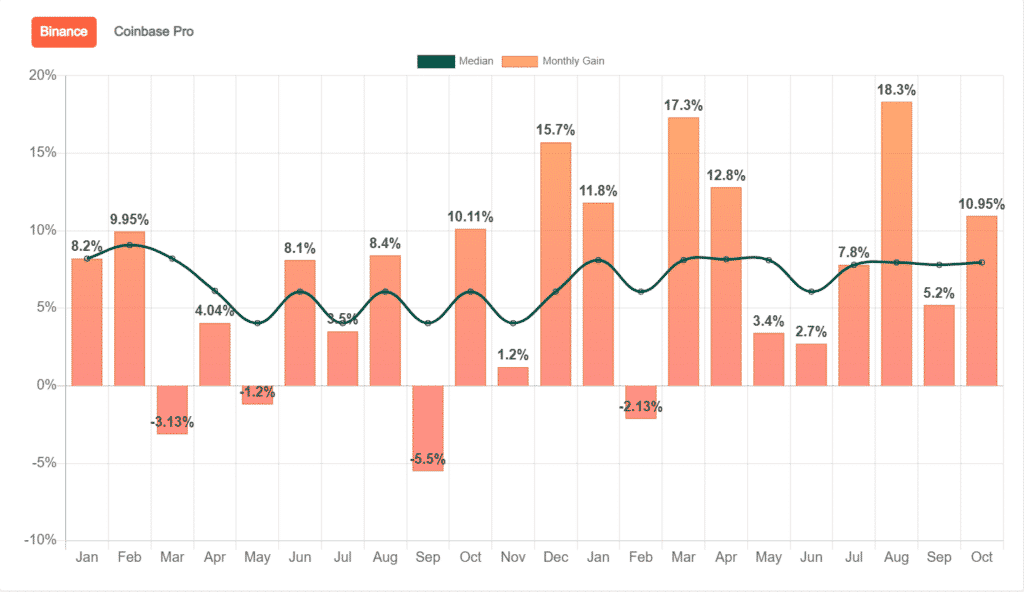 We have a chart that shows that the system doesn't work reliably. There were four months lost. Also, there is no information about what years those trading results were. The medium results showed that the robot could make from 5% to 10% averagely. There's a claim about Top Trades Made: FIL–+600%, ENJ–+181%, XRP–+135%, XLM–+88.58%.
How to start trading using Botsfolio?
The system should be paid and downloaded. Then we have to generate API keys and attach it to our exchange to trade.
Who is Botsfolio suitable for?
The robot can be used by users with any trading experience.
Botsfolio support
The developers provide us with an acceptable level of support. We can expect to receive answers within several hours.
Botsfolio community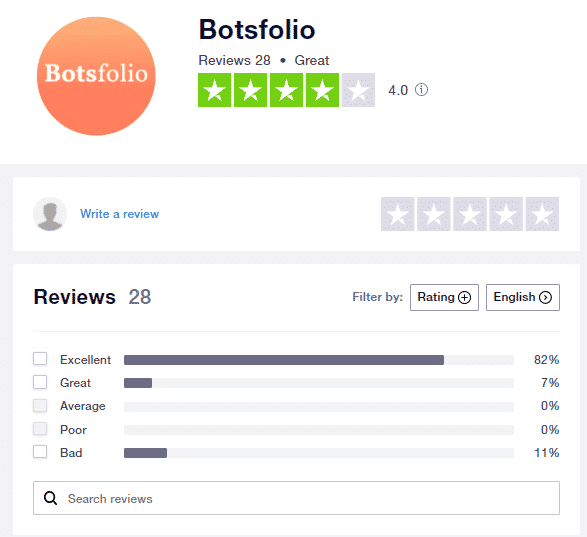 The developers created a profile for Botsfolio on Trustpilot. There are 28 reviews written where 11% of them are negative.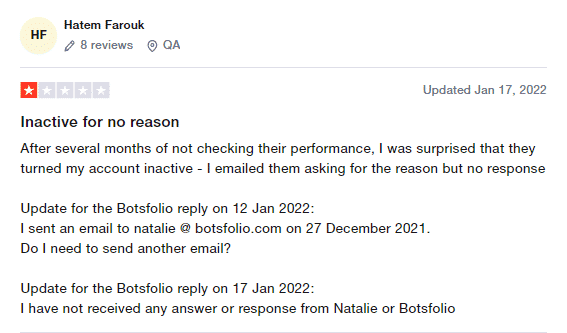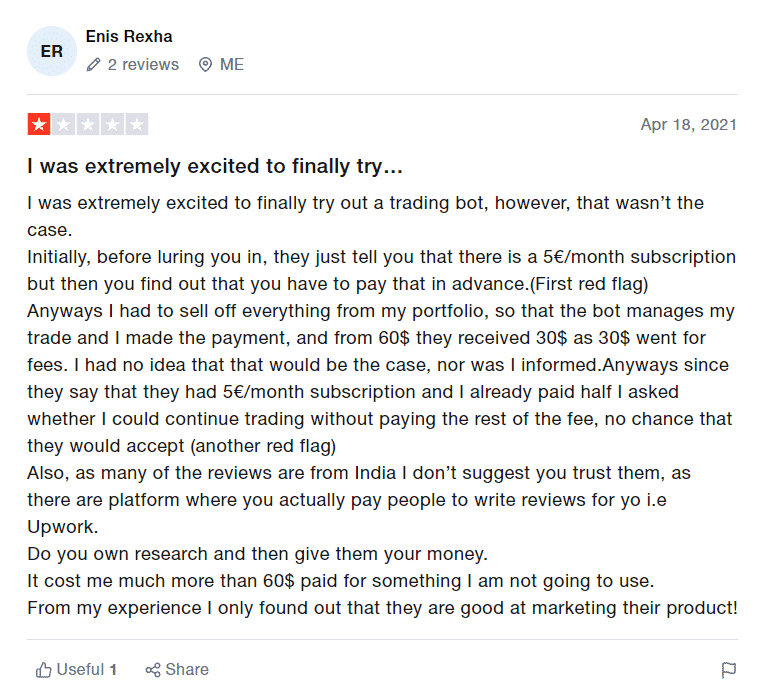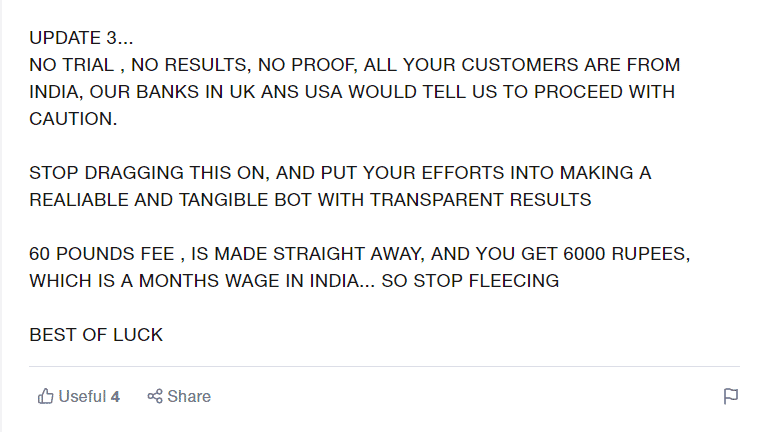 The system has various negative reviews from former customers where people aren't satisfied with its performance and fees. The final decision about using this system is up to you.
The Review
Botsfolio review verdict
Botsfolio is a system that is going to help us with maneuvering our portfolio. It uses various strategies such as Hedge trading, Futures trading, Fixed income, and Value investing. Alas, the developers don't share backtest reports and actual trading results with us. Thus, it's impossible to predict if the system is a good solution.
Review Breakdown
User Interface:

0%

Ease:

0%

Price:

0%

Features:

0%

Support:

0%