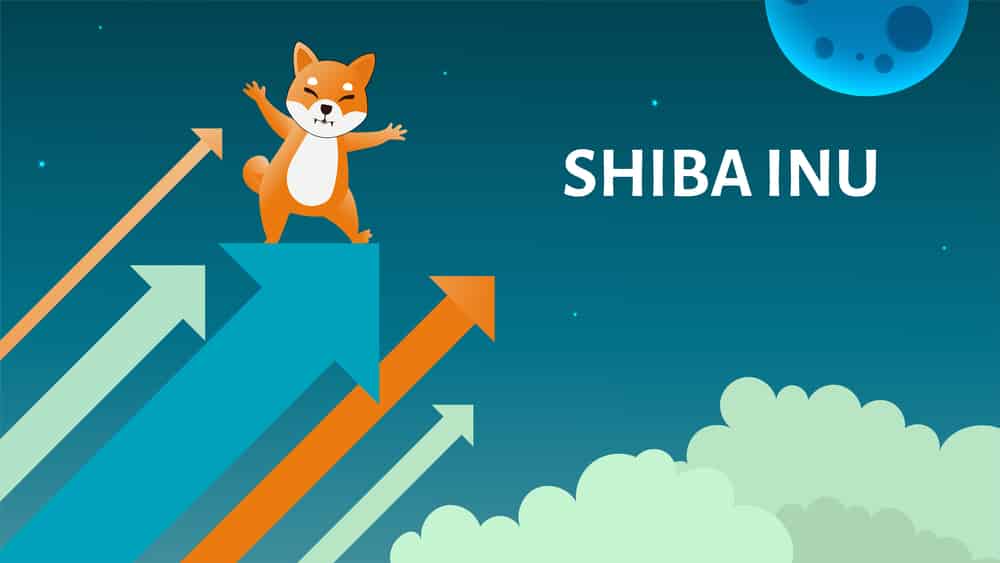 Dogecoin is the sensational meme coin that has taken the crypto world by storm, having caught the attention of high-profile personalities, including Mark Cuban and Elon Musk. In a field where innovation is the order of the game, you will be mistaken to think it is the only meme coin.
Understanding Shiba Inu 
Named after a dog breed, Shiba Inu is the new token looking to dethrone the meme coin as people's favorite. Created on August 20, 2020, by little-known Ryoshi, Shiba Inu has already been dubbed the "doge killer" in the cryptocurrency world.
Like Dogecoin, Shiba Inu is part of an emerging class of tokens based on memes and promoted on Tik Tok and Reddit platforms. Its movement in the market goes against the grain, rejecting any form of formalities or protocol.
While Shiba Inu is nearly worthless, its popularity has been growing in recent months thanks to several high-profile cryptocurrency exchanges adding its support. Chinese traders have also played a big role in its growing popularity and trading volume in most exchanges.
It is dubbed a doge killer partly because of its underlying technology, which many cryptos enthusiasts believe is more community-driven than that of Dogecoin. It also uses the high-profile dog Shiba Inu as its mascot. Its ecosystem includes the ShibSwap exchange and a decentralized exchange dubbed Shiba Army developers.
Additionally, Shiba Inu claims to be a Doge Killer, given its prospects of outpacing the value of the more popular meme coin without ever crossing the $0.01 mark on valuation. How true that is still a point of discussion given that Dogecoin boasts of a market capitalization of about $39 billion compared to Shiba Inu's $2.7 billion.
Dogecoin vs. Shiba Inu
Dogecoin came into being as a fork of bitcoin spinoff Litecoin. It's grown in popularity partly because of its growing use in online tipping. It boasts of an infinite supply limit with about 10,000 new DOGE created about every minute.
Its value took off, surpassing the $0.01 level as it attracted super fans in the form of Elon Musk and Mark Cuban. While its value touched record highs of $0.68 a coin, it has pulled lower significantly following a sell-off in the broader industry.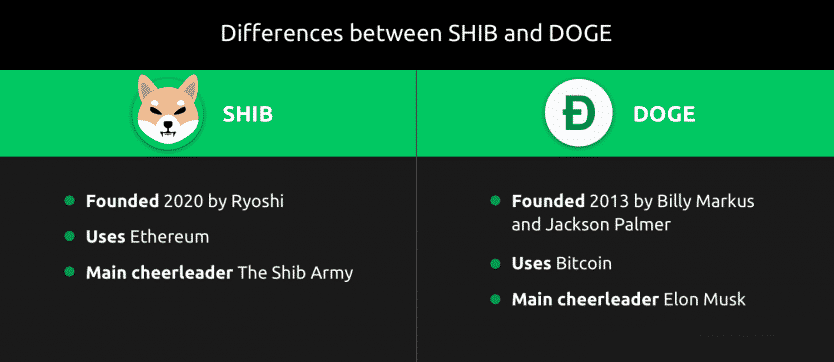 On the other hand, Shiba Inu is still in the early stages of development and popularity. It bills itself as an experiment in the decentralized community. It differs from DOGE in the fact that it has a supply cap but a very high one at one quadrillion.
However, the supply has been cut to almost half on the project, giving about 50% of the tokens to Ethereum co-founder Vitalik Buterin who in return has donated nearly half of his allocation to charity.
On the other hand, DOGE is a coin powered by its own blockchain. In contrast, Shiba Inu is a token that runs on top of a more established and developed blockchain infrastructure, Ethereum. Consequently, while DOGE is subject to its own development decisions, Shiba Inu relies on the development changes or upgrades made on the Ethereum blockchain.
Shiba Inu ownership structure
Shiba Inu ownership structure is quite different from what is common in the burgeoning sector. For starters, the founder Ryoshi claims not to hold any coins. In most cases, especially with new projects, the company's co-founders behind the token are known to hold a substantial amount of the tokens.
Ryoshi claims to have donated 50% of the Shiba Inu coins to Ethereum co-founder Vitalik Buterin at inception. If true, Buterin holds a significant amount of the token, which gives him sole control of the project, which goes against the precept of decentralization.
Currently, there are around 400 trillion SHIB coins in circulation from a total pool of 1,000,000,000,000,000. Buterin total SHIB coins are valued to be worth more than $15 billion. The tokens can be bought on Shiba Inu's decentralized exchange ShibaSwap or other exchanges like Binance or OKex.
Shiba Inu growing popularity
Shiba Inu's rise to prominence has to do with a surge in Dogecoin interest. Dogecoin rose to prominence following the GameStop fallout that resulted in retail investors looking for the next big thing in the investment world. The aftermath was an increased focus on joke cryptocurrencies.
Tesla CEO Musk's periodic tweets about the meme coin only sparked strong interest driving its value higher. However, its run would come to an abrupt end as Musk dubbed the coin a Hustle as he appeared on the Saturday Night Live show in May. As Dogecoin tumbled 30%, afterward, retail investors shifted their attention to other coins.
As the focus shifted from mainstream cryptocurrencies to meme coins, people started to look for the next big thing, eventually seeing Shiba Inu as one of those.
Shiba Inu received another big boost following the Dogecoin sell-off as Binance listed its coin SHIB on its platform resulting in its price more than doubling afterward.
The future
In a field where dynamics are increasingly changing and new coins are increasingly cropping up by the day, it is unclear what the future holds for the doge killer meme coin. The token's value has increased significantly over the past few weeks.
The rally in the market does not come as a surprise as most cryptocurrencies trade on speculation. The buying tone appears to have gathered pace in recent months following a massive sell-off in June. With Bitcoin and Ethereum racing to four-month highs, Shiba Inu is increasingly attracting interest given its low valuation compared to the high-profile names.
As it stands, Shiba Inu should be considered as one of the thousands of meme coins that have popped and are expected to come into being in the near future.