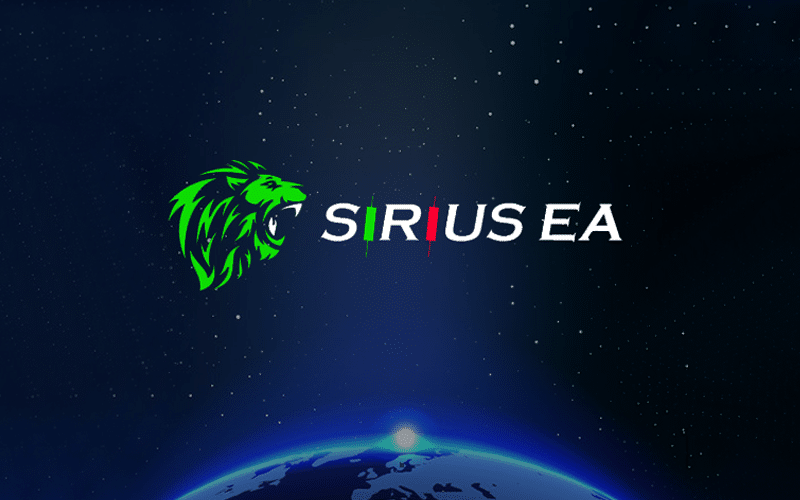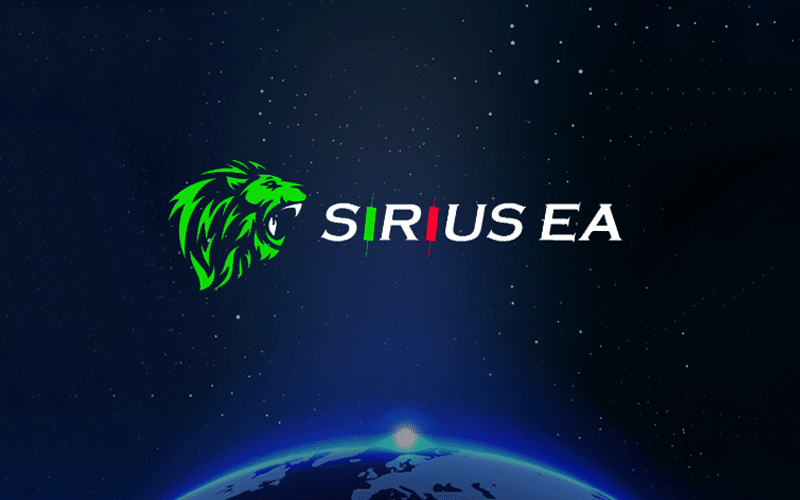 Sirius EA is a robot that trades in multiple pairs and claims to bring in huge profits while employing efficient risk-management measures. Its results are verified by a third-party website and according to the vendor, the system has shown huge upside potential to date. As per vendor claims, you can get an ROI of 36.29% while trading with this system.
Is Investing in Sirius EA a Good Decision?
In order to gauge the robot's reliability, we have taken into account several factors like vendor transparency, presentation, features, price, trading results, customer reviews, etc. We can see that the vendor has not shared much on the website in terms of relevant information about the system. Also, we are unable to see any backtesting data, so our first impression is not too positive.
Company Profile
On the official website, the vendor has provided us with a brief introduction of the system and its features without delving too deep into the details. We have some graphs and charts showing the growth achieved by the robot over the years, as well as a video showing some of the special functionalities. Lastly, we have the details of the pricing plans and contact details in the form of email address and phone number.
Sirius EA has been developed by a company known as Celestial Trading Tools. This company is based in England, but we don't know anything about their foundation year or the kind of experience they possess. Apart from this robot, they have developed another system called Dynamic EA. The identities of the developers and traders have not been revealed by the seller.
Main Features
This robot trades in different pairs like AUD/JPY, AUD/USD, EUR/AUD, EUR/GBP, EUR/JPY, EUR/USD, GBP/JPY, GBP/USD, NZD/JPY, NZD/USD, USD/CAD, and USD/CHF. It is a 100% automated system that places trades 24 hours a day, 5 days a week. It has a built-in money management system that prevents your account from getting exhausted.
It is easy to set up this robot and you don't need to perform any additional customizations in order to trade with it. Sirius EA has optimized default settings and is capable of trading in autopilot. You don't need any special experience to trade with this system, but in case you run into any troubles, the customer support team can help you out. A minimum deposit of £2000 is needed to start trading with this EA.
The vendor has not provided us with any explanation regarding the trading strategy used by the system. So we don't know what kind of indicators the robot uses or how it spots profitable trading occasions. Seasoned traders always look for technical details related to a strategy, and they might take this as a red flag.
Price
Sirius is available for a subscription plan that costs £15/month. This is pretty standard compared to the other Forex EAs being sold on the market. The vendor does not offer a money-back guarantee for this product, however, which is a bit disappointing.
Trading Results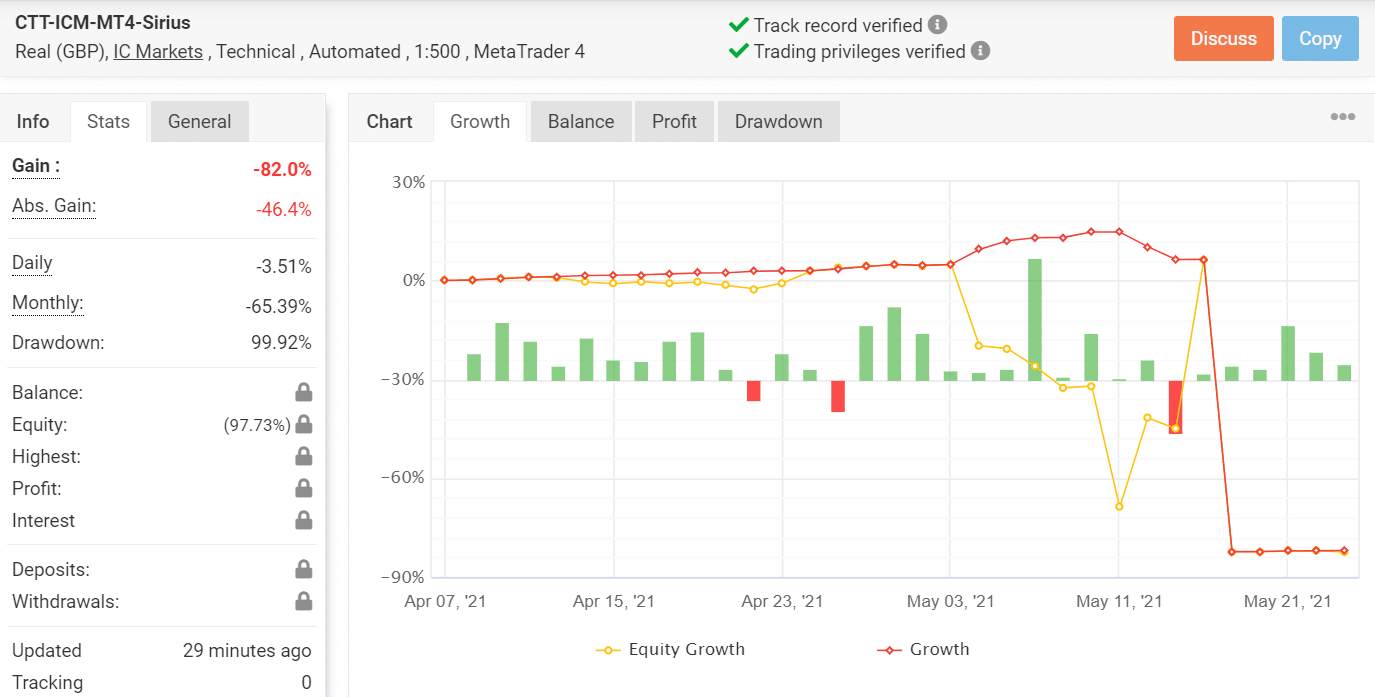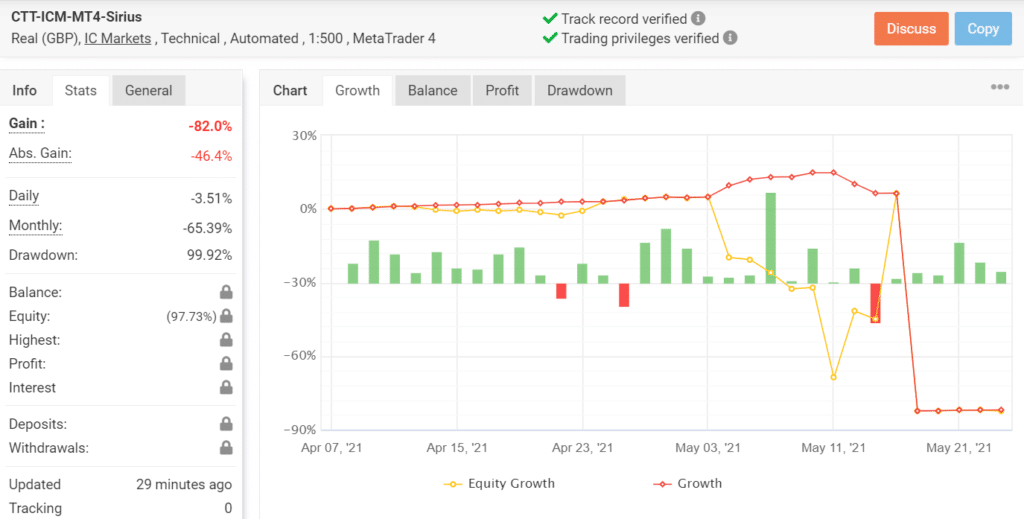 This is a live trading account for Sirius EA verified by the Myfxbook website. It has been active since 7th April 2021, and to date 714 trades have been placed through it. Out of them, 411 have been won, and this represents a moderate win rate of 58%.
This account seems to have suffered some heavy losses along the way because its time-weighted return currently stands at -82%. The daily and monthly gains are -3.51% and -65.39% respectively, while the drawdown is incredibly high at 99.92%. No trader would consider investing in a system that has such a high drawdown.
We don't have the backtesting results available for this robot. Thus, it is not possible to compare the live trading results with backtests in order to get a more accurate measure of profitability.
Customer Reviews


There are no user reviews for Sirius EA on third-party websites. On the official website, we have several customer testimonials, but these cannot be considered authentic, since the vendor could have easily manipulated them. The absence of user reviews on the web confirms our suspicion that this Forex EA does not have a good reputation.
Sirius EA Review Summary
Sirius EA is not a Forex EA that can win your profits on a regular basis and the live statistics presented by the vendor are testament to this fact. Furthermore, we don't know what kind of strategy it uses, and there are no verified user reviews that tell us about the robot's performance. Therefore, we would advise you to stay away from this system.