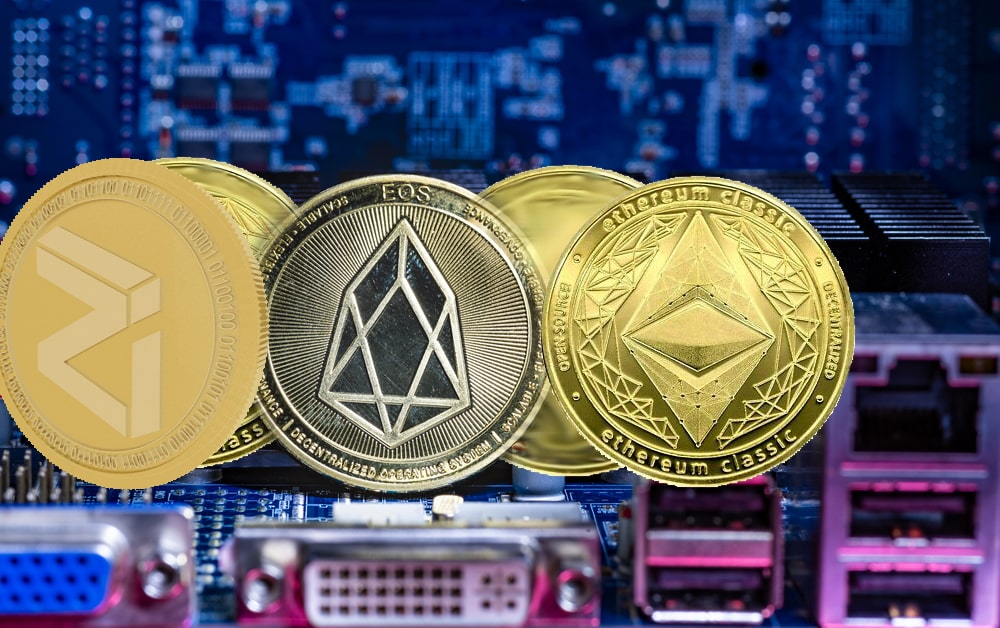 A fallen angel in the financial industry refers to an asset that has fallen out of favor among investors and traders. It could be a stock that was once flying high, only for it to collapse. The same has happened in the cryptocurrency industry. In this article, we will look at some of the top crypto fallen angels and assess whether they will ever rise again.
EOS
EOS is a blockchain project that was developed by Block, the company that raised a whopping $4.4 billion in its Initial Coin Offering (ICO).
It is primarily a smart contract project that helps developers to build decentralized applications of all types like DeFi and NFTs. Its development platform is known as EOSIO.
At its peak, EOS was among the top 15 in the ranking of the biggest cryptocurrencies in the world. This performance was because investors believed the vision that the team at Block sold.
However, in the past few months, its token has crashed, and its market capitalization moved to about $2.1 billion. Its ranking has been in a slow downtrend, and it currently stands at position 57.
There are several reasons why EOS has lagged. First, while the platform has been around for years, it has not gained a lot of traction among developers. In fact, it is very difficult to pinpoint some of the projects built using the network.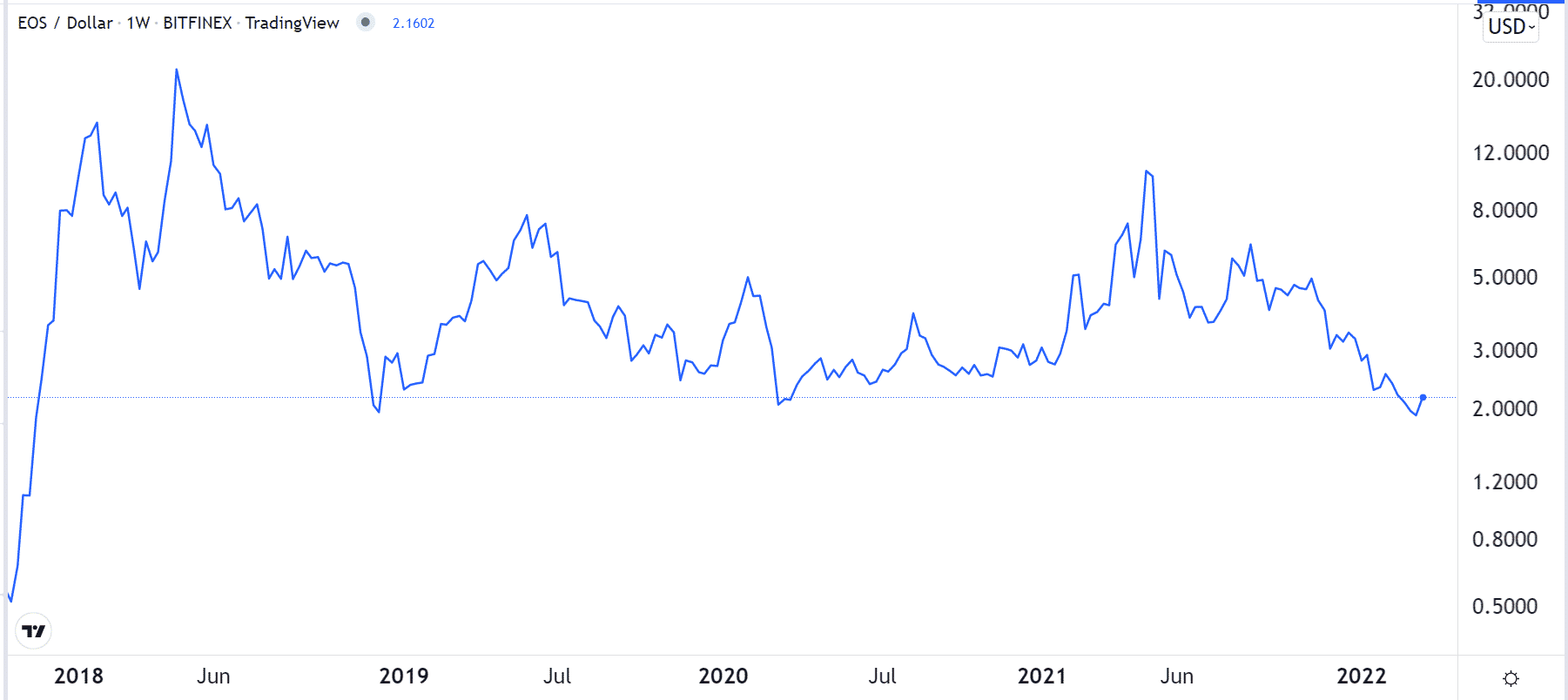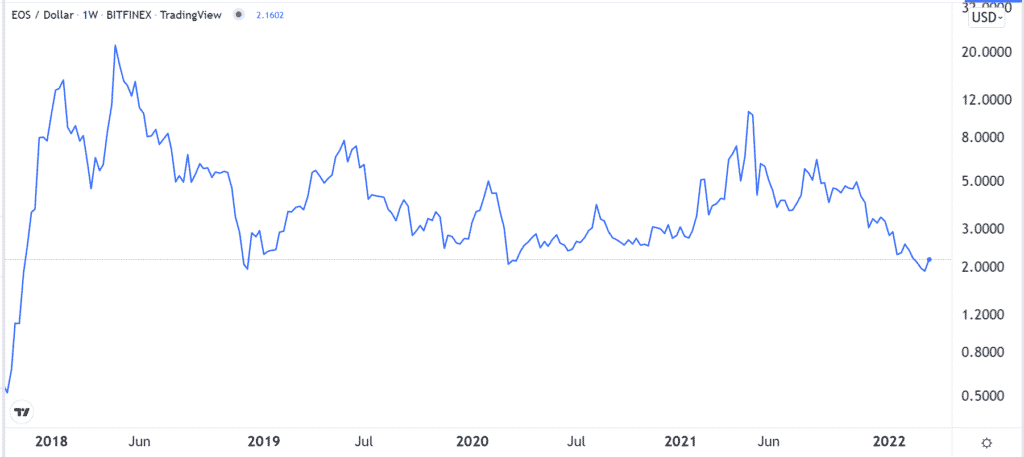 Second, while EOS is run by EOS Foundation, many investors have avoided it because of its association with Block. Finally, other better alternatives to EOS like Avalanche have come up. Therefore, it is unlikely that the coin will become great again.
Ethereum Classic
Ethereum Classic is a layer 1 project that emerged from a fork of Ethereum. Therefore, the network offers similar services to Ethereum in that it has a platform where developers can build applications.
In 2021, ETC became one of the best performing cryptocurrencies in the world. The performance happened because most investors viewed it as a proxy for Ethereum, which was trading in a strong bullish trend.
As a result, Ethereum Classic climbed up the crypto rankings ladder from top 50 to top 20. Its market cap also surged over $10 billion.
Recently, however, its price has crashed to about $3.6 billion as the divergence with Ethereum has grown. There are three main reasons for this. First, there are very few developers building on Ethereum Classic.
Second, the network maintains a proof-of-work methodology while Ethereum is transitioning to proof-of-stake. Finally, it has 51% attacks because of the concentration of mining pools. It is unlikely that ETC will be great again.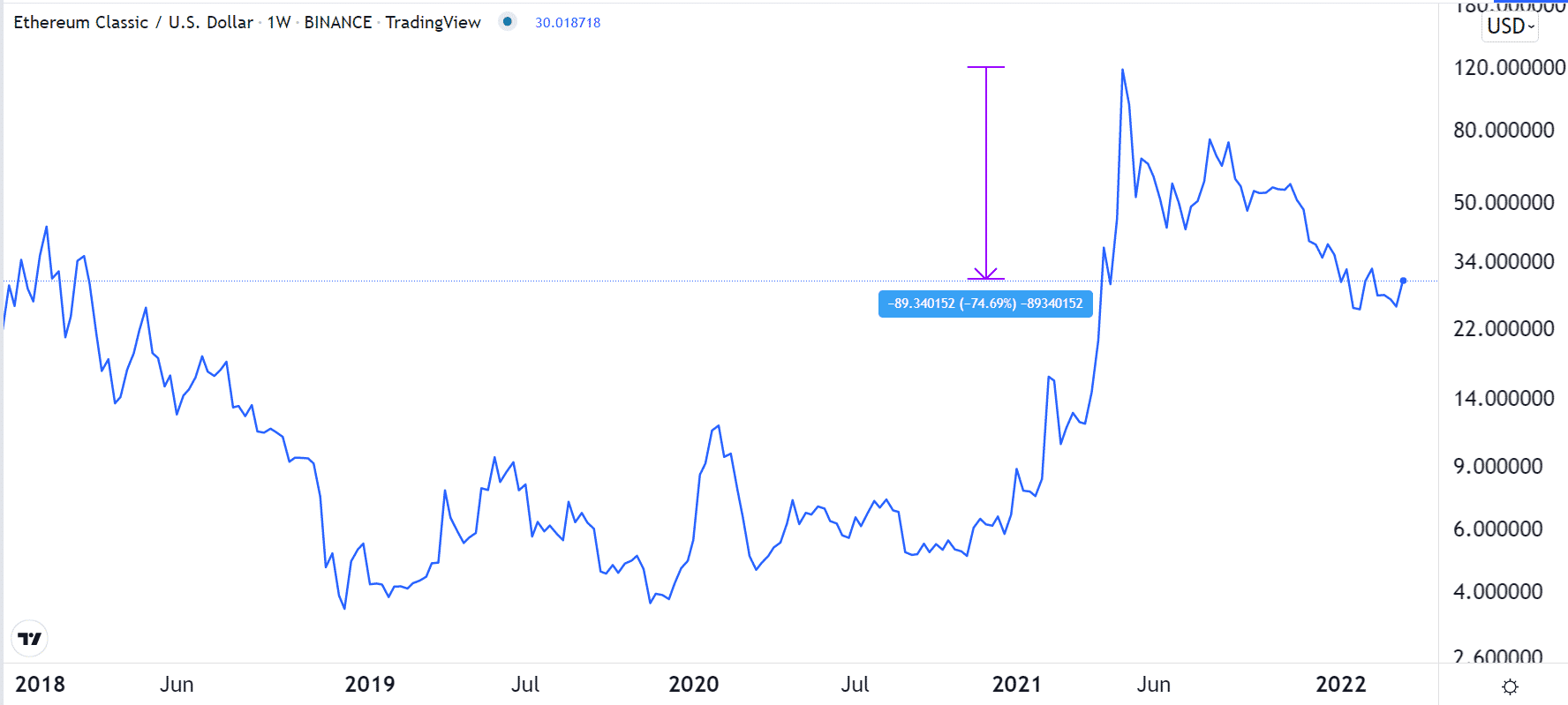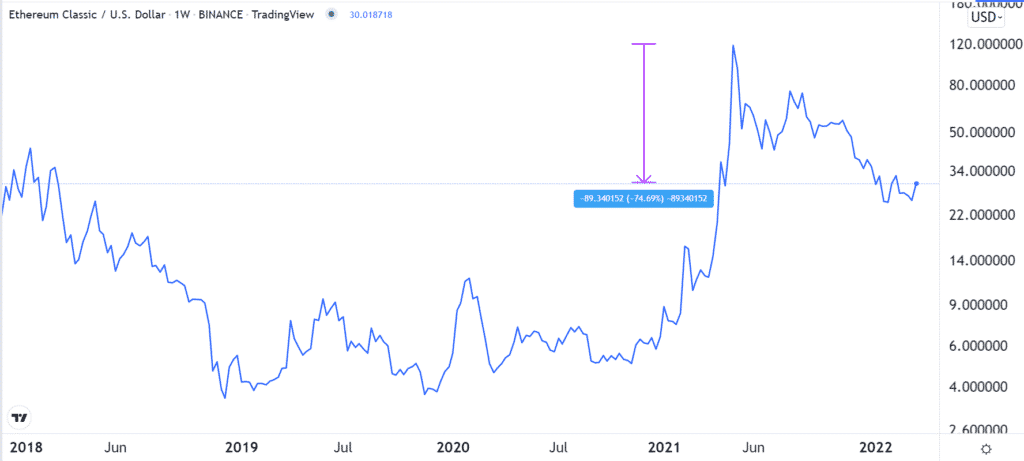 Second, the network maintains a proof-of-work methodology while Ethereum is transitioning to proof-of-stake. Finally, it has 51% attacks because of the concentration of mining pools. It is unlikely that ETC will be great again.
Synthetix
Synthetix is an Australian platform in the decentralized finance (DeFi) industry. Its main feature is that it enables people to create their own synthetic derivatives that are based on real assets. For example, an online broker can create derivatives on currencies, stocks, and commodities. Its derivatives are known as synths.
At its peak, Synthetix had a total value locked (TVL) of over $3 billion, while its coin had a market cap of more than $2 billion. However, afterward, the price rose to a high of $25. Since then, its price has fallen by about 80%. It also moved from being a top 30 coin to below top 100.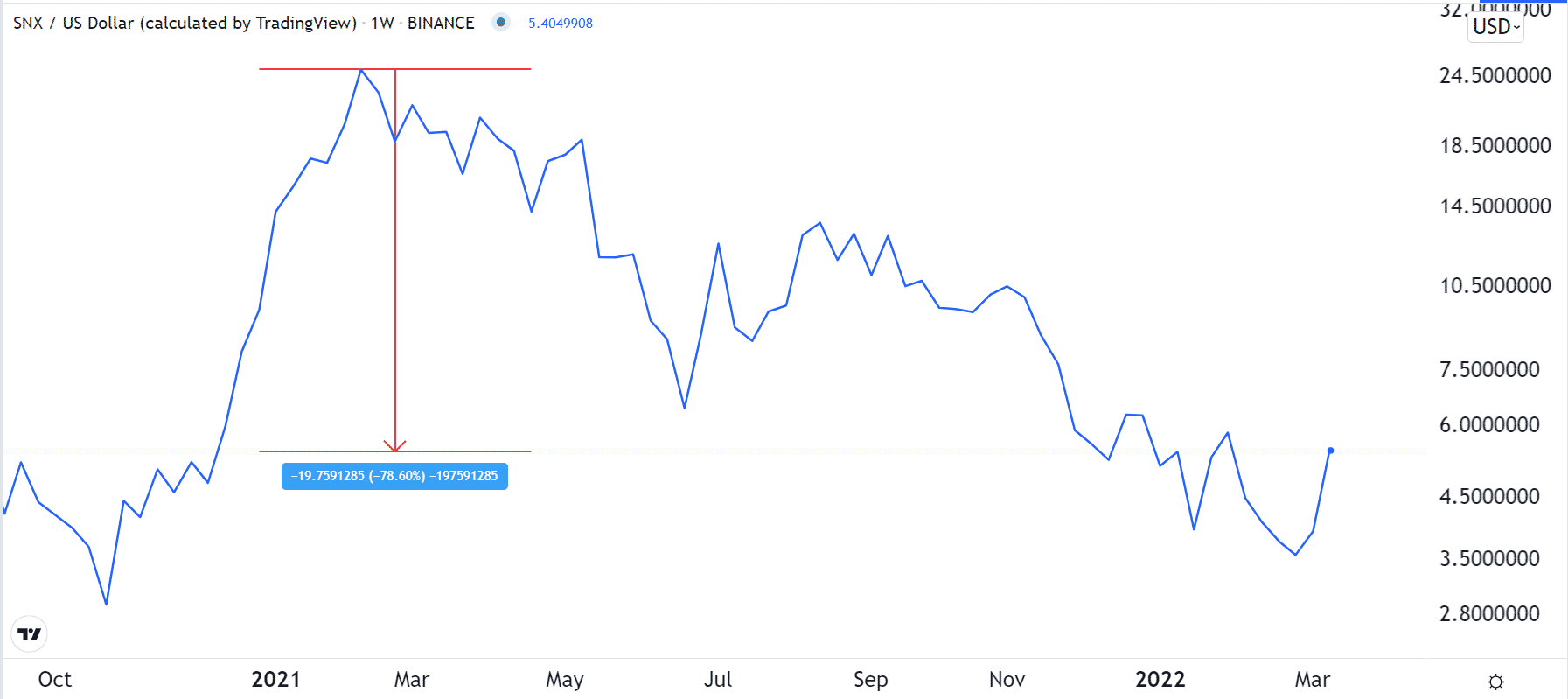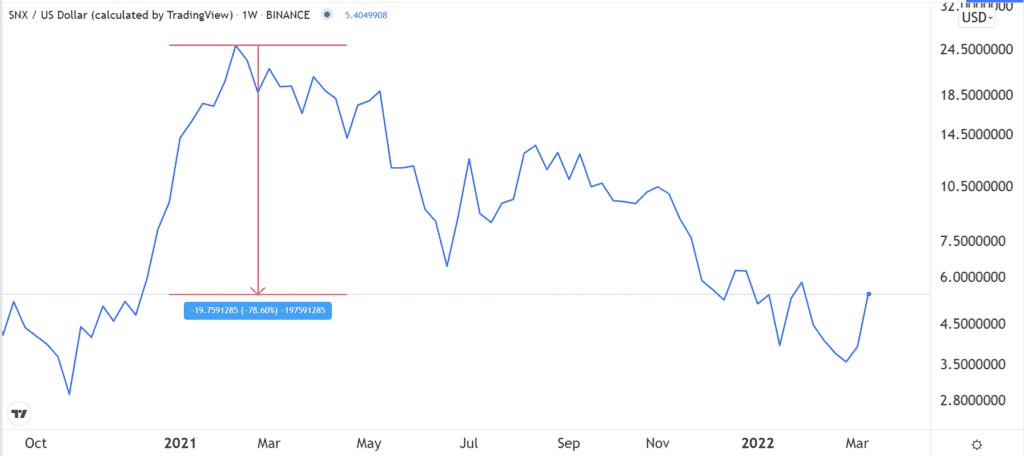 This performance was due to the overall performance of other cryptocurrencies and rising competition from other derivatives platforms like Convex Finance and ThorChain. Unlike the other two, there is a likelihood that its price will rebound as the industry grows.
Zilliqa
Zilliqa is a decentralized project that has helped to revolutionize the industry. It did that by introducing the concept of sharding, which helps to optimize blockchain projects. While most projects process blocks in full, sharding simplifies their processes by slicing them into smaller pieces known as shards. As a result, its transaction speeds are significantly faster.
Sharding has now been embraced by many developers. Some of the projects using the technology are Near Protocol, Elrond, and Polkadot. Ethereum will also use the technology when it completes the transition from PoW to PoS.
While Zilliqa changed the industry, its ecosystem has not found any traction, meaning that few developers are using it for development. As a result, its price has dropped by over 83% from the all-time high. The ranking has also dropped from the top 30 to below 120.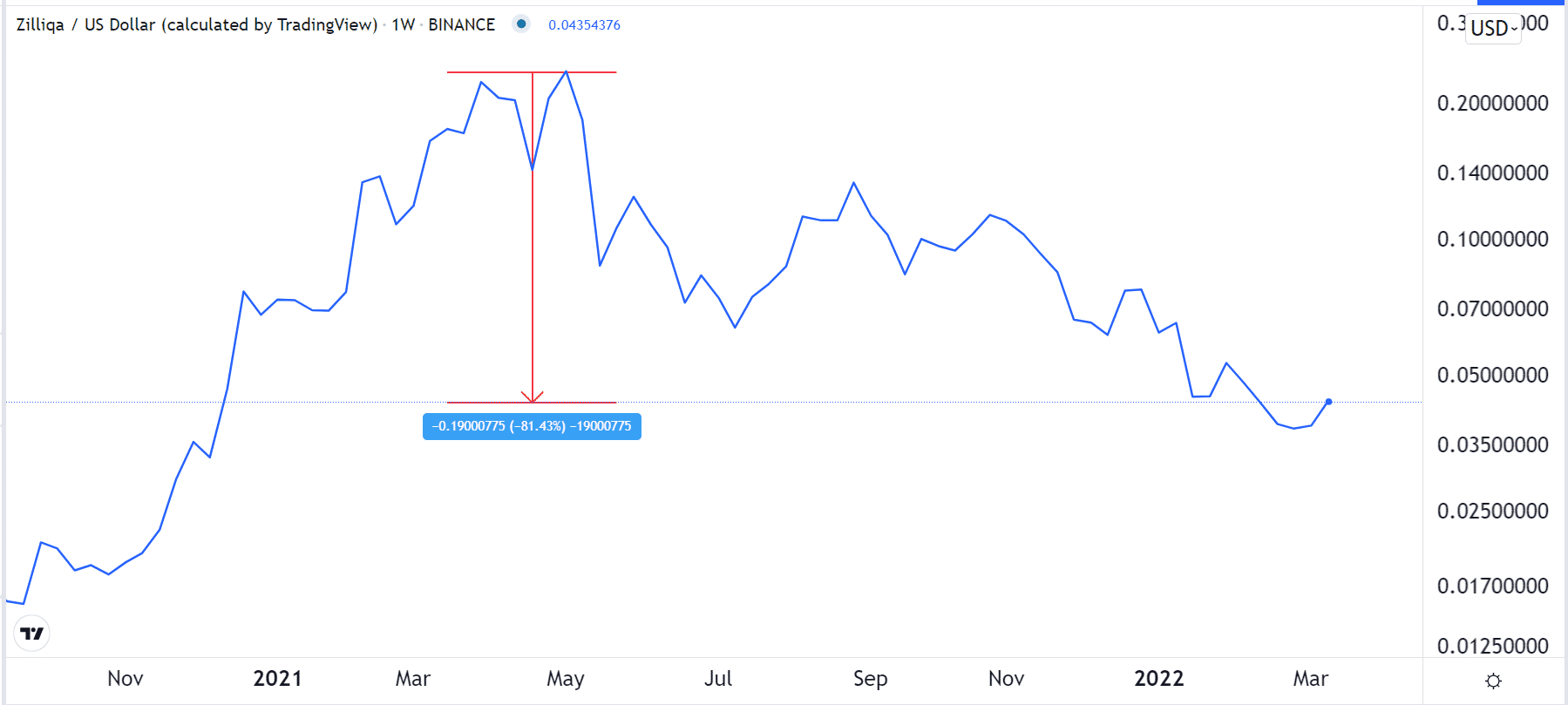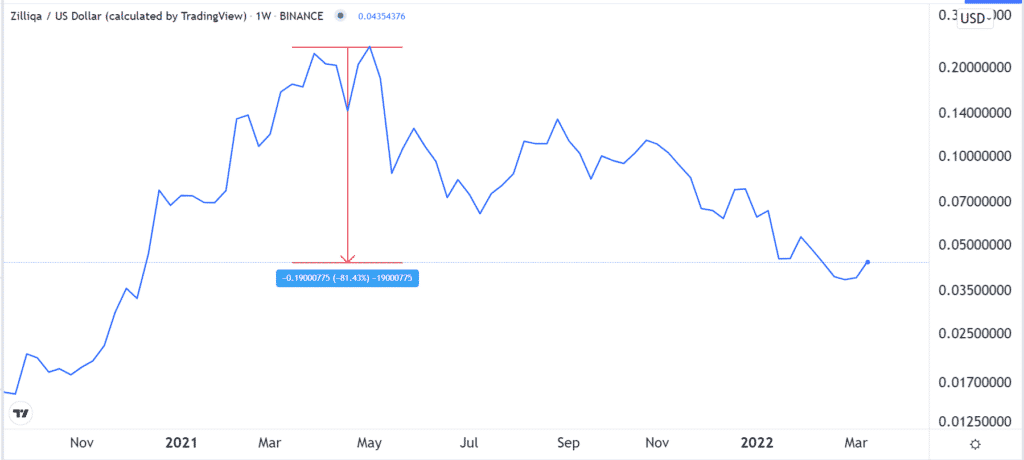 With competition in the industry rising, it is unlikely that Zilliqa will achieve success and rebound.
Immutable X
Immutable X is a layer-2 platform that focuses on the narrow niche of non-fungible tokens (NFT). This is unlike Polygon, which helps developers optimize all types of applications.
Immutable X has become a fallen angel because of poor performance. Its price has moved from above $10 to less than $2 in a matter of months. As a result, its ranking has crashed from the top 100 to about 180.
The performance of IMX is mostly because of the ongoing trends in the NFT industry. While the sector processed over $25 billion in volume in 2021, most analysts expect that it will retreat in the coming years. Indeed, data from OpenSea show that the volume has been in a downward trend this year.
A key risk for IMX is that the Fed has started hiking interest rates and hinted that it would deliver about 6 more hikes in 2021. Therefore, there are concerns about the growth of its ecosystem in a time when rates are rising.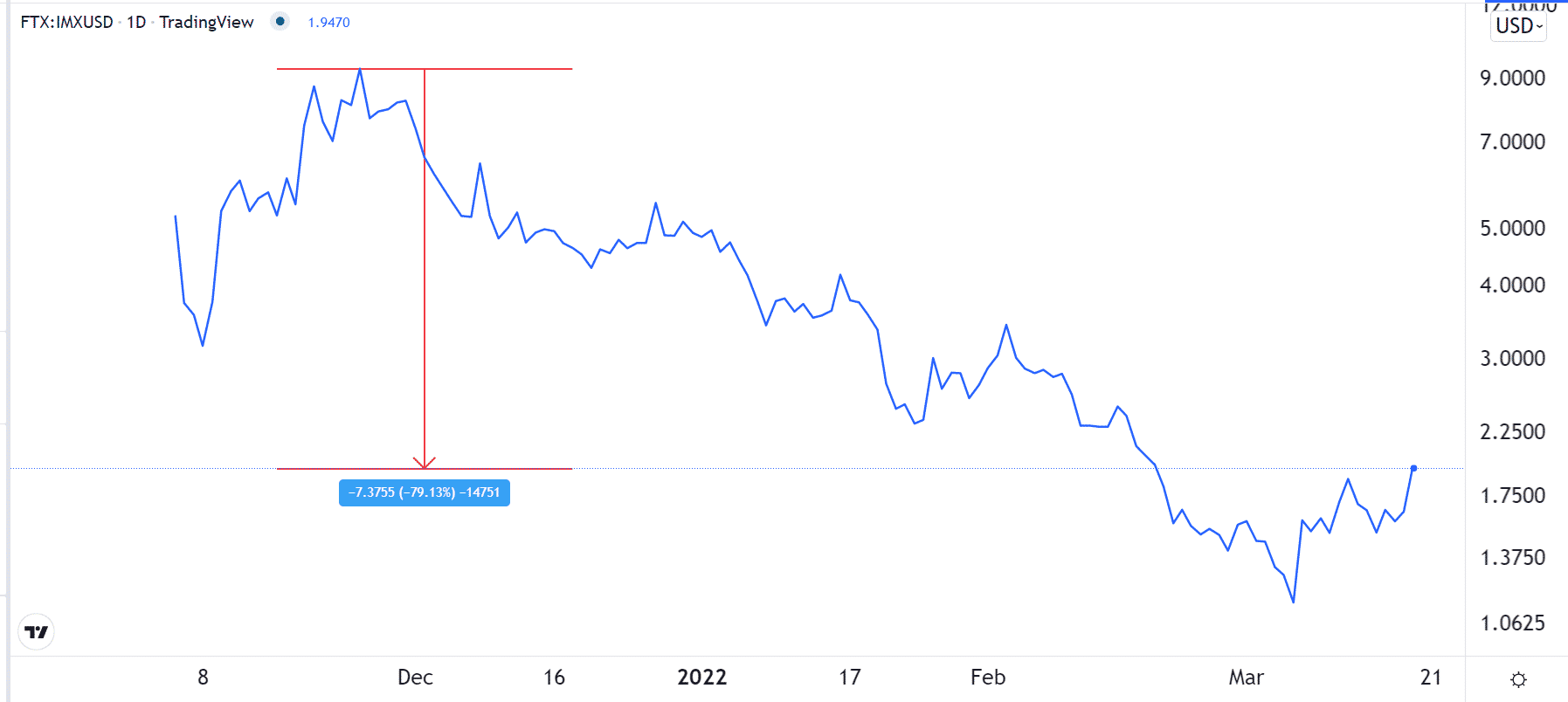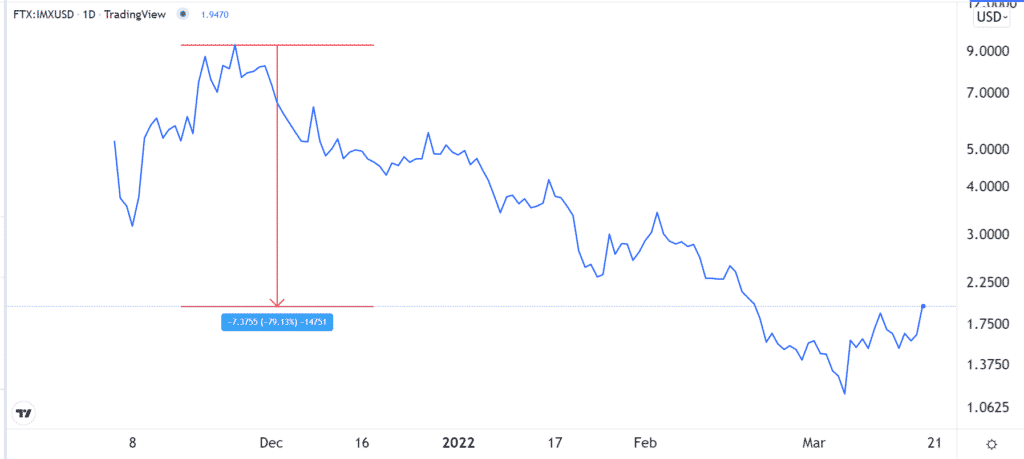 Another issue is that the layer 2 industry has become significantly competitive in the past few months. As such, there is a likelihood that Immutable X will find it difficult to recover.
Other fallen angels
There are other fallen angels in the cryptocurrencies industry. For example, VeChain has moved from being a top 20 cryptocurrency to the current 42. Similarly, meme coins like Floki Inu and Dogelon Mars have dropped in rankings. Other fallen angels are IOTA, Perpetual Protocol, and Tezos.