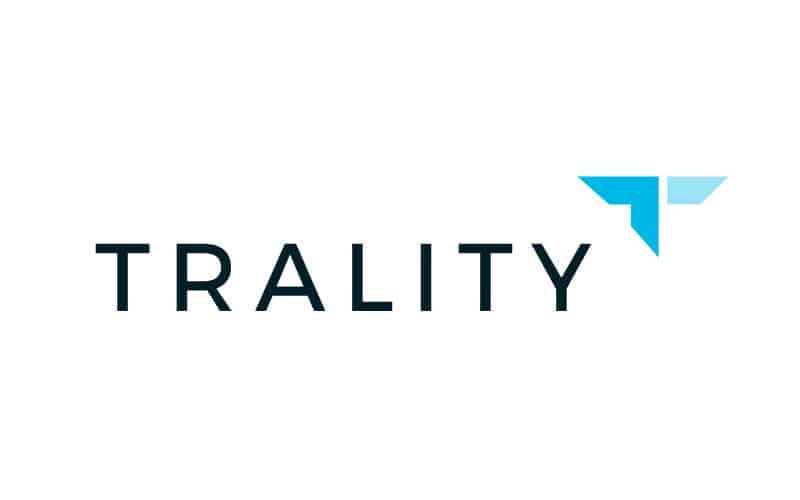 The crypto market is highly volatile and unpredictable. Here, prices can go up or down in a flash, which means you always need to stay alert in order to get decent results. Crypto bots let you automate the menial tasks and monitor the market 24/7 so that you don't miss out on lucrative opportunities.
Trality is a system that claims to let you trade like a pro. In this review, we are going to analyze the features of this system, along with other factors like security, reliability, support, and user reviews.
Quick summary
Let's look at the key features of the platform:
No coding skills required for building strategies
Powerful Python API for coding algorithms
Efficient backtester for optimizing strategies
Cloud-based platform
Official exchange APIs used
Marketplace for mirroring algorithms
Trality: pros and cons
| | |
| --- | --- |
| Pros | Cons |
| Suitable for both coders and non-coders | No mobile app |
| Advanced security features | Small number of supported exchanges |
| 100% cloud-based system | |
What is Trality?
Trality is a crypto trading platform that lets you automate your trading operations. It offers two ways of building strategies, based on your technical proficiency. You can evaluate the algorithmic trading strategies by running them in the backtester. This lets you get an idea about the risk/return of the strategy without investing real money.
| | |
| --- | --- |
| Price: | €9.99/month, €39.99/month, €59.99/month or €95/year, €383/year, and €575/year. A free plan is also offered. |
| Withdrawal fees: | No fees |
| Deposit option: | N/A |
| Supported countries: | All |
| Supported exchanges: | Binance, Binance.US, Bitpanda, Kraken, Coinbase Pro, FTX |
| Free trial period: | No |
| Multiple currency support: | No |
How does it work?
For those without any coding skills, the Rule Builder is the best option for creating strategies. It features a graphical user interface and you can build your trading logic by simply dragging and dropping different strategies and indicators.
If you possess coding skills, you can use the Python Code Editor to build your trading schemes. With the easy-to-use API, you can easily access any financial data and select from a wide range of indicators. You can use the in-browser debugging tool to perfect your code.
Trality also has a bot Marketplace. If you are an expert programmer, you can share your trading bots here. This way, you can attract followers and earn revenue. Beginners can use the Marketplace to copy the bots without coding algorithms. The details of the algorithms are kept confidential and the developers have full control over them.
Pricing and fees
There is a free plan for this service, along with three aid plans. With the free plan, you get a €5000 trading volume. The Knight plan costs €9.99/month, while the Rook and Queen plans are available for €39.99/month and €59.99/month.
Privacy and security
Trality does not have permission to withdraw your assets. They remain safe on your exchange and the platform simply connects to your exchange using official API keys. Since this is a cloud-based service, you don't need to set up your own servers. The strategies are encrypted for added safety. You can also activate multi-factor authentication to make it more difficult for others to access your data.
Reliability
This platform has been featured in various media outlets like Investing.com, Der Brutkasten, Trending Topics, and The Cointelegraph. It was founded in 2019 by Christopher Helf and Moritz Putzammer. Both of them have vast industry experience. The company is transparent about its history and all the details on the team members can be found on the website. This is a sign of reliability.
How to start trading using Trality?
On the official website, you need to click on the Signup button. After that, you need to sign up using our email and choose a password. The next step is to choose a pricing plan. Once you have your strategy set up, you can connect an exchange and start trading.
Who is Trality suitable for?
It is suitable for both novice and expert traders. The platform offers ways for both categories of traders to build advanced strategies.
Trality support
There is a wealth of blog articles, documents, and tutorial videos on the website. You can also get in touch with the support team using the email address or the Discord channel.
Trality community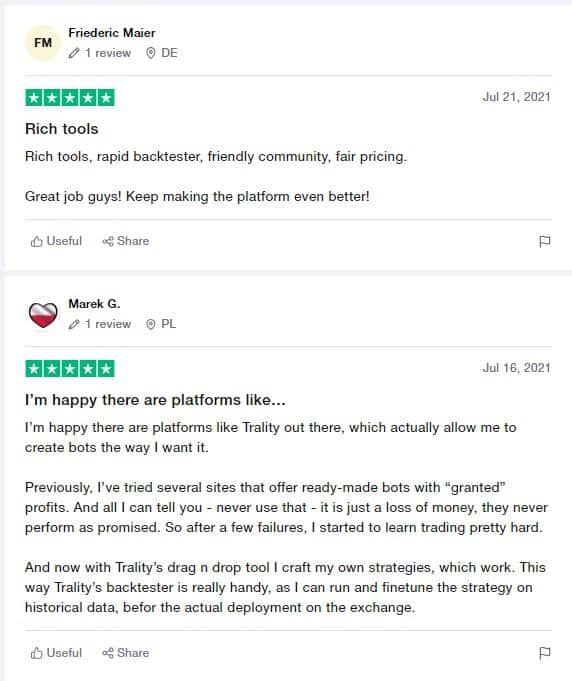 On Trustpilot, several users have praised the useful tools available on this platform as well as the affordable plans.
The Review
Trality review verdict
This platform offers multiple ways for you to build strategies for trading the crypto market. It has a free plan without any added fees. You can also publish your bot on the marketplace for an added income. The company behind the platform is transparent and possesses a decent reputation.
Review Breakdown
User Interface:

0%

Ease:

0%

Price:

0%

Features:

0%

Support:

0%