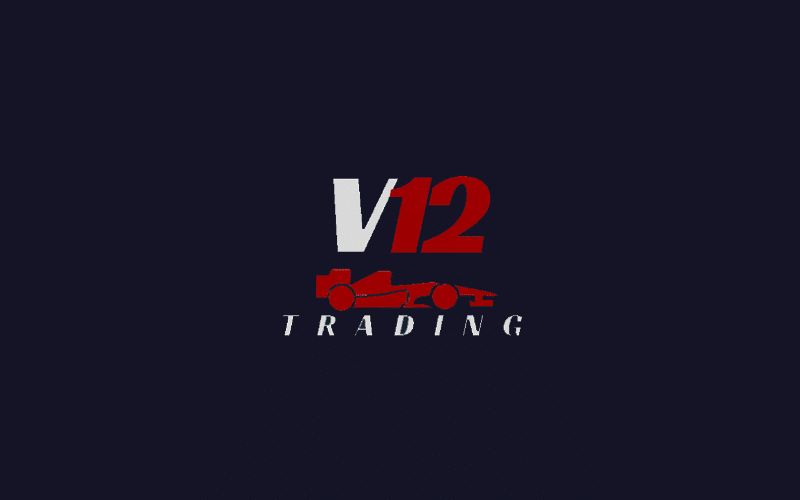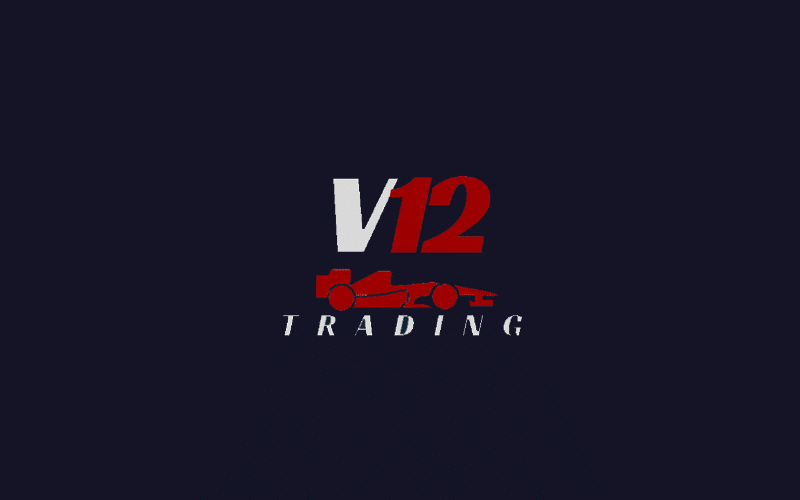 V12 Trading claims to be the topmost Forex signals provider in the world. It promises more than 3500 pips on a monthly basis, and to place you in the top 5% of Forex dealers who earn profits consistently. It has an exclusive Telegram channel where the signals are supplied and where you can get access to past reports.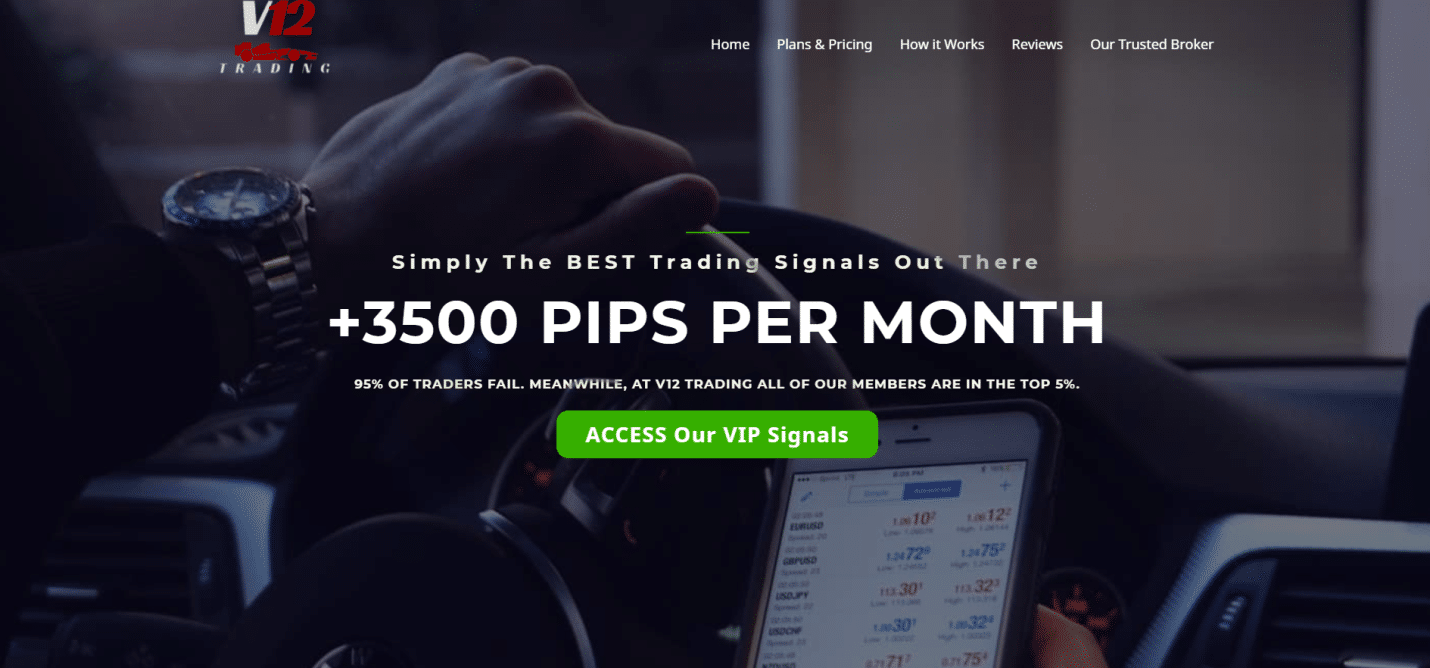 Is Investing in V12 Trading a Good Decision?
To assess the reliability of V12 Trading, we have looked into its key aspects like vendor transparency, features, price, live trading, customer reviews, etc. By taking a quick look at the website, we can see that no live trading results or backtesting data is furnished for this Forex EA. Thus, our first impression is not too positive, and we suspect this is not a trustworthy service.
Company Profile
On the official website of V12 Trading, the seller has highlighted the number of active and VIP members for the Telegram channel, as well as the pips made in the previous month. We also have details of how the Forex signals provider functions, apart from installation steps, strategy details, and recommendations.
We also have contact details like phone number and email address, as well as links to the free Telegram channel and the Instagram page. There is a separate section called "Reviews" where you can see screenshots of users praising the performance of the software on the Telegram channel.
We couldn't find any information about the vendor on the official webpage. The identities of the development and customer service team have not been revealed, and we don't know if the traders working behind the scenes have the proper experience or not. So in terms of vendor transparency, we are quite disappointed.
Main Features
V12 Trading promises a success rate of 88% for Forex traders who just need to copy and paste the signals onto the Metatrader 4 platform. To use this software, you first need to download the Telegram app and sign up with a broker that works best with its signals, such as BDSwiss. The vendor recommends you start out with a balance of 250 Euros.
On the MT4 platform, you need to select the pair and its entry price, lot size, SL, and TP. V12 Trading employs a Pip Locking strategy where the stop loss is moved as the trade advances. Thus, when the first take profit is attained, the stop loss is moved to the entry price. The vendor claims that this strategy guarantees a profit since you always secure the first take profit.
Price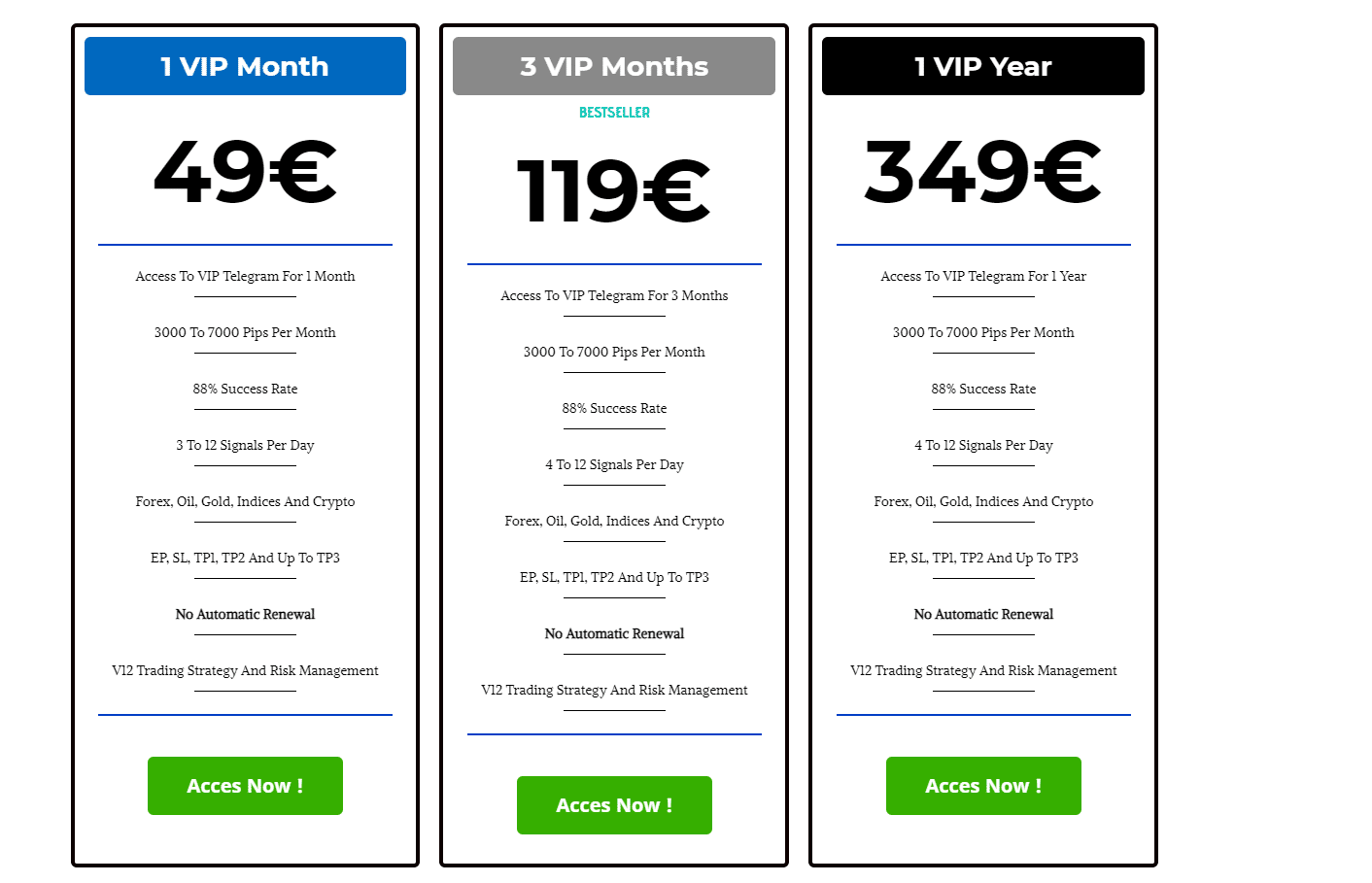 V12 Trading has monthly, quarterly, and yearly plans priced at 49 Euros, 119 Euros, and 349 Euros respectively. With all of these plans, you get access to the VIP channel on Telegram, 3000-7000 monthly pips, 3-12 signals every day, along with expert advice that will help you manage your risk efficiently. There is no mention of a money-back guarantee, which is not something you would expect from a reputable company.
Trading Results
The live trading outcomes of V12 Trading cannot be found on the official website, and we suspect it is something that is provided exclusively for the members. This is indeed not a good sign, since any reliable Forex signals provider should furnish live proof of its success. In this day and age where there are hundreds of such systems present in the market, traders do not consider investing in a system that does not furnish the same.
We hoped to find some backtesting data at least for V12 Trading, but unfortunately, that is missing as well. Even in the absence of verified trading outcomes, a trader can check the backtesting results to gauge its profitability. Since both of them are absent, we cannot figure out whether the signals can help you earn gains in the Forex market or not.
Customer Reviews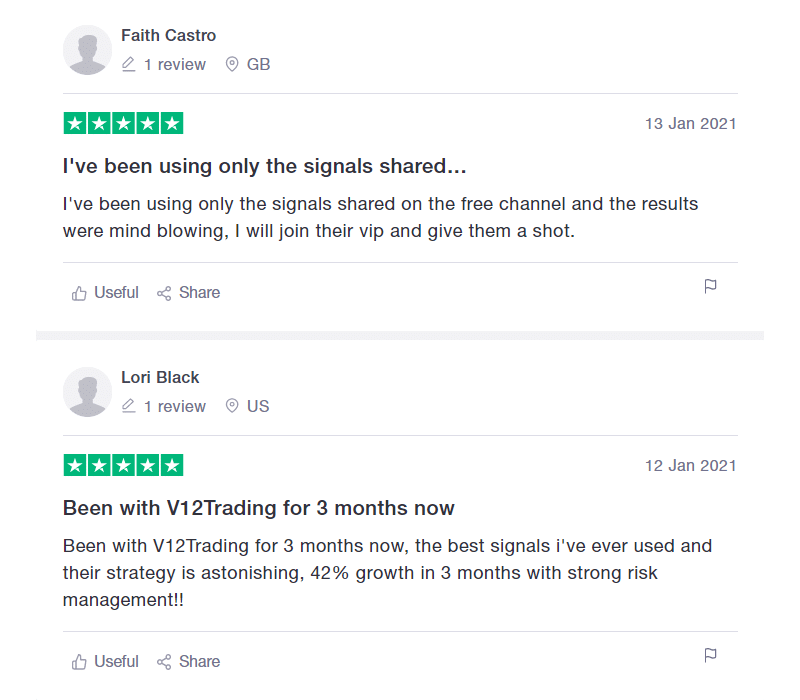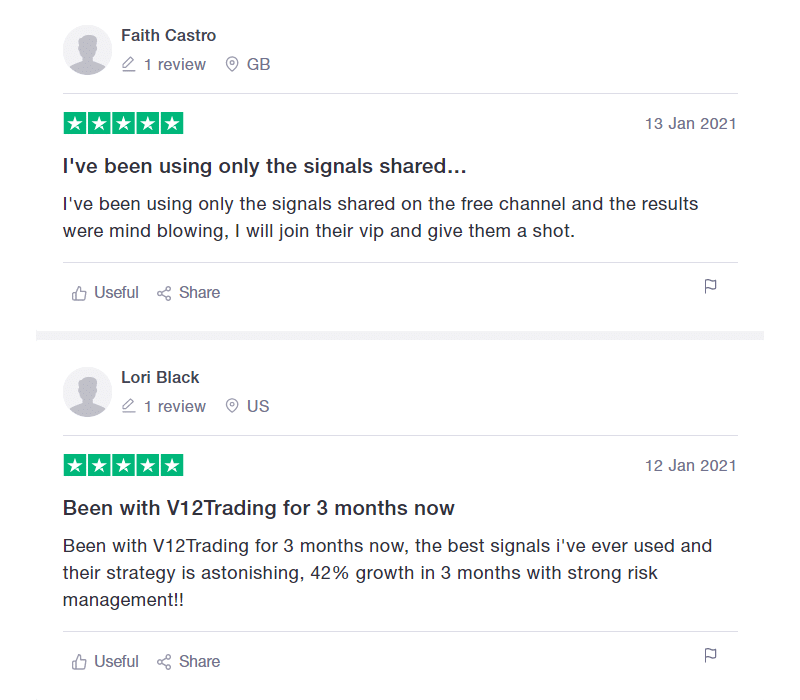 We came upon some user reviews for V12 Trading on the Trustpilot website, and the majority of them are positive. One user has benefited from 42% growth in 3 months, and they have praised the strategy used by the signals provider. It looks like enough people trust V12 Trading since there are hardly any negative reviews to be found.
V12 Trading Review Summary
After carefully assessing each and every aspect of V12 Trading, we have reached the inference that it is not worth your money. First of all, there are transparency issues with the vendor, and we know virtually nothing about the company's background. Secondly, no live trading results or backtesting data are provided by the seller, so we have no idea about how it performs.
Last but not the least, there is no refund offered for this service, so you would risk spending your money without knowing whether you will get a return or not. Thus, you are better off investing in a system that provides more data and evidence.