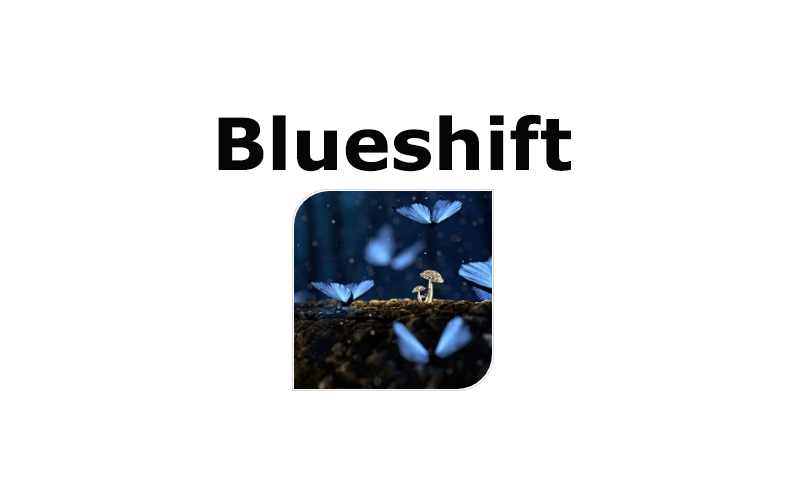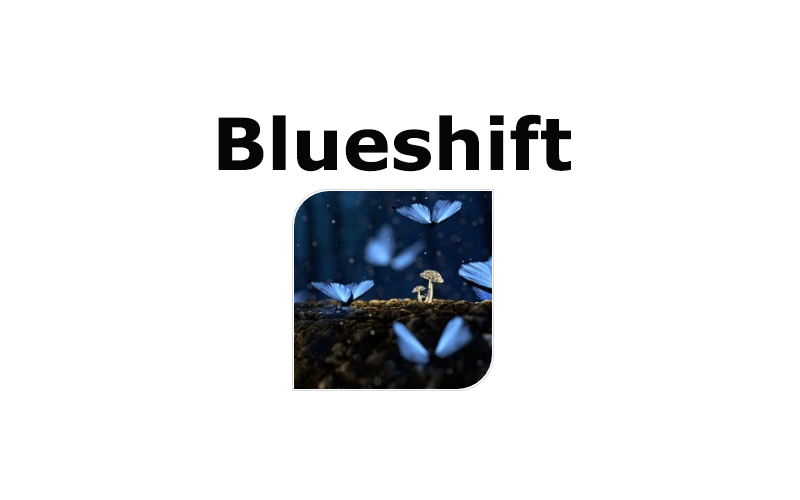 Blueshift is a fully automated Forex EA that has been specially designed for Intraday trading. The vendor claims that this system does not use any dangerous strategies and is able to close most trades in profits. There is a special offer where if you buy this Forex EA and write a feedback on the MQL5 page, you get another expert advisor, free of charge.
Is Investing in Blueshift a Good Decision?
In order to analyze the trustworthiness of this Forex robot, we have studied all of its aspects, such as company profile, price, features, trading results, customer reviews, etc. If the system performs satisfactorily in all the departments, we can say with confidence that it can be trusted.
We can see that Blueshift was launched on 10th January 2021 and that it has provided some backtesting results. But, we cannot see any live trading results, so our first impression is not very positive. It does not look like a Forex EA that's worth trying.
Company Profile
Blueshift does not have an official website, and all the information available on it can be found on the MQL5 page. Here, the vendor has pointed out that the system is based on extensive backtesting conducted with real tick data and 99.90% accuracy. The vendor recommendations, along with the several system parameters have been highlighted.
Marco Solito, a trader based in Italy, is the brains behind Blueshift. In the past, he has developed Forex automated systems like Dark Moon, Dark Venus, Redshift, etc. We don't know anything more about this person or their work history, and it is unknown whether they have any real trading experience. So, in terms of vendor transparency, we are thoroughly disappointed.
Main Features
Blueshift trades in the XAG/USD and XAU/USD pairs in the M15 timeframe with satisfactory results. The vendor mentions that the strategy is based on market order in trend following and counter-trend, but does not reveal any further details about it.
Although Blueshift is not a broker-sensitive Forex EA, traders are recommended to trade with an ECN broker. Moreover, a VPS having low latency is recommended by the seller. Traders are advised to start with a balance of $100 and a leverage of 1:10. Separate versions of the software are available for the MT4 and MT5 platforms.
The vendor delivers a warning that this Forex EA won't make you rich overnight, so you need to be cautious while trading and use a low-risk setting. You are advised to try the system for at least 10 weeks before judging its profitability.
Price
Blueshift is priced at $399, but you can also rent it for one month by paying $369, which seems a bit excessive considering it is a new system. A free demo version of the software is available for download, and you are advised to test Blueshift first before purchasing it. The vendor explicitly mentions that there is no refund offer, so basically you are asked to trust this Forex EA blindly based on vendor claims.
Trading Results
We don't have any verified live trading results available for Blueshift. Although the vendor provides trading results on the MQL5 website, these are not verified by a third-party source. All Forex traders look for verified live trading outcomes before investing in a system and this will no doubt deter them from buying the software.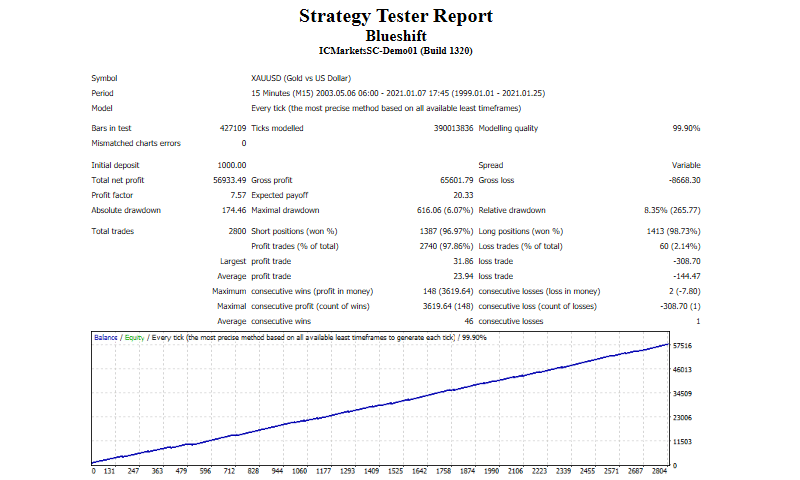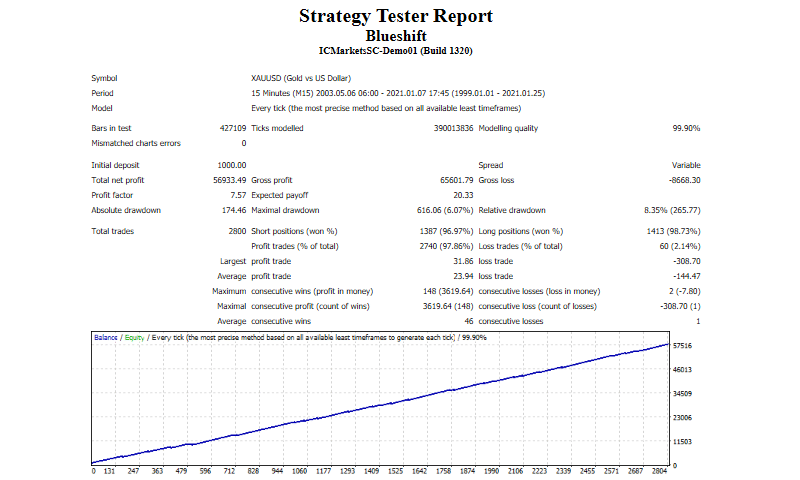 Here you can see the backtesting results for the XAU/USD pair that has been conducted over a period of almost 18 years from 2003 to 2021. It uses variable spread and a modeling quality of 99.90%. We can see that a total net profit of $56933.49 was generated by the system from an initial deposit of $1000.
In this backtest, the system conducted 2800 trades, winning 2740 out of them, and this represents profitability of 97.86%. It won 96.97% of short positions and 98.73% of long positions while losing only 2.14% of the trades. Thus, we can at least say that Blueshift shows satisfactory performance based on historical data.
Customer Reviews
There are no customer reviews for Blueshift available on the web. After consulting several websites, we couldn't find any real user reviews for this system. Although there are some reviews on the MQL5 page of the Forex EA, these cannot be trusted, since the vendor is offering a reward for writing feedback.
Blueshift Review Summary
In the end, we would like to say that Blueshift is not a system you can trust. Despite being a new system, it is quite expensive, and it doesn't provide us with verified live trading results. It is unwise to trust in a system based only on profitable backtests since it can easily fail the live market.