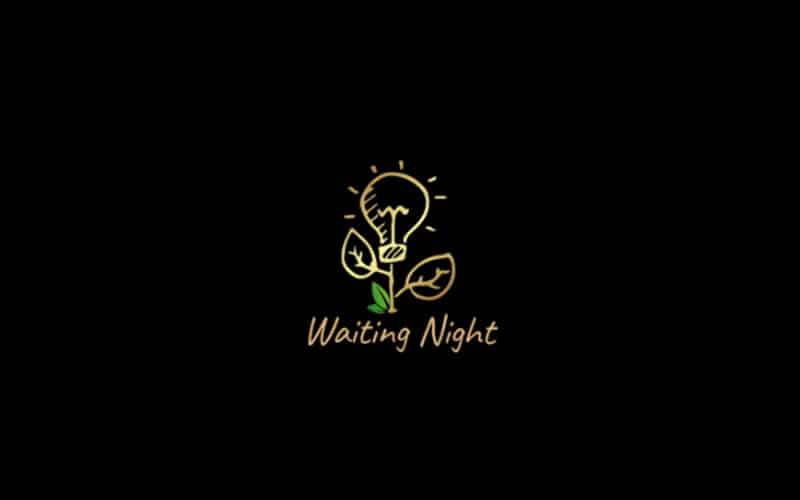 Waiting Night is a professional advisor that features flexible settings to enable you to work with the parameters of your choice. The vendor strongly recommends utilizing this EA on RAW or ECN accounts with a low ping VPS. You need a minimum deposit of $100 for the system to begin trading on your account.
Is investing in Waiting Night a good decision?
Waiting Night is relatively new to the market, so it has not established a solid track record yet. In that regard, we advise you to exercise due diligence before purchasing it.
Company profile
This EA was authored by a person called Marat Baiburin. He is a Russian resident, but nothing is known about his credentials. So, we are not sure if he is capable of creating efficient tools for this market or not.
Main features
Waiting Night has these features:
All trades adhere to FIFO rules and are closed within 3-5 hours.
It does not utilize a news filter.
The system uses pending orders so as to decrease slippage.
It trades on 12 currency pairs, including EURUSD, USDCAD, EURGBP, CHFJPY, AUDCAD, EURCHF, USDCHF, AUDUSD, EURCAD, GBPUSD, EURAUD, and USDJPY.
The robot has a built-in volatility filter optimized for every currency pair.
It attaches a stop loss, a take profit, and a limit on the lifetime of the transaction.
It's compatible with both MT4 and MT5 terminals.
The EA applies night scalping, meaning that it places buy/sell orders at night with the goal of making profits from price fluctuations on short time intervals. It also employs price action, an indicator, and tracks positions. No averaging orders, martingale, and other risky trading techniques are used.
Price
A lifetime license for this robot is sold at $199 on MQL5. A free demo is also available to help you test the product before making any purchase decision. There's no refund policy.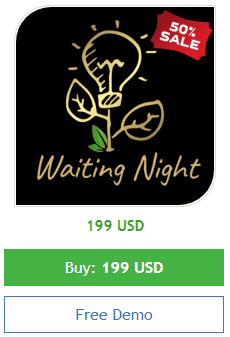 Trading results
The system was backtested on the GBPUSD currency pair using 2003-2021 historical data. During this 18-year trading period, the EA carried out 3797 trades on the M5 chart and attained a profitability rate of 77.03%. As a consequence, a total net profit of $11201.30 was made. The drawdown (0.91%) was very small, suggesting that Waiting Night is a safe trader. There was a profit factor of 2.58 and an average profit trade of $6.26 against an average loss trade of -$8.14.
Waiting Night does not run a live account on any of the trusted sites like FXBlue or Myfxbook. In any case, the vendor has published several signals relating to this EA on MQL5, so let's see the outcomes the EA generates from one of the accounts.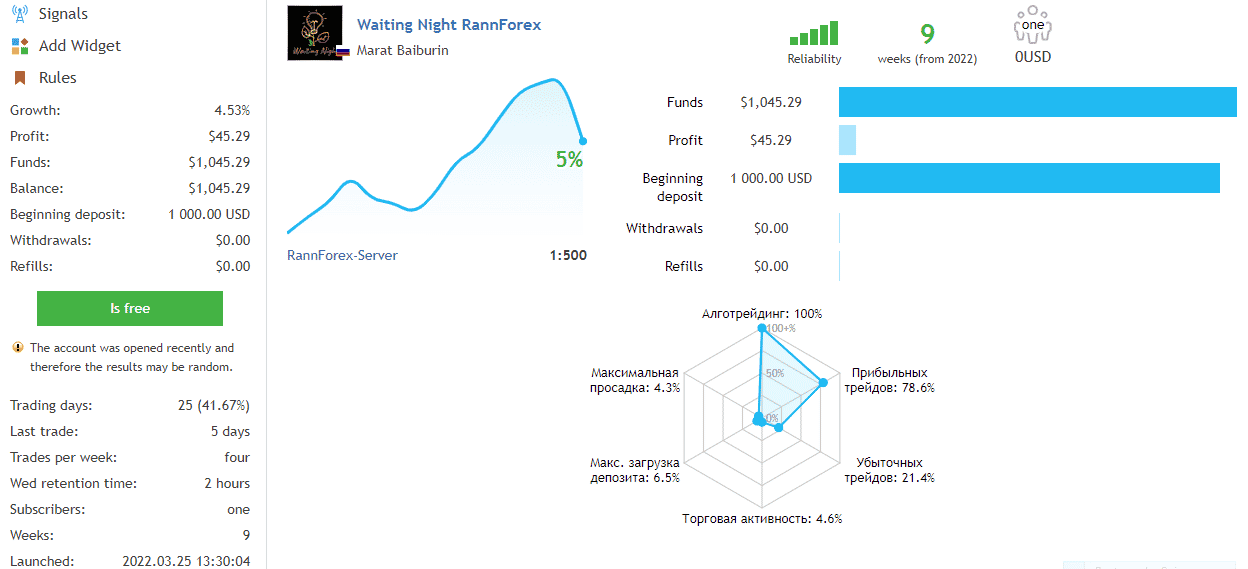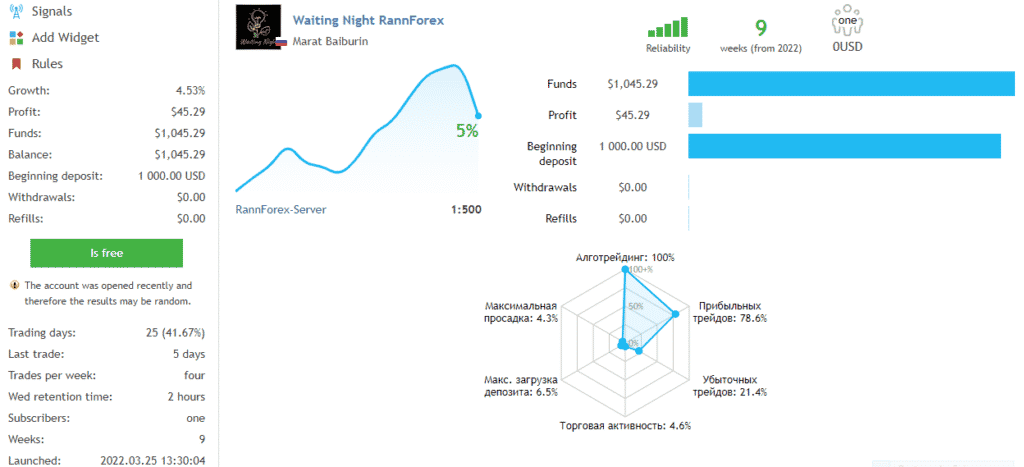 This real account was opened in March 2022 and deposited at $1000. To date, a profit of $45.29 has been realized, allowing the account to grow by 4.53%. The balance is now $1045.29. A low drawdown of 4.3% is a sign of low-risk trading.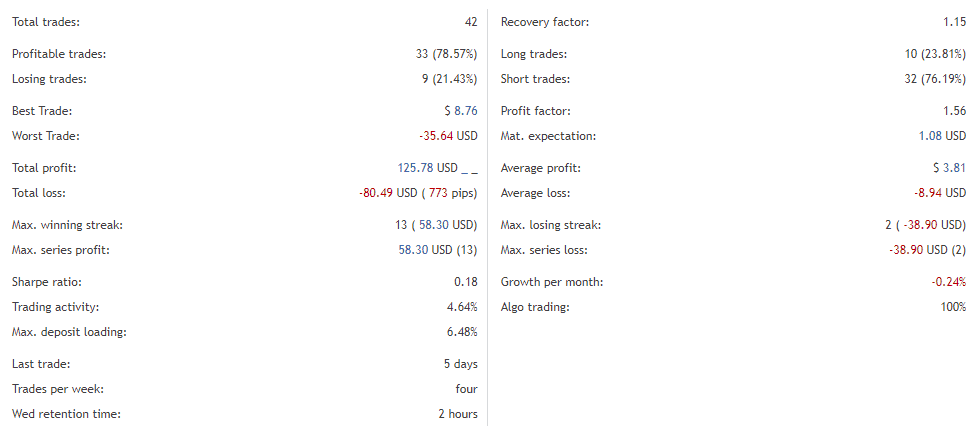 A total of 42 trades have been implemented, achieving a profitability rate of 78.57%. The EA mainly works with short positions (76.19%) compared to long ones (23.81%). So far, the best trade has earned the account a profit equivalent to $8.76, which is much lower that the loss incurred by the worst trade (-$35.64). This has, in turn, reduced the user's earnings significantly.
Customer reviews
Waiting Night has been reviewed by several customers, and the feedback is mostly positive. Some users claim that the robot is great and has a satisfactory performance. But some comments suggest that you can lose money with the EA, so you should be careful before buying it.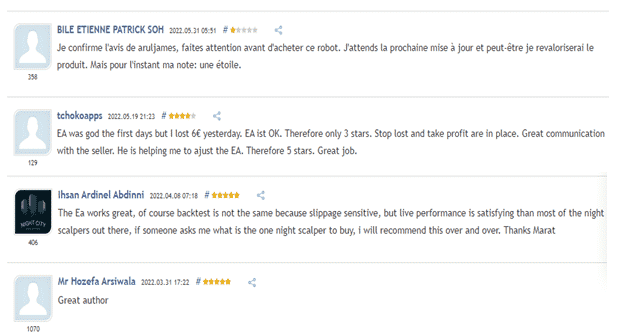 The Review
Summing up
This EA offers to help you trade automatically on 12 different currency pairs to expand your income base. It also ensures you work with low slippage by using pending orders. Unfortunately, the vendor doesn't display the EA's verified live trading results, so we cannot assess its real output.