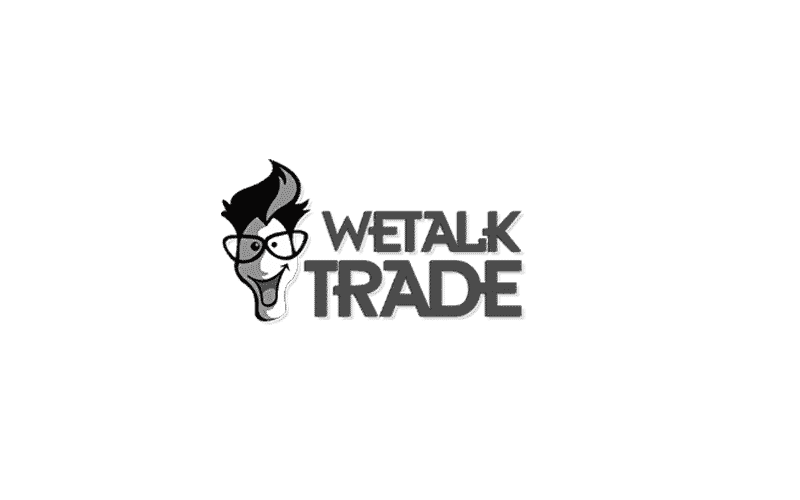 WeTalkTrade is a company that focuses on providing signals for Forex. The presentation includes some explanations about what we have to expect. There's a mention of an application for a smartphone. They claim that it is a "Free Live Forex Signals App."
Is investing in WeTalkTrade a good decision?
It's hard to tell without seeing trading results. We don't know if the service is a safe to go option. So, the final decision is completely up to you. We have huge concerns about the quality of those signals. The site doesn't include any of them delivered for free. We don't know why. Other services do this because it increases the company's reputation.
Company profile
The company was created in 2009 when the devs started working on strategies to be profitable on Forex. We have intel that the page on FPA was deployed in 2014. So, the final data varies.
Main features
We have some details, settings, features, and useful information provided. For your comfort, we have gathered them in the list.
These signals can be for all trading assets.
The devs don't limit themself.
There are SL and TP mentioned.
We can use them on MT4 and MT5 platforms.
The signals will be executed automatically.
An expected accuracy is 80%.
The solution is easy to use.
"The UI is very elegant and simple that can be easily understood and used by any Trader."
These signals help us to learn Forex trading.
The signals are delivered with reasons for generating.
"We can easily check between the currently active and the most recently closed signals."
We can check everything in the economic calendar.
There should be free signals somewhere.
There's copy-trading software provided.
We can control risks as we want.
Price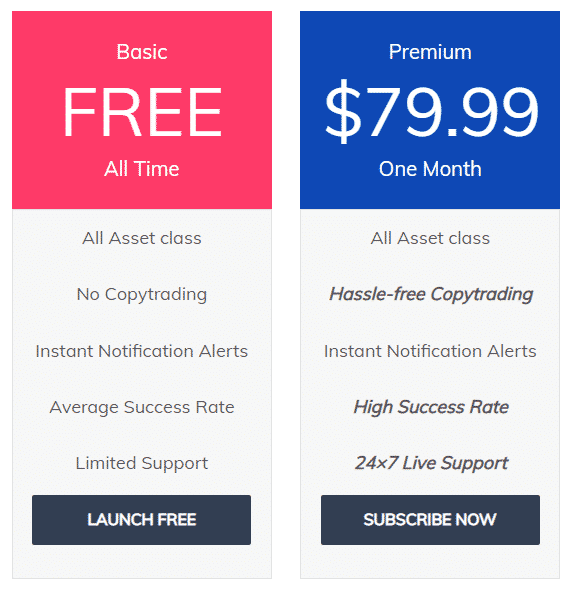 The devs provide us with two packages. The Basic pack is available for free. We can rely on alerts, good win rate, and limited support. The premium pack is available for $79.99. There are singles for all assets, copy-trading software, alerts, higher win rate, and 24/7 live support. Unfortunately, the devs do not include a money-back guarantee. They do not offer a trial of their product and service.
Verified trading results
We couldn't find any sign of backtest reports on the site. It's a con because we can not check the final report to see win rates, profit factor, drawdowns, and so on.
Alas, the devs decided not to provide us with trading results. This means that they hide an account from which they send their signals via copy-trading software. Without this information we don't know with what broker the system works better. Lack of data keeps us blind when we try to figure out if the system is good to go or it will be better not to trade these signals.
People feedback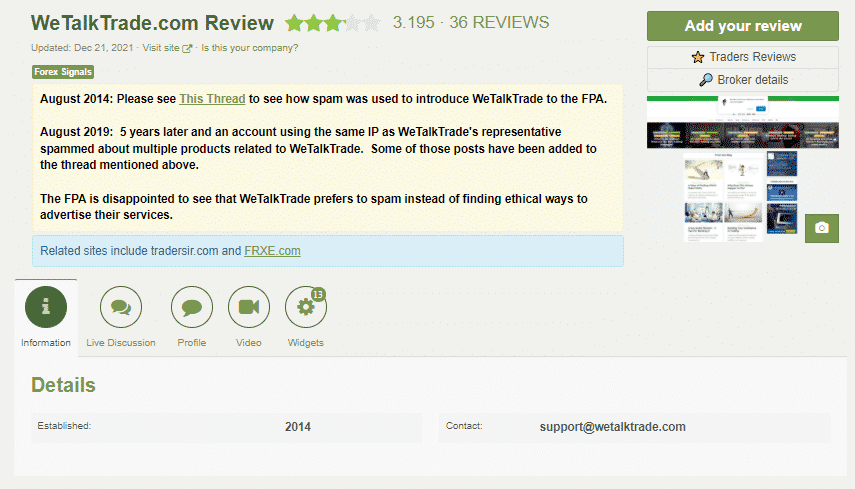 The developers have created a page for testimonials on Forex Peace Army. There we can find 36 reviews with a 3.195 of the total rate. It's a pretty low rate for a professional service. We have no accounts connected. This page was created five years after they started developing the strategy.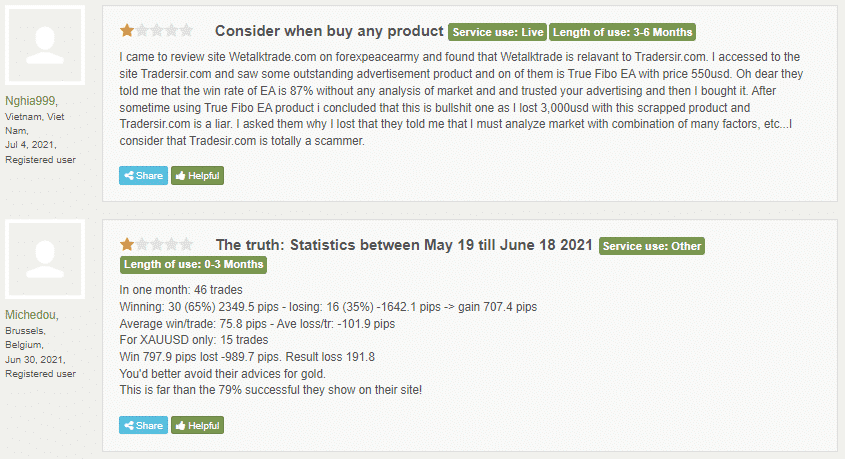 People had some proof that the system was losing pretty consistently. We don't know whether to trust them or not, but this warns us.
Summing up
WeTalkTrade is a signal providing company with a mediocre reputation. First, they always skip sharing trading results that would prove to us that the system is good to go. Second, we don't know if the advisor belongs to them because there are no backtest reports provided. Third, pricing is high compared with the similar service and rental options on the MQL5 forum.