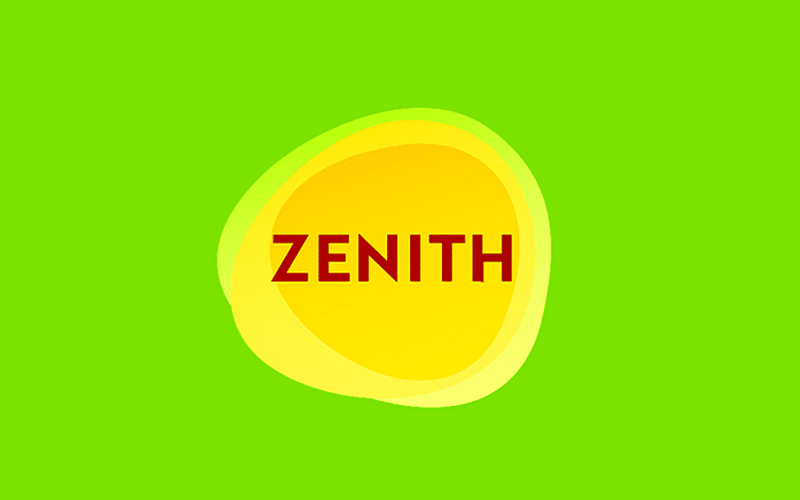 Zenith is a Forex robot being sold on the MQL5 website. According to the vendor, it uses a special optimization technique to achieve good trading results. However, before we can form an objective opinion about its reliability, we must analyze the various aspects of the system.
Is Investing in Zenith a Good Decision?
To analyze this robot, we have looked into different aspects like vendor transparency, features, price, trading results, and customer reviews. At first glance, we can see that there are no verified live statistics for this EA. The vendor does not offer a money-back guarantee for this Zenith, so we don't think it is a robot worth trying.
Company Profile
Zenith does not have an official website of its own. On the MQL5 page, the vendor has provided us with a short introduction to the EA, followed by a list of input parameters. We have two links where we can find the live trading results for this system. The vendor has also provided us with a screenshot showing the backtesting data.
Zenith is sold on the MQL5 website by an American trader by the name of Olena Skrynnik. We don't know much about this person and her credentials. Also, it is not clear whether she is working alone or as a part of a team. Apart from Zenith, other robots sold by this developer include Pepper MT5, Humblebee, and TradeFields. We can see that these products have pretty low ratings on MQL5.
Main Features
You can use Zenith to trade in currency pairs like GBP/USD, AUD/USD, USD/CAD, EUR/USD, and USD/CHF. This EA does not trade too frequently and does not use the scalping strategy. However, it has an optional Grid parameter. You have the option of adjusting the input parameters to suit your trading styles.
These parameters include lot size, trade pairs, take profit, stop loss, maximum open positions, trailing stop, and maximum spread. The EA is based on the artificial bee colony (ABC) algorithm that emulates the foraging behavior of honey bees.
As in a beehive, different bees have different tasks, the ABC algorithm has different parts that check the patterns, analyze the graphs to determine the issues, process the market data, and classify the patterns. Zenith uses a neural network and it needs to learn from historical data. The robot starts trading from 12 PM on Mondays. You can use this EA with all types of accounts, and the vendor recommends running it on H1 charts.
Price
Zenith is available for a one-time price of $99. The vendor offers a free demo version of the software for testing purposes. However, there is no money-back guarantee for this robot, which is a major red flag we cannot ignore.
Trading Results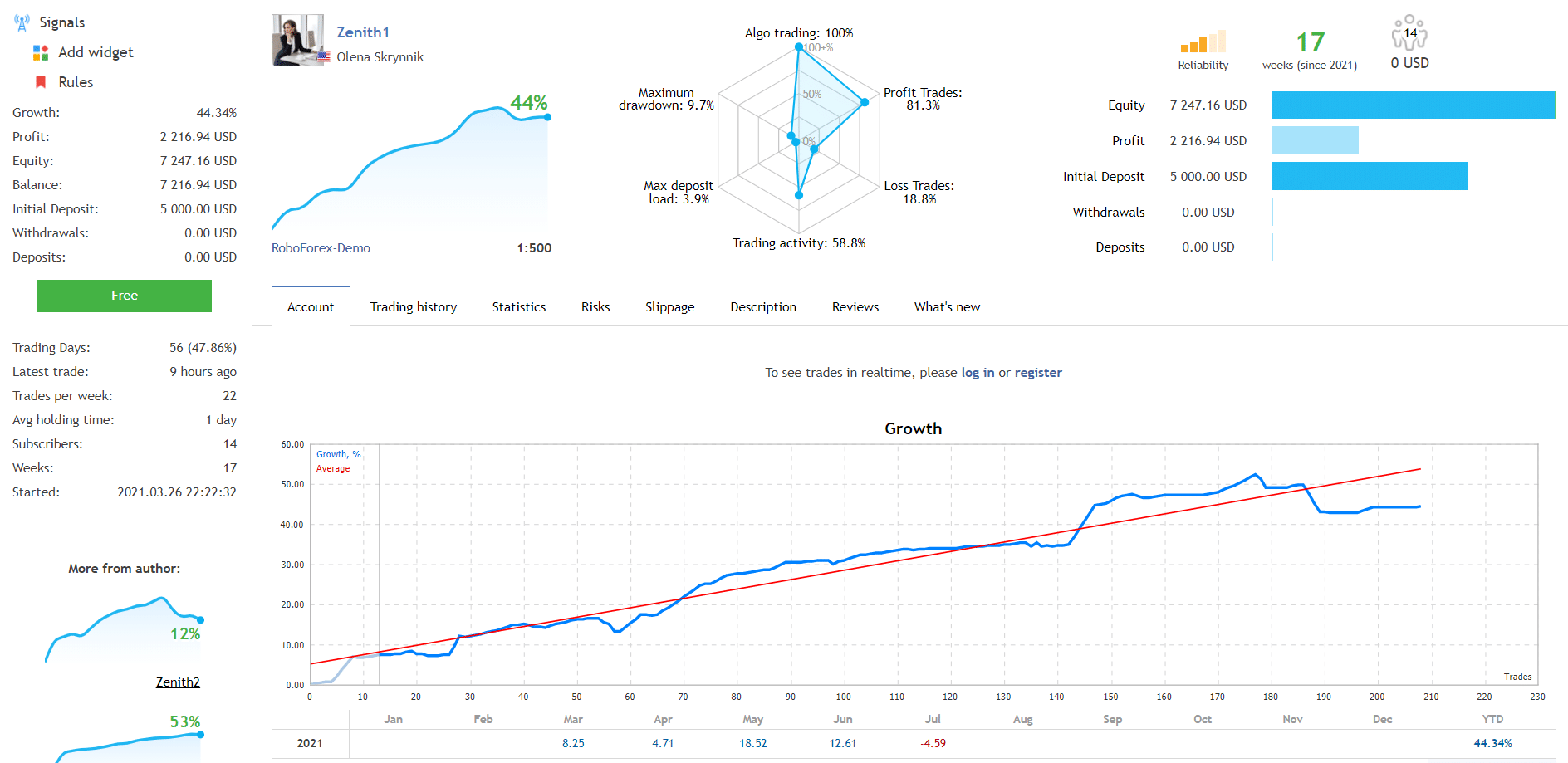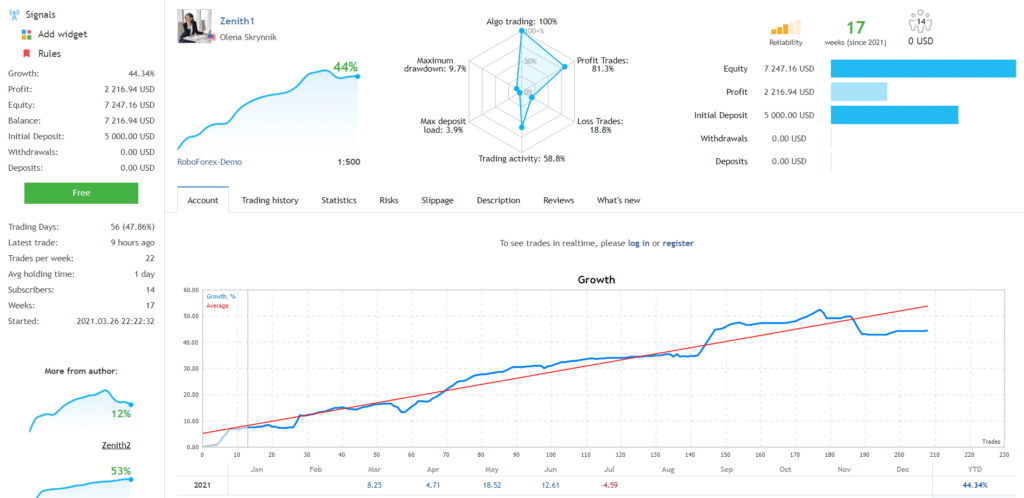 Here we have the live trading results for Zenith presented on the MQL5 website. Since the results are not published on third-party websites like FXBlue, Myfxbook, or FXStat, we cannot consider them 100% authentic. This account has a short trading history of 56 days, so it is difficult to gauge the system's profitability.
The robot has placed a total of 208 trades through this account, winning 169 out of them with a win rate of 81.25%. To date, it has generated a total profit of $2216.94. The profit factor for this account is 3.15.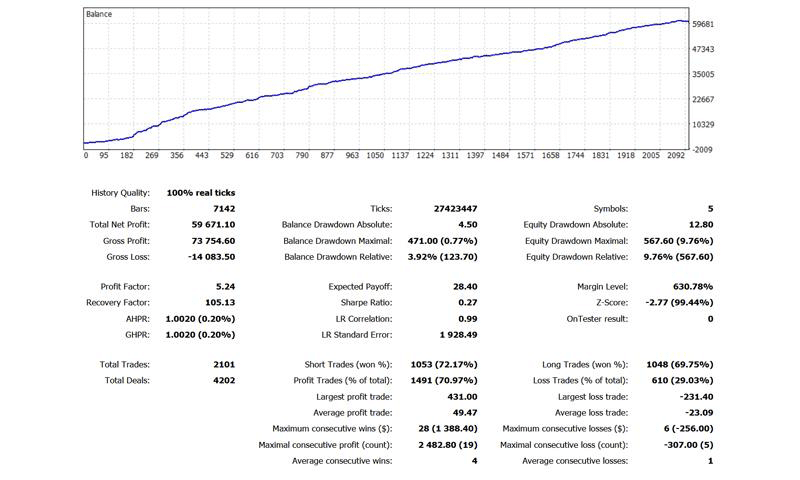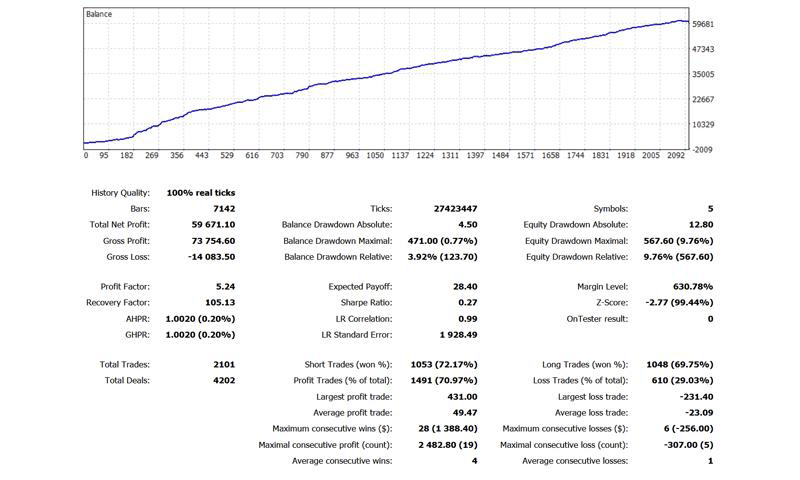 This backtest for Zenith was conducted with 100% real ticks. The EA placed a total of 2101 trades for this test, and it managed to win 1491, thus achieving a win rate of 70.97%. We can see that the win rate is significantly lower compared to the live statistics. There were 28 maximum consecutive wins for this EA, and 6 maximum consecutive losses.
Customer Reviews


We were unable to find any user reviews for Zenith on websites like Trustpilot, Forexpeacearmy, Quora, and Myfxbook. There are some reviews on the MQL5 website where the customers have complained about suffering from large losses while trading with this EA. Overall, it seems that Zenith does not have much of a reputation in the Forex trading community.
The vendor mentions on the MQL5 page that this EA needs to be optimized for it to work properly. This might make it difficult for novice traders to work with this robot.
Zenith Review Summary
We cannot in good conscience recommend Zenith to traders, mainly because there are no verified live statistics for this robot. The vendor does not offer a money-back guarantee, which makes the system a really risky investment. You should opt for another EA that is sold by a reputed vendor.