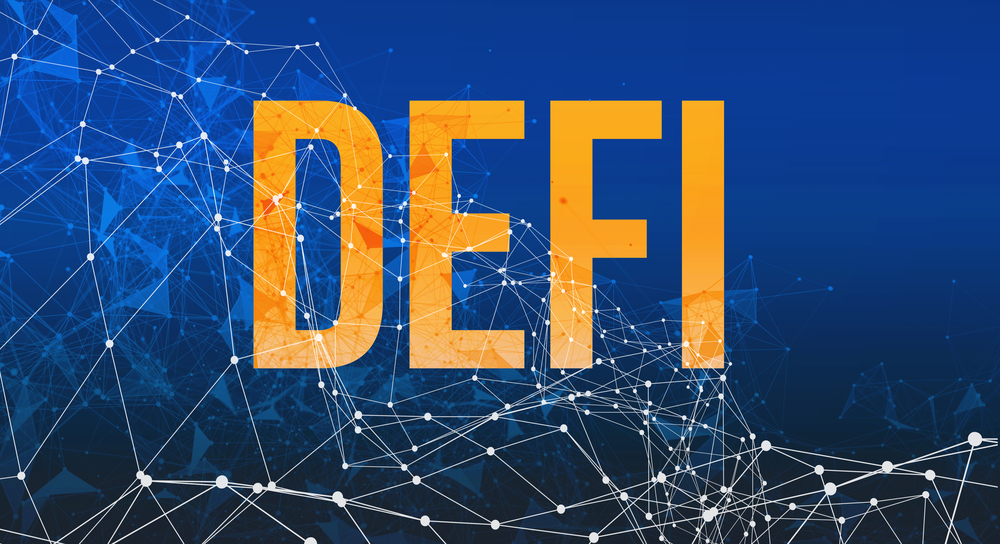 Decentralized Finance (DeFi) is one of the fastest-growing segments in the blockchain industry. In the past year, the total value locked (TVL) in the segment has moved from less than $1 billion to more than $26 billion. And, some of the DeFi cryptocurrencies are now among the biggest in the industry. Let us look at the 4 DeFi projects you should invest in.
Total value locked in DeFi has been growing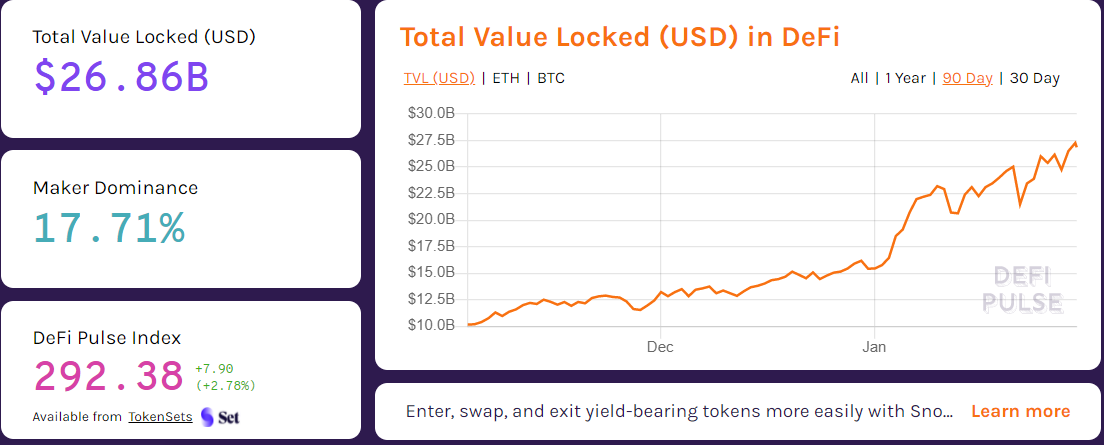 What is DeFi?
As mentioned, DeFi stands for Decentralized Finance. It's a relatively new industry that aims to decentralize some of the top centralized finance sectors. In other words, it is removing the barriers that exist in the modern-day finance industry. For example, there are some DeFi projects that lend to people from around the world. In conventional finance, many banks don't lend to people outside their industries.
There are several types of DeFi projects. Among the most common are:
Lending – These are DeFi projects that lend to people across the world. Some of them are Maker, Aave, and Compound.
Dexes – These are projects creating decentralized exchanges where people can buy and sell financial assets. Examples are Uniswap, Curve Finance, and Sushiswap.
Derivatives – Derivatives are projects that create products that are backed by other assets. Examples are Synthetic, Nexus Mutual, and Cover Protocol.
Payments – These are DeFi projects that help people build payment services that are decentralized. They include Flexa, Connext, and Matic Network.
Assets – These are DeFi projects that bring native cryptocurrencies to the DeFi ecosystem. Examples are Badger DAO, RenVM, and Yearn.Finance.
Please note: DeFi is a relatively new industry. While some believe that the industry is the future, some also believe that it is a fraud that has been helped by low-interest rates. Therefore, while we recommend investing in these four projects, we also ask that you exercise a lot of caution.
Aave
Aave is the second-biggest DeFi project in the world, with more than $3.86 billion of total value locked. The amount TVL received was less than $1 billion in October 2020.
Aave was launched as a direct peer-to-peer lending network. Today, the network helps people to deposit their digital currencies and earn interest. It makes this interest by offering collateralized loans to other people. These loans are offered from the overall pooled funds meaning that they are not matched with an individual to an individual. The amount people can borrow is determined by the digital currencies they have in reserve.
A basic explanation about what Aave is is to look at what Lending Club does. The company allows people to lend money to one another to earn interest. But as a centralized project, Lending Club is only limited to countries where it operates. With Aave, anyone around the world can earn interest and borrow. Also, since it is based on blockchain, it is controlled by all people.
Aave TVL growth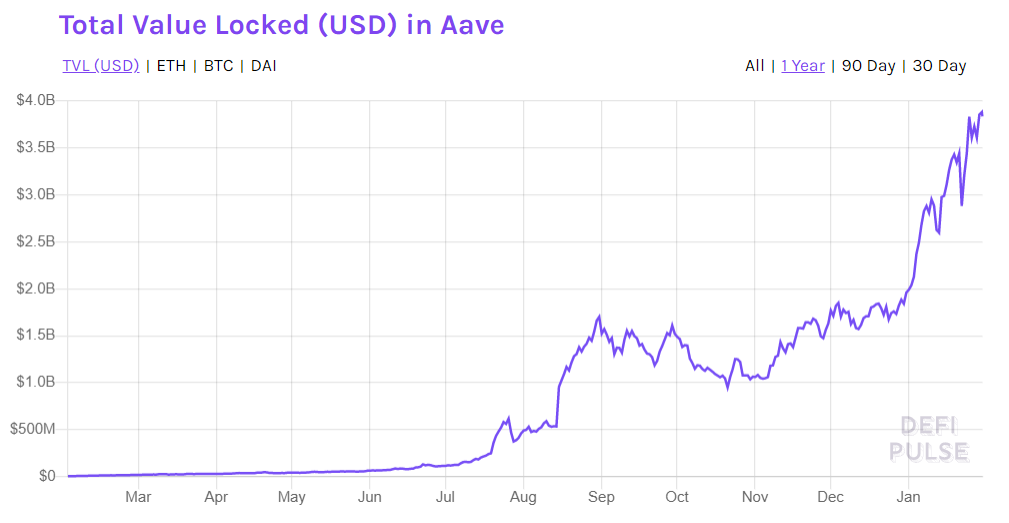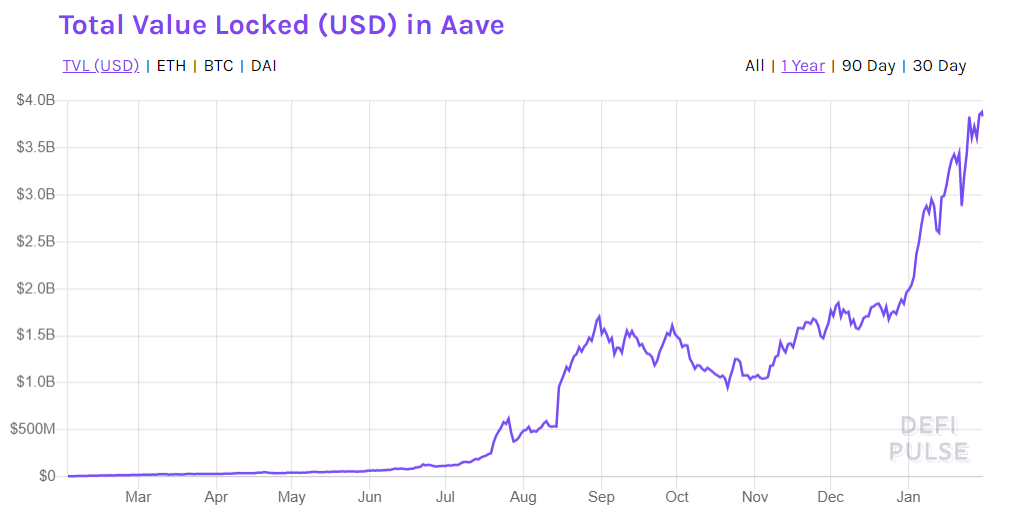 Uniswap
Uniswap is an Ethereum-based DeFi project with more than $3.14 billion of total value locked, making it the fourth-biggest DeFi project. Its traded cryptocurrency has a market cap of more than $4.4 billion at the time of writing. This makes it the 13th biggest digital currency in the world.
Uniswap is a decentralized exchange where people can buy and sell financial assets. The goal is to eliminate the problems brought about by traditional centralized exchanges. For example, in the past few months, the United States government has been trying to delist the Chinese companies from US exchanges. Further, recently, we saw brokers like Robinhood and TD Ameritrade try to limit retail traders from buying some volatile stocks.
With Uniswap, this is not possible since the system is decentralized. Using the platform, you can easily swap your coins for one another. This works by connecting the wallet through a Metamask or any other wallet. For example, the screenshot below shows how you can convert 50 ETH to AAVE.
Uniswap example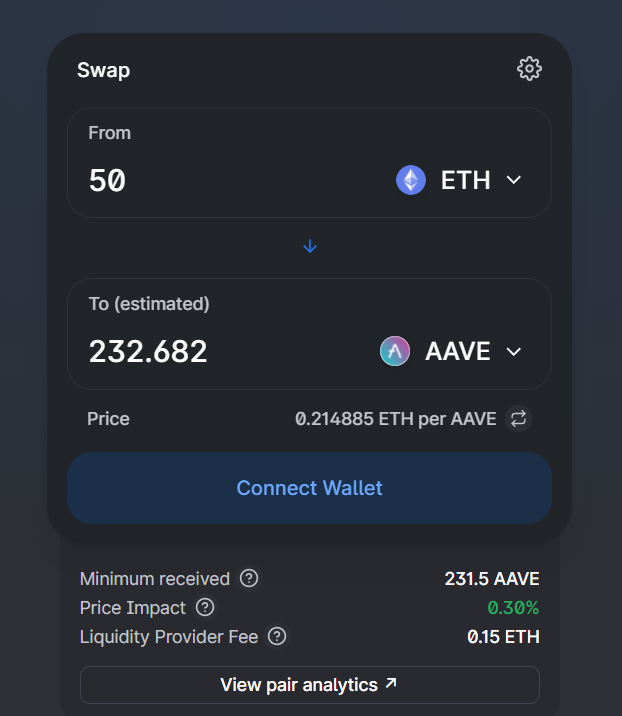 Demand for Uniswap has been steadily rising. At the time of writing, the total value locked in the network is more than $3 billion. A year ago, it was less than $50 million, as shown below. Also, the number of tokens listed on the platform has been steadily rising.
Uniswap TVL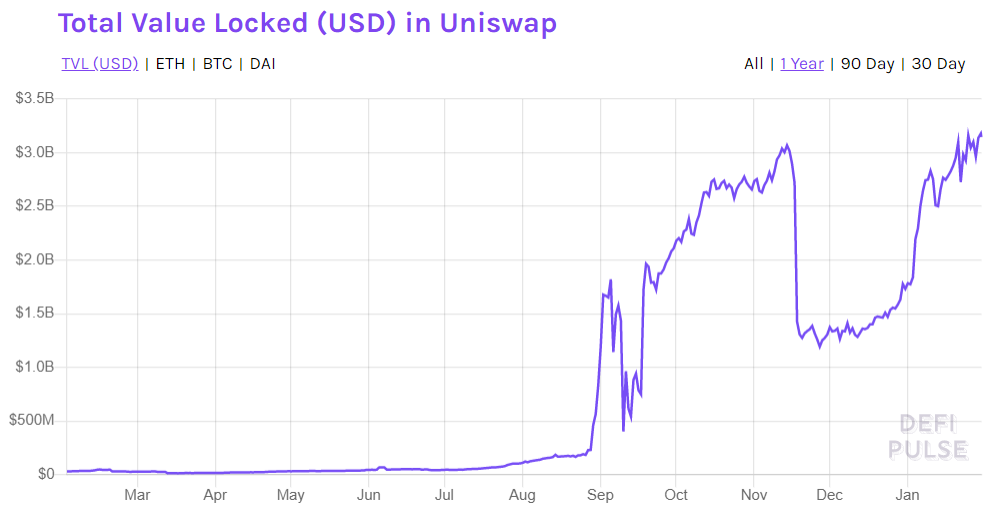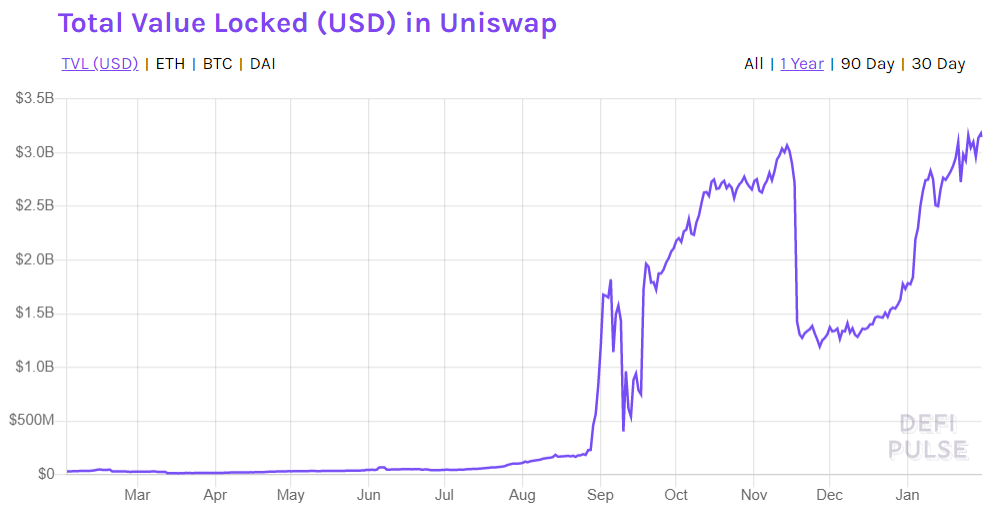 Compound
Compound has come from a relatively unknown DeFi project to one of the biggest. It has more than $3.2 billion in total value locked, making it the third-biggest after Maker and Aave. Its traded coin, known as COMP, has a market cap of more than $1.3 billion, making it the 32 biggest in the industry. It is backed by some of the well-known venture capitalists like Andreessen Horowitz and Bain Capital.
Compound is relatively similar to Aave. It creates a decentralized and algorithmically-operated pool of resources that are deposited by users from around the world. These users can then earn interest.
They can also withdraw it whenever they want. At the same time, borrowers with collateralized assets can receive money and pay it back with interest. This interest is not set by anybody – like the Federal Reserve. The rate usually depends on the liquidity that is available in the market. When there is high liquidity, rates will fall and vice versa. The chart below shows the TVL of the compound.
Compound TVL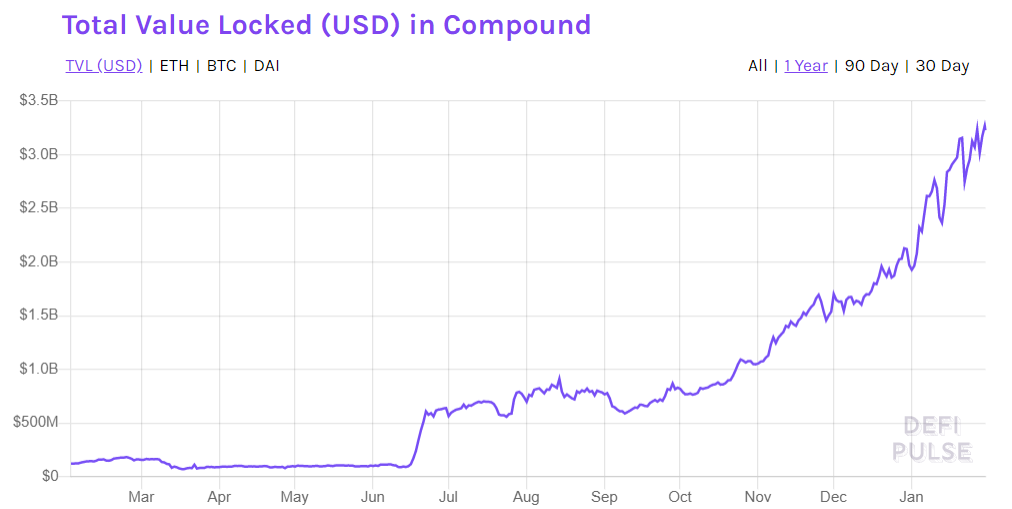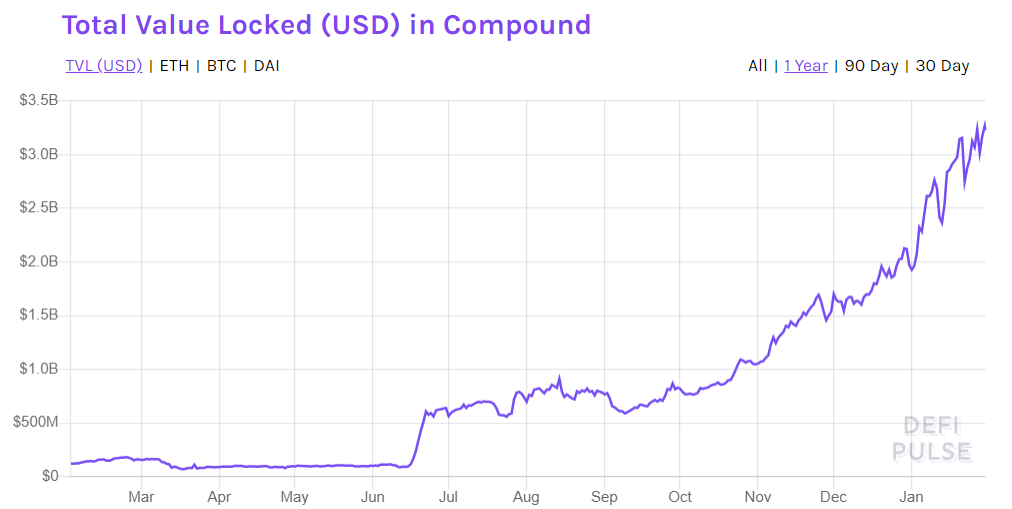 SushiSwap
SushiSwap is an Ethereum-based DeFi project in the Decentralized Exchanges subsection. The project has more than $2.1 billion in total locked value, and it came up as a hard fork of Uniswap. In fact, it has no leader and is completely controlled by its users. In fact, all profits generated by SushiSwap are distributed to the Sushi token holders.
In general, the SushiSwap ecosystem is made up of an exchange, liquidity pool, farms, and SushiSwap SushiBar Staking. For example, SushiSwap Farms helps people to find rewards for each block that is mined.
As a relatively new DeFi project, SushiSwap has been on a steady growth. Its total value locked has moved from zero to more than $2 billion.
SushiSwap TVL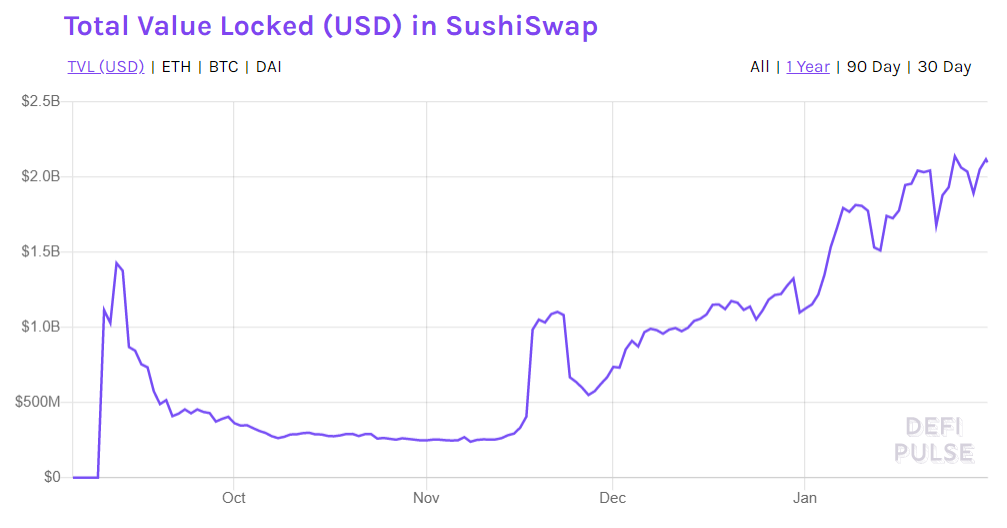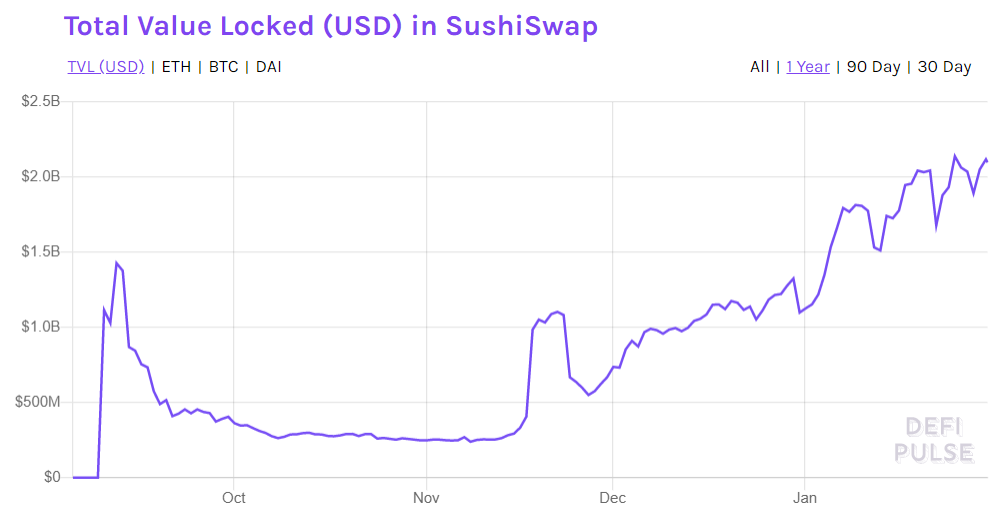 Final thoughts
There are hundreds of DeFi projects out there, and as an investor, you should be very careful about those that you invest in. We believe that these four are the best. Others worth mentioning are Maker, Curve Finance, Synthetic, and Balancer. As mentioned above, be careful about what you invest in and only allocate the money you can afford to lose.