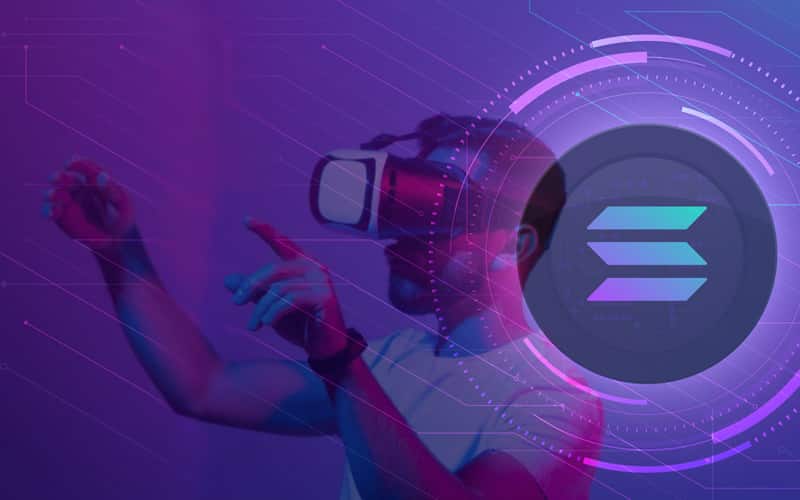 The metaverse has been one of the most frequently-referenced buzzwords in cryptocurrencies over the past six months. This was arguably instigated by Facebook's decision to change its parent company name to Meta in late October 2021.
Since then, several virtual world-based gaming tokens have surged in price, and the buzz hasn't yet died down. Interestingly, the idea of shared digital worlds merging augmented and virtual reality has been around for decades.
And what better place for developers to build their metaverse tokens than with Solana. Hence, this article will list the top 7 metaverse projects on this platform.
Aurory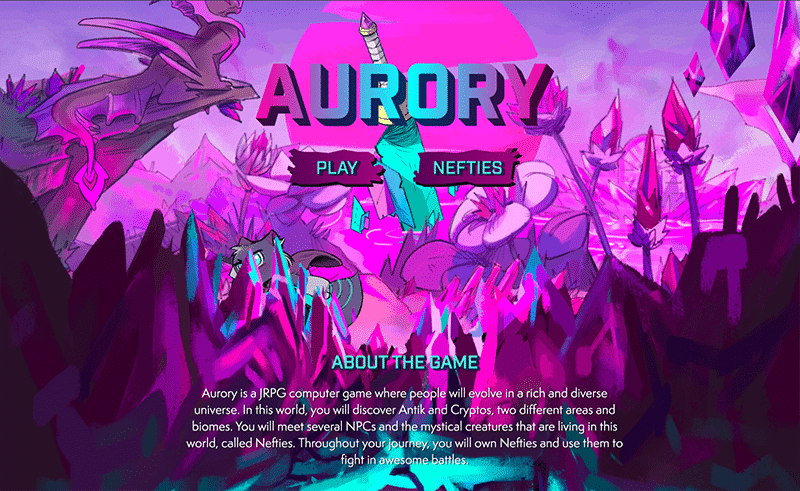 Aurory is a single and multiplayer play-to-earn role-playing desktop game set in Antik and Tokané, a Japanese retro-futuristic universe of biomes. It is Solana's top-rated metaverse token by market cap.
Aurory consists of magical creatures known as 'Nefties,' the main species of this open world, which can be caught and traded as NFTs (non-fungible tokens) on Serum, a Solana-based DEX (decentralized exchange).
Moreover, Nefties accompany the gamers and other non-playable characters to complete numerous engaging quests and battles to advance the plot. AURY is Aurory's primary utility token for trading NFTs and purchasing in-game items such as 'power-ups,' skins, consumables, legendary cards, etc.
Star Atlas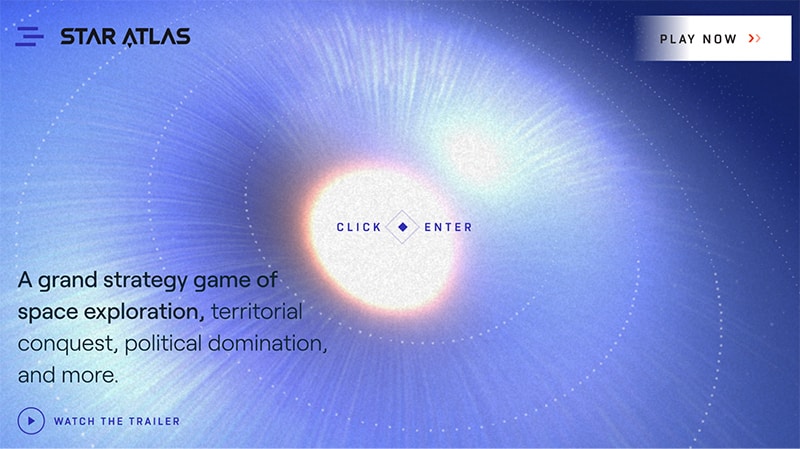 While Star Atlas comes second on our list, this metaverse project is undoubtedly one of the most ambitious on the Solana blockchain. The developers behind Star Atlas describe it as "a grand strategy game of space exploration, territorial conquest, political domination, and more."
More specifically, it is a space-themed, sci-fi MMOG (massively multiplayer online game) consisting of android and alien races. In Star Atlas' fictional planet set in 2620, three groups compete for world domination, combining flight simulation, exploration, role-playing, and strategy elements.
Star Atlas is known to utilize the cinematic graphics technology of Nanite from the Unreal Engine. This game has two tokens, one used for utility (ATLAS) and governance (POLIS). Gamers use the ATLAS token to purchase several in-game items like spaceships, equipment, and land tokenized and traded as NFTs.
SpaceFalcon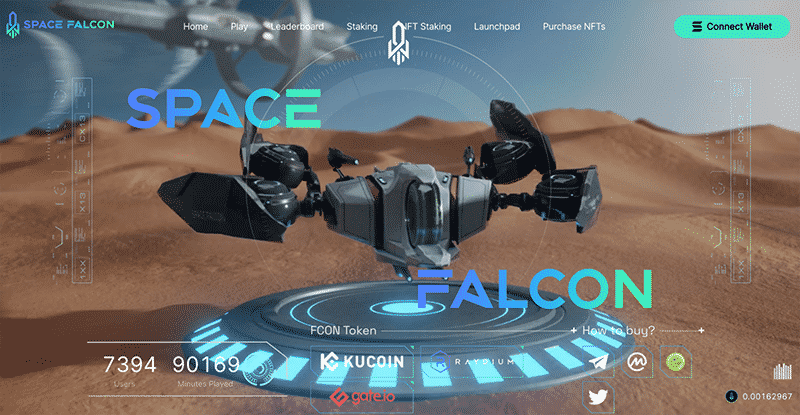 SpaceFalcon happens to be another space-inspired open world and shares similarities with Star Atlas. However, this relatively new project (launched in early 2022) presents itself as a next-gen intergalactic metaverse based on the classic 3D space shooter genre.
According to the project's website, 7394 users are currently on the platform, having clocked 90169 playing minutes (roughly 62 days).
In SpaceFalcon, gamers build their empires by traveling across the cosmos and fulfilling missions. The other element to this metaverse is the 'premium sci-fi NFTs.'
Some of the items players can tokenize and own as NFTs include spaceships, planets, and galaxies traded using the FCON utility token.
As a relatively recent project, developers behind SpaceFalcon have exciting plans outlined in their roadmap, including introducing a play-to-earn reward mechanism, porting the game to the Unreal Engine, a battle royale mode, and more.
Cryowar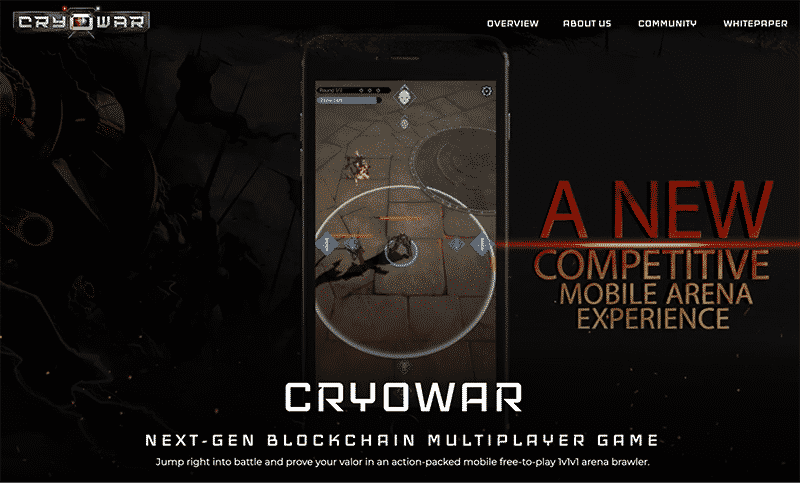 Cryowar is another recently-launched metaverse project using Solana for its token creation. This is a medieval-inspired PC and mobile game based on mighty warriors clashing on sacred battlefields.
Each wielding hero comes with a unique style, skills, skins, and story, which players can customize over time. Moreover, these can be used individually or in pairs.
Every battle on Cryowar is 3 minutes or less to be time-conscious and comes in different modes: Last Man Standing, Deathmatch, Battle Arena, and Top Score in 5 Minutes (which doesn't last 5 minutes).
As with nearly all virtual worlds, Cryowar incorporates several DeFi (decentralized finance) features such as staking (increased through in-game skill and experience levels) and NFTs.
Solice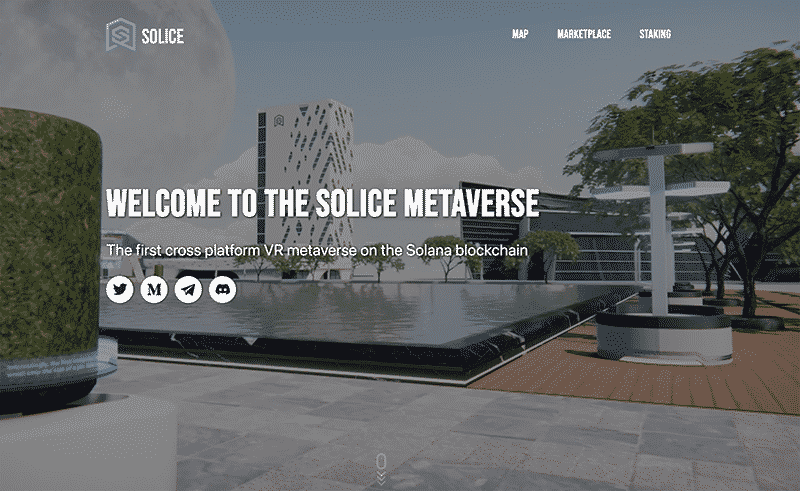 Solice is a unique metaverse project because, unlike many others, its open-world is viewable with actual VR or virtual reality gear.
However, users can explore Solice without any VR. Similar to more established projects like The Sandbox and Decentraland, Solice focuses on providing an expansive and captivating world built by users that one can explore freely.
At its core, it currently has trading and earning elements. Users can partake in mini-quests to be rewarded with SLC, Solice's native currency. Unsurprisingly, users can build their own property and assets like gemstones and collectibles, which they can turn into tradable NFTs.
Solice's roadmap suggests developers will introduce a custom editor where you can assemble and share 3D model assets and create mini-games.
Afflarium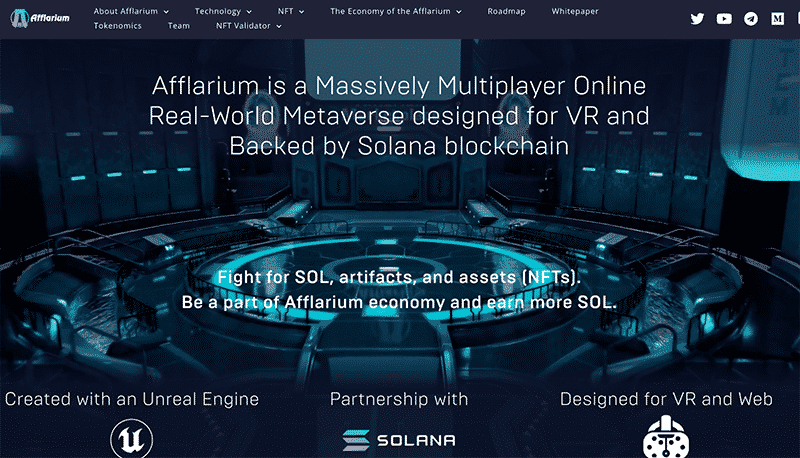 Like Solice, Afflarium is distinctive in that it's playable with a real VR headset (although you can also explore it on the web). It also uses Unreal Engine, which, combined with the VR mechanics, offers a truly immersive experience.
Afflarium is an MMOG with four universes named the central, battle, adventures, and arcade. Despite this variety, the battle element is the most rewarding, where gamers fight to earn Solana's native token, SOL.
Afflarium is a multi-token ecosystem with three tokens: AFFL (not yet publicly traded), SOL, and USDC (USD Coin). The last two coins are responsible for economic utility used for trading NFTs of the digital property in Afflarium, while AFFL is for governance.
Synergy Land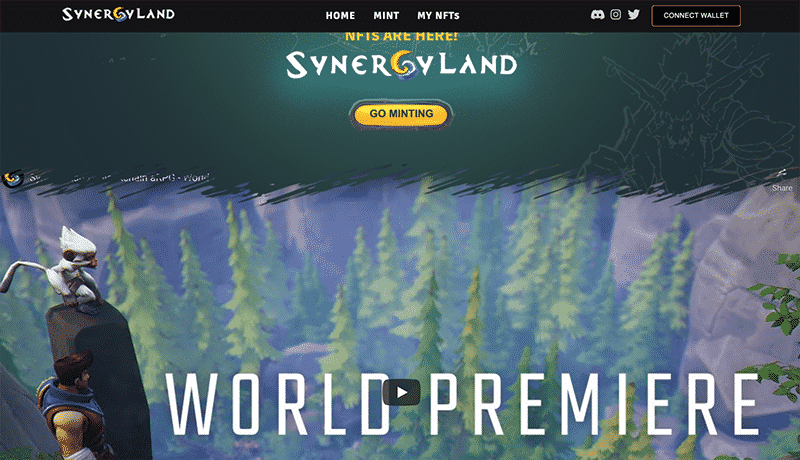 Synergy Land is technically a work-in-progress but has been a hyped-up metaverse project for quite some time. It is currently developed by Synergy Games and will be an action role-playing game inspired by Path of Exile and Diablo.
Like all the previous projects, Synergy Land will use the graphics technology from Unreal Engine. Its two core components will focus on engaging storytelling and NFT trading. Plot-wise, Synergy Land revolves around a fantasy universe divided into four elements: earth, fire, water, and ice.
Players will take on the role of different heroes in each of these environments, undertaking great adventures against powerful creatures.
Curtain thoughts
Aside from being one of the most popular networks for building a wide array of decentralized applications (dApps), Solana uses two hybrid consensus mechanisms in proof-of-stake and proof-of-history.
These allow for the platform to achieve unparalleled scalability or, in the words of its founder (Anatoly Yakovenko), 'the speed of light.' Solana can process up to 50 000 transactions where the average cost is an incredibly low $0.00025.
Such qualities put Ethereum, its closest competitor, to shame, which is one of the main reasons developers have been flocking to this platform to build their metaverse tokens.