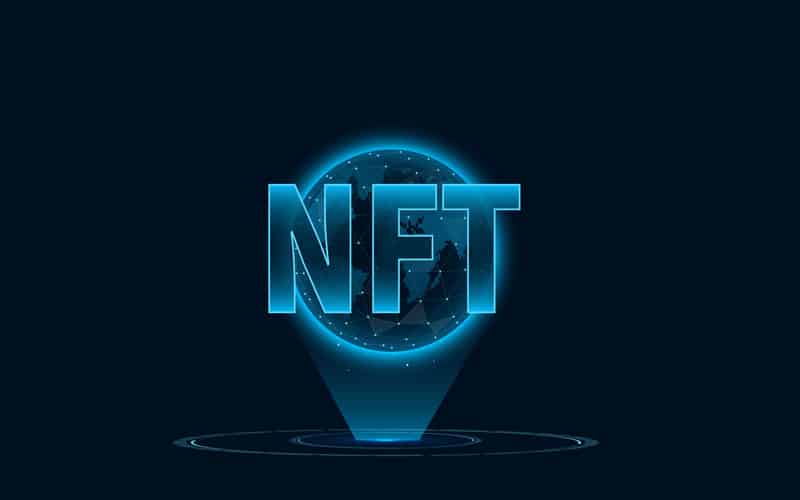 Non-Fungible Tokens here referred to as NFTs, are unique tokens that symbolize digital artwork. The artwork may be an image, a meme, a tweet, an audio file, a document, an in-game item, or a GIF. Once uploaded onto a blockchain, which is more often than not Ethereum, anyone may authenticate the artwork's validity, provenance, and ownership. As a result, the digital artwork becomes a unique, collectible, and transferable digital asset. The NFT wave has transformed the realm of digital art, allowing artists and content makers to monetize their work.
How NFTs work
NFTs are executed via smart contracts, of which the most commonly used is the Ethereum chain. Ethereum's popularity for NFTs is because it supports several NFT token standards, such as ERC721, ERC1155, ERC994, ERC1201, and ERC998. The ERC1155 standard allows users to create both fungible and non-fungible tokens.
Other than Ethereum, you can also create NFTs on Flow, Tezos, and Binance Smart Chain platforms. Once an NFT has been minted, it stores a digital file or artwork. The NFT is not the file itself but a representation of the digital artwork.
This metadata may include the creator's identity, a description of the NFT, the date it was created, its subsequent owners, any royalty obligations it carries, and links to the location of the file it represents. Usually, the actual file will be stored on the decentralized Interplanetary File System (IPFS) server.
NFTs provide verifiable proof that the item it represents is scarce and unique and proves its authenticity and ownership.
What it means to mint NFTs
The process of converting a digital work of art into a collectible digital asset on a blockchain is known as minting an NFT. The blockchain is a decentralized public ledger, and the NFT can't be altered, amended, or even destroyed once it's on it. It works similarly to minting traditional coins, where manufacturers mix specific proportions of valuable metals to create a coin of known value.
The process of minting turns a simple digital file into a crypto asset that can be traded on an exchange and paid for using cryptocurrencies without the need for an intermediary. During this process, the creator can specify instructions to receive royalties for every subsequent sale of their NFT. This way, whenever their art is sold to another person, they receive a percentage of the proceeds.
How long is the minting process?
Nowadays, with multiple platforms, tools, and NFT marketplaces, the process of minting an NFT is relatively easy. To create an account, you'll need to install Metamask, which is a chrome extension that serves as an Ethereum wallet.
From here, assuming you already have the artwork you wish to convert into an NFT, you'll need to upload a high-definition version of your art. This process works just like uploading a video on YouTube or posting an ad on eBay. The file may be a PNG file, JPG, GIF, MP3, or MP4. Once uploaded, update its description, including a title and subtitle, set up royalties, and place it on sale.
Cost of minting NFTs
As aforementioned, the most popular platform for hosting NFTs is the Ethereum blockchain. Minting an NFT on this blockchain utilizes smart contracts on the network, for which you'll be charged a gas fee. This fee may range anywhere from $50 to $200, depending on the demand from the NFT platform you've chosen.
Ethereum is known for its high gas fees. Therefore, if you're looking for an economical solution, you're better off minting your NFT on a cheaper platform. You can mint your NFT on OpenSea, Rarible, or Mintable on the Ethereum blockchain, as these tend to be cheaper alternatives. On OpenSea, you'll only be charged gas fees for the first NFT you mint. Gas fees for any other NFTs you create will be charged to their buyers.
If you're using the Binance Smart Chain, you can go with BakerySwap, Treasureland, or Juggerworld. After selecting your minting platform, the next thing you'll need is a crypto wallet. The leading wallets are Metamask, Coinbase Wallet, and Trust Wallet. Another good option is the Fortmatic/Magic wallet, which creates and stores your seed phrase securely. All you'd need to log into it is an email address and password.
How to mint an NFT
Before you can mint an NFT, go to your Google Chrome browser and download the Metamask extension. This is the default wallet of most NFT marketplaces. Next, load some ETH onto your wallet. Once you've done this, you can create an NFT in these simple steps.
1. Link your wallet with the marketplace.
You will need to sign up for an NFT platform based on Ethereum. This may be OpenSea NFT, SuperRare, Foundation, or Rarible. Once you connect your Metamask to your chosen marketplace, the sign-up process will be completed. You can then create a profile display picture, a username, add links to your socials or to your portfolio.
2. Upload your artwork
On the marketplace you have chosen, look for the create NFT tab, then upload your file. If it is an image, it has to be in PNG, JPG, or GIF format. Music files have to be in MP3 or .wav formats, while video files have to be in MP4. If your artwork is a 3D file, it has to be in GLB format. The NFT you create will only be a representation of the actual file, so make sure to store your file on the IPFS database.
3. Mint the NFT
Once your upload is complete, assign it a title and description, then click on Mint NFT.
4. Approve gas fee
Before minting can be started, you'll have to pay gas fees for using the Ethereum network. Approve the payment from your digital wallet to complete this process.
5. Wait for minting to complete
The minting procedure will begin once you've paid your gas expenses. The Ethereum smart contract will run a code on your file, which will then be converted into a permanent component of the Ethereum network.
Conclusion
An NFT is a representation of digital artwork on a blockchain. It basically turns a digital file into a marketable and collectible item. To create one, first, create an Ethereum wallet and deposit some ETH into it. Next, create an account on an NFT marketplace and link it to your wallet. Next, upload your digital file, pay the gas expenses, and create your NFT.