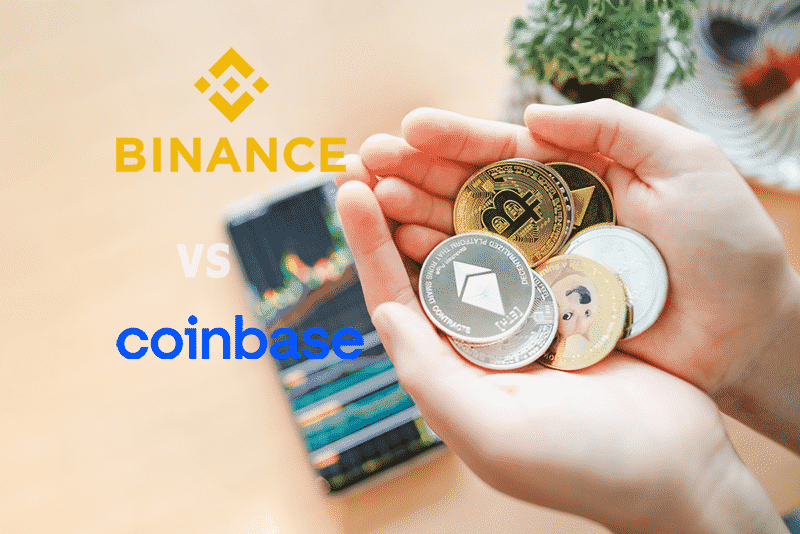 The US-based, fully regulated exchange, Coinbase, provides access to some of the most available cryptocurrencies. Coinbase has become one of the world's most popular exchanges because of its user-friendly interface and the option to buy cryptocurrency with a bank account or credit card.
Binance was created in 2017 and is presently based in the Cayman Islands, where it is allowed to operate in a more deregulated way. Binance has the highest daily trading volume of any crypto exchange and offers a wide range of staking and margin trading features.
Types of trading platforms
When comparing these two major cryptocurrency exchanges, it's vital to remember that Binance has a distinct site for US investors called Binance US. However, compared to the main exchange, this one has a smaller range of coins and a lower level of functionality.
There are two platforms on Coinbase: Coinbase and Coinbase Pro. In contrast to Coinbase Pro, which is geared at more experienced traders, Coinbase is designed for beginners.
User experience
Coinbase's design reflects its focus on retail customers as a retail company. With Coinbase, trading is easy to understand and clearly presented. Pricing, volume, and other pertinent data are readily available to investors, and trading is a breeze.
In our opinion, Binance is the ideal cryptocurrency exchange for experienced non-US traders who want access to a wide range of trading tools and account features. The simpler interface of Coinbase, on the other hand, makes it a better choice for newcomers.
Assets available
Investors can trade more than 500 cryptocurrencies on Binance. However, readers should be aware that Binance US only has about 50 cryptocurrencies available for trading. In theory, this makes Binance an ideal place to find cheap and emerging assets compared to Coinbase, whose portfolio of assets comprises cryptos that are already well known.
There are, however, a lot of unlawful and fraudulent assets in the cryptocurrency market at the moment. Therefore, this means that illegal cryptocurrencies will be published alongside the genuine ones on Binance. As a result, investors face a great deal of risk when they can't discern the difference between an undervalued token and a fraud.
Wallets
Binance and Coinbase both have wallet services available on their platforms. The majority of their attention is devoted to providing a web wallet where customers may store their virtual currencies after completing a transaction. The crypto wallets are convenient and user-friendly because they are simple to use.
Binance does not have its own digital wallet; instead of partnering with Trust Wallet, which is a market leader in the digital wallet field with more than five million customers worldwide. A 12-word recovery phrase, biometric access, and an encrypted key are all part of Trust Wallet's security system.
Security
Coinbase is far more forthcoming when it comes to the security steps the company takes to safeguard your assets. Ninety-eight percent of assets are kept offline in cold storage; third-party insurance is used in case of hacks, and among other security steps taken by the company.
In addition to SMS and the Google Authenticator app, Coinbase enables two-factor authentication. By requiring a six-digit passcode that expires after a set amount of time, this feature helps keep your account safe.
Whether or not Binance has good security procedures in place was not clear at the time of this writing from the company's website. Neither Binance nor Binance.US divulges any information on the security measures in place to protect the assets held on the exchange.
However, through whitelisting, it is possible to limit the addresses to which your cryptocurrency can be withdrawn from Binance. This list of addresses is stored in your address book, making it impossible for anybody else to transfer your funds to unauthorized addresses.
Regulation
Binance is trying hard to regain the trust of regulators after a series of controversies with various governments. It has earned a reputation as a trading platform that sometimes acts without first obtaining authorization from regulators.
Nonetheless, Binance has been able to innovate quickly because of this, which has allowed it to offer a wide range of features that are not available on other platforms. Regulators, on the other hand, have had some issues with it. Coinbase has largely been successful in avoiding regulatory attention.
Fees
Binance's fees are significantly lower than those charged by Coinbase. Most trades are charged a 0.10 percent platform fee. If you pay with a debit or credit card, you'll be charged at a rate of up to 2.10%.
Since Coinbase's higher fees can eat up a large portion of a trader's profit margin, these lower fees on Binance will be especially beneficial to high-volume traders.
It's not cheap to use Coinbase. When making a purchase via Coinbase, you'll pay a fixed cost of about 0.50 percent. Additional fees are imposed by Coinbase based on the kind of account used to make the transaction.
For trades under $10,000, you will pay a fee of 0.5%, and for trades beyond $10,000, the fee is decreased on a sliding basis. You'll be charged 1.49 percent if you pay using a bank transfer, and you'll be charged 3.99 percent for debit and credit card transactions. This is more expensive than Binance.
Verdict
As a whole, Binance is an excellent choice for non-US traders who are looking for features such as minimal costs, a large number of payment options and order types, and sophisticated trading tools. Traders in the United States who prefer cheaper costs may want to use Binance.US, but for those just getting started, it's hard to surpass Coinbase because of the wealth of resources, simplicity, and account features it offers.
In summary
Binance and Coinbase are two of the most popular and widely used cryptocurrency platforms in the market today. Among the services they provide are staking, peer-to-peer crypto transactions, payment processing services, institutional services, instructional materials, and a slew of other features. Despite their superficial resemblance, each has a distinct advantage over the other.