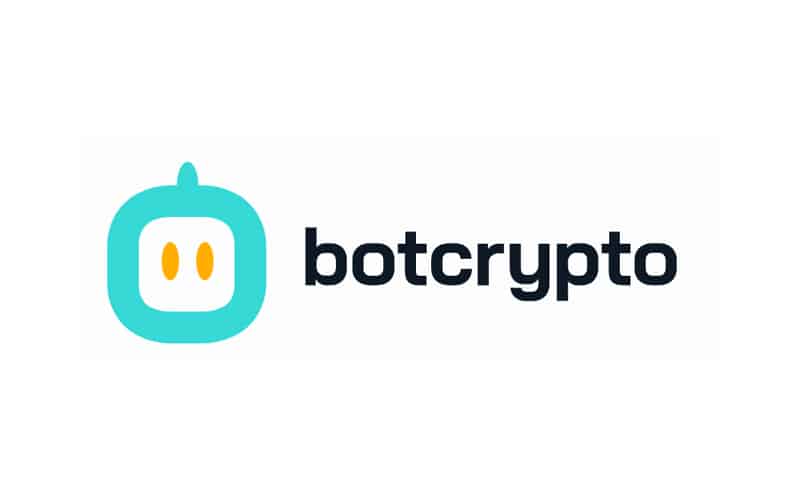 Botcrypto is an automated trading platform where users can create and customize crypto bots without requiring technical knowledge. They have more than 20 indicators and come with prebuilt strategies suggested by the community.
From the Botcrypto store, you can see all the necessary information about the service, which gives you an idea about the viability of their systems. We will take a look at all the features and pros and cons of the product to get an idea of investment.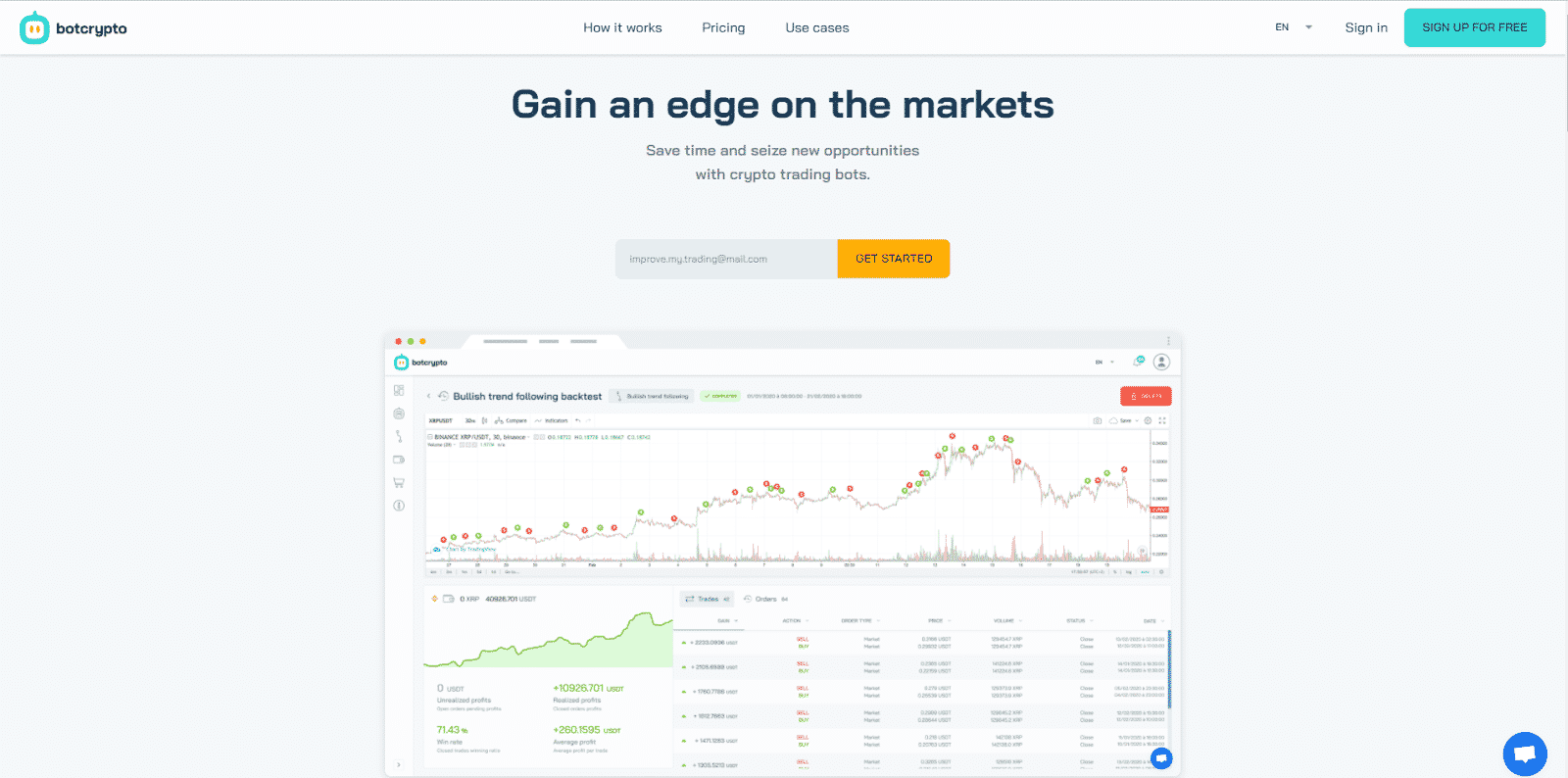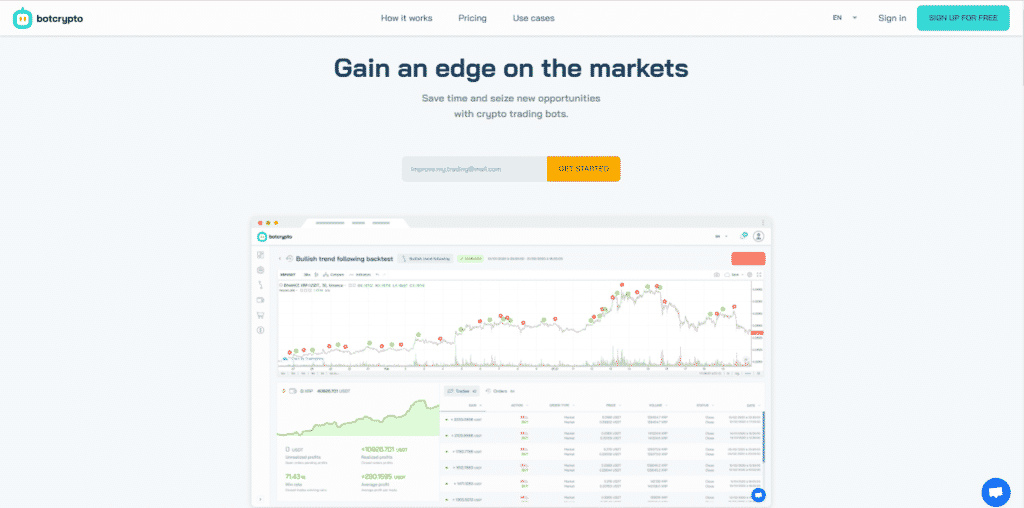 Quick summary
The platform has the following features:
Unlimited strategies and backtests.
Notifications available on Discord and Slack.
Full access to API.
Free instant reviews from developers.
It can trade on Binance and Kraken.
Botcrypto: pros and cons
| | |
| --- | --- |
| Advantages | Disadvantages |
| It provides free strategies and backtests | A few exchanges, i.e., Binance and Kraken, are supported |
| It allows the development of custom algorithms | A limited number of strategies available |
| | No user reviews are available on trusted platforms |
| | There is no mobile application |
What is Botcrypto?
Botcrypto aims its services at beginner traders. By creating and customizing the bot, you can test it on more than three years of available historical data. Unfortunately, the developer does not provide any evidence about the profitability of the bots. It has been in business for five years but still does not support more than two exchanges, i.e., Binance and Kraken.
The developer claims to have been awarded youth entrepreneurship and is supported by a French public investment bank. There are no certificates available to verify the said claims.
| | |
| --- | --- |
| Price: | Starting at 12.49 Euros |
| Withdrawal fees: | No fees |
| Deposit option: | N/A |
| Supported countries: | All |
| Supported exchanges: | Binance and Kraken |
| Free trial period: | No |
| Multiple currency support: | Yes |
Bot crypto was launched in 2017 and is based in Strasbourg, France. The team members include Constantin De La Roche, Theo Poizat, and Mehdi Boussaad. We cannot find any information about their roles in the company or certificates to verify their portfolio.
The developers can be reached via email or LinkedIn profiles mentioned on the site. There are no comments about this company on noted reviews forums such as TrustPilot etc.
How does it work?
After connecting the bot with your exchange, it will start sending orders depending on the coded information. The statistics are available on your account to see the current gains and the drawdown.
Pricing and fees
The free plan gives you access to everything on the platform except for trading bots. Investors can have an unlimited number of strategies, simulations, notifications, API access, and 1440 backtests with each purchase.
The Bronze Plan costs 12.49 Euros/month or 9.99 Euros/month (with annual subscription). It gives access to two of the most popular bots on the market, as well as the ability to perform 5760 backtests.
The Silver Plan costs 37.49 Euros/month or 29.99 Euros/month (with annual subscription). You get five EAs and up to 7920 backtests with this plan.
The Gold Plan requires a monthly payment of 74.99 Euros/month or 59.99 Euros/month(With an annual subscription). It offers you access to up to 10080 backtests and 20 bots.
The Custom Plan has tweakable features and no ceiling according to the trader's requirements. You can avail this offer by contacting the developers.
Privacy and security
Your funds are secure in your exchange as Botcrypto does not have access to your funds or withdrawal rights. They use API keys encrypted with AES-256 to connect to the portfolio. The service does not use google analytics or any other trackers to track the account's activity. They only use an open-source analytics tool called Matomo for this purpose.
Two-factor authentication may also be used, but it is not mandatory. The developer claims to have partners like nickname, Clank, Semia, Waltio, Grandest, etc., listed on their website.
Reliability
Bitbot allows users to try the strategies based on the 3 years of historical data during backtesting and implement a preset filter. These tests give us an idea about win rate and average profits. However, there are no trading records on the platform to analyze and judge the drawdown and profitability.
This platform includes several indicators like RSI, MACD, Ichimoku clouds, Bollinger bands, (exponential) moving averages, Vortex, Fear and Greed Index, etc., to develop your strategies.
How to start trading using Botcrypto?
Traders can connect their exchange with Botcrypto using the API key. After the connection is successful, the bot will start trading.
Who is Botcrypto suitable for?
Botcrypto tries to make their platform beginner-friendly but lacks proper documentation to help new traders start with them. There is a help desk present to answer your questions. Investors with average market experience can benefit from the service.
Botcrypto support
You can reach customer support via email, phone or live chat. The team can also be found on Twitter. They have videos on their Youtube channel to assist you in getting started with Botcrypto.
Botcrypto community
Botcrypto does not have any reviews available on TrustPilot or other reviews forums that we could use to get the viewpoint of the general community. This shows the lack of interest by traders in the service.
Botcrypto review verdict
Botcrypto is suitable for beginners as it comes with several prebuilt strategies, educational videos, and articles. However, they do not have any mobile application to monitor the market and trades on the go. There are also no user reviews present that could be used to get the general public's viewpoint about the platform. It only supports Binance and Kraken as major exchanges.