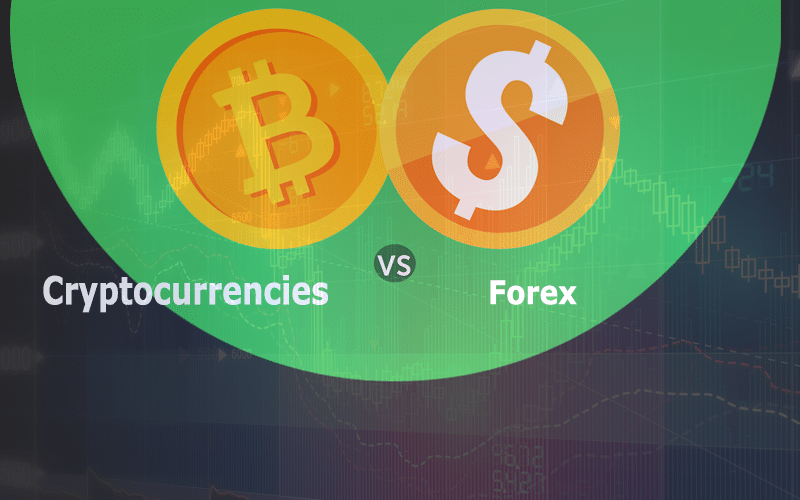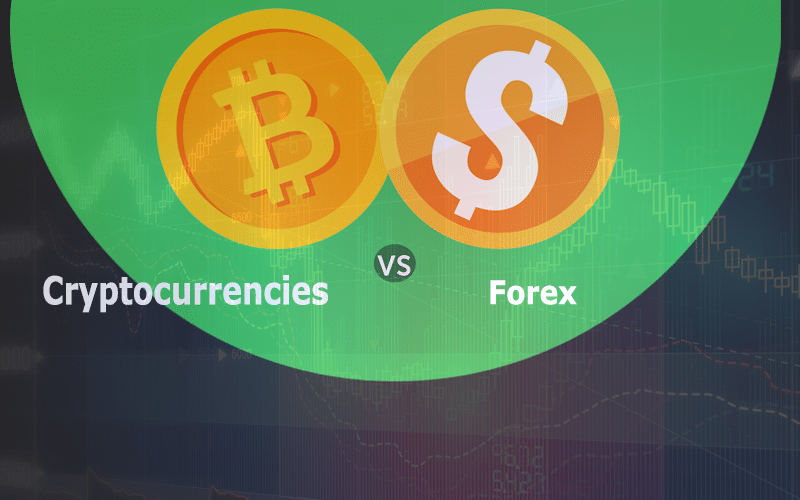 While it's an overused statement, there are different strokes for different folks; what appeals to one group of people completely turns off another. The decision for someone to trade forex or cryptocurrencies is the same argument.
Forex has existed for a few decades and is largely under the control of central banks and governments. In contrast, cryptocurrencies are a relatively new player but are growing at an unprecedented rate in adoption.
They are mostly decentralized where no authoritative body is responsible for their creation and are encouraged by lightning-quick, low-cost peer-to-peer transactions and forward-thinking financial ideologies.
The similarities between trading forex and cryptocurrencies
Before delving into the distinctions, it's beneficial to highlight the similarities; as with any financial market, both instruments are highly speculative. Generally, the chances of losing substantial amounts of money are equally great if one is irresponsible.
There is no inherent advantage over either that automatically makes one more profitable since there are more technical factors to consider.
The pair relationship
In many cases, unlike stocks and indices, both securities are traded in pairs. This is an advantage because by observing strength in one part of a couple, we generally can expect weakness in the other due to correlation (the opposite is true).
For example, in most situations, an increase in Bitcoin or BTC/USD (which is the main barometer for Bitcoin's price) means dollar weakness in subsequent forex markets (and vice versa).
The other side of the correlation perspective is the general perception between fiat and digital currencies. More investors are flocking towards crypto because of losing faith in fiat money (which is forex).
Most cryptocurrencies are deflationary in nature, making them rarer and more valuable; in contrast, due to monetary policies, fiat currencies are inflationary, making them less of an asset.
So, in the BTC/USD example, when this market increases, this usually represents confidence in Bitcoin overall and a lack of faith in the greenback.
This may be a generalization because this inverse relationship does not always occur on a short-term basis, but in the image below, we see how it can sometimes play out in the long run. The DXY (dollar index) is an index comprising the value of six world-leading currencies, including the US dollar.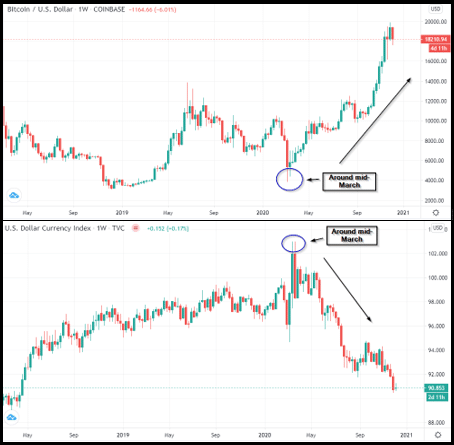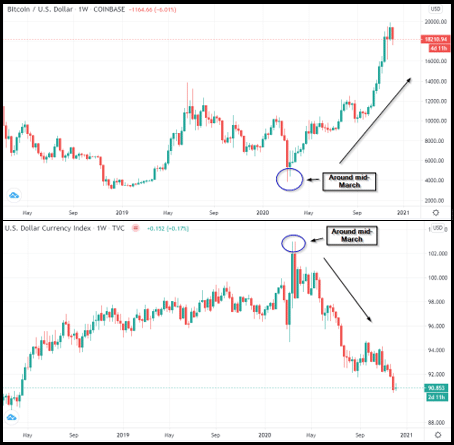 This instrument is often an accurate measurement of how the US dollar performs in the Forex market. We see above how BTC/USD rose for much of 2020 while the 'dixie' fell considerably, which affected the greenback in the same way with other currency pairs.
The differences between trading forex and cryptocurrencies
Here, we'll look at the contrasting differences that are usually the defining factors for why a camp of traders chooses one over the other. The table below gives a quick summary of these elements.
| | | |
| --- | --- | --- |
| | Forex | Cryptocurrencies |
| Age | Modern foreign exchange has existed for several decades (some state from the early 70s officially). | Crypto came onto the scene with Bitcoin in 2009. |
| Liquidity | At least $6.6 trillion in daily trading volume | Trading volume has peaked to at least $70 billion in 2021, though it is still considerably dwarfed by forex. |
| Volatility | Less volatile than crypto. Most forex pairs fluctuate by around 1% or less in a day. | More volatile than forex. It's not uncommon in crypto for prices to fluctuate by 10-50%, and even more in 24 hours. |
| Market hours | The forex market is open 24/5. | The cryptocurrency market is open 24/7. |
| Regulation | Mostly regulated, with some exceptions. | Purely unregulated because it's largely decentralized. |
| Leverage offered | Much higher; many brokers regularly offer leverage above 1:500 (some 1:1000 and higher). | Much less than forex; most exchanges and brokers do not offer above 1:25 currently. |
Let us now analyze why each of these factors plays its own important part:
Age: The forex market mostly enjoys a better reputation than crypto as being more dependable and trusted.
Liquidity: Although the cryptocurrency market is significantly less liquid, it is still a heavily traded instrument that does not experience heavy slippage or execution delay.
Volatility:  Some may prefer forex in this regard because although volatility here can be relatively high, it pales in comparison with cryptocurrencies, making the latter far more unpredictable. Depending on how one perceives this feature, it can be a good or bad thing.
Market hours: The cryptocurrency market never stops, which is an advantageous characteristic for scalpers and day traders. Forex, on the other hand, is closed on the weekend.
Regulation: Though the actual forex market is also decentralized like its counterpart, the brokers and liquidity providers are, in a majority of cases, regulated.
In cryptocurrencies, regulation is absent. From a technical perspective, this can be a detriment, hence, why we often see pump-and-dump schemes and other so-called price manipulation events in this market.
In forex, because of tighter regulation, these 'freak' occasions are rare, reinforcing why it's a relatively more stable instrument.
Leverage offered: This attribute has a bearing on starting capital for new traders. One of the reasons why forex is such a massive and keenly-speculated security is the high leverage. 
If we compare with crypto, the leverage is much less, meaning one generally needs a bigger trading account to open the same trading sizes in forex.
Final word
The ultimate question then becomes which market should one decide to trade between forex and cryptocurrencies. Like any financial market, it all depends on a trader's experience, risk appetite, skill, and knowledge, though there are a few considerations that help in the decision-making.
Where forex outshines the latter is in longevity, more regulation, higher leverage, etc. Conversely, with cryptocurrencies, traders enjoy true 24/7 around-the-clock trading, greater volatility, significantly more markets, and so on.
Less monied investors or those looking for a stable instrument may see forex as a better choice because of the leverage access. Because of the longevity, while no financial market is 100% predictable, the price volatility is more consistent when looking at years of data, making it more reliable.
In crypto, we don't have this luxury because we have less pricing information to observe, meaning that markets can enter in 'uncharted territory' as we've seen with the 2017 crypto boom.
More monied traders (since there is less leverage offered) who embrace digital technology and are comfortable with the higher volatility may consider cryptocurrencies a better trading option.