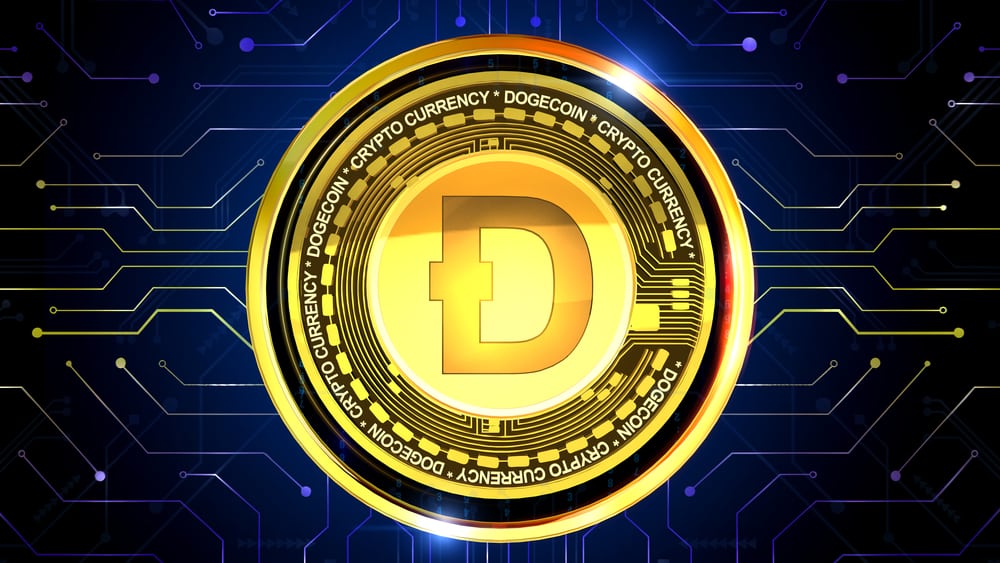 Dogecoin rally stalls
Dogecoin Twitter subscription payment talk
Dogecoin bullish long term outlook
Cryptocurrencies are consolidating after a recent pullback from multi-month highs. The upward momentum has lost steam amid a lack of new catalysts. Dogecoin is one of the coins in consolidation after a recent breakout stalled.
DOGUSD technical analysis
Dogecoin has registered solid gains in recent days despite bearish pressure taking a toll on the broader cryptocurrency space. The upward momentum of the popular meme coin has been influenced by positive rhetoric from Tesla CEO Elon Musk.
After powering to highs of $0.1787, DOGUSD has corrected to lows of $0.1437 in what could be attributed to traders taking profit after the solid move higher. The pullback appears to have stabilized above the $0.1400, which has emerged as a crucial support level. Above the level, the meme coin remains well-positioned to bounce back and continue moving up.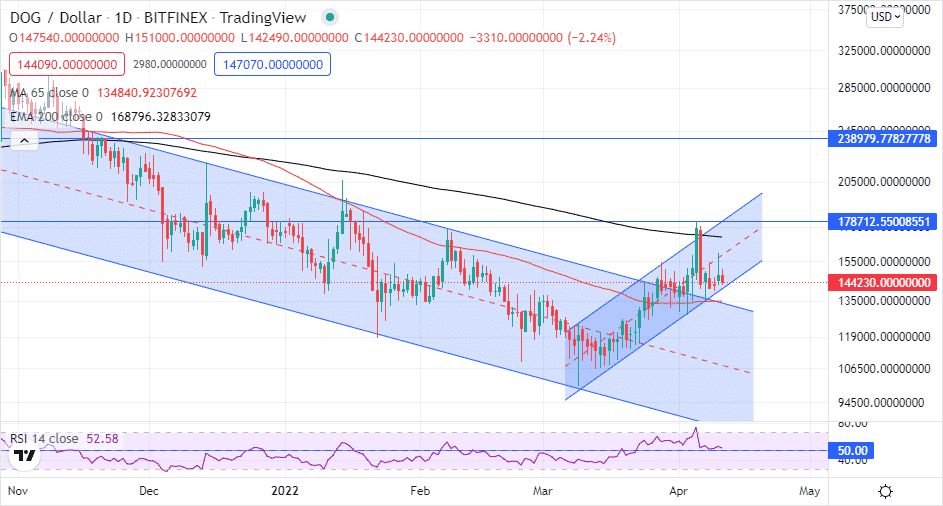 On the flip side, a break below the $0.1400 could be the signal to trigger renewed sell-off, which could see DOGUSD correcting to lows of $0.1287, the next substantial support level. A close below the support level could accelerate further sell-offs in continuation of the long-term downtrend.
In a highly bullish case, DOGUSD powering and closing above the $0.1787 level could fuel a rally to highs of $0.2322, the next substantial resistance level. DOGE's outlook is optimistic amid a string of solid underlying fundamentals that continue to strengthen the meme coin sentiments in the market.
Why Dogecoin is bullish
Tesla CEO Elon Musk stating that Twitter Blue premium subscribers could be allowed to use Dogecoin to pay for their monthly subscription is a major development. The executive comments have triggered big gains on the token, which had been in consolidation amid a lack of catalyst to fuel another leg higher.
Musk purchasing a 9.2% stake in social networking giant Twitter could accelerate Dogecoin's transition into the mainstream sector. Should Musk's suggestions come true, the use of DOGE for subscription payment could be a big deal, which explains why the coin has been rallying in recent days.
Increased user adoption and payment use cases are one factor expected to drive Dogecoin price higher away from pure speculation. Payments are a key fundamental development that could affirm the cryptos long-term prospects away from the hype.
Demand for riskier assets
In addition to the Twitter Blue payment use cases, Dogecoin's upward momentum in recent days has also been fuelled by improving demand for riskier assets in the capital markets. After a 60% plus pull back from all-time highs, Dogecoin, just like other coins, appears to be trading at a discount from its all-time highs.
In the aftermath of the Federal Reserve hiking interest rates and affirming plans to trim its bond-buying program, investors have been flocking the capital markets in pursuit of battered assets. Investors and traders who had missed out on the initial leg higher are increasingly exploring high risk-reward opportunities in the sector.
The stock markets edging higher appear to have triggered demand for riskier investments in cryptocurrencies as the two markets have been trading in tandem. In addition, investors have turned to cryptocurrencies as a hedge against runaway inflation. The buying spree around the flagship cryptocurrency has also streamed into the broader cryptocurrency market, with Dogecoin benefiting from renewed cryptocurrency interest.
Final thoughts
While the short-term outlook remains uncertain, Dogecoin remains well-positioned to bounce back after the recent consolidation. Talk about the meme coin being used to pay for Twitter Blue subscription is one factor that should offer support to further rallies.