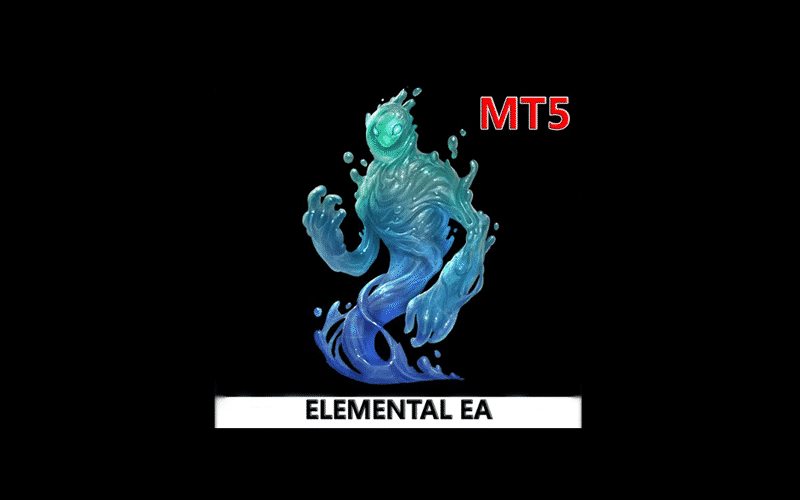 Elemental EA is a Forex expert advisor that was launched on 9th November 2021. According to the vendor, this robot trades without too many complex parameters, and this makes it suitable for novice traders. It is a fully-automatic system that is compatible with multiple currency pairs.
Is investing in Elemental EA a good decision?
To analyze this EA, we have looked into various factors like presentation, vendor transparency, features, price, trading results, backtests, and customer reviews. We don't have enough information on the vendor and the presentation is not very detailed. Also, the vendor does not offer a money-back guarantee for this system.
Company profile
There is no official website for Elemental EA. On the MQL5 product page, the vendor has explained the trading principle of the expert advisor. We also have some recommendations related to broker, deposit, and timeframe. There is also a list of parameters and a set of screenshots showing trade setups and backtesting results.
This is a product from Evgeniy Machok, a Russian trader. Unfortunately, there is no background information on this developer. Their MQL5 profile tells us that they have more than 8 years of experience. Also, they have an official website called DoMyForex.com. Apart from Elemental EA, they have built systems like South Night, Yellow, Silent Master, MIB Pro, and SZ Scalper.
Main features
This is an EA that trades in EUR/USD, USD/CHF, USD/JPY, USD/CAD, AUD/USD, EUR/JPY, EUR/CAD, and CHF/JPY. There are both MT4 and MT5 versions of this EA and it is suitable for the M5 timeframe. The minimum recommended deposit for this expert advisor is $100.
Elemental EA has the AutoLot feature that you can enable to let it calculate the trading lot size by itself based on the account balance. You can also select a manual lot size and specify the risk percentage. Other EA parameters include maximum drawdown, take profit, stop loss, and trading direction.
The strategy of this robot is based on the principle that each trade has its own boundaries, after which the price reaches equilibrium. This is a night trading EA that has to deal with limited market liquidity. As such, it trades with pending limit orders for slippage protection.
Elemental EA can trade in different currency pairs using just one chart. However, the vendor recommends using separate charts since the quotes or ticks may be provided by the broker at different times and this might cause delays. This robot does not use risky strategies like martingale, grid, and arbitrage, and protects each trading position with drawdown and stop loss parameters.
Price 
The current price of this Forex robot is $199. Compared to other expert advisors on the market, this is quite cheap. If you wish to test the performance using a demo account, you can download the free demo version. The vendor does not entertain refund requests.
Trading results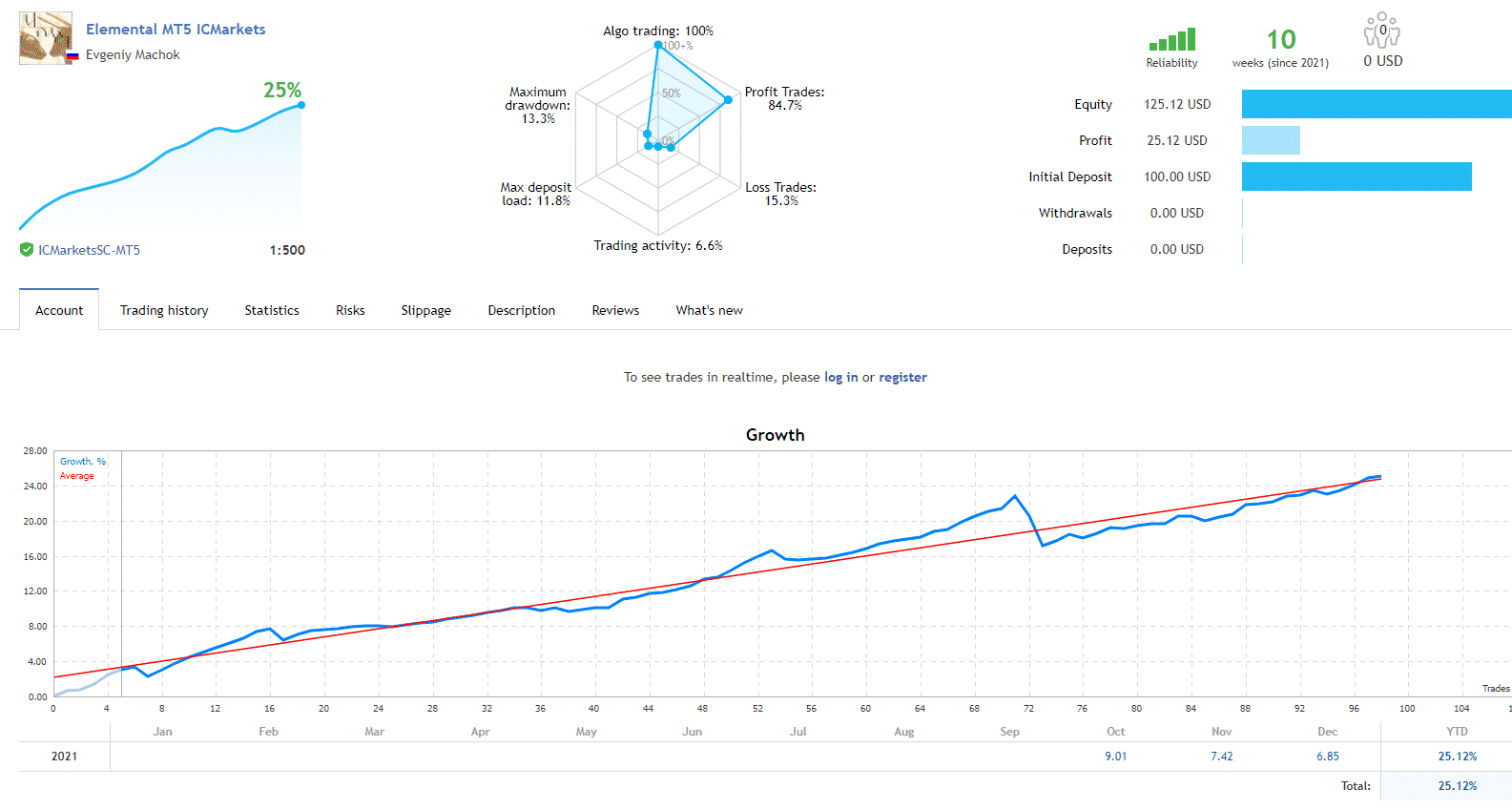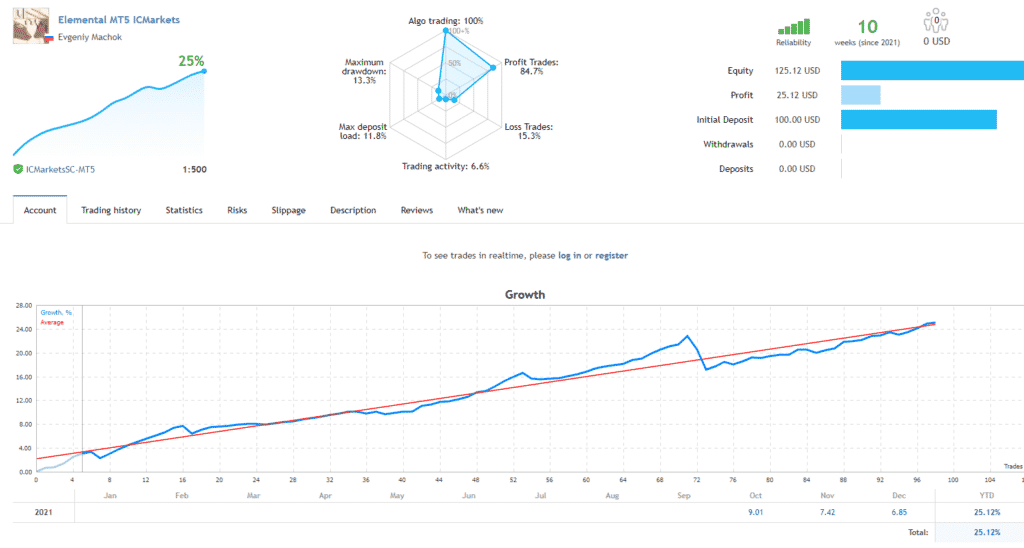 Since there are no verified trading results for this expert advisor, we must consult the live signals on MQL5 to analyze its performance. This account has a very short trading history of 45 days, during which time it has placed only 98 trades. It has won 83 out of them, which makes the win rate 84.69%.
Elemental EA places around 11 trades every week, holding each for an average of 1 hour. Currently, the total profit generated through this account is only $25.12. It has a profit factor of 3.15 and a maximum drawdown of 13.3%. The average profit and loss are $0.44 and $78, respectively.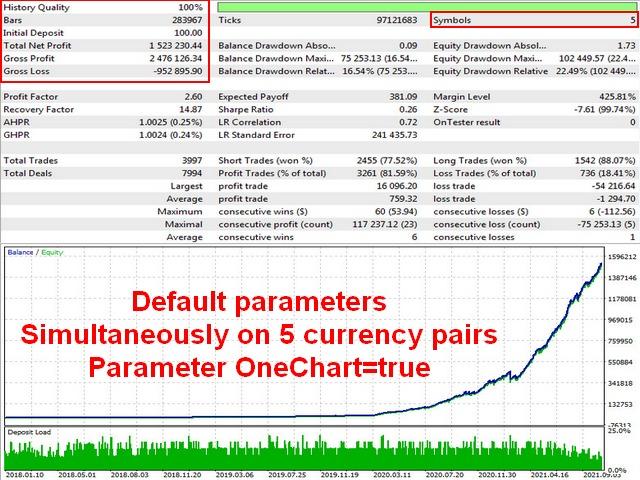 For this backtest, the EA used default parameters to trade simultaneously on five currency pairs. It conducted a total of 3997 trades and had a win rate of 81.59%, which is slightly less compared to the live statistics. At the end of the testing period, it had generated a total profit of $1523230.44. The profit factor for this backtest was 2.60 while the relative equity drawdown was 22.49%.
Customer reviews


Unfortunately, there are no reviews for this robot on third-party websites like Trustpilot, Forexpeacearmy, Quora, and Myfxbook. On the MQL5 product page, there are three reviews, but we have no way to verify their authenticity.
Summing up
Elemental EA has no verified track record of winning profits in the live Forex market. While the vendor offers the system at an affordable price, they do not provide refunds to dissatisfied customers. Also, there is not enough information on the developer, and it seems not many people are currently using this EA.