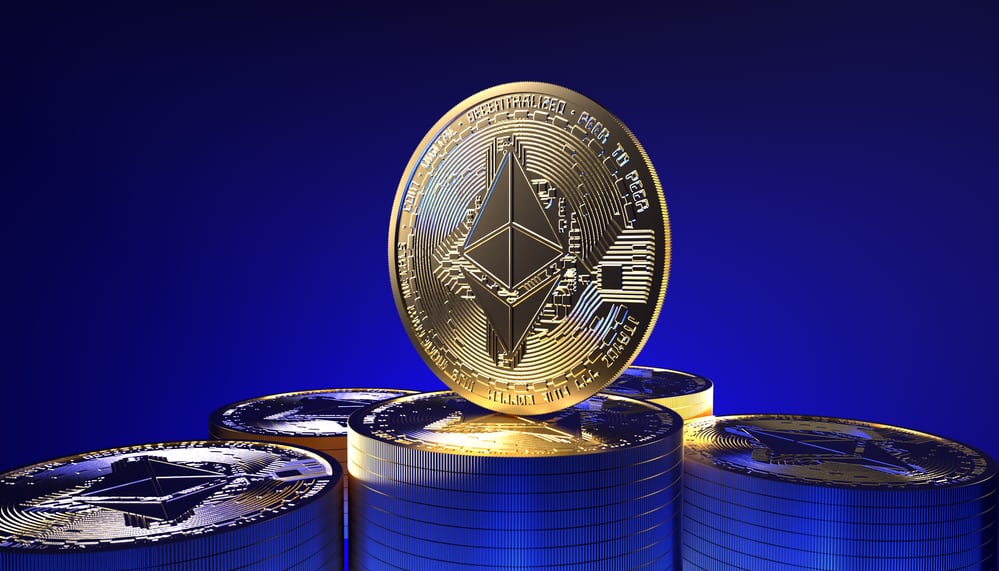 Ethereum bulls eye $3,000
Cathie Wood 5400% Ethereum rally estimate
Ethereum blockchain edge
Ethereum could rally by more than 5,400%. Those are sentiments echoed by Ark Invest Chief Executive Officer Cathie Wood. The sentiments come when the second-largest cryptocurrency by market cap is trying to bounce back after shedding more than 35% in market value from all-time highs.
Just like other cryptocurrencies, Ethereum has been under immense short-selling pressure resulting in a slide below the pivotal $3,000 handle. The sell-off came as investors shrugged off riskier investments amid runaway inflation and concerns about the kind of monetary policy that the Federal Reserve will pursue.
ETHUSD technical analysis
The dollar strengthening to two-year highs amid expectations that the FED will embark on an aggressive rate hike spree also piled pressure on Ethereum, resulting in a correction below the $3,000 level. After plunging to lows of $2,190 early in the year, the coin has started showing signs of bottoming out and rallying back to all-time highs.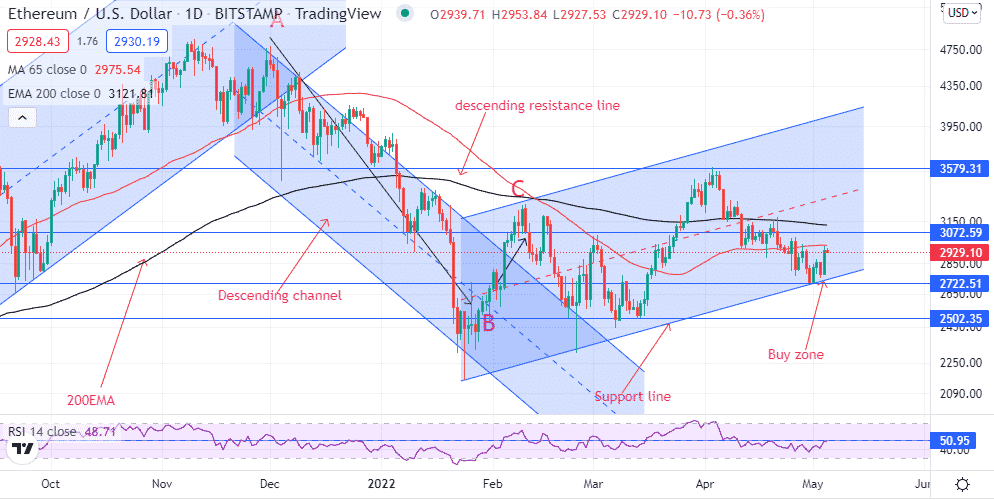 Following a recent pullback from April highs of $3,579, ETHUSD appears to have hit strong support near the $2,700 handle. Short sellers struggling to push the coin lower below the support has once again fuelled the suggestion that the corrective phase is over and that Ethereum could be in for further price gain.
After rallying to the $2,930 level, ETHUSD is staring at strong resistance at the $3,000 level. A rally followed by a daily close above the psychological level should pave the way for further upswings to April highs of $3,500.
On the flipside, ETHUSD s bulls failing to steer a rally above the $3,000 handle could leave the coin susceptible to a deep pullback to the pivotal $2,700 support level. Below the $3,000 handle, Ethereum remains bearish as part of the long-term downtrend.
Ethereum Break out looms
With the dollar coming under pressure in the aftermath of the US Federal Reserve hiking interest rate by 50 basis points to 1%, ETHUSD could catch some wind and edge higher. The broader cryptocurrency industry shows signs of breaking out and edging higher after months on the receiving end.
Cathie Wood reiterating that Ethereum has what it takes to rally by more than 5,000% is another factor that could help fuel a breakout above the $3,000 handle. According to Wood, Ethereum could achieve a more than $20 trillion valuation over the next ten years.
Ethereum blockchain edge
One of the factors that could help fuel the massive rally is the limits that the project continues to push on the use of blockchain technology. It's made it easy for developers to build self-executing computer programs dubbed smart contracts. Ethereum has become an important part of the development of decentralized applications.
Consequently, the Ethereum blockchain has given rise to a thriving ecosystem around decentralized applications and decentralized finance. In addition, its blockchain is helping power an array of projects at the heart of non-fungible tokens development and trading.
While Ethereum has faced stiff competition from rival blockchains due to congestion issues, it has still succeeded in ranking higher in the decentralized ecosystem. It currently accounts for more than 70% of NFT sales. It's also a leading player in the DeFi ecosystem, with $114 billion invested in the platform.
Ark Invests expects growing Ethereum leadership in Decentralized Finance services to be a key catalyst that should support Ether's significant price appreciation. This is partly because all transaction fees paid on all DeFi services on the Ethereum blockchain must be settled using the native token.
Final Thoughts
While Ethereum faces stiff competition from numerous competing blockchains, it remains a preferred platform for decentralized applications, Decentralized Finance, and non-fungible tokens. Consequently, demand for the native Ether token will always be high, which should see its value increase significantly.