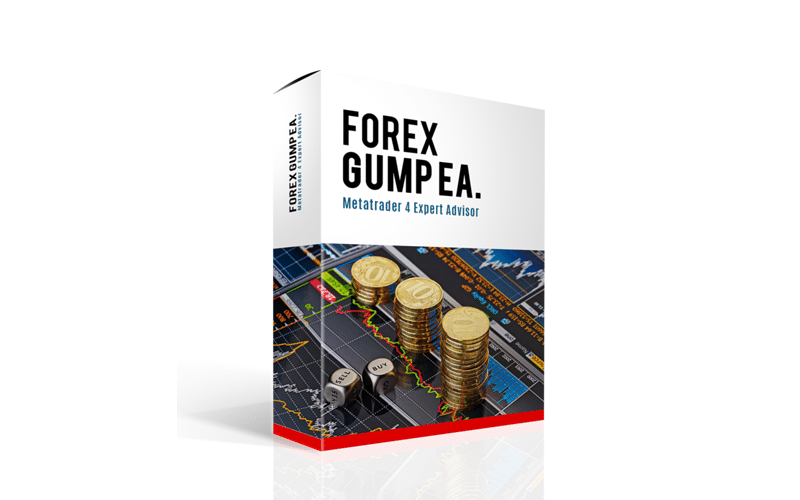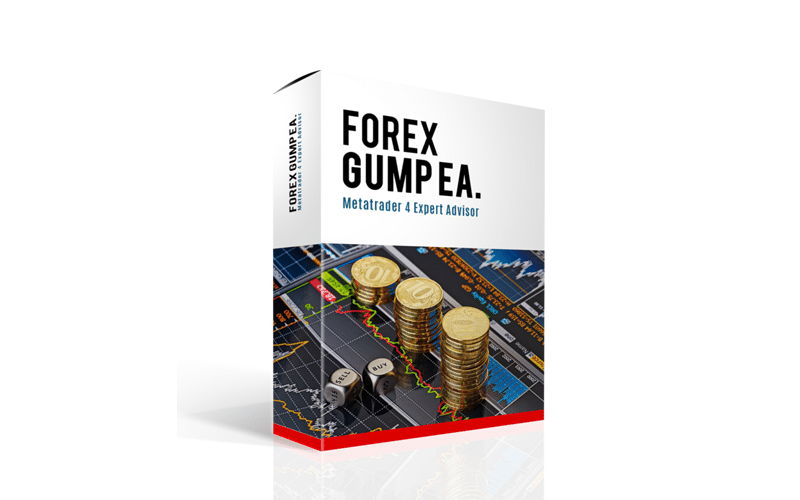 Forex Gump is a Forex EA that claims to generate a total return of 2000% in two years. It is said to be a system that remains functional 24 hours a day, 5 days a week, seeking out the best trading occasions. However, the true profitability of the system can only be determined after conducting a detailed analysis of each and every aspect.
Is Forex Gump a Good EA to Invest?
In order to gauge the EA's reliability, we have looked into various aspects like vendor transparency, features, pricing packages, trading results, and customer reviews. Since there are several scam services in the market these days, it is vital to conduct thorough research before investing in a Forex robot.
We can see that the vendor has shared the live trading results on the official website and has explained the trading strategy in detail. This tells us that it is unlikely to be a scam service. Our first impression is more or less positive, but further investigation needs to be carried out before we reach a conclusion.
Company Profile 
On the official website of Forex Gump, we can see the vendor making a brief but informative presentation. First, the live trading result for an FXBlue account is shared and later the strategy and recommendations are explained in detail. We also have the pricing details and a contact form where you can drop a message to the service team after providing your name and email address.
There is no information on the website about the company's background or year of foundation. The identities of the team members are not revealed either, so we don't know if the system has been developed by experienced professionals. We don't have a physical address for the company and there is no way to determine whether any other Forex EAs have been developed by the vendor.
Main Features
Forex Gump is a system that uses new filters and trend candles while using unique take profits with every order. It is claimed that the robot has the ability to adapt to the current market situation. There are three different risk settings for this EA namely, High, Middle, and Low, and these prevent you from losing more than what's specified in the EA settings.
With this Forex EA, you can trade USD/JPY, USD/CHF, USD/CAD, GBP/USD, EUR/USD, EUR/JPY, EUR/GBP, EUR/CHF, and AUD/USD on the M1 timeframe. As per vendor claims, it is programmed with market implementation and evaluation. The minimum starting balance for a cent account is $40, but the vendor recommends trading with a $4000 account and leverage of 1:100.
Price
There are two distinct pricing packages for Forex Gump, and these are priced at 199 Euros and 399 Euros, respectively. While the first one gives you access to 1 live account and 1 demo account, with the second plan you can access 3 live accounts and an unlimited number of demo accounts.
With both these plans, you get 24/7 free support and free updates. Additionally, the vendor offers a 30-day money-back guarantee for this product.
Trading Results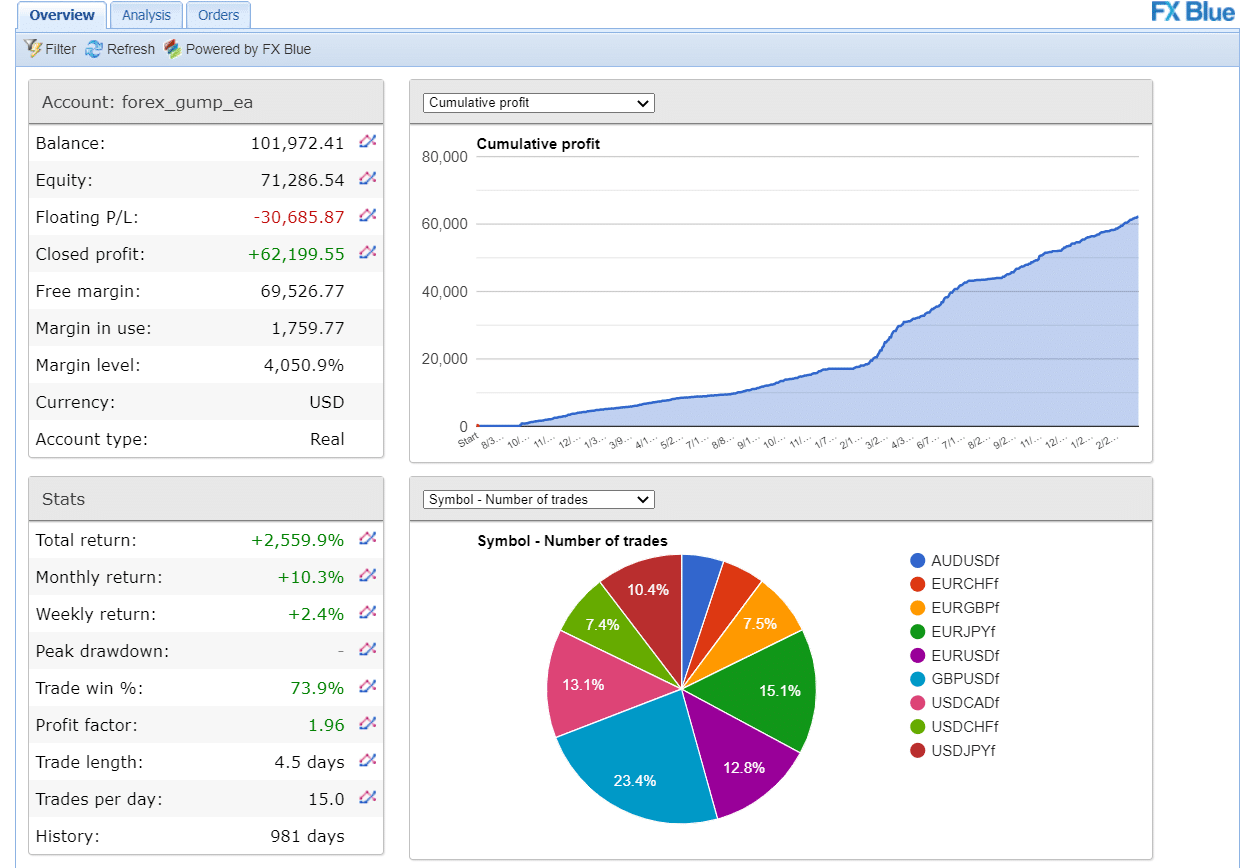 The vendor has shared a live trading account for Forex Gump on the official website, and this account is verified by FXBlue. We can see that a total profit of $62,199.55 has been closed by the EA for this account and that the total account balance now stands at $101,972.41.
While the total return for this account is 2559.9%, the monthly and weekly returns are 10.3% and 2.4%, respectively. During its 981 days of trading, the account managed to close 73.9% of trades in profit. Thus, it is no surprise that the profit factor is 1.96, which can be considered more than decent.
We would have liked to compare the live trading results with backtesting data to get a better idea about the system's profitability, but the vendor has not shared the same. The absence of backtesting data is a bit disappointing since it would have revealed some crucial information about the Forex EA.
Customer Reviews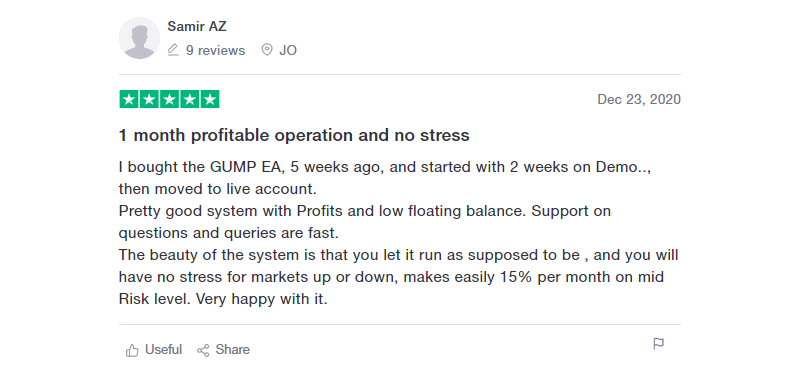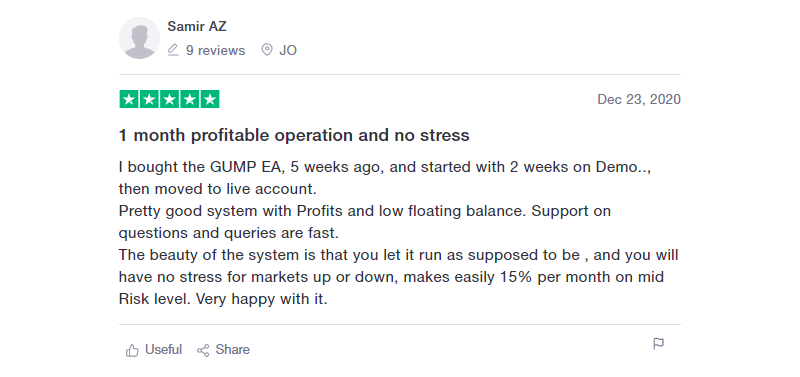 We found a single customer review for Forex Gump on the Trustpilot website. The user has praised the support team and stated that they are quick to respond to any queries. They have claimed to make a monthly profit of 15% using a mid-level risk.
Summing Up
In the end, we would like to say that Forex Gump is definitely not a scam service since the vendor has shared the live trading outcomes and explained the trading strategy. But there are areas where the Forex EA disappoints, like vendor transparency. Nevertheless, it is available at a reasonable price, and if the system truly manages a win rate of above 70%, it is worth every penny. The customer reviews also tell us that real users have benefited from this system.