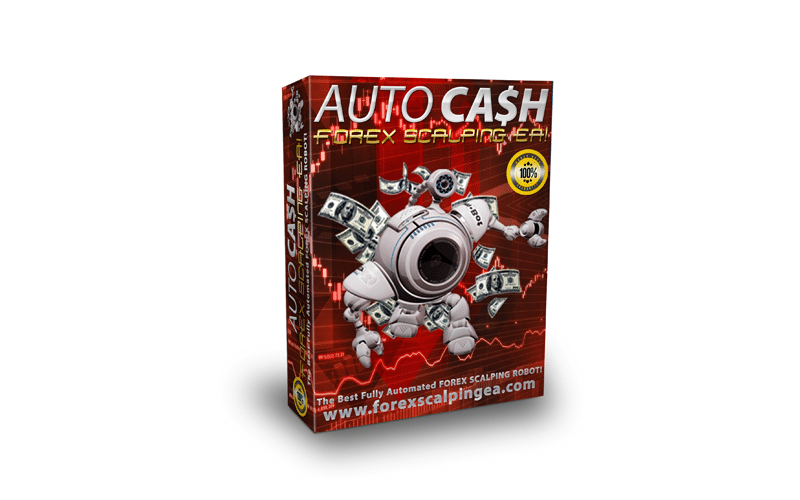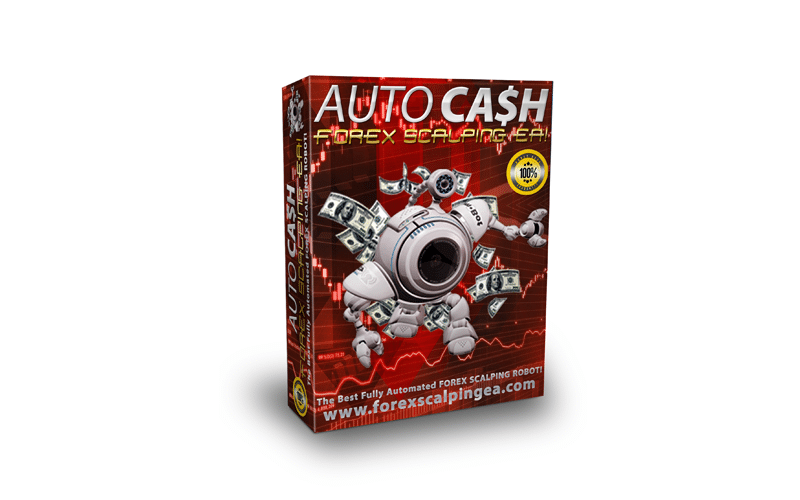 Forex Scalping EA is a Forex robot operating on the Metatrader 4 platform that analyzes the foreign exchange market efficiently to seek out the best scalping entry and exit positions. It is a fully-automated system that is based on two decade's worth of backtesting data. However, to accurately gauge the profitability of this expert advisor, we need to look into each and every factor from an objective point of view.
Is Investing in Forex Scalping EA a Good Decision?
In order to determine whether Forex Scalping EA is reliable or not, we have looked into all the main aspects like vendor transparency, features, trading strategy, pricing plans, trading results, and customer reviews. By taking a quick look at the official website, we can see that the vendor has shared the live trading results as well as the backtesting data, while also explaining the strategy brief. We do not consider Forex Scalping EA to be a scam service.
Company Profile
On the official website, the vendor has provided us with the backtesting outcomes for 15 distinct currency pairs, while also sharing the link to a live trading account verified by Myfxbook. We have a brief explanation of what Forex scalping is and how the strategy works for this robot. Moreover, there are the pricing details and a long list of user testimonials.
At the very end, there is a risk disclaimer stating how the company is not responsible for any losses made by the system. We also have an extensive FAQ section where various details about the robot are revealed.
There is no information available on the company or its background, so we cannot say that vendor transparency is maintained. We don't know where the headquarters of the company is located and who are the people working in the trading and development teams.
Main Features
Forex Scalping EA looks to make quick trades by utilizing small price shifts in the market. Scalping trades are typically open only for 1-5 minutes. While other systems wait for long periods of time before the trades are closed, this Forex EA looks to extract the profit and exit the trades early. The vendor mentions that it takes some training and experience to perfectly implement this strategy in the Forex market.
For the purpose of scalping, this Forex robot uses reversal trades. Since it is a scalping robot, it is recommended you use this system with a broker offering tight spreads and swift execution. The user has full power over the trading and can set the robot parameters as per their preferences.
After downloading the software, you have set it up on the MT4 trading platform. The vendor provides detailed, step-by-step instructions and customer support on a 24/7 basis. In order to get used to how the system works, it is recommended that you start trading with a demo account first.
Price
There are four pricing plans for Forex Scalping EA, namely Basic, Standard, Gold, and Premium, and these are priced at $99, $149, $199, and $249, respectively. The only difference between these plans is the number of real and demo accounts you get access to. The vendor has explicitly mentioned that no refunds are offered under any condition, which could be a deterrent for many potential investors.
Trading Results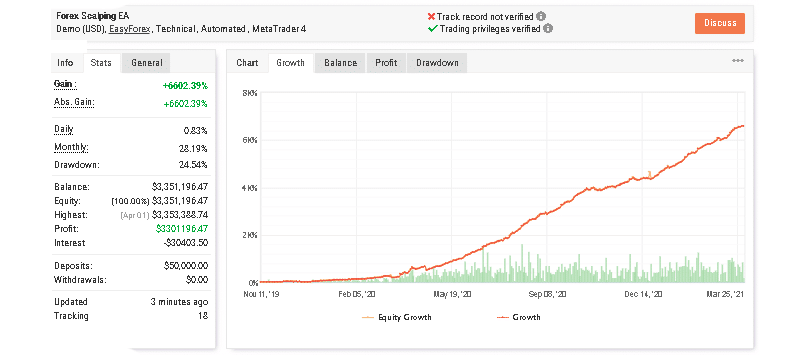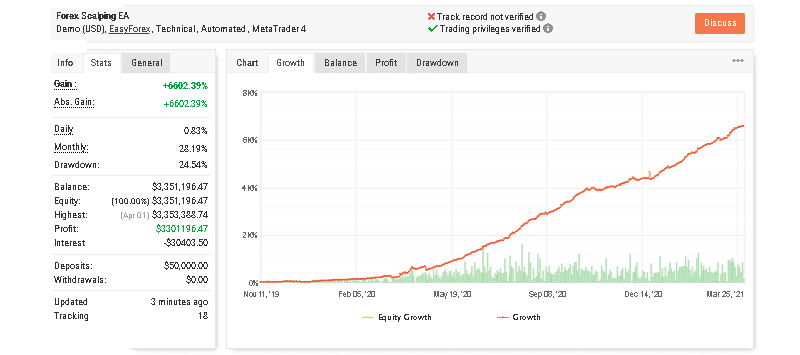 This a demo account for Forex Scalping EA that was launched on 11th November 2019. To date, 3416 trades have been placed through this account, out of which 2927 have been won. Thus, it has a win rate of 86% and a profit factor of 3.61, both being higher than average.


The net profit generated by this account currently stands at $3301196.47, with the total deposit amount being $50,000. We can see that the drawdown is at an acceptable level and that the daily and monthly gains are quite decent at 0.83% and 28.19%, respectively.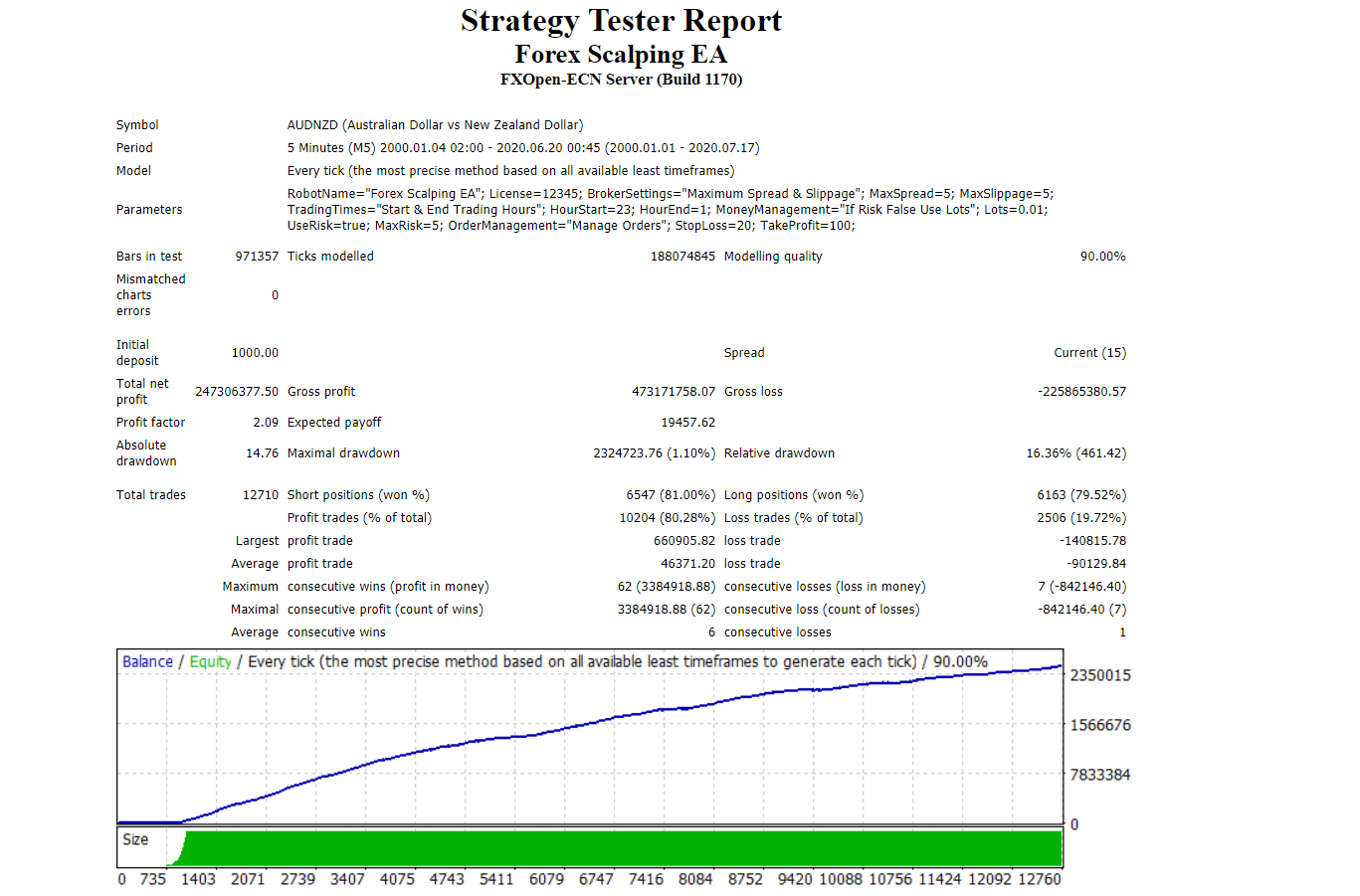 Here we have the backtesting result for the AUD/NZD pair conducted over a time period of 20 years with 90% modeling quality. Using an initial deposit of $1000, a total net profit of $247306377.50 was generated by the system. It won 80.28% of the trades and had a high profit factor of 2.09.
Customer Reviews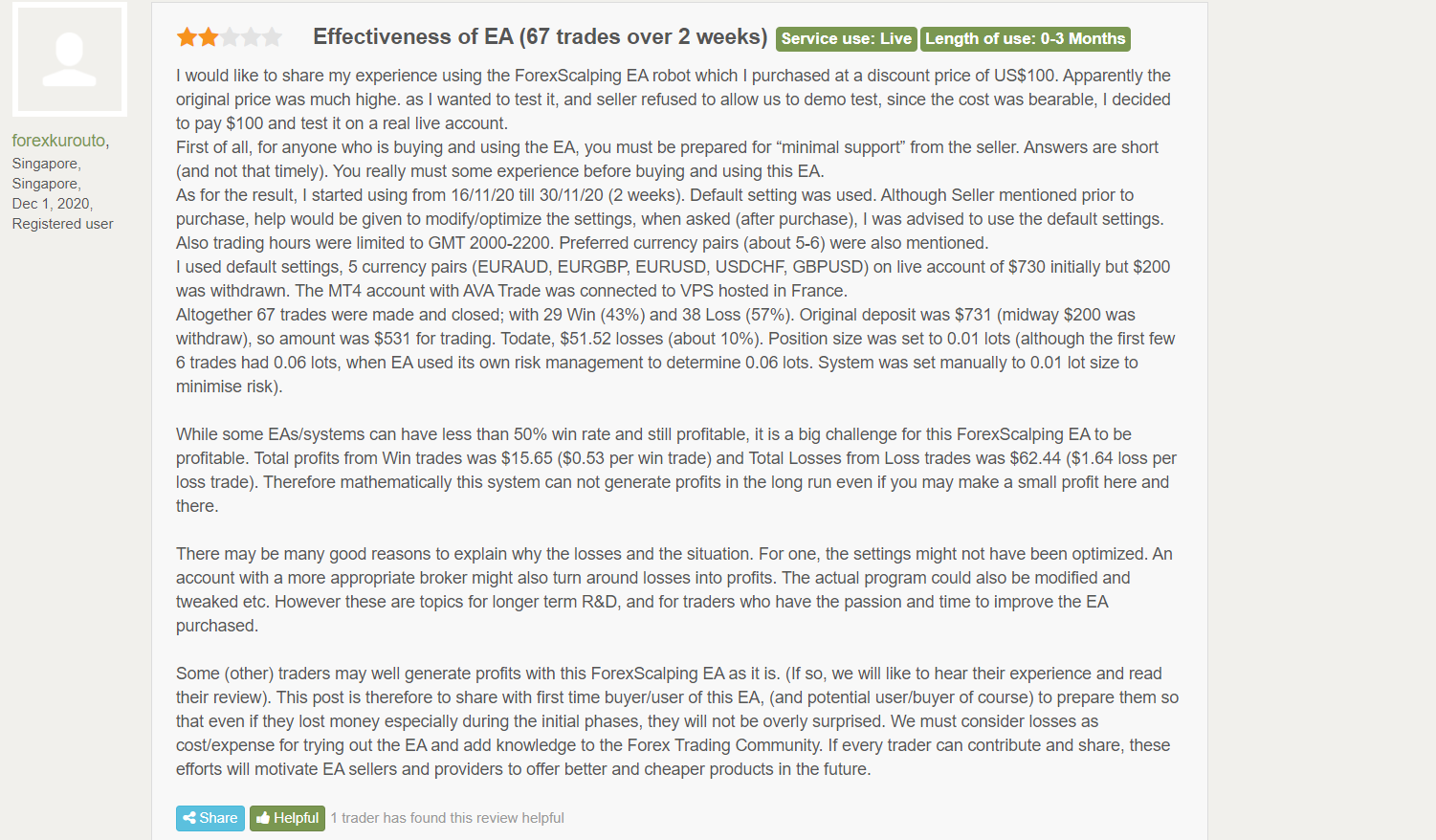 We found a single user review for Forex Scalping EA on the FPA website. Here, the user heavily criticizes the fact that the vendor offers minimal support to customers. It is also mentioned that this Forex EA is not suitable for making profits in the long run.
Summary
While Forex Scalping EA is unlikely to be a scam service, there are certain areas where it disappoints, like vendor transparency. Looking at the live trading and backtesting results, we can gather that the system closes most trades in profits. So, it might be worth a shot, if you are okay with the lack of information and refund policy.