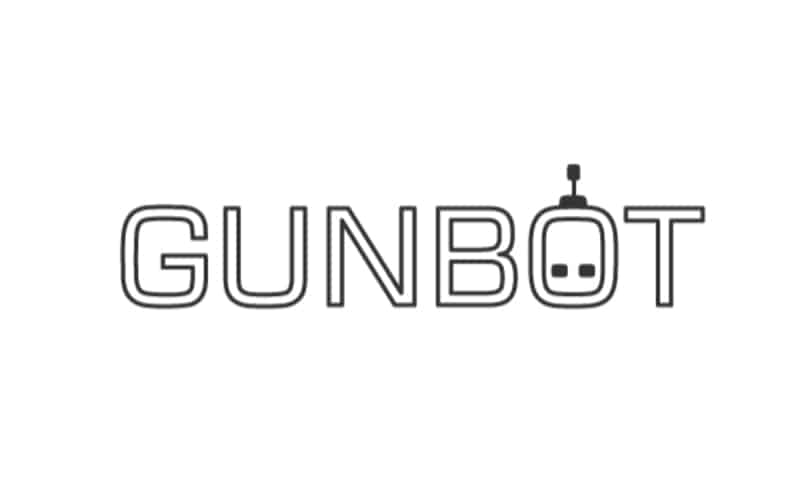 Gunbot trades several cryptocurrencies automatically following the precoded techniques within the infrastructure of the bots. It currently supports over 100 exchanges like Binance, Bitmex, Coinbase, etc., and allows investors to tweak the parameters and create a trading strategy. Traders can install the software on Windows, Mac, Linux, and Arm. We are going to analyze its features and profitability to give you an idea about investing or trading with the platform.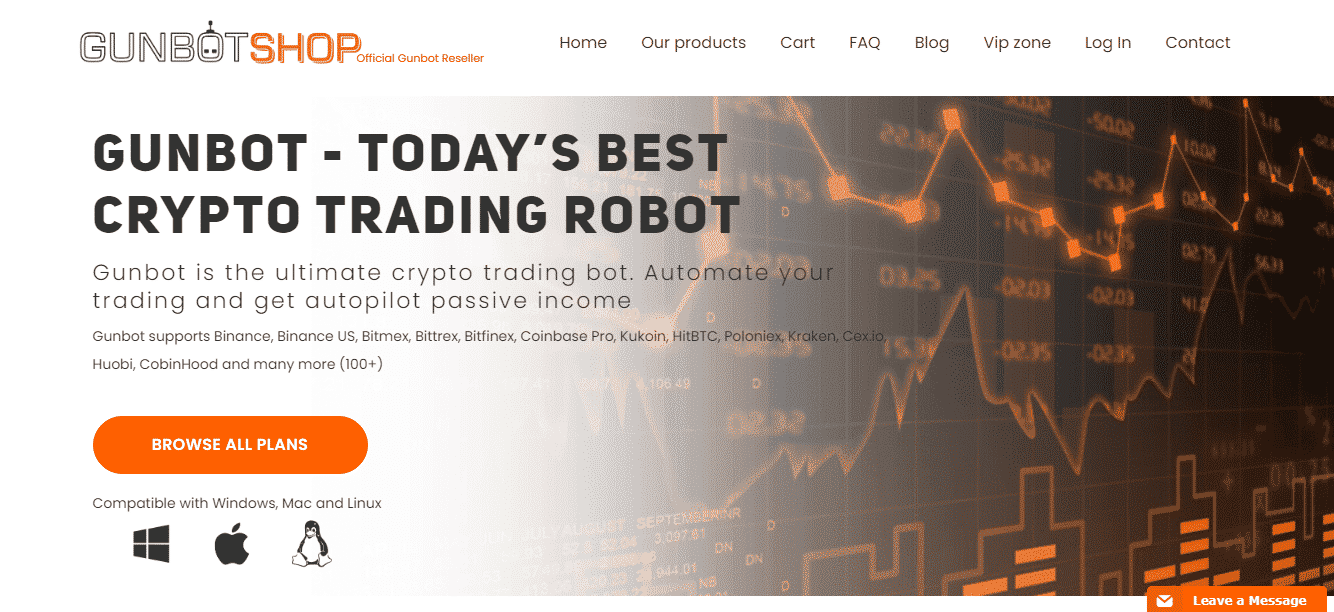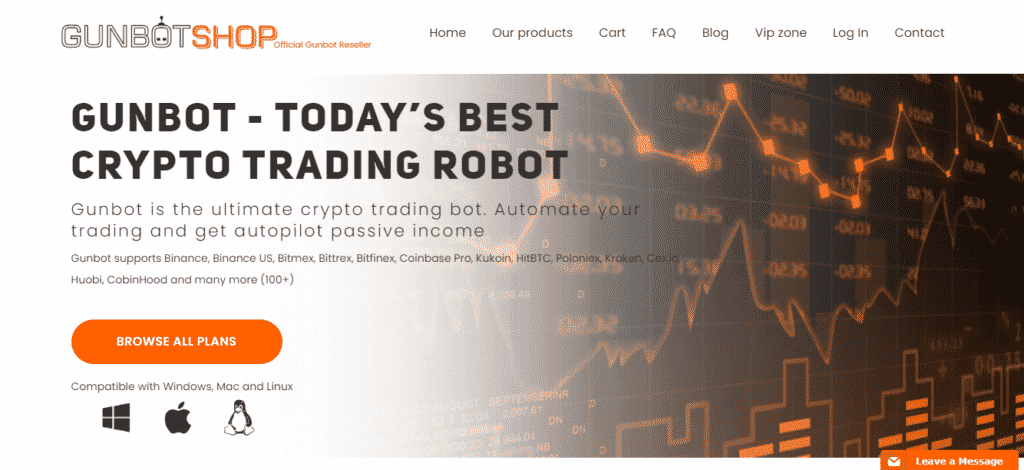 Quick summary
The essential features and unique tools of Gunbot are as follows:
Gunbot automatically executes orders 24/7 on autopilot.
The platform supports a wide variety of cryptocurrency exchanges.
Several precoded strategies are available such as Ichimoku, MACD, MACDH, Ping Pong, SMACROSS, etc.
A user-friendly dashboard shows portfolio value, charts, and indicators.
Gunbot: pros and cons
Gunbot has some advantages and drawbacks, which are mentioned below.
| | |
| --- | --- |
| Pros | Cons |
| One time payment for all the packages | It only accepts payments in cryptocurrency |
| It is compatible with Windows, Mac, Linux, and Raspberry | Gunbot has costly pricing plans |
| | The platform shows a lack of vendor transparency |
What is Gunbot?
Gunbot is a cryptocurrency trading bot that works on autopilot. It can operate on different systems and can work on a Virtual Private Server. It includes more than 13 precoded strategies like Bollinger bands, Gain, Emotionless, etc.
| | |
| --- | --- |
| Price: | 0,0075฿, 0,0105฿, 0,0175฿ |
| Withdrawal fees: | No fees |
| Deposit option: | Cryptocurrency |
| Supported countries: | N/A |
| Supported exchanges: | It suports +100 crypto exchanges like Binance, Bitmex, Coinbase, Bitfinex, Kucoin, Kraken, Poloniex, and more |
| Free trial period: | No |
| Multiple currency support: | Yes |
How does it work?
Traders can use their customized technique or the developer's preset strategy. After the investor has completed the setup, the bot will begin trading automatically by following the robot's parameters. It scans the market 24/7, and places buy/sell orders.


Pricing and fees
There are three pricing plans for Gunbot, which are available for 0,0075BTC, 0,0105BTC, and 0,0175BTC. The packages are for a lifetime and include multi-exchange support, add-ons, profit tracker etc. It only accepts payments in cryptocurrencies such as Bitcoin, Ethereum, Litecoin and Dash. Traders have to pay extra money to subscribe to add-ons, premium support and settings packs.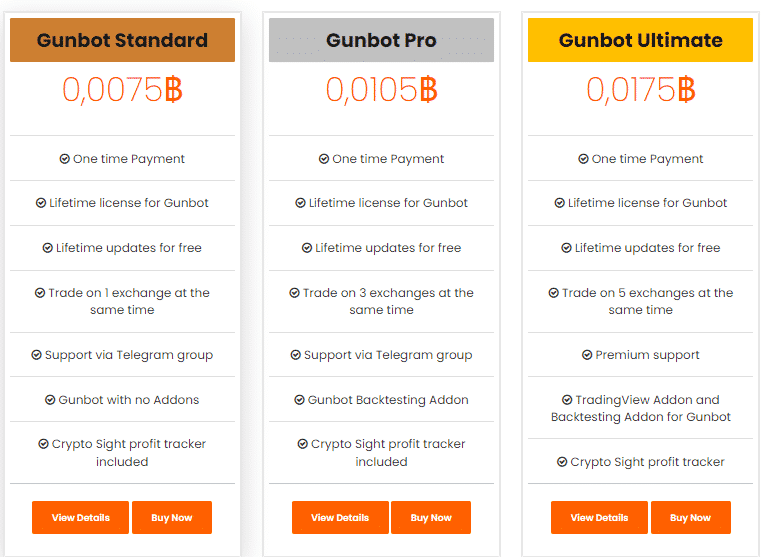 Privacy and security
Gunbot uses API keys to connect to cryptocurrency exchanges. Traders can install the software on their system or run it on VPS. It does not collect user data.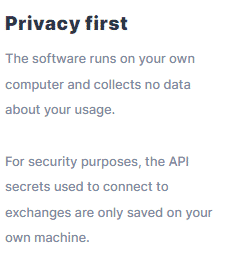 Reliability
There are no backtesting records available on the website, and it shows a lack of vendor transparency or company information. It is not featured in any trusted media outlet, and the disclaimer warns traders of high risk. The platform is not responsible for any investment decisions based on the provided information on the website or social media groups.
How to start trading using Gunbot?
Traders can start trading cryptocurrencies with Gunbot in the following steps:
Install the software on your system or virtual private server
Connect to the exchange API and select a custom or preset strategy
Choose your deposit amount and trading pair
Start trading after running the bot
Who is Gunbot suitable for?
Gunbot is suitable for traders who want to trade with precoded strategies. Amateur and beginners can make the most out of the platform.
Gunbot support
Gunbot provides support for its users in various forms like Live chat, groups, and email. They provide tutorials and documentation for the ease of investors to understand the bot.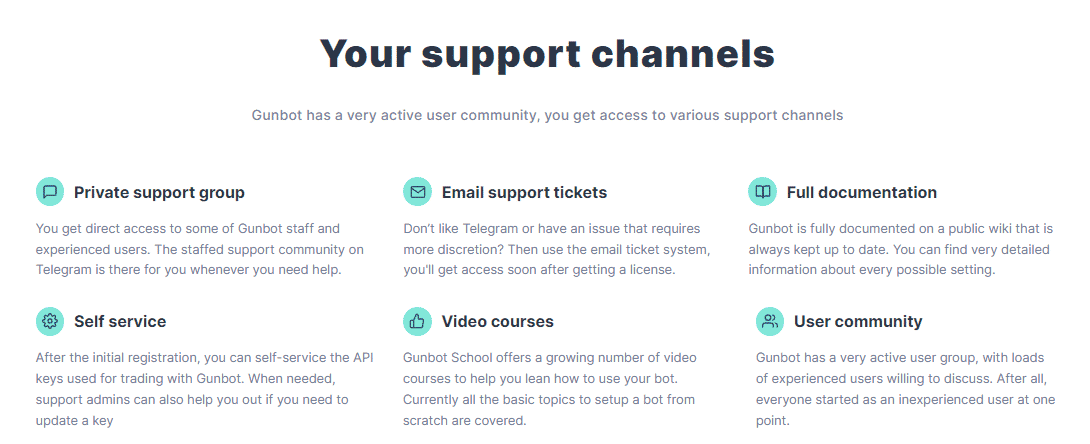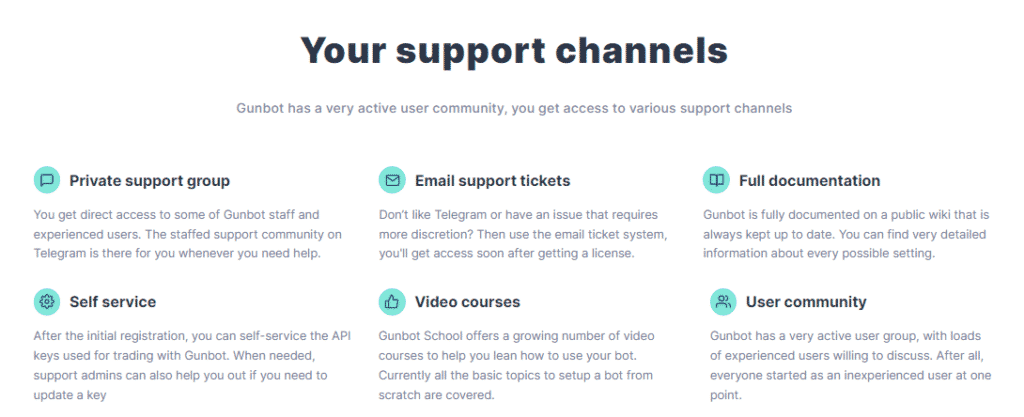 Gunbot community
There are 112 customer reviews with a rating of 3.8/5, where a user wrote that it is not recommended for professional traders. There is a Telegram community of traders that provides support.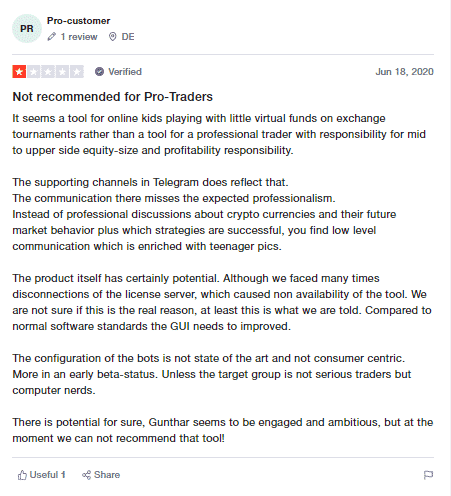 The Review
Gunbot allows traders to trade cryptocurrencies on autopilot on over 100 supported exchanges. The bot can be purchased only in crypto, and the prices are costly. A lack of vendor transparency indicates that the platform might be unreliable and less trustworthy.
Review Breakdown
User Interface:

0%

Ease:

0%

Price:

0%

Features:

0%

Support:

0%