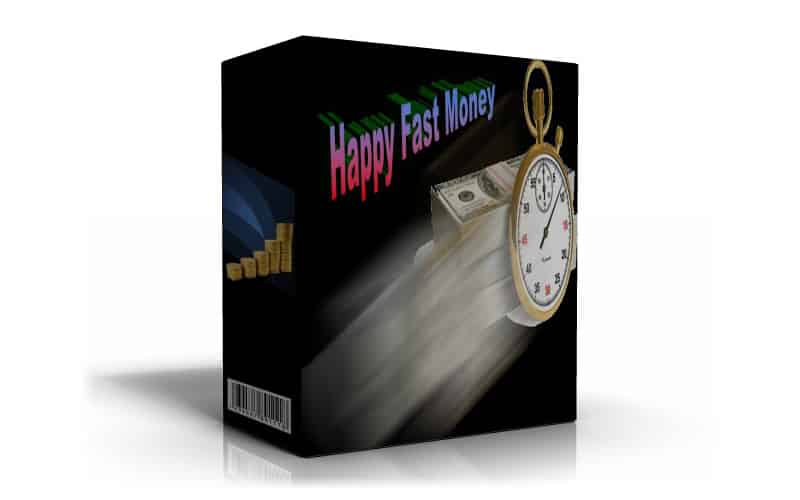 Happy Fast Money is a trading solution that belongs to the authoritative Happy Forex company. The presentation provides us with extended explanations about how everything works. So, we decided to check everything out.
Is investing in Happy Fast Money a good decision?
The system looks like a sure bet. It can perform for a long period on the real market, making real profits.
Company profile
Happy Forex includes many successful trading advisors in its portfolio: Happy Gold, Happy Forex, Happy Neuron, Happy Frequency, Happy News, etc.
Main features
We have gathered the most important features about the system and how the robot is going to work on the market.
The system was designed to help us with completely automatic orders execution.
It works with the combination of risky strategies such as Grid and Hedge.
The system puts limit orders in the Buy and Sell direction to be on the market as soon as the system touches them.
We can execute orders on the cross pairs: EURUSD, GBPUSD, EURGBP, AUDUSD, EURCHF, and USDCHF.
It's possible to get started without trading experience and be profitable.
All types of traders can use the robot.
It opens orders on the MT4 platform.
The system allows us to customize various parameters: MinProfit, HedgeAfter, HedgeIncrease, and Setting Hedge.
The final package includes ten EAs and one indicator as extras for free.
The advisor can be used on Windows 7, 8, 10, Mac OS, and Linux.
We can work on various account types: Micro, Mini, and Standard.
The account balance should be $5000.
It can work on the market 24/7.
An ECN account will be a good option for this solution.
Price
The offer includes two packages that vary by the number of licenses. The pack with two copies costs 299 EUR when the pack with five licenses is available for 499 EUR. We can use as many numbers of demo accounts as we want. There's a 30-day money-back guarantee applied. The package includes free updates, upgrades, and support.
Verified trading results
The presentation isn't featured by backtest reports that would help us to understand how well the system was tested. It's a con because we don't have the final report where we can check win rate, accuracy, risks, drawdowns, and so on.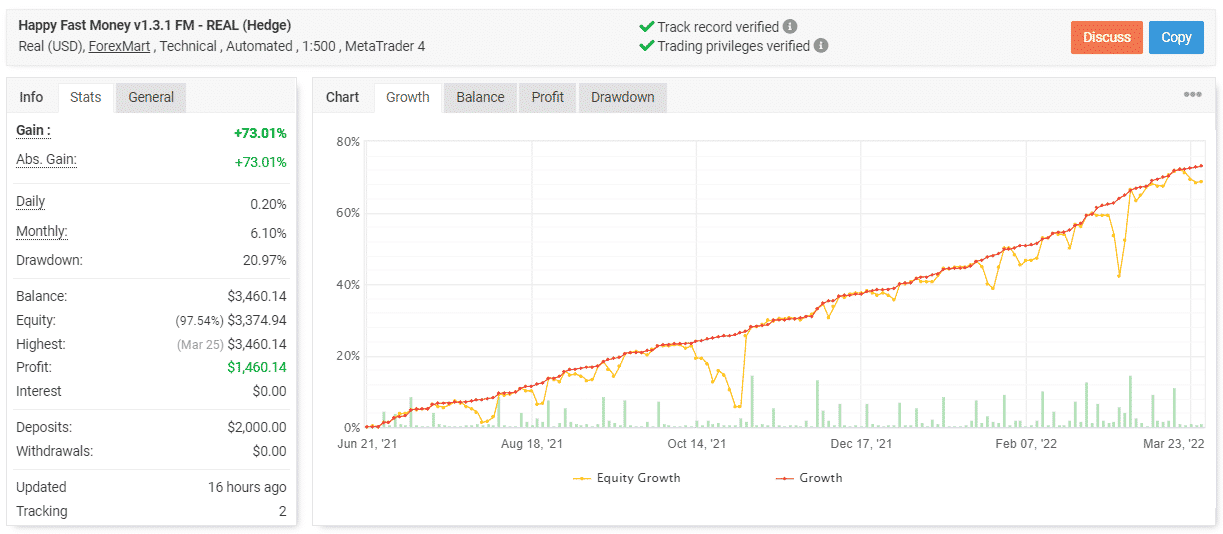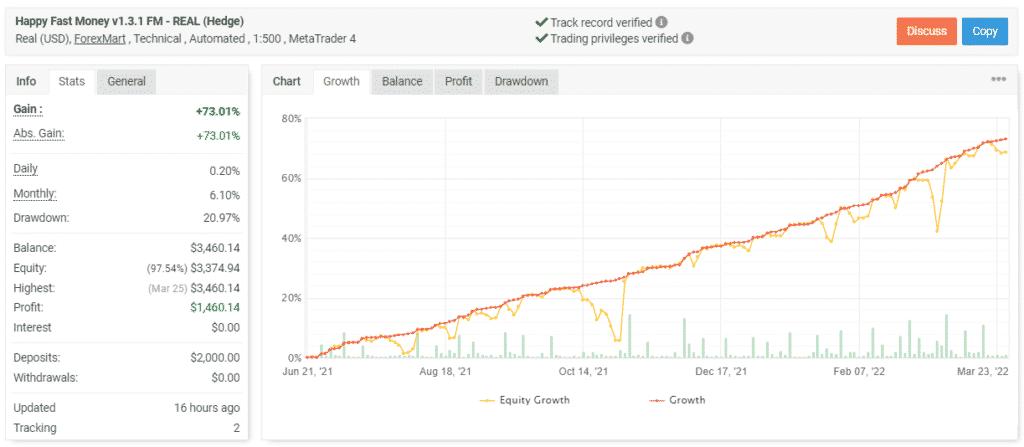 Happy Fast Money executes orders on a real market. The broker was chosen as ForexMart. The advisor works automatically with 1:500 leverage receiving data from the MT4 indicators. The account has a verified track record. It was deployed on June 21, 2021, and funded at $2000. Since then, the total gain has become 73.01%. An average monthly gain is 6.10%. The absolute drawdown has an acceptable level of 20.97%.


Happy Fast Money performed 1320 deals with 15,849 pips. An average win is 36.13 pips when an average loss is -51.11 pips. We have a 69% of the win rate for Longs and 75% for Shorts. An average trade length is high – 4 days. The profit factor is 1.66. It's an average number among good advisors.


The system trades three cross pairs. EURCHF is not profitable at all. The most of the profits were obtained on AUDUSD, $941.21.


We can note that only the European session is the favorite to trade.


Wednesday with 199 deals closed is the less traded day.


The system works with low-medium risks because there should be 55 deals lost to waste 10% of the balance.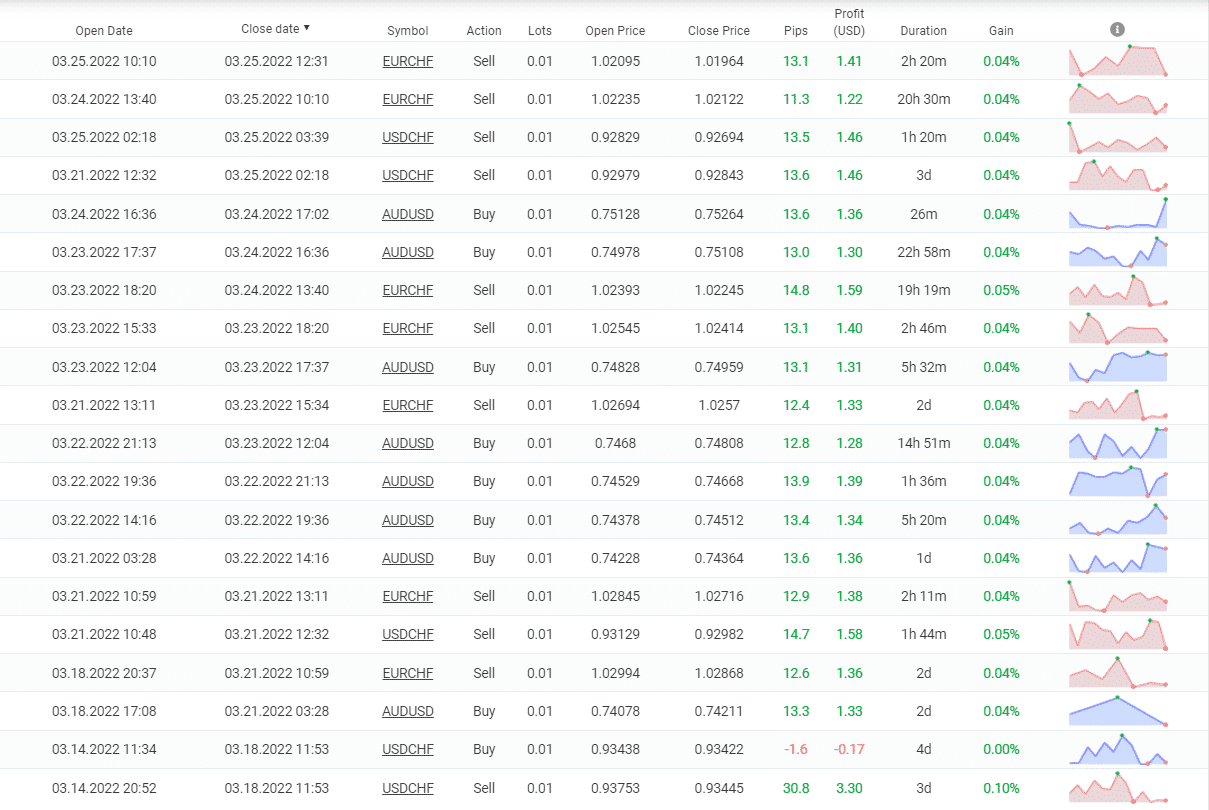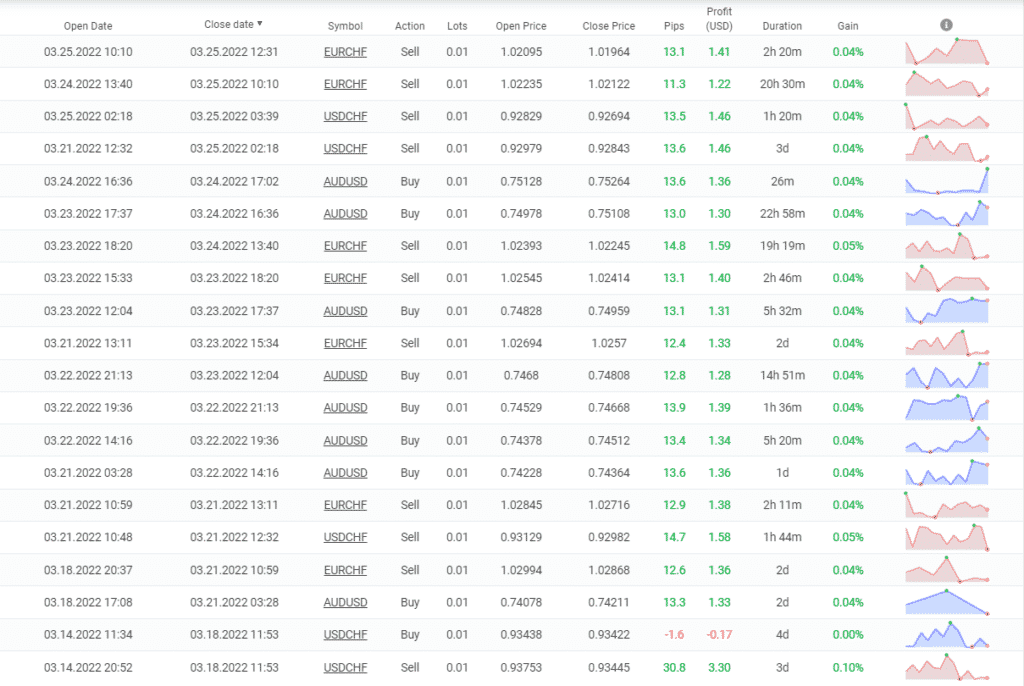 The robot can open orders in both directions at the same time.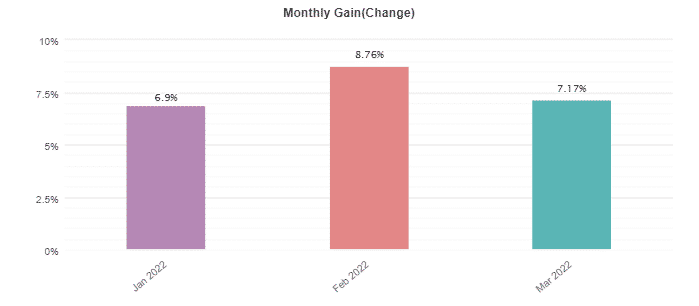 We have three months closed with profit. So, the system should be a good one to be used in 2022.
People feedback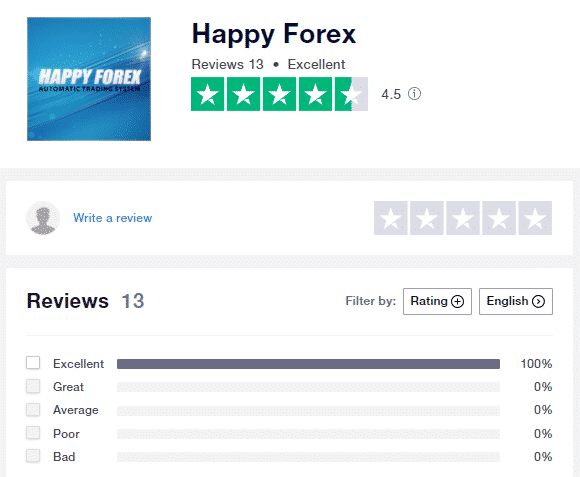 The company created a page on Trustpilot, where people write reviews. There are 13 comments with a 4.5 rate.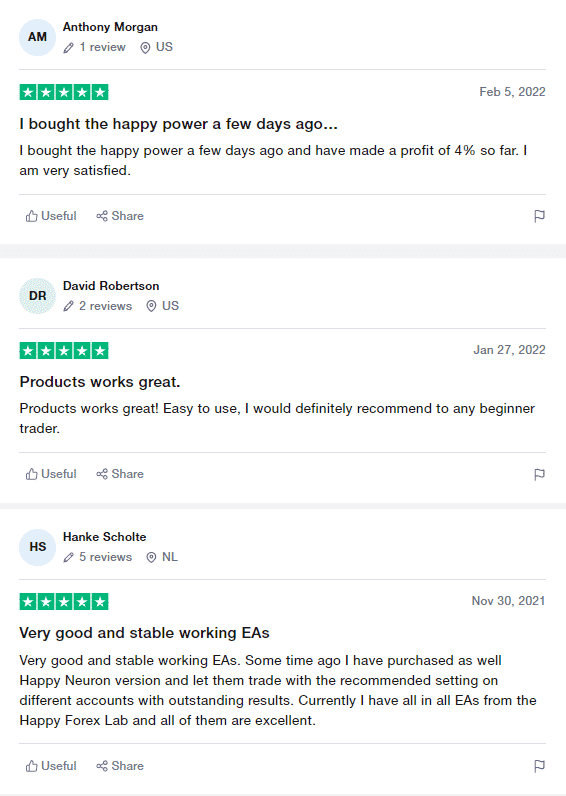 We'd like to note that people are happy with using these systems designed by Happy Forex and being profitable.
Summing up
Happy Fast Money is a trading solution that works on the real market making consistent and stable profits. So, we can expect that the robot will handle a Grid and Hedge strategy combo for us either. The presentation includes various information about settings, features, and other details. The developers have an acceptable offer that includes a 30-day refund policy. There are various positive comments about the company, products, and support published on Trustpilot.