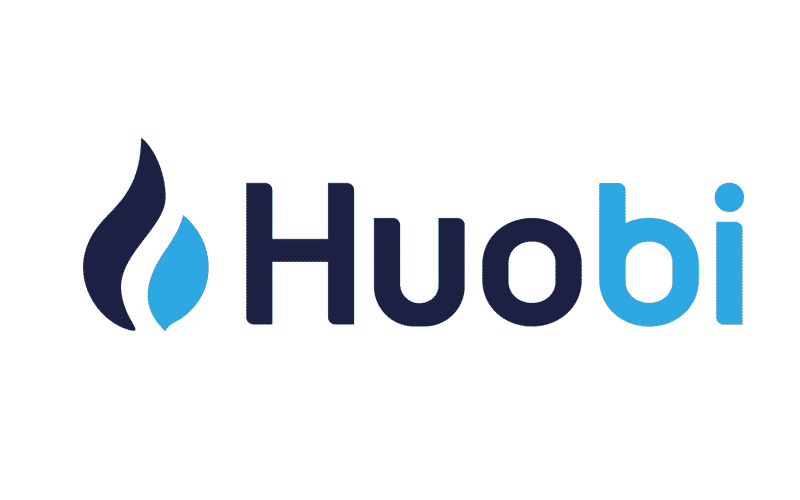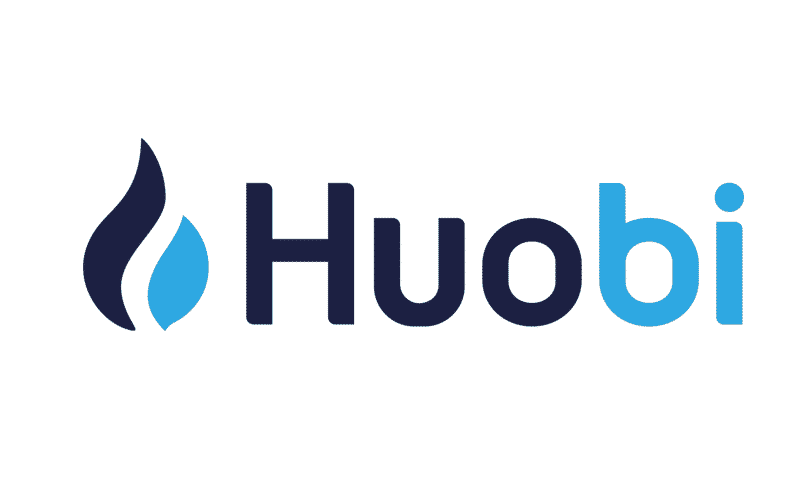 The Huobi exchange is one of the oldest in existence (beginning in 2013) and is the creation of Chinese computer engineer and entrepreneur Leon Li. In 2017, his native country banned all Bitcoin exchanges. Fortunately, this event didn't make a massive dent on Huobi and actually fueled their global expansion.
They are now somewhat of an international cryptocurrency conglomerate with offices in the United States, Korea, Japan, and Hong Kong (headquarters in Seychelles). Huobi has developed into an all-in-one service provider for virtually all essential cryptocurrency things, offering spot and margin trading for futures, options, as well as crypto loans, etc.
Huobi regularly processes several billion US dollars in daily transactions, going as high as $19.7 billion in February 2021 alone. With such astronomical numbers, it is no wonder it is at the time of writing the third digital currency exchange by the trading volume processing, falling only behind Coinbase Pro and Binance.
Fees
One can only fund with another crypto. There are two options; either using Mastercard/VISA to buy the supported digital assets or doing crypto-to-crypto funding.
For VISA/Mastercard, customers can buy the extensive range of supported coins using countless fiat currency denominations. It is more cost-effective to use crypto-to-crypto funding as the fees are extremely low (even for withdrawals), a stark contrast compared to traditional depositing means.
As an exchange user, your trading volume is measured on a specific 30-day tier through the 'maker-taker model where a 'maker' makes liquidity while the 'taker' takes it from the order book.
The fees here are 0.2%, though using Huobi's own cryptocurrency, Huobi Token (covered in more detail later), users can receive discounts in this regard.
Margin
As a well-established exchange, it is no surprise that Huobi offers leverage going up to 1:5 depending on the pair (it doesn't apply to every market). This is a popular tool in financial markets allowing traders to open larger orders than their accounts normally would otherwise.
For example, with a 1:3 margin, a user only needs a third of the total value of a specific position as a deposit in their account. The old cliché of leverage being a double-edged sword always applies because while one can magnify gains quickly, the exact opposite is true when things go south.
As cryptocurrencies are probably the most volatile financial security, traders must use margin responsibly. It's also worth noting Huobi, as expected, charges a swap rate of 0.098% per position for each day it is held overnight. Owners of the Huobi Tokens can get a discount depending on their 30-day volume tier.
Cryptocurrency trading
Amazingly, Huobi currently boasts the fourth-highest number of cryptocurrency pairs (at least 900) from roughly 340 coins, which is an impressive assortment.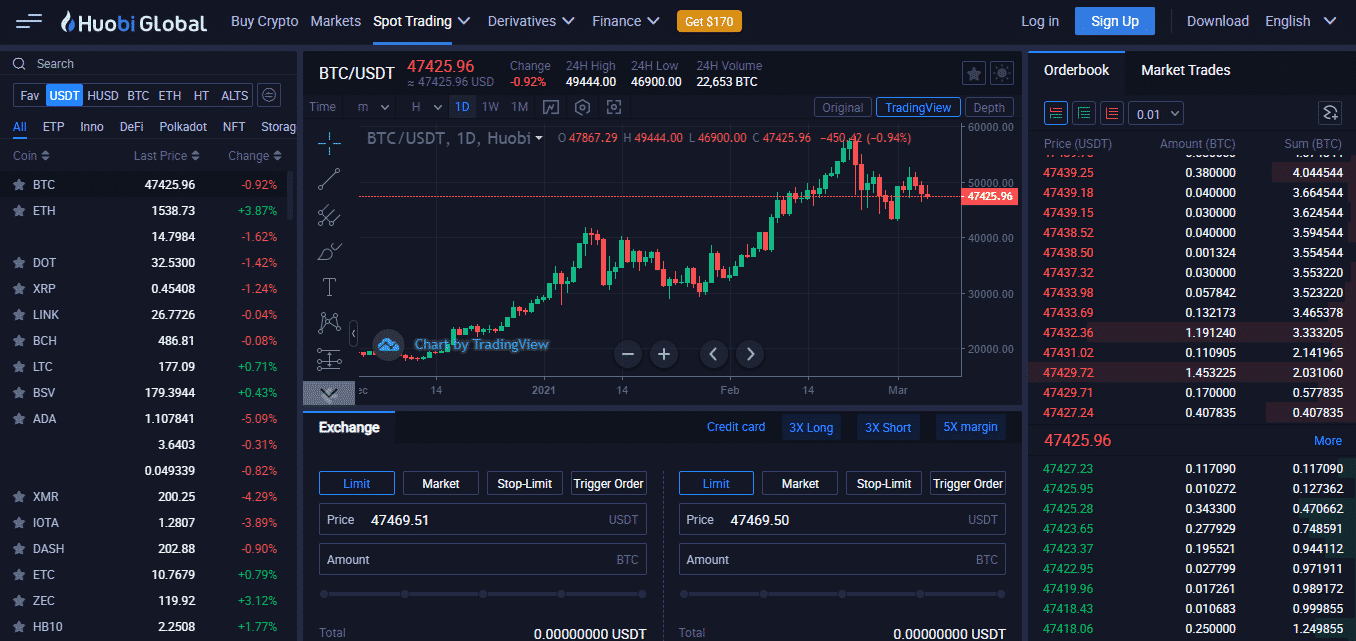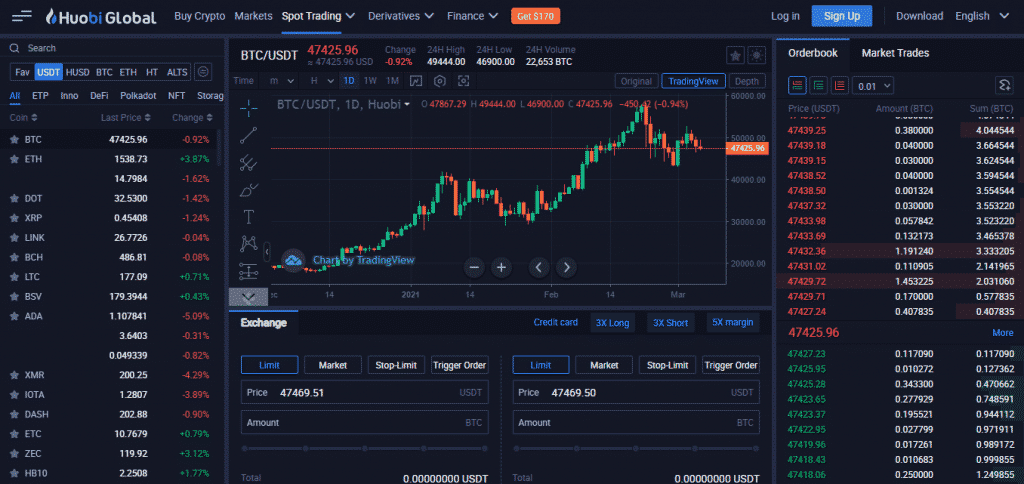 Like many exchanges, TradingView is the go-to trading platform for Huobi, providing a visually aesthetic and advanced gateway to explore the immense world of cryptocurrency markets. For those who like trading on the go, a mobile app is available on Android and iOS operating systems.
Futures and options trading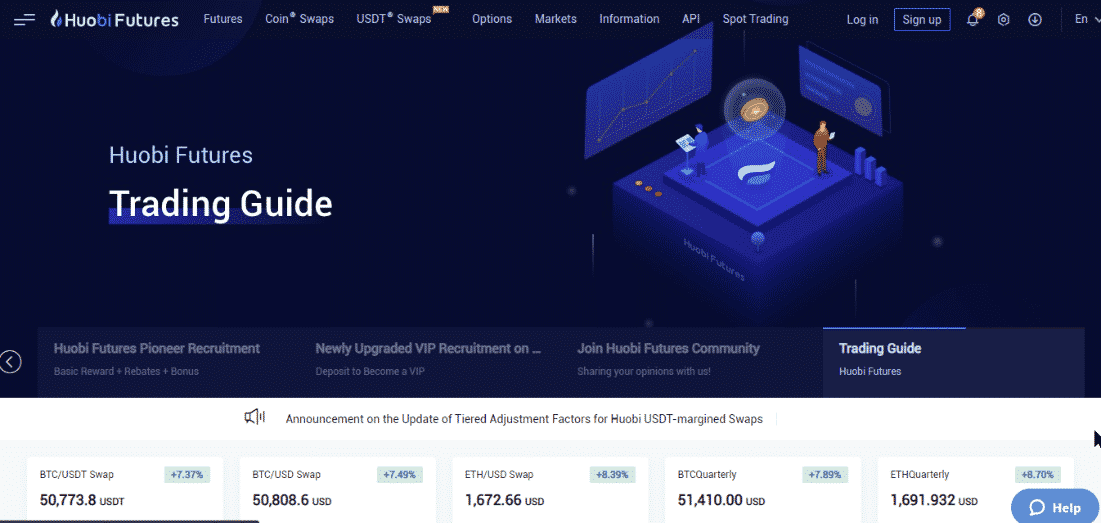 The concept of futures and options in cryptocurrencies is fairly new. A future is a financial derivative contract stipulating the price at which a coin must be bought or sold at a later date.
Options provide one the right but not the obligation to buy or sell a specific digital currency (known as the strike price) at or before the set expiry date. Like any option, there is a premium attached to every deal, which is usually lower than if one were to buy some portion of the coin.
Futures and options apply to select-few cryptocurrencies and are reserved for more astute traders or investors as they are slightly more complex to understand. One of the primary purposes of any futures market is to lock in prices for a future date payment settlement by avoiding potential currency fluctuations.
Though with the increased leverage (going up to 1:125), this is another market anyone can speculate cryptocurrency prices on as they would in the spot market.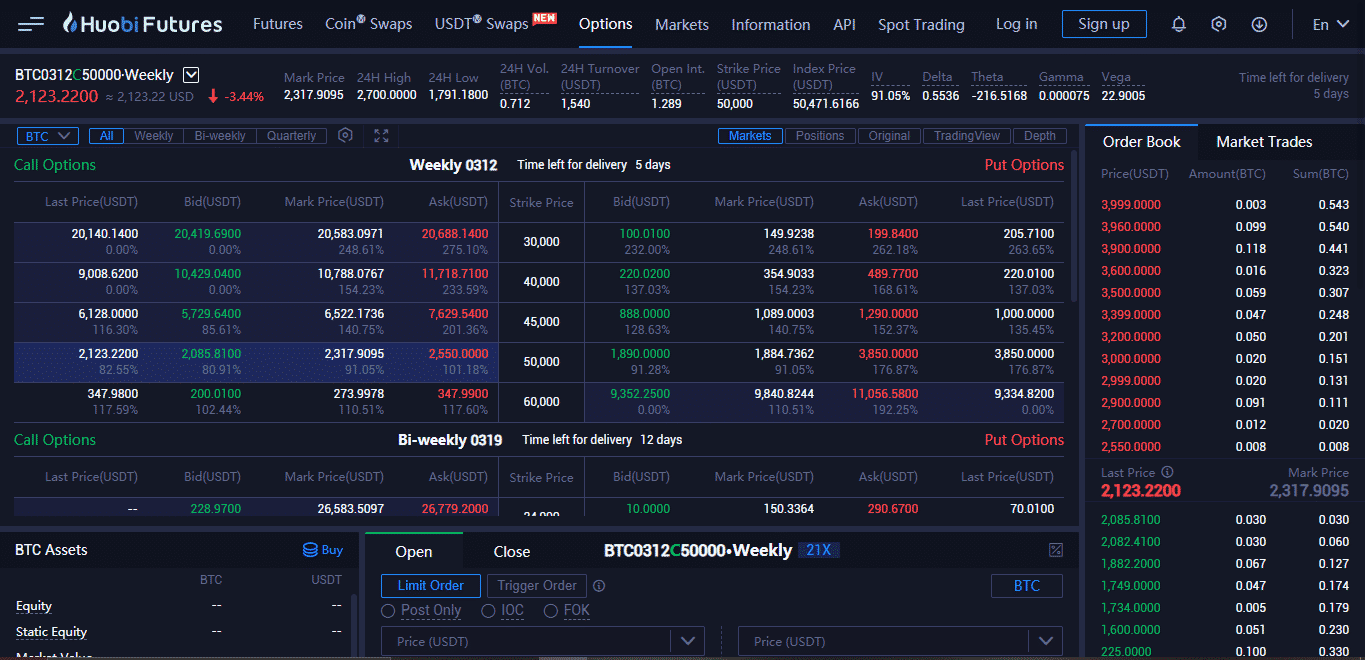 On the other hand, aside from also being a speculative tool, options afford the luxury of not having to own the cryptocurrency outright while still having the potential to profit off any fluctuations.
Special features
There are a few enticing special features about Huobi:
As with brands like Binance and KuCoin, Huobi has their native cryptocurrency, the Huobi Token (HT), affording users some exclusive perks like transaction fee discounts, voting on exchange decisions, getting early access to certain Huobi events, etc.
Others may consider these utility tokens as investments like normal digital coins since they may potentially increase in value long-term. At the time of writing, HT ranks #32 in most traded cryptocurrencies according to CoinMarketCap, which is impressive.
Borrowing and lending: Users can become borrowers or lenders to receive credit at reasonable interest rates or earn passive income from lending out their cryptocurrencies.
Huobi provides their own wallet, another beneficial feature as most exchanges generally do not offer this service. Users can store BTC, ETH, XRP, BCH, LTC, EOS, BSV, ADA, TRX, DASH, ATOM, ETC, DOGE, ONT, IOST, KLAY. For stablecoins: USDT, HUSD, TUSD, USDC, PAX, EURT, DAI, EURS, and GUSB.
Pros and cons of Huobi exchange
Below are the good and the bad aspects of Huobi overall.
Pros
Huobi offers a mobile version for Android and iOS users.
There are reasonable trading fees, which are below the industry's average of 0.25% maker-taker fees.
Huobi offers margin trading on the spot, futures, and options markets for cryptocurrencies (these are versatile options).
The exchange offers one of the largest selections of digital currency pairs in the market.
As a wallet provider, it is convenient for those trading on their platform, eliminating the need to look for external services.
As an exchange ranking very high in trading volume globally, it ensures enormous liquidity allowing for quick order execution with minimal slippage and delay.
Cons
There are no fiat currency funding options (such as bank transfer, etc.).
Final word
Whether it's a simple act of storing a cryptocurrency in a wallet or trading a very obscure pair on margin, the Huobi exchange caters to many different needs with very few drawbacks.
Those who are just getting started with coins won't find too much difficulty in how to use the Huobi exchange, while the more experienced folk should find immense value from the offerings of this exchange.