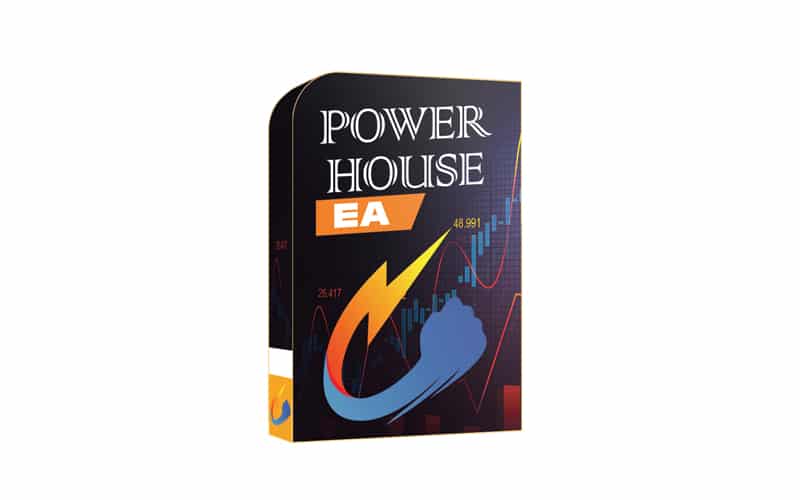 Powerhouse EA EA is a newly-launched expert advisor that is a combination of four different robots, namely Gopher, Vigorous, Ranger, and The Comeback Kid. As per the vendor's claims, it is one of the most advanced automated trading systems. They also claim that it can generate a 5-8% monthly profit using default settings and a $5k starting balance.
Is Powerhouse EA a good EA to invest?
In order to analyze this expert advisor, we have looked into various aspects like features, trading results, trading strategy, price, backtesting data, and user reviews. While the win rate is quite decent, the results are based on a very short trading history. Since the system has not been exposed to different market conditions, we cannot tell whether it will be profitable in the long run.
Company profile
On the official website, the vendor has shared a short introduction to the automated trading system. We have the link to a live trading account and a list of all the main features. The developer has also shared some performance statistics related to the system, along with the backtesting data. Lastly, we have the pricing details and settings recommendations.
This EA is a product from the Responsible Forex Trading team. The head developer behind the robot is Ryan Brown, who is based in the United States. We don't have any background information on this person and we don't know if he has other people working alongside him. You can find the official email address on the website's contact page. Other robots from this developer include Vigorous EA, Ranger EA, and The Comeback Kid EA.
Main features
This is an EA designed for passive traders. It cross-pairs take profit, allowing each trading scheme to actively work with each other. The vendor claims that this increases the profit while reducing the drawdown. Since there are four EAs working in tandem, orders are closed faster. The trading strategy has not been clearly explained by the developer.
Each user gets access to a detailed manual and an installation video. It only works with the Metatrader 5 trading platform. The stop-losses can be customized and you can use low, medium, or high risk. For $5k, it is recommended to use 200:1 leverage. The leverage requirements for $10k and $20k accounts are 100:1 and 50:1, respectively.
Price
The current price of this expert advisor is $497. Compared to other EAs on the market, this is quite expensive. The vendor offers a 30-day money-back guarantee.
Trading results
Unfortunately, there are no backtesting results available for this expert advisor. The developer has shared a download link for the backtesting data, but all we have are the individual backtesting results for the four EAs that constitute Powerhouse EA. Without historical test results, it is difficult to determine whether the EA can perform well consistently for a long time. Also, we are unable to compare the results with the live statistics to accurately gauge the system's profitability.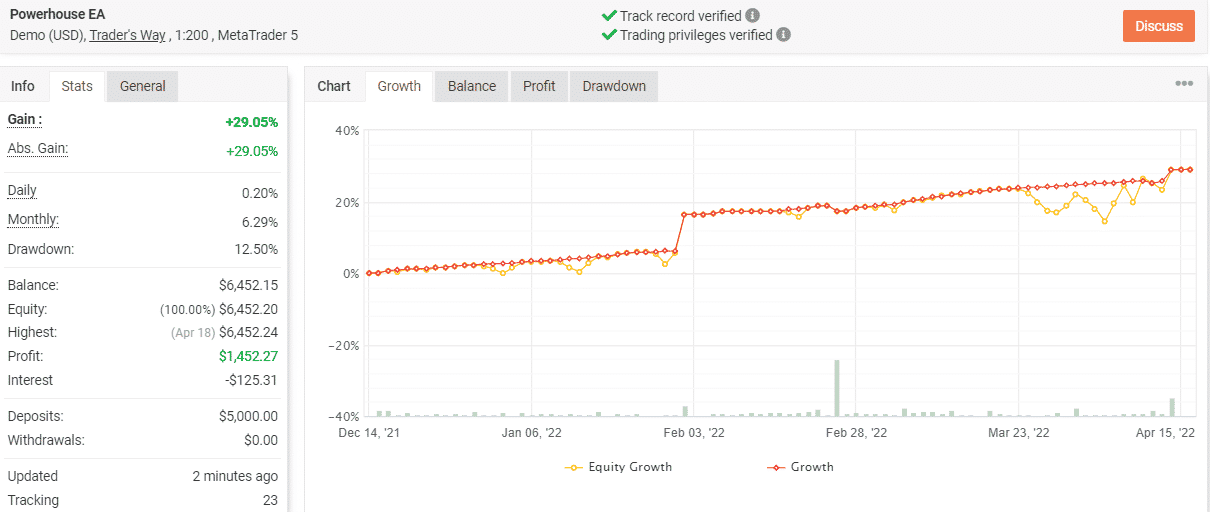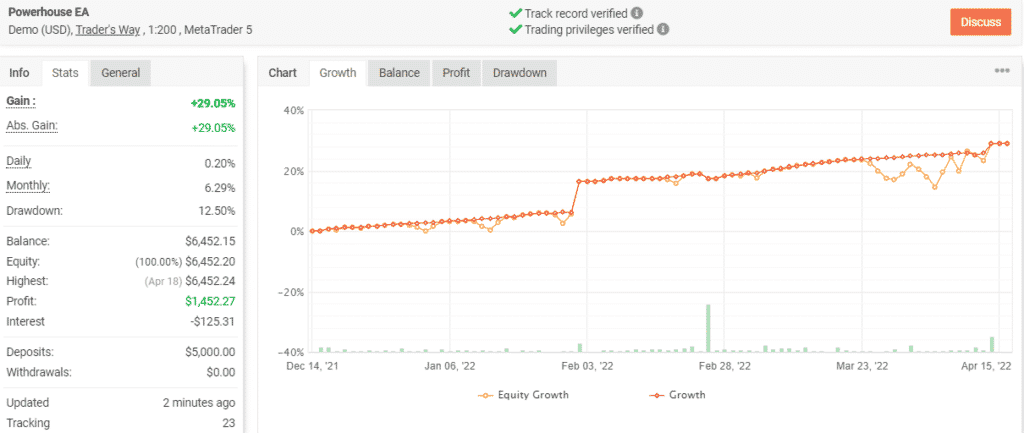 Here we have a demo trading account on Myfxbook that was launched on December 14, 2021. Looking at the short trading history, it is evident that the EA has not dealt with different market scenarios. To date, it has conducted 1815 trades through this account, winning 58% of them and generating a total profit of $1,452.27.
At this moment, the daily and monthly gains for this account are quite decent at 0.20% and 6.20%, respectively. The drawdown of 12.50% is not too high and can be considered acceptable for trading. This account has a satisfactory profit factor of 1.96 and a time-weighted return of 29.05%.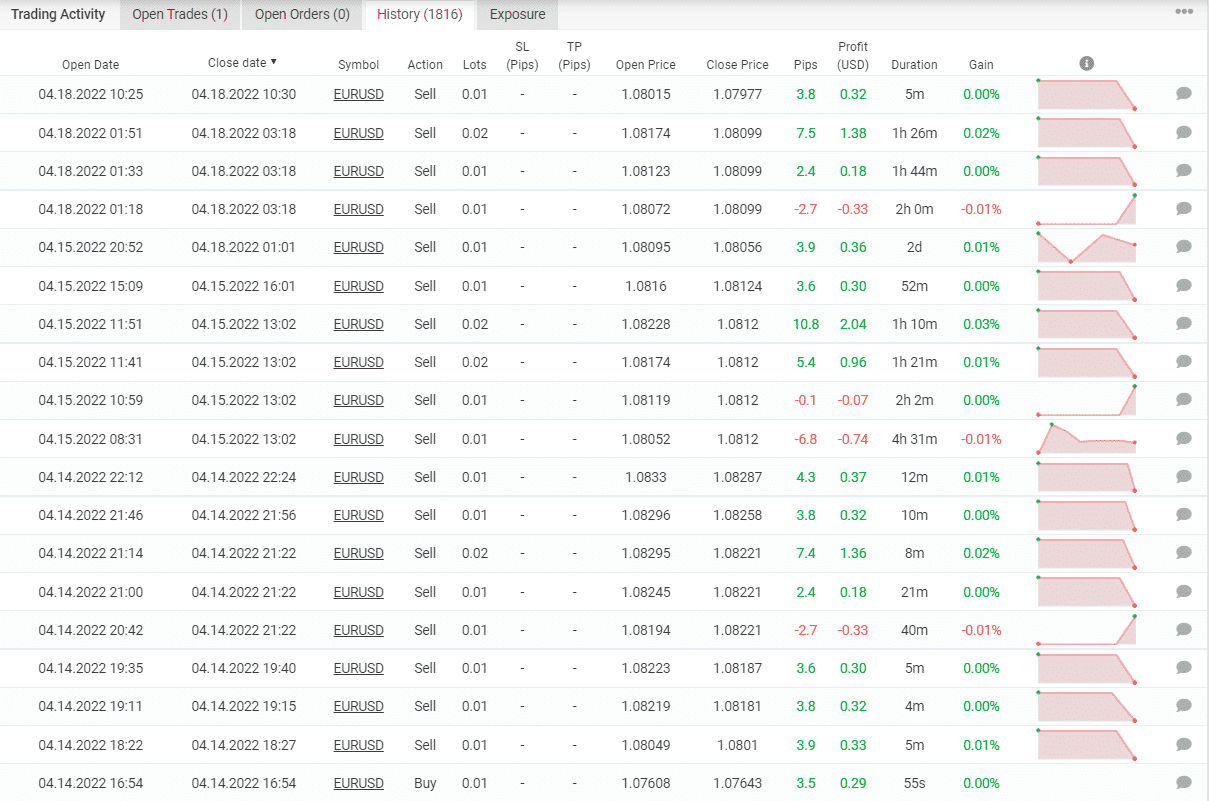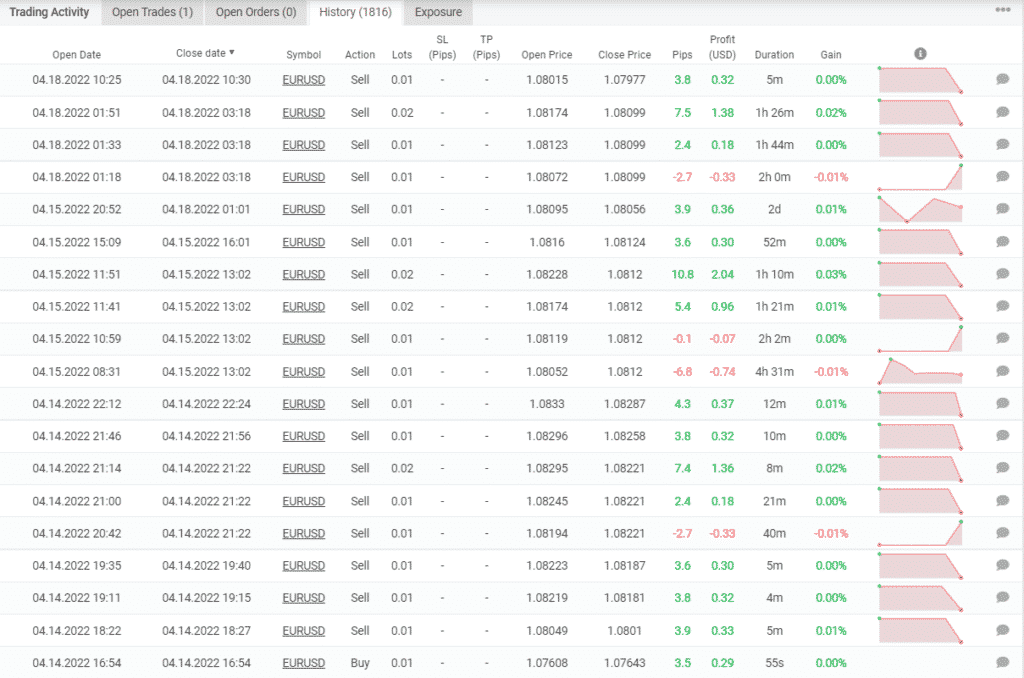 From recent trading history, we can see that the EA conducts multiple trades on a daily. It generates small profits for each trade, holding each for an average of 9 hours and 29 minutes. For the last few trades, the robot has used a lot size of 0.01-0.02. The average win and loss are 8.95 pips/$2.82 and -8.63 pips/-$1.97, respectively.
Customer reviews
At this moment, there are no user reviews for this EA on websites like Trustpilot, Forex Peace Army, Myfxbook, and Quora. As such, we have no idea about the experience of real users with this robot.
Summing up
Powerhouse EA is sold by a developer we don't know much about. They haven't explained the trading strategy clearly, and there are no backtesting results that tell us about the long-term performance. The live trading account has a healthy win rate, however, it has not been active for too long. So, it's too early to say someting for sure about this FX EA.