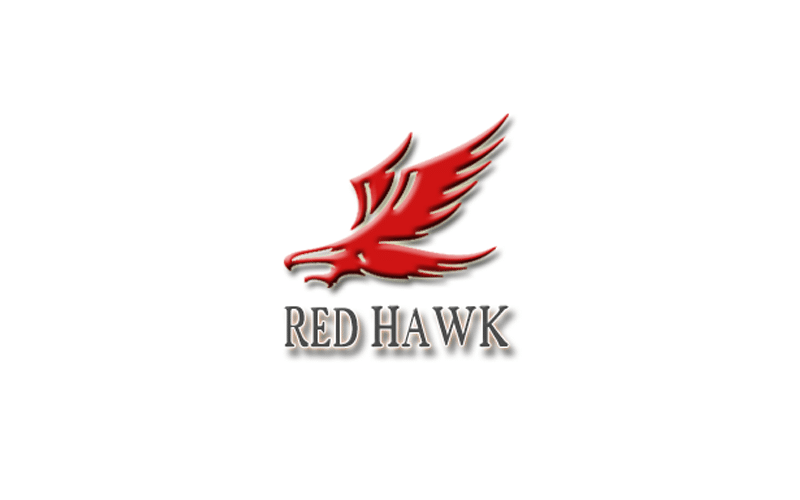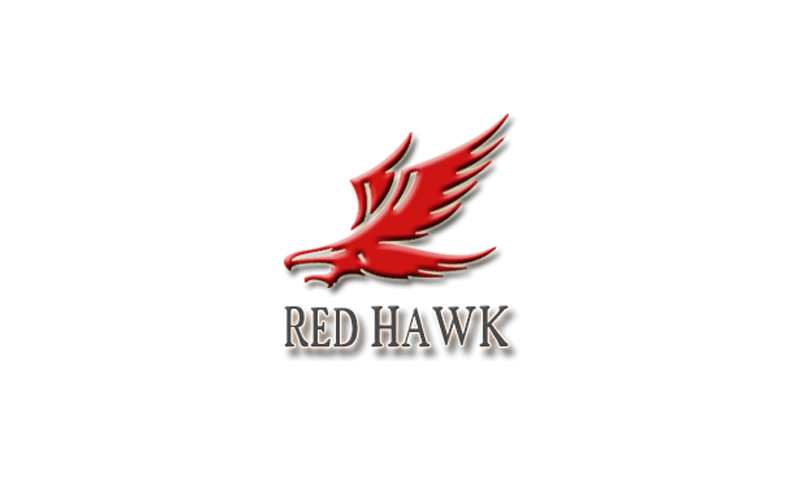 Red Hawk is a Forex expert advisor that works on the M5 time frame and places new orders 'during the quiet times of the market'. This "mean reversion" trading system was added on the MQL5 market on October 12, 2020, which is said to have several months of live results showing 'stable trading with low drawdown'. To maximize profits and minimize trading risks the developer of this EA implemented multiple trailing stop loss techniques and a reliable trading approach that uses SL and TP for every deal. The robot does not use any risky trading strategies like Grid or Martingale. This user-friendly trading system is compatible with both MT4 and MT5 platforms. It does not require human intervention and works fully automatically on your trading account.
Is Red Hawk a Good EA to Invest?
This EA shows potential. The robot trades smoothly and predictably with low drawdowns and minimal risks to the account balance. A vendor is an active person on MQL5, responding to every customer review. The one thing we do not like is that the Red Hawk EA package does not include a money-back guarantee.
Company Profile
The Red Hawk robot does not have an official website. On the MQL5 page, where the EA is sold we could gather some information about the product and its developer. So, the creator of Red Hawk is Wim Schrynemakers from Belgium. Wim has a high 32897 rating among the MQL5 community. He has over 2,8K of friends on MQL5. Wim has already developed several Forex robots, including Night Owl, Grid King, Gecko, Momentum Ea, etc. The dev recommends using his EAs with the VPS server for better trading. Moreover, there are 2 brokers he recommends: IC Markets and Alpari.


Unfortunately, that's all we could find about the developer. We cannot verify whether he is who he claims to be. There is no information provided about the team that stands for this EA. We do not know what trading experience Wim has in Forex trading.
Main Features
The vendor provides product description, setup instructions, and some trading strategy explanations:
The robot is a completely automated trading tool
It was published on the MQL5 market on October 12, 2020
The currency version of the EA is 2.1
The latest update of the system was on March 11, 2021
The system was 1625 times Demo downloaded
It can work either on the MT4 or MT5 platform
It is a "mean reversion" trading system, that trades during the quiet times of the market'
Recommended timeframe is M5
It trades 9 currency pairs: EURUSD, GBPUSD, USDCHF, EURCHF, EURGBP, AUDCAD, AUDJPY, EURAUD, and USDCAD
The dev recommends trade under IC Markets or Alpari brokerage
The system requires a VPS service for smooth and profitable trading
The developer claims the robot trades with low drawdown
The robot sets SL and TP levels for each trade
It uses multiple Stop Loss trailing techniques to maximize profits and minimize losses
It does not use Grid or Martingale for trading
It excludes any human intervention
It has spreads and slippage filters
The software is easy to set up
Traders have to pay special attention to the GMT offset:


If you trade with default settings a fixed lot size is 0, 01 Lot
Traders can also choose the automatic lot size
You should have $250 for trading with a 0.01 Lot Size.
We can set a desirable risk for trade:

For High Risk, use LotsizeStep = 60
For Medium Risk, use LotsizeStep = 125
For Low Risk, use LotsizeStep=250
Price
Red Hawk is available for $349 (its previous price was $299). The vendor points out that only 8 copies are left for this price. The next price will be $399. The pricing is high as for a recently launched EA.
There are several rental options offered:
3-month rental – traders have to pay $199
1-year rental – traders have to pay $249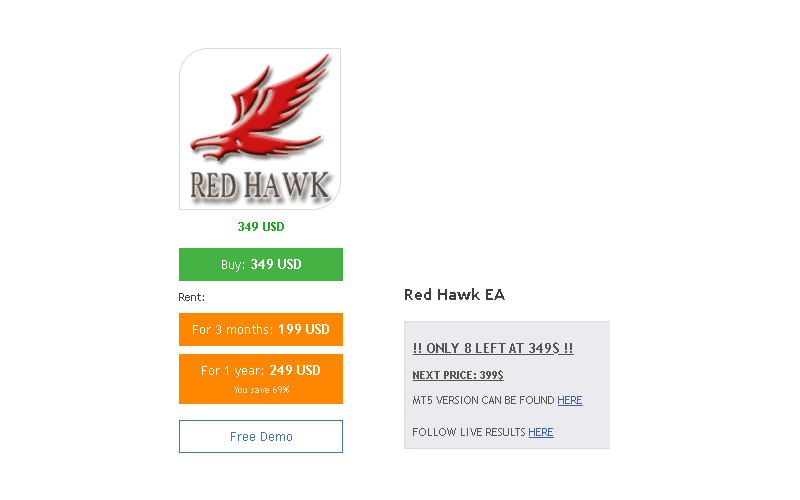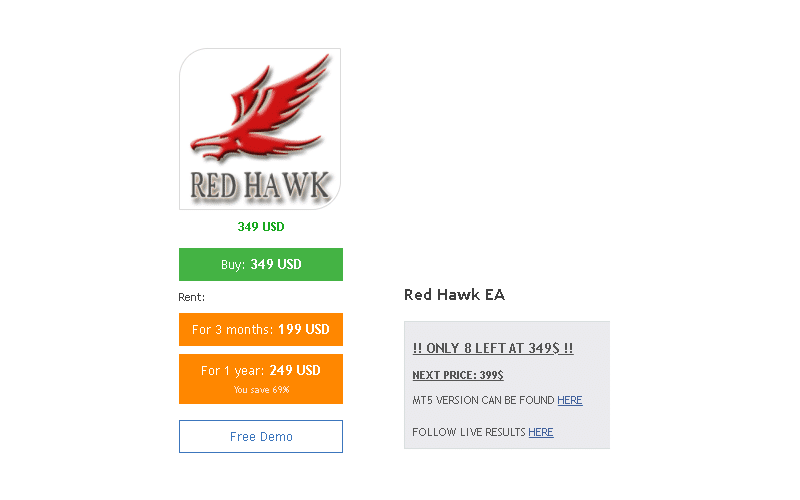 If you are interested in the system you can test in on a free Demo account before purchase.
Trading Results
On the profile of the developer, we've found a post where Wim shares live trading results of the Red Hawk EA published on the myfxbook.com website.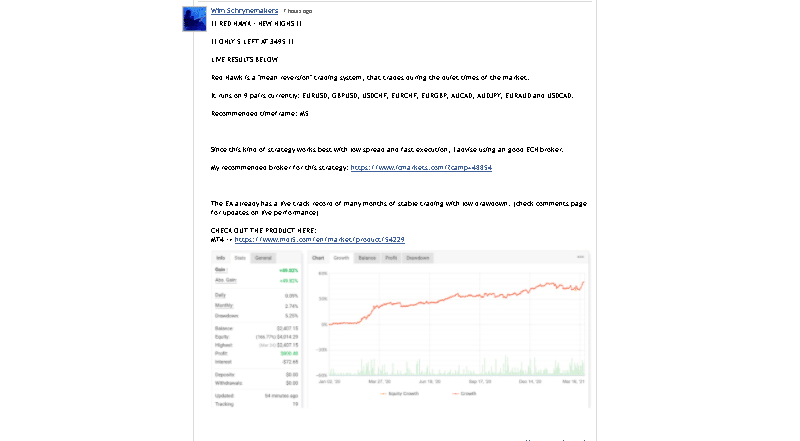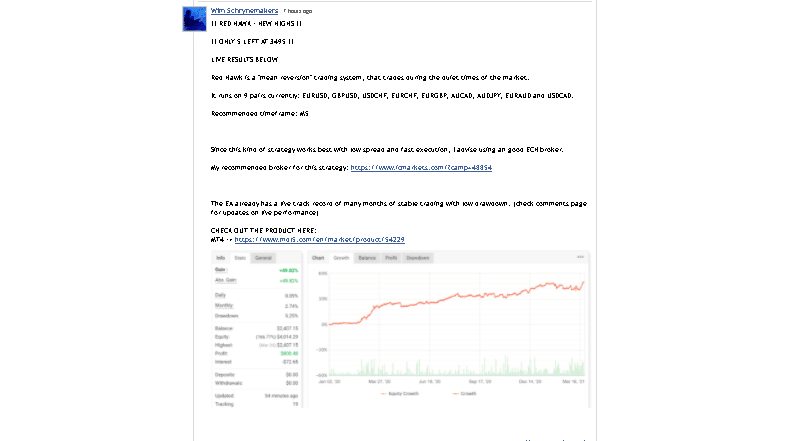 Unfortunately, this link is unlikable, thus, we're obliged to conduct additional research and find a live trading account run by this EA
As a result, we've found 2 trading accounts: Real (run by Pepperstone broker) and Demo (run my Alpari Ru broker). Let's analyze the last one.


This trading account was added to myfxbook on July 24, 2020. That day it was deposited at $5000. It trades with 1:500 leverage on the MT4 platform. For 8 months of trading, the robot could generate $1229 of profit. After placing 365 trades, the time-weighted return, as well as absolute gain for this account, stand at 24.59%. An average monthly gain is 2, 75% when an average daily gain is 0.09%. The robot trades with a low drawdown ranging from 1% to 5, 83%.


This trading account has a win rate of 71%, having won 71% of long trades and 70% of short trades (won 259 out of 365 trades). Its risk-reward ratio is acceptable for trading: the average loss is -8.46 pips/-$25.23 when the average win is 6.22 pips/$15.07. Its profit factor is 1, 46.
Here we have the backtesting report of Red Hawk EA: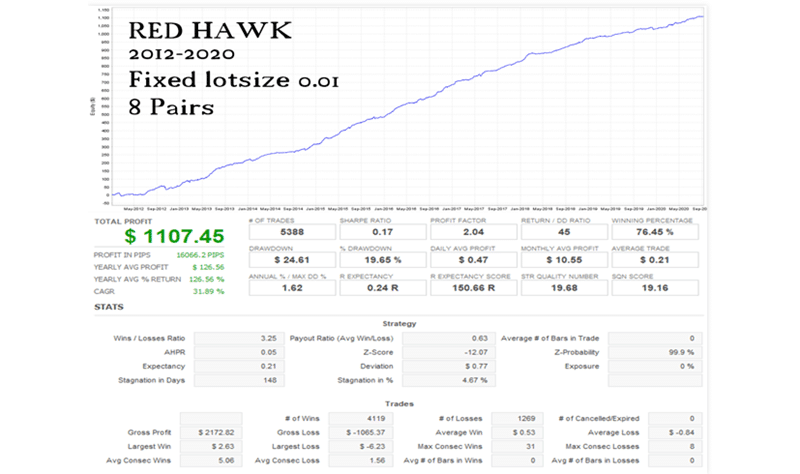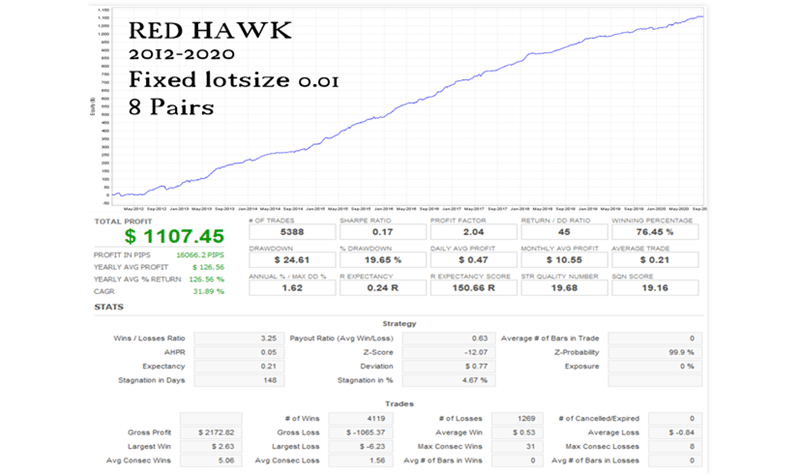 It united an eight years tick data with a fixed 0,01 Lot size. The robot traded eight currency pairs. Its profit factor was high – 2,04. Its win rate was 76, 45%. The maximum drawdown was 19,65%. For 8 years of trading, the robot generated $1107, 45 of profit. Its yearly average return was 126, 56%, which equaled $126, 56 of profit. It had 4119 winning and 1269 losing trades. The average win was $0,53 when the average loss was -$0, 84.
Customer Testimonials
There are 10 customer reviews on MQL5:


All of them are positive. Traders are satisfied with this EA.
Red Hawk Review Summary
It's a trend-based EA that scalps little profits on the M5 timeframe. Its eight months trading results do not look impressive, however, they are stable and predictable. The robot trades with a low drawdown which is good for trading. The dev, Wim Schrynemakers, has a high 32903 rating among the MQL5 community. Traders trust him and are satisfied with the trading performance of his EA. If you want to try this expert advisor, test in on a free Demo account.