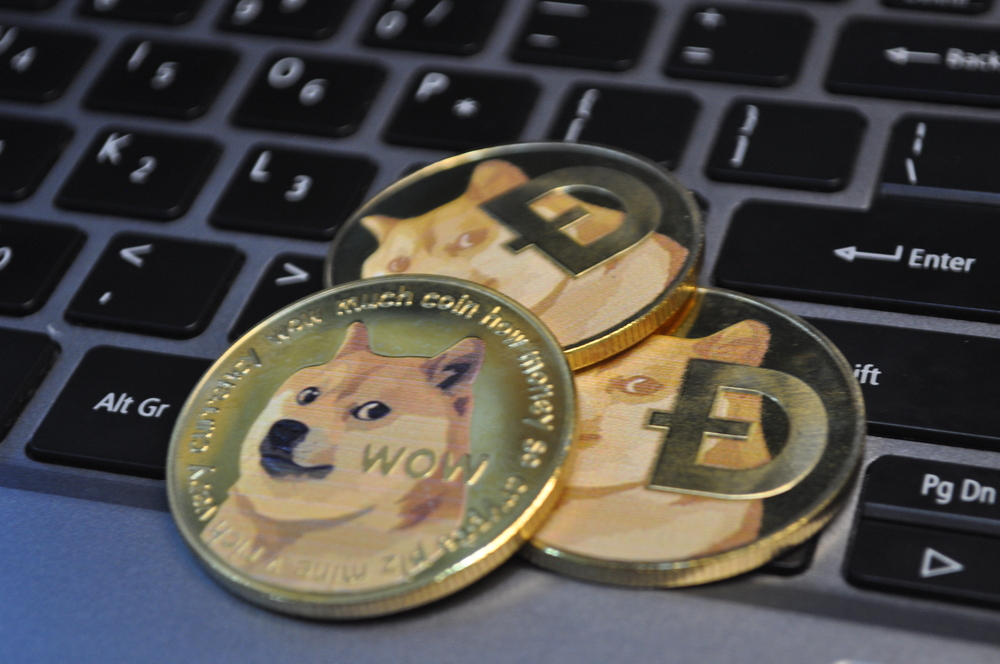 The concept of meme coins is one that exploded in popularity in 2021. This was caused in part by social media buzz surrounding Elon Musk, an eccentric tech billionaire who took to Twitter to show his support for Dogecoin. Incidentally, Dogecoin was created as a joke in 2013, inspired by the Japanese Shiba Inu dog that was the subject of a popular meme at the time. This began a whole new race of meme coins, several of which are now competing to overthrow this first market mover as the leading meme coin.
Though they have little to no real-life utility, these coins manage to thrive majorly on the hype they garner. To date, several investors are pouring money into meme coins all in the hope that their favorite tokens can "reach the moon." In this article, we shall explore the top meme coins that are likely to overthrow Doge in the near future. However, investing in these coins is risky business, and any suggestions contained herein should not be construed as investment advice.
1. Shiba Inu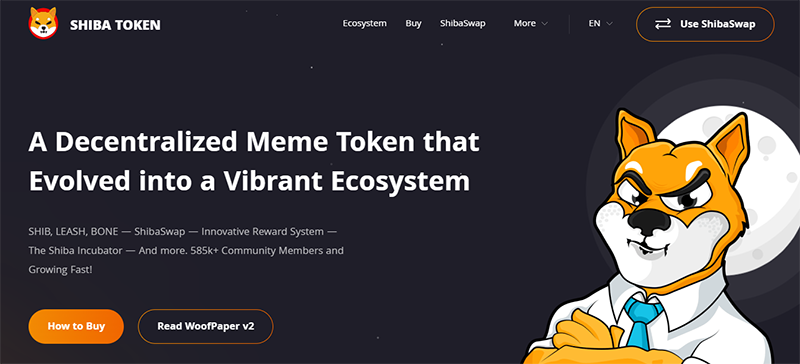 Shiba Inu was launched in 2020 by a group of anonymous developers who go by the pseudonym Ryoshi. Its mascot is the Shiba Inu, the same dog that inspired Doge. Its developers intended for it to topple Dogecoin as the king of the meme coin world and make their coin a favorite amongst investors. This saw it earn the nickname the Dogecoin killer.
In October of 2021, this coin rallied an impressive 1000%, which saw it surpass Dogecoin in value and market cap, albeit briefly. Currently, it is listed on Kraken, a reputable crypto exchange. It is also accepted as a means of payment by AMC, which further boosts its popularity.
The rallies SHIB enjoyed in 2021 can be attributed largely to Elon Musk's tweets. It especially became popular when the billionaire tweeted a picture of his pet Shiba Inu named Floki. Though the dog now has its own meme coin, the tweet caused a significant price surge for SHIB.
This coin is not planning to overthrow dogecoin by gaining hype alone. The team behind it is creating several use cases for their coin to help it retain its relevance and value. For instance, they recently announced their venture into the Metaverse with a virtual real estate called Shiba Lands.
2. Akita Inu (AKITA)
This is a meme coin hosted on the Ethereum network. Like SHIB, it was created by a band of little-known developers. It was intended as a social experiment that aims to bring together communities of people.
By design, this coin has a maximum supply of 100 trillion AKITA. According to its website, half of the token's supply was sent to Ethereum's co-founder, Vitalik Buterin. The other half was sent to a UniSwap liquidity pool and its keys burned. Currently, it has managed to bridge to the Avalanche blockchain, rendering it a suitable currency for interoperability between networks.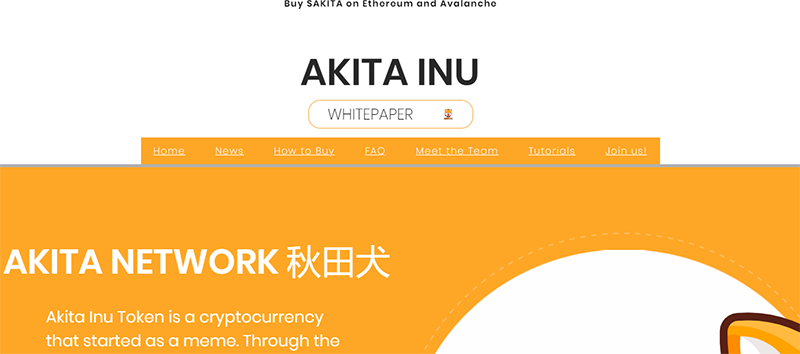 This coin bears a close resemblance to Shiba Inu. It is listed on exchanges such as HotBot, MXC, and Poloniex. At press time, it has a fully diluted market cap north of $70 million.
3. Doge Dash (DOGEDASH)
Traditionally, the video game industry has been grossing more in revenue than the movie and music industries combined, especially in the US. This was especially evident after the outbreak of the COVID-19 pandemic, which forced people into lockdown. Most people who were stuck at home turned to video games to pass the time.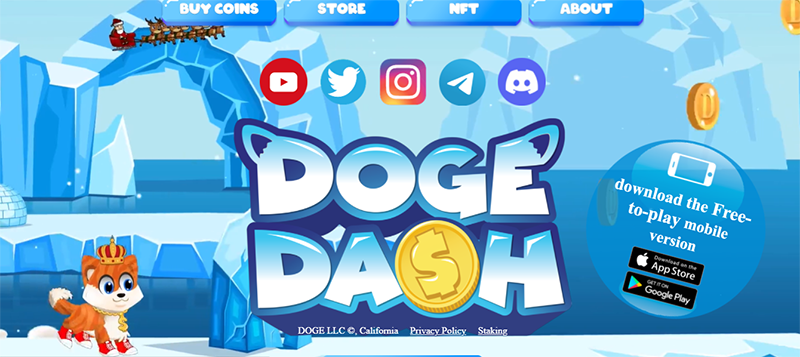 With the evolution of blockchain technology, most of these games have migrated to these decentralized networks. In so doing, they have allowed gamers to earn crypto rewards from their favorite games. Doge Dash is one such game. It is created following the design of the popular Super Mario Bros game, which has seen it attract nostalgic adult gamers and kids alike. In it, users race through 10 game levels as they collect coins. The more coins they collect, the more crypto rewards they get.
4. Kitty Inu (KITTY)
This is another meme coin hosted on the Ethereum network. Though inspired by the majority of dog-themed tokens in this space, its developers found a niche among the cat lovers and chose to satisfy their need for representation.
This coin is used to power play-to-earn blockchain games. In addition, it is used by developers of NFTs used in these games so as to incentivize the gamers using rewards. Its aim is to become a leading decentralized finance (DeFi) protocol for the blockchain gaming ecosystem. At the moment, you cannot exchange this currency with any fiat. However, if you hold ETH or BTC, you can use them to purchase this coin.
5. MonaCoin 
Having been launched in 2013, this is one of the earliest cryptos in the meme coin community. It was launched in Japan and had quite a loyal following in the archipelago country. It is an open-source, decentralized project that thrives on peer-to-peer networks. It was created as a fork of Litecoin, which was, in turn, forked from the BTC blockchain.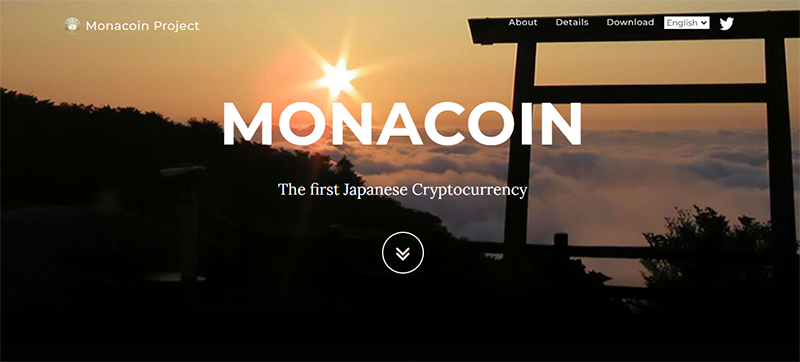 A major redeeming factor of MonaCoin is its transaction speeds. It verifies new blocks every 1.5 minutes, which is a cohesive factor for its community. It was made especially popular by an ad that was run in Japan promoting the coin. It reached an impressive ATH of $16.45 in 2017. At press time, it is trading at $0.97 and has a market cap north of $63 million.
Conclusion
DOGE gained most of its popularity through one of Elon Musk's efforts on Twitter. The tech mogul threw his unwavering support for the token in 2021, even accepting the coin as payment for merchandise from his electric vehicle company, Tesla. This invited a flurry of dog-themed coins that are all looking to overthrow Doge as the king of the meme coin world. In addition to these, there is also a cat-themed coin, Kitty Inu, and a popular coin in Japan, MonaCoin, both with their hats in the ring.