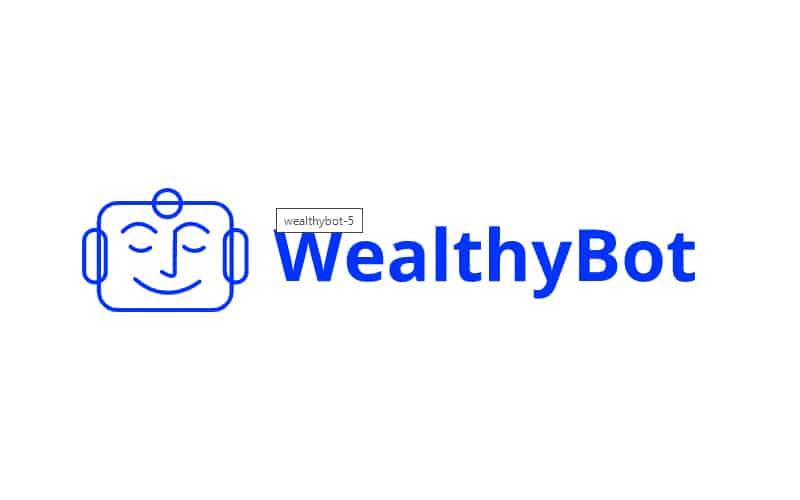 WealthyBot is a free cryptocurrency trading bot available in high, low, and medium strategies. It connects with exchanges like Binance via API keys and supports trading on nine pairs such as Bitcoin, Ethereum, Litecoin, etc. The platform charges a percentage of the profits as a commission and enables investors to test the performance of algorithms with a simulator. Several aspects of this platform need to be investigated to determine the pros/cons and risks involved with this robot.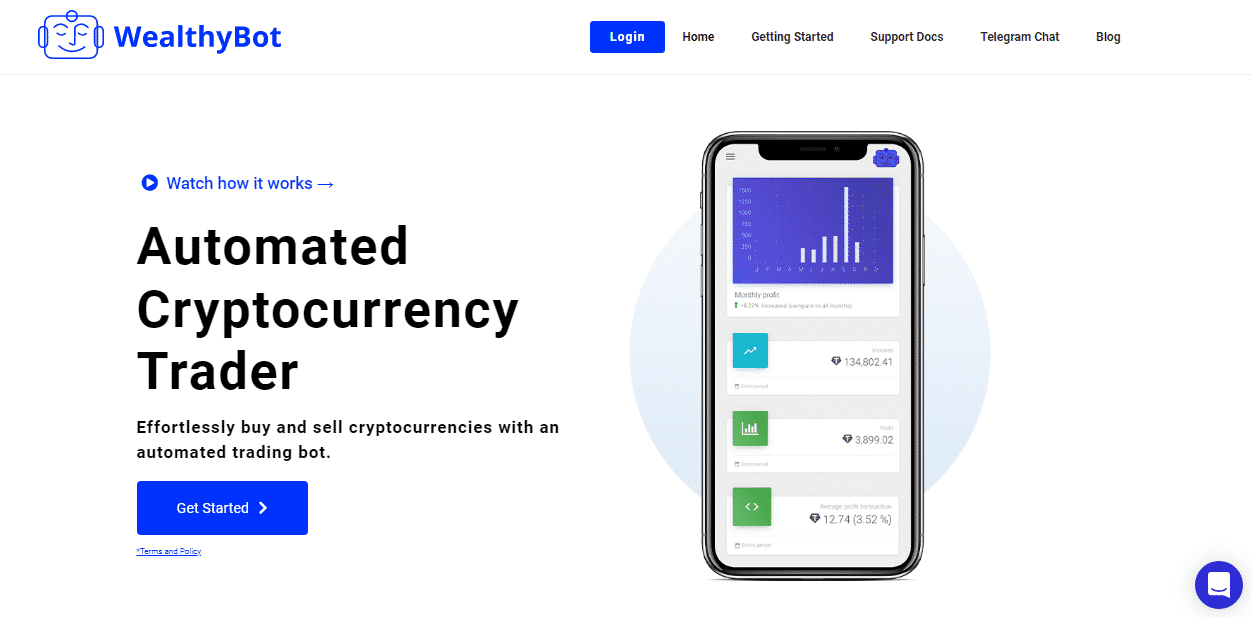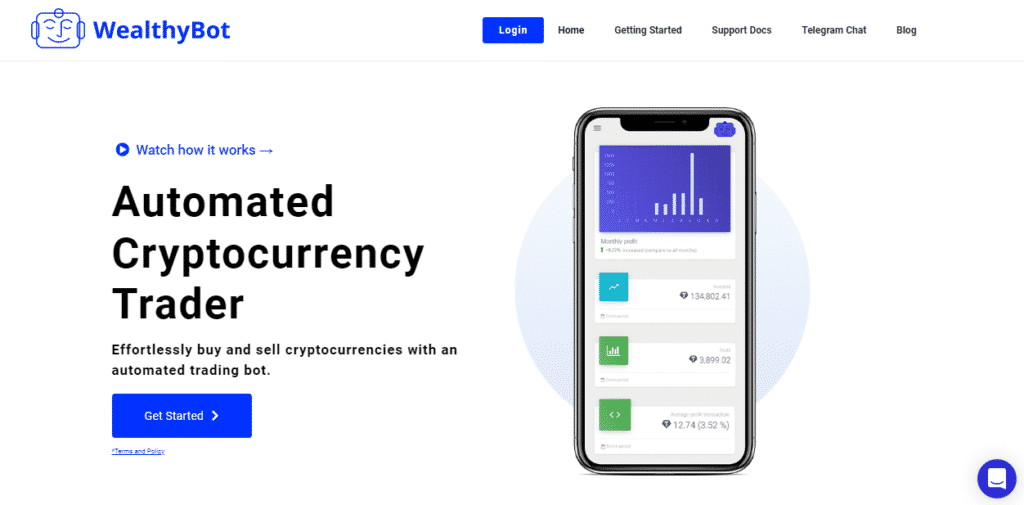 Quick summary
WealthyBot offers the following features:
It is a fully automatic trading bot that searches continuously for favorable conditions in the market.
The bot is free to use and does not require monthly or annual subscriptions.
Its free simulator gives you an idea about investing your money by testing your strategies.
Traders can set up the bots with easily configurable settings.
WealthyBot: pros and cons
| | |
| --- | --- |
| Pros | Cons |
| Easy to set up | Manual trading is not recommended while the robot is active on the exchange |
| The platform provides tutorials and extended documentation for traders | It requires a minimum deposit of $150 in exchange and $25 in credits |
| | Support only nine trading pairs like BTC, ETH, LTC, etc. |
What is WealthyBot?
| | |
| --- | --- |
| Price: | $0 |
| Withdrawal fees: | 20% |
| Deposit option: | Cryptocurrencies |
| Supported countries: | It does not support some countries |
| Supported exchanges: | Binance US, Binance International |
| Free trial period: | N/A |
| Multiple currency support: | Nine trading pairs |
How does it work?
WealthyBot trades the market using two predefined strategies. In one it buys and sells in the middle of the price range between high and low, which can take a long to earn money. The other mechanism is the up/down setting, which sells a position when it approaches near the exact percentage profit.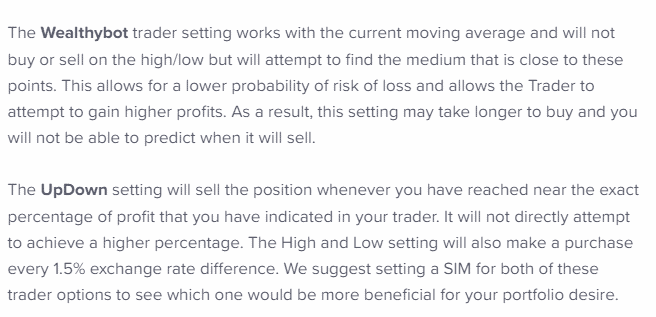 Pricing and fees
WealthyBot is a free trading bot; however, it deducts a 20% fee on profits. The platform utilizes USDT or Tether as a trading currency and requires a minimum $150 deposit in your exchange and $25 in credits.
Privacy and security
WealthyBot warns traders not to give withdrawal rights when connecting API keys for security purposes. The website does not provide extensive details about the safety measures, which raises a red flag about the reliability and privacy of the platform.
Reliability
WealthyBot lacks backtesting or live records which could give you an idea about the bot's performance in a real market. It advises traders to use a simulator before investing their precious investments.
How to start trading using WealthyBot?
Following is the procedure to start trading with WealthyBot:
Before starting trading, make sure you have $150 in the exchange account and $25 in credits
Create an account on the website
Link with your crypto exchange via API keys
Buy credits with cryptocurrency like BTC, Dai, Usd, etc.
Create a trading bot from the setting
Name your algorithm, select exchange, trading pair, strategy, and minimum profit percentage (not less than 1%)
Save these settings and launch the bot
Who is WealthyBot suitable for?
WealthyBot is suitable for traders who are fine with trading only nine pairs with two strategies. It offers few options by supporting only two cryptocurrency exchanges.
WealthyBot support
Customers can contact customer care via live chat, and traders can report difficulties directly on the platform. A Telegram group with more than 1300 members provides support for new users.
WealthyBot community
TrustPilot, a trusted website, shows only one review with a rating of 3.4/5 where a trader comments that the customer service is poor and resulted in a loss of $1200.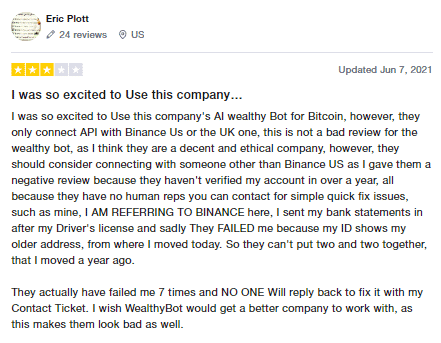 The Review
WealthyBot is a free automated bot; however, it lacks critical information about its creators. The system uses only two strategies, which may not meet everyone's demands. There are no live records available to verify the algorithms' current performance. It requires a minimum of $150 as a deposit.
Review Breakdown
User Interface:

0%

Ease:

0%

Price:

0%

Features:

0%

Support:

0%