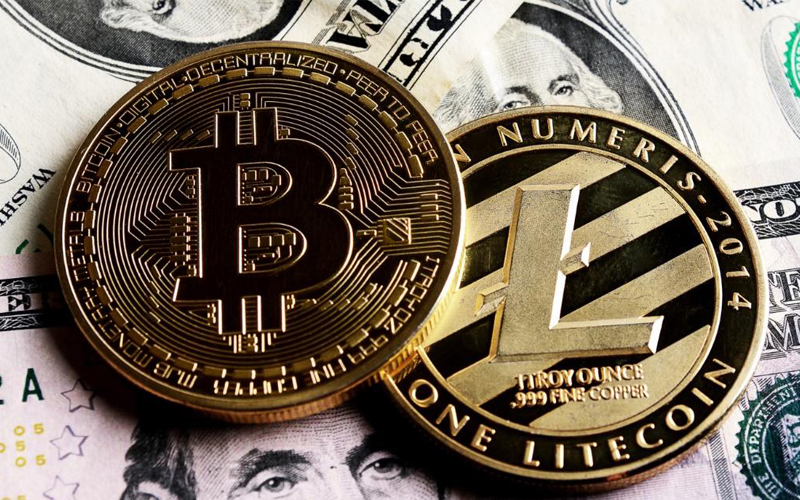 "Litecoin and Bitcoin will work together to solve the world's transaction needs in the future,'' these are the words of Chinese-American computer scientist and former Google employee, Charlie Lee, who sparked the creation of Litecoin using inspiration from Bitcoin.
If Bitcoin is the mother of cryptocurrencies, Litecoin is one of its oldest children. Technically, both cryptocurrencies have near-identical features with a few minor exceptions. The reason is that Litecoin is a hard fork from Bitcoin. Litecoin is Bitcoin's oldest fork and one of the most successful to date.
Despite the numerous likenesses, Litecoin has its proponents and enthusiasts that contribute to it being in the top 10 of most traded cryptocurrencies worldwide.
As of 23 November 2020, Bitcoin leads the pack with an astronomical market capitalization of approximately $345 billion. On the other hand, Litecoin sits in the sixth position of most traded digital currencies with an impressive market capitalization of about $5.6 billion.
So, what are the differences and similarities between Bitcoin and Litecoin?
How much do Bitcoin and Litecoin each cost?
Bitcoin and Litecoin both experienced unprecedented growth during the 2017 crypto boom peaking at around $19 700 and $369, respectively.
However, as of 23 November 2020, 1 BTC costs $18 289, and 1 LTC costs $84.20. Investors should anticipate that both of these instruments are positively correlated; hence, the price of BTC influences that of LTC (and vice versa).
How Bitcoin started

Although the first official block of Bitcoin, aptly named the 'genesis block' came into fruition on the 3rd of January 2009, the roots of the phenomena stretch back to the late 90s. Several cypherpunks had expressed ideas about a decentralized, digital currency, albeit with no resulting projects.
It wasn't until the 31st of October 2008 where a whitepaper entitled 'Bitcoin: A Peer-to-Peer Electronic Cash System.' made its way onto a cryptography mailing list.
The author of the whitepaper went by the pseudonym, Satoshi Nakamoto. Essentially the creator of the revolutionary cryptocurrency, Satoshi's real identity remains unknown more than 12 years later.
Regardless, they have successfully created the world's first decentralized cryptocurrency that can be exchanged peer-to-peer without any central party control. Bitcoin has remained the most traded cryptocurrency globally, inspiring countless other digital currencies to emulate its success.
How Litecoin started

Litecoin is a significant part of the timeline and story of Bitcoin, resulting in the cryptocurrency being one of the oldest in the markets. Charlie Lee, a Chinese-American computer scientist and former Google employee, originally authored the source code of Litecoin, which is technically a hard fork from Bitcoin.
The prime motivation for Litecoin was to improve the scalability of its predecessor through a faster block generation time, resulting in faster transaction times. Litecoin officially went live on the 13th of October, 2011.
The use cases of Bitcoin and Litecoin
Bitcoin and Litecoin both have the same use cases: decentralized, peer-to-peer cryptocurrencies. Just like any digital currency, you can spend either coin at places where merchants accept them.
Bitcoin has the upper hand because there are many more merchants that accept the coin than Litecoin. Nonetheless, they function in exactly the same manner. We can buy both digital currencies on numerous cryptocurrency exchanges, and anyone can participate in their computer mining.
Key technical differences between Bitcoin and Litecoin
Both cryptocurrencies share many similarities but differ primarily on the blockchain algorithm used, block times, and coin supply.
| | | |
| --- | --- | --- |
| | BITCOIN | LITECOIN |
| Year established | 2009 | 2011 |
| Original author | Satoshi Nakamoto | Charlie Lee |
| Ticker symbol | BTC | LTC |
| Algorithm | SHA-256 | Scrypt |
| Consensus mechanism | Proof-of-work | Proof-of-work |
| Halving | Yes, every four years (next halving in 2024) | Yes, every four years (next halving in 2023) |
| Block reward | 6.25 BTC | 12.5 LTC |
| Block time | 10 minutes | 2.5 minutes |
| Supply limit | 21 million | 84 million |
Different ledgers
An imminently ever-present problem with Bitcoin is the time at which the blockchain takes to form a block. Litecoin is not the only hard fork that occurred as a result of this issue. Bitcoin Cash also existed partly because of the same problem. Lee suggested utilizing a simpler algorithm known as Scrypt instead of Bitcoin's SHA-256.
Scrypt essentially splits every transaction into two sections, and this makes confirming transactions faster. The other advantage of Scrypt at the time was to prevent ASICs (application-specific integrated circuit) machines from mining the currency, making the process more egalitarian.
Bitcoin is well known for inherently favoring miners using ASICs as these machines can calculate hash functions incredibly faster than CPUs (central processing units) and GPUs (graphics processing units). Eventually, computer developers found a way to make ASICs capable of mining Litecoin.
Despite using different ledgers, the blocks receive verification through a proof-of-work consensus mechanism that necessitates computer mining.
Mining rewards
To control supply, both Bitcoin and Litecoin include a halving structure where miners' rewards get reduced in half every four years. Before Bitcoin's first halving event in 2012, the reward for solving a block was 50 BTC. This figure went down to 25, 12.5, and 6.25 BTC in 2012, 2016, and most recently 2020, respectively.
Similarly, Litecoin has experienced 'halving' on two occasions, 2015 and 2019. Mining rewards have gone from 50 LTC before 2015, 25 LTC before 2019, to currently 12.5 LTC. The next halving will occur in 2023, probably in August. Historically, each of the previous halvings happened in this month.
Total supply

The original authors set both cryptocurrencies to each has a finite amount of supply. There can only be 21 million BTC, of which roughly 88% is presently in circulation.

In contrast, Litecoin has a larger maximum cap of 84 million coins, with close to 80% already in circulation. The finite supply of Litecoin is almost quadruple that of its predecessor naturally because of the faster block generation time.
Conclusion
This comparison illustrates that Bitcoin is way ahead of Litecoin since the former got a head-start as the first digital currency back in 2009. Litecoin has existed, though, as one of the oldest cryptocurrencies and came into being by improving Bitcoin's shortcomings.
We should expect nothing less than both juggernauts to exist side by side and dominate the entire market in the future.