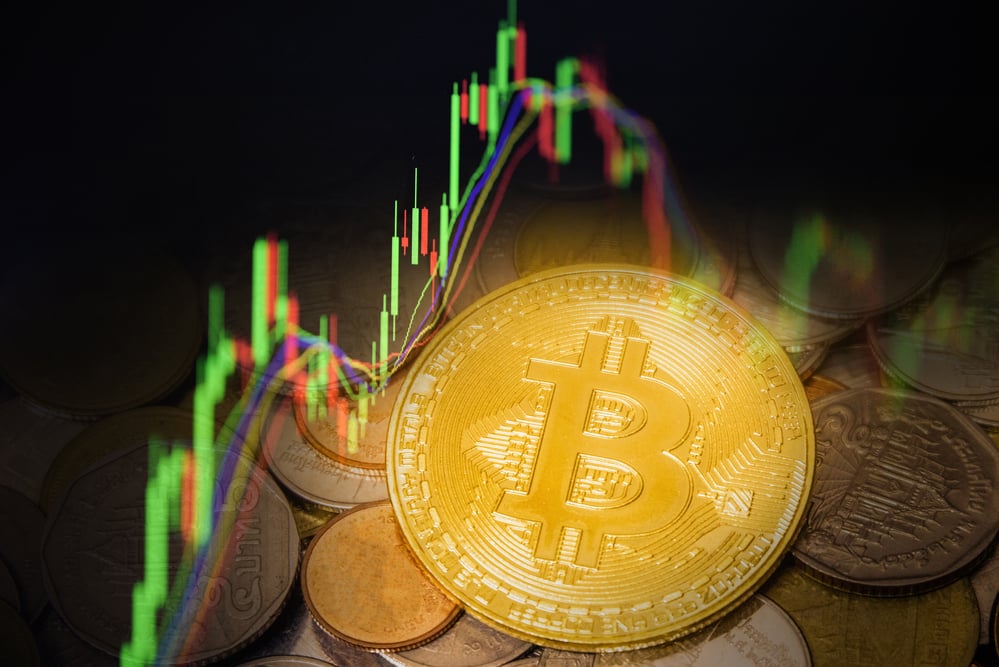 The institutional perspective of Bitcoin remains bullish despite recent underperformance.
Wisdom Tree makes another shot at getting ETF approval.
The regulatory environment is being discussed by US Congress and the Australian Government.
BTC price made minor amends after yesterday's losses, gaining 1.26% to trade at $48,142 at 0942 GMT on Friday. Today's gains are key to Bitcoin's revival, as it attempts to return to the $50,000 mark. Yesterday, BTC lost 5.84% of its value, triggering fears of the possibility of further losses.
Institutions undeterred despite recent losses
Despite its recent poor show, Bitcoin continues to attract institutional interest.  MicroStrategy has recently bought a total of 1,434 BTC for $82.4 million, representing an average price of $57,477 per BTC. Based on the current BTC price, this means that the investment firm now holds about $6 billion worth of Bitcoin.
According to the company's CEO, Michael Saylor, who has been a longtime crypto fan, Bitcoin is a superior investment to gold. Saylor remarked that the "buy Bitcoin, sell gold" approach had worked well for investors this year when speaking at a recent congressional session.
He thinks that the current inflationary climate is favorable for Bitcoin because of the government's stimulus measures. After deeming Gold a "dead rock," Saylor recommends selling $10 trillion worth of the precious metal and buying Bitcoin.
Prospect of another Bitcoin ETF
Bitcoin's recent price rally was helped, in part by the acceptance by the Securities and Exchange Commission (SEC) of the first Bitcoin ETF. Many more investment firms are eyeing a piece of Bitcoin ETF, but the regulatory threshold is proving to be a challenge. Asset management firm Wisdom Tree has amended its filing to the SEC in what is seen as an effort to get approval after the first application fell through on December 2nd.
This week, WisdomTree announced that US Bank National Association would be the custodian of its Bitcoin (BTC) trust shares. It is an addendum to the March 11 registration for a spot Bitcoin ETF, which was filed to the SEC. 
Australia and the US are developing a regulatory environment as governments embrace cryptocurrencies
Countries are racing to put in place regulations as more and more countries embrace the reality of cryptocurrencies' role in the global economy. Many countries had declared war on assets just a year ago, but this is a significant shift.
Currently, Australia is considering releasing a retail central bank digital currency and creating a licensing system for bitcoin exchanges. Consumers will be able to buy and sell crypto assets in a controlled atmosphere thanks to this framework.
Australia's move comes at a time when the US Congress is hosting cryptocurrency company CEOs to get their perspective on the way forward for regulating the industry. Analysts expect the hearings to be the first of the many steps towards creating a more investor-friendly environment for the crypto industry. Going forward, that is likely to create more stability and security in the industry, which is important for its long-term growth prospects.
Technical analysis for BTC
BTC price (see the chart below) is currently on a weak momentum, with the market RSI at 32. This indicates that the asset is nearing the oversold territory, which could trigger bullishness. The current price is less than 10% above the September 30th price, which was followed by a price rally leading to a new all-time high.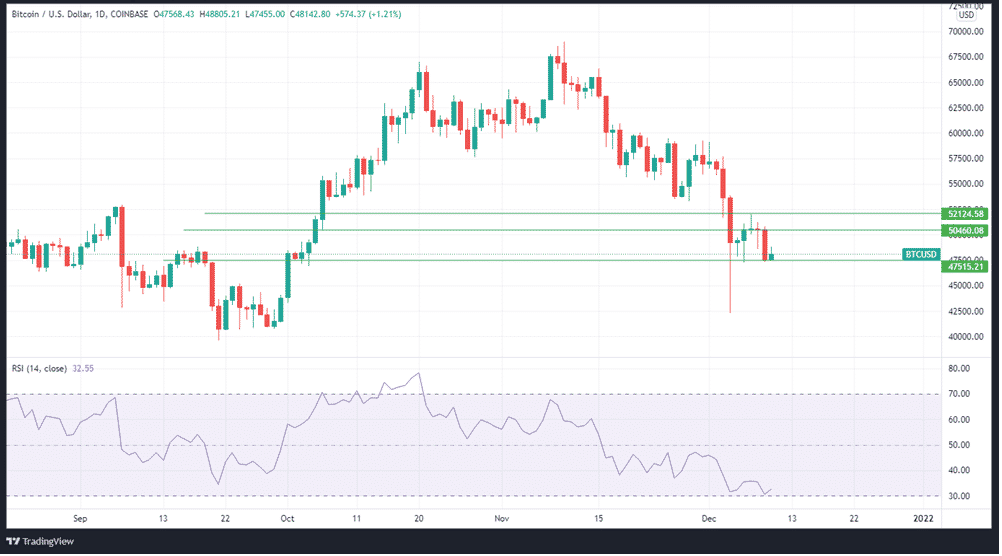 If the market bearishness continues, BTC is likely to find support at $47,515. However, if the asset becomes oversold, it could bring in more buyers, which could propel the price up. In that case, the first resistance is likely to be at $50,460 and the second one at $52,124.