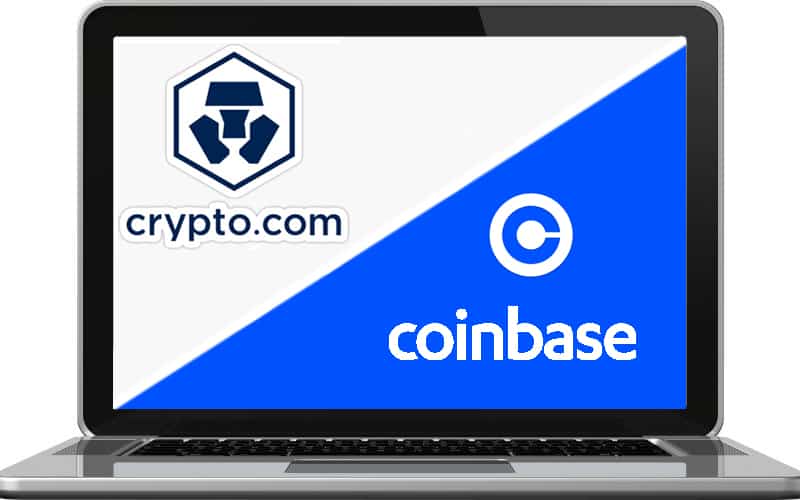 Compared to Coinbase, Crypto.com is the youngest of the two crypto exchanges. CoinMarketCap ranks Coinbase and Crypto.com #2 and #13, respectively, for exchanges processing the highest trading volume in the markets. 
Yet, Crypto.com has indeed proven itself as 'the fastest growing crypto app.' So, how does this exchange compare to the more established Coinbase? We'll observe some key areas between the two platforms and the clear winner.
Crypto.com vs. Coinbase at a glance
Let's first look at a feature breakdown of the two exchanges.
| | | |
| --- | --- | --- |
| | Crypto.com | Coinbase |
| Year established | 2016 | 2012 |
| Headquarters location | Singapore | United States |
| Security measures | 100% offline cold storage, two-factor authentication, bug bounty, insurance | 98% offline cold storage, two-factor authentication, bug bounty, insurance, |
| Customer service channels | 24/7 live support, email, help center | Phone, email, help center |
| Regulated? | Yes | Yes |
| Anonymity? | No | No |
| Utility token? | Yes, CRO | No |
| Type of transactions supported | Buying, selling, sending, receiving, withdrawing, exchanging, and derivatives on margin | Buying, selling, sending, receiving, withdrawing, and exchanging |
| Number of cryptocurrencies offered | 141 (according to CoinMarketCap) | 158 (according to CoinMarketCap) |
| Countries supported | 141 | 161 |
| Wallet provided? | Yes | Yes |
| NFT support? | Yes | Yes |
| Minimum deposit | $1 | $2 |
| Deposit/withdrawal methods | Crypto, bank wire, debit/credit card | Crypto, ACH, bank wire, debit/credit card |
| Deposit/withdrawal fees | Varies by coin and method | Varies by coin and method |
| Withdrawal limits? | Yes | Yes |
| Maker-taker fees | 0.04-0.4% maker/0.1%-0.4% taker XX | 0-0.5% maker/0.04-0.50% taker |
| Interest-bearing accounts? | Yes, up to 14.5% APY | Yes, up to 5% APY |
| Crypto lending? | Yes, with an LTV ratio between 25-50% | Yes, with a 60% LTV ratio |
| Lending interest rates | 8-12% | 8% |
| Minimum loan amount | $100 | $100 in most countries |
| VISA card? | Yes, debit card | Yes, debit card |
| Mobile app? | Yes | Yes |
Crypto.com vs. Coinbase: security and customer support
Crypto.com and Coinbase adhere to the highest standard of security measures with features like offline cold storage, multi-factor authentication, compliance certificates, bug bounties, and insurance.
Both services follow a strict KYC process for onboarding clients like any centralized exchange. For customer support, we feel it's a tie. You can email both exchanges and visit their comprehensive help centers.
Yet, Crypto.com has a 24/7 live chat (but no telephone line), while Coinbase has phone support but no live chat.
Crypto.com vs. Coinbase: fees
Fees are always one of the first factors to consider with any exchange. Before getting into the details, we should mention off the bat that Crypto.com is cheaper than Coinbase overall.
When using an exchange, you need to observe costs related to the points below.
Trading fees
Cryptocurrency exchanges use the maker-taker model when assessing trading costs, referring to orders that add or 'make' liquidity and those which remove or 'take' away liquidity.
Based on different tiers, these are measured according to your 30-day trading volume: the more you trade, the lower the fees.
Crypto.com's maker and taker charges for Crypto.com are 0.04-0.4% and 0.1-0.4%, respectively. Conversely, these are 0-0.5% and 0.04-0.05% for Coinbase. Unlike the latter, users can receive discounts in this regard through the staking of CRO, the exchange's utility token.
Deposit and withdrawal fees
Both exchanges allow for deposits and withdrawals via debit/credit card, bank wire, and cryptocurrencies, for which the fees will understandably vary. For US customers, Coinbase permits funding with PayPal.
Generally, users will want to avoid using cards or bank transfers when funding or withdrawing from an exchange as the charges tend to be higher.
Moreover, if funding with a cryptocurrency, you'll want to stay away from Ethereum-based due to the high gas fees. It's better, where possible, to use cryptocurrencies with lower costs.
Crypto.com vs. Coinbase: cryptocurrency selection
Both exchanges are pretty evenly matched here, but Crypto.com is a bit more comprehensive when considering the token number. Coinbase ramped up its coin selection in 2021 to a level close to its competitor.
According to CoinMarketCap presently, Crypto.com has 319 markets from 161 coins, while Coinbase has 416 markets from 141 coins. Coinbase has more markets because their platform allows for fiat currencies (USD, EUR, and GBP), while Crypto.com only deals with crypto.
Crypto.com vs. Coinbase: wallets
Fortunately, both exchanges have secure in-built wallets for added convenience. Each wallet is non-custodial, meaning the control or custody of the private keys remains with the users.
It's worth noting the Coinbase Wallet is a separate application from the wallet on the actual exchange. This wallet allows users to participate in various DeFi (decentralized finance) services like storing digital collectibles and browsing decentralized apps.
Crypto.com's wallet also provides an expansive suite of DeFi functionalities. Both wallets permit clients to buy, sell, send, receive and exchange all the many cryptocurrencies available on each platform.
Crypto.com vs. Coinbase: special features
Overall, Crypto.com offers more unique features than the stripped-down Coinbase.
Crypto.com special features
CRO utility token (provides maker-taker fee discounts, staking rewards, better lending interest rates, merchant cashback deals)
Margin trading: Users can trade a range of markets on this exchange with up to 1:50 leverage. Coinbase doesn't provide trading on margin.
Crypto Credit: Unlike Coinbase, where you can only use Bitcoin as collateral, Crypto.com allows you to use 18 coins for this option to receive a loan in USDT, USDC, TUSD, and PAX.
Crypto Earn: Coinbase doesn't have yield farming, a stark contrast to Crypto.com. Clients can lend out one of 40 cryptocurrencies to earn up to 14.5% APY (annual percentage yield).
Coinbase special features
Coinbase Earn: Here, clients can complete various educational quizzes on different coins to earn crypto rewards.
Coinbase Card (currently only for US customers): This is a VISA debit card where users can fund any purchase with any currency in their portfolio to earn rewards.
Coinbase Borrow: Users can borrow up to $1 million using their BTC as collateral and paying 8% APY in interest.
Final word
Coinbase does beat Crypto.com when it comes to trading volume. Depending on the markets you trade, this might be crucial to ensure the most efficient transactions with minimal price anomalies.
The number of services on Coinbase is relatively minimal, making it easier to use. However, Crypto.com is all-encompassing and keeps expanding in the product range. Crypto.com allows for the simple stuff to advanced margin trading.
It even most recently added its own blockchain (Crypto.com Chain), where users can become validators and earn in CRO rewards. Ultimately, what matters more is what you're looking for in an exchange.
For beginners, Coinbase is probably a better option. However, for the more sophisticated user and investor, Crypto.com is preferable.