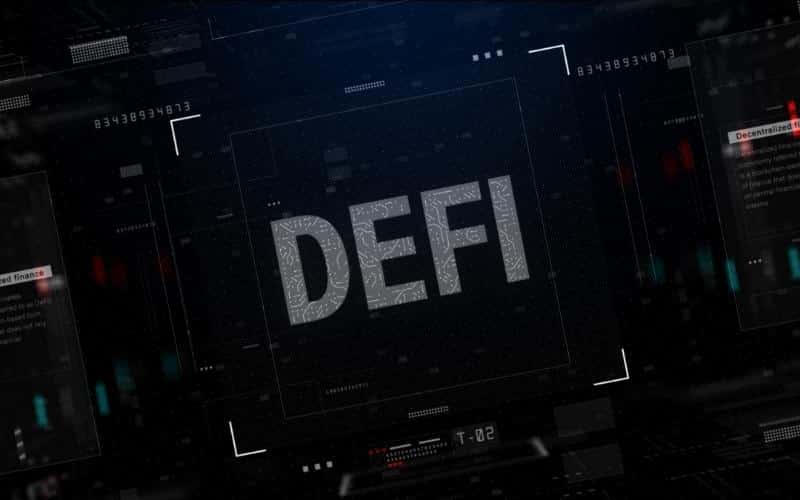 DeFi (decentralized finance) is about defying the conventional financial system, a mechanism that doesn't respect privacy, goes through numerous intermediaries, is time-consuming and costly. 
We can consider cryptocurrencies as the first DeFi application. For the first time ever, digital money existed, transferable peer-to-peer without any central bank or government intervention.
Over the years, as developers began understanding the power of blockchain technology, decentralized finance became an industry of its own within cryptocurrencies.
Not long ago, few could have imagined millions of dollars being lent and borrowed without any banks facilitating the transaction and any need for a credit check or so much as a person's name.
Rather than relying on the likes of Coinbase and Binance, many decentralized exchanges exist, providing liquidity without an actual order book or middleman.
Hence, DeFi has undoubtedly been booming over the years, creating a whole new, unimagined economy based primarily on a bunch of code. According to CryptoSlate, DeFi contributes to 5.57% of the entire cryptocurrencies market capitalization.
Of course, DeFi is highly experimental, risky, and largely unregulated compared to centralized finance, with many things still needing some 'ironing out.' Nonetheless, it's worth exploring how this concept is taking over the industry.
What is decentralized finance?
DeFi is a blockchain-based type of finance not relying on any traditional middlemen like exchanges, banks, brokers, or any facility fostering third-party verification.
Decentralized finance revolves around trustlessness, achieved primarily with open-source smart contracts (mostly from Ethereum) or proprietary software governing pre-defined agreement terms between users.
Since blockchains are publicly verifiable, anyone can see the transactions within a particular DeFi protocol. Hence, with DeFi, you have efficient processes not requiring any human intervention or transacting parties and a method of fostering transparency using a distributed ledger.
Any DeFi protocol is essentially a building of frameworks similar to a tech stack for a web or mobile application. So, your typical 'DeFi stack' consists of three main layers; settlement, protocol, and application.
The settlement layer is the foundational backend of any DeFi application, consisting of a blockchain along with its native digital currency or utility token.
The protocol would involve the software rules essentially controlling specific activities and ensuring sufficient liquidity is always present. As expected, the application layer is the front end or the client-facing side of things, where we have access to an array of applications.
One may be wondering what the specific activities you can carry out with DeFi are. So, let's find out.
What are the most popular DeFi applications?
Let's look at the most prominent applications within DeFi presently and how they briefly function.
Decentralized exchanges (DEXs): Most decentralized exchanges replace traditional market makers and order books in favor of more automated means of sourcing liquidity. 
While some marketplaces still utilize centralized systems, many are entirely decentralized using automated market makers (e.g., Uniswap, PancakeSwap, etc.) and price aggregation from other exchanges (e.g., 1inch, Matcha, etc.).
Several DEXs are built to provide incentives through trading fees and earning extra tokens for users to provide liquidity with their own holdings.
There is no signup process with a decentralized exchange, allowing for anonymous trading, enabling users to retain their private keys, overall lower fees, and no withdrawal limits.
Lending platforms: A lending platform involves collateralized lending and borrowing through cryptocurrencies without any credit checks or other verification processes. 
As a borrower, you put up collateral in the form of a cryptocurrency to borrow another fiat or digital currency. The interest rates are typically reasonable, and the payment terms are flexible, often not requiring any fixed monthly installments.
Lenders can allocate their holdings to platforms in return for earning interest for a fixed period. Such platforms can be non-decentralized, relying on human gatekeepers to oversee most operations (e.g., Nexo, Celsius, BlockFi, etc.).
However, others are entirely non-custodial or decentralized like Aave, Maker, Compound, etc.)
Yield farming: Yield farming is a process of staking or lending out your crypto holdings in return for earning a yield. Protocols offering these services are characterized by providing much higher yearly returns than traditional financial institutions. 
Yield farming is offered by both exchanges and lending platforms (decentralized and centralized).
Prediction markets: A prediction market is an exchange-traded financial product for the purpose of predicting the outcome of certain events like elections, sales, and sporting results.
In the context of cryptocurrencies, such markets operate without any intermediaries or go-betweens. Examples of popular protocols within this realm include Augur, Gnosis, PlotX, Polymarket, and more.
How DeFi is different from traditional finance
Let's take a look at the many advantages DeFi provides over conventional finance.
Money control: In most cases, you retain control over your funds with DeFi, deciding where it goes and how it should be spent.
Transaction times: Rather than waiting days to receive your money or clear transactions, things often happen in minutes with decentralized finance.
Anonymity and less discrimination: No KYC (Know-Your-Customer) processes are necessary with DeFi, allowing pseudonymous dealings without exposing sensitive private data like names, cellphone numbers, and card information.
Moreover, DeFi doesn't discriminate based on country, socio-economic status, gender, or age. As long as you have an internet connection, you're welcome.
Around-the-clock markets: Trading occurs 24/7 in DeFi, unlike centralized finance, where it's limited to regular working or business hours.
Transparency: Thanks to blockchain technology, anyone can view transactions and verify how the system is working, a stark contrast to traditional financial institutions, which tend to be 'closed books.'
Final word
Technically, crypto has always been decentralized finance. However, true DeFi is more of a movement, a unique, experimental genre with incentive mechanisms and innovative trading, saving, and investing products.
The traditional financial system is run by decades-old, opaque, and tightly-controlled infrastructure. Although we briefly covered applications like exchanges, lending platforms, yield farming, and prediction markets, other distinctive offerings have recently sprung up like 'money legos.'
These are merely 'building blocks' of existing DeFi apps bundled together by developers to create a totally new multi-functional protocol. While decentralized finance does provide some unique advantages, much of the industry is still quite shaky and in the initial evolution stages.
As a layman, you certainly need to be thoroughly prepared for using any DeFi protocol and well-educated on the risks. Nonetheless, DeFi should act as one of the keys to incorporating cryptocurrencies overall into the mainstream.