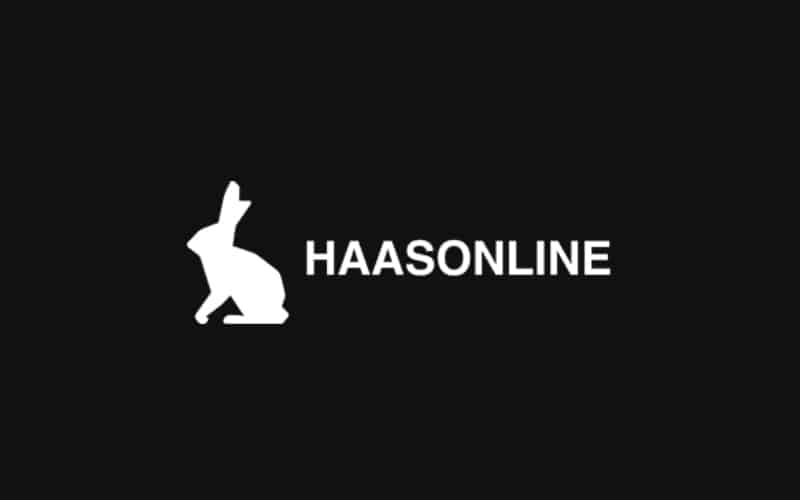 Haasonline is a trading platform that provides us with possibilities to work with their default bots or design our own. We can also use cloud services and their HaasScript language. The developers claimed that they have the most advanced automated crypto bots. Our goal is to check the veracity of the vendor's claims.
Quick summary
The service is based on cloud solutions.
We can design our own trading bots.
It's possible to use their own trading bots.
The developers designed the HaasScript language.
We can pick various indicators for our bots.
The system will cover our orders with SL and TP levels.
Haasonline: pros and cons
| | |
| --- | --- |
| Pros | Cons |
| We can design our own bots | No team revealed |
| There are predesigned bots that can be used for trading | No risk or money-management advice given |
| The company has a relevant reputation | No strategy explanations available |
| | No backtest reports or trading results shared |
| | Some negative feedback provided |
What is Haasonline?
| | |
| --- | --- |
| Price: | ₿0.009, ₿0.016, and ₿0.026 |
| Withdrawal fees: | No fees |
| Deposit option: | N/A |
| Supported countries: | We can trade from countries where crypto trading is allowed |
| Supported exchanges: | Binance, Binance Futures, Binance.US, Bitfinex, BitMEX, Bitpanda Pro, Bitstamp, Bittrex, ByBit, CEX.IO, Coinbase Pro, Deribit, FTX, Gemini, HitBTC, Huobi, Ionomy, Kraken, Kraken Futures, KuCoin, OKCoin, OKX, and Poloniex |
| Free trial period: | N/A |
| Multiple currency support: | We can work with any crypto assets |
How does it work?
We have some information about available bots and its functionality. Also, there are explanations about how the system works.
We can work with various strategies to design our robots.
The developers designed a HaasScript service that allows us to customize, design, and test strategies in the same place.
It's a complex pack of products that can be used with cloud management.
HaasScript was designed as one of the crypto scripting languages.
It's possible to design and test trading algorithms, technical indicators, generate and interpret signals, and many other features.
We can decrease risk by testing the system before using it on a real account.
It can be designed around an order book or closed prices.
There's a service – HaasOnline TradeServer.
There are the following features available: custom order types, bot extensions, market scanners, portfolio management, and other useful features.
We can work on the Cloud service to test everything.
So, there can be API keys stored.
We can get a no restrictions offer that is featured by: exchanges, trade volumes, or percentages.
The bot itself is a very configurable trading advisor that overtakes market volatility.
We have only verified trading strategies.
The advisor is pre configured.
We can get our notifications via Telegram and Discord.
Pricing and fees
We have several packages that vary by the number of features available.
The beginner pack is available for ₿0.009. We can save 0.007 BTC with Annual Billing. We will have 10 active trading bots, backtest and paper reading, access to 11 endurances, 10 safeties, 20+ indicators, restricted core features, unlimited fees free trades, access to 22 exchanges. The support is delivered via chat and tickets.
The advance pack can be purchased for ₿0.016. We can save 0.008 BTC with Annual Billing. It's featured by 20 active trading bots, backtest and paper reading, access to 13 endurances, 20 safeties, 40+ indicators,
The final package can be used after paying ₿0.026. We can save 0.01 BTC with Annual Billing. It's featured by unlimited active trading bots, backtest and paper reading, access to unlimited endurances, safeties, indicators.
There is no refund policy applied.
Privacy and security
The developers provide a high level of privacy within the site and its features. The bot works with API keys to get access to the market on our behalf.
Reliability
We can work with various exchanges with this solution.
Binance
Binance Futures
Binance.US
Bitfinex
BitMEX
Bitpanda Pro
Bitstamp
Bittrex
ByBit
CEX.IO
Coinbase Pro
Deribit
FTX
Gemini
HitBTC
Huobi
Ionomy
Kraken
Kraken Futures
KuCoin
OKCoin
OKX
Poloniex
How to start trading using Haasonline?
The system should be downloaded and installed on our exchange profile through API keys. No extra effort is needed.
Who is Haasonline suitable for?
The bots can be useful only for professional traders because they require much to get everything working right.
Haasonline support
The developers provide solid support for everyone. So, we can rely that it works well.
Haasonline community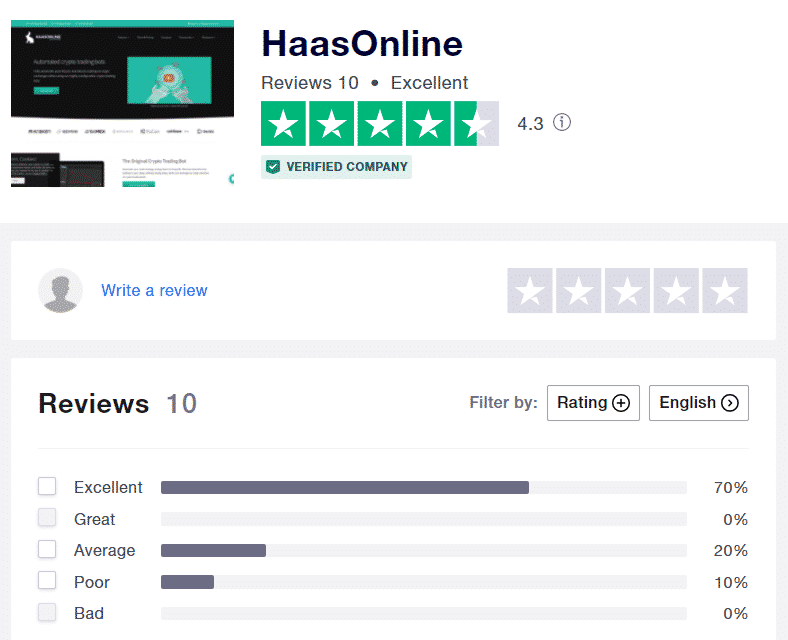 The company has a page on Trustpilot created. There are 10 reviews written that formed a 4.3 rate. We'd like to note that people are mostly satisfied with the overall quality of the service.
Haasonline review verdict
Haasonline is an extended service that provides us with well-designed and customized bots, a possibility to create our own trading solutions, HaasScript language, and possibilities to test and customize our own solutions. Although the price is high, we have several positive testimonials written about the bot. This means that people could be profitable with this trading solution.