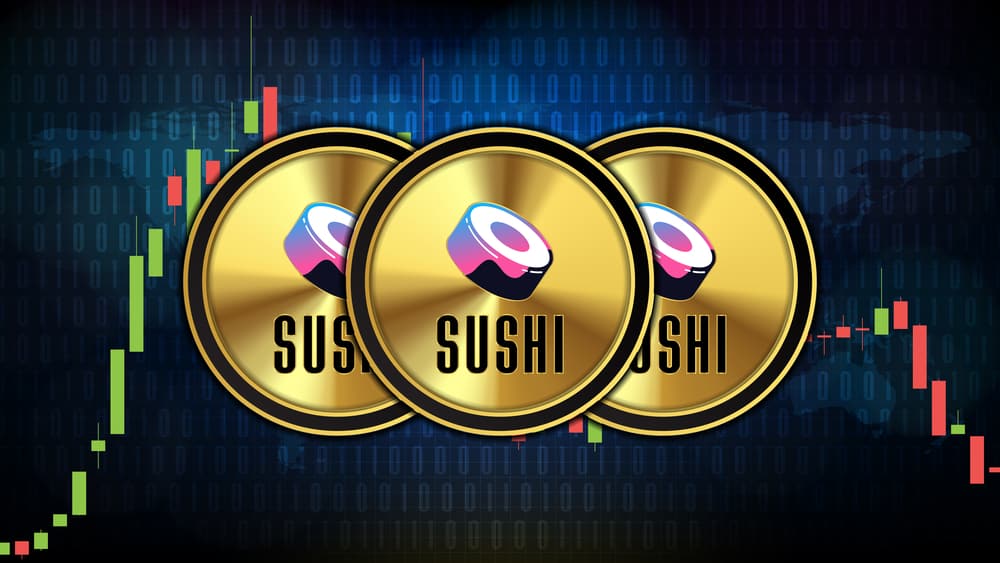 What is SushiSwap and SUSHI Token?
SushiSwap is a comprehensive multi-chain decentralized finance (DeFi) platform that provides multiple solutions. In the ecosystem, people can swap tokens for a small fee. Its trading platform has a limit order, which allows trades to be executed at a pre-determined price.
Its other services are liquidity provision and a farm where people can generate yields. Other services in SushiSwap are lending and borrowing and a Minimum Initial SUSHI Offering.
SushiSwap is a multi-blockchain platform that is found across multiple ecosystems like Ethereum, Arbitrum, Fantom, Polygon, and Avalanche. It has a total value locked (TVL) of $3.2 billion. Most of these funds, about $2.9 billion, are tied in Ethereum's network. It is followed by Arbitrum and Polygon.
SUSHI is the governance token for the SushiSwap ecosystem. According to CoinGecko, it has a market cap of $573 million and a diluted value of $743 million. Its maximum supply is 250 million coins.
SushiSwap (SUSHI) price history and technical analysis
Most cryptocurrencies had a robust performance in 2021. DeFi Tokens have been among the worst performers. For example, while Curve Finance is the biggest DeFi platform with a TVL of $19 billion, its token has a market cap of $966 million and is not even in the top 100 of the biggest cryptocurrencies.
SushiSwap has also had a similar price action. Its price surged to an all-time high of $46.88 in 2020. Since then, the coin has crashed by over 93% to the current $3.11. As most coins were rising to their all-time highs in 2021, it managed to reach a high of $24.61.
On the daily chart, the coin has been in a strong bearish trend as demand for the token wanes. It reached a YTD low of $2.78, which has become an important support level. The coin has also dropped below all moving averages. Further, it has formed a small head and shoulders pattern, which is a bearish sign. Therefore, the coin will likely keep falling in 2022.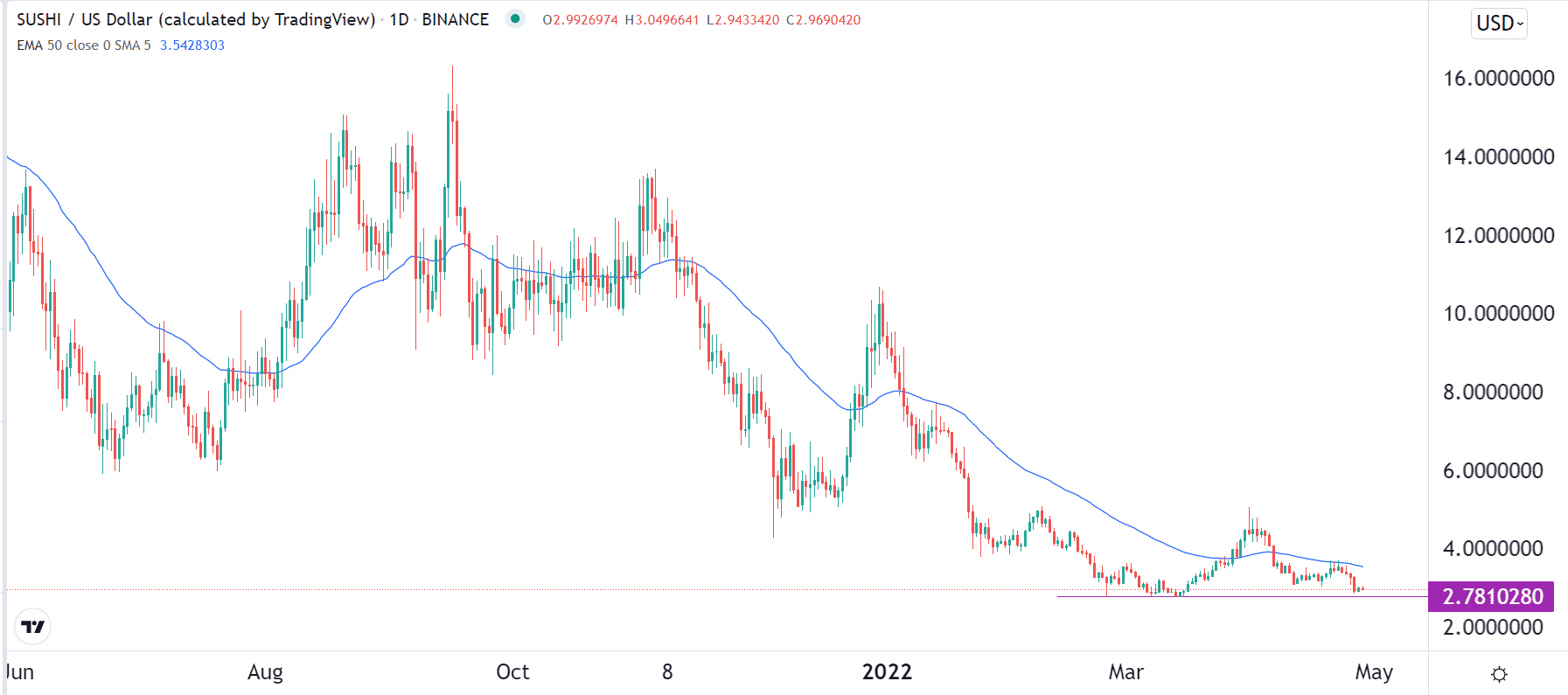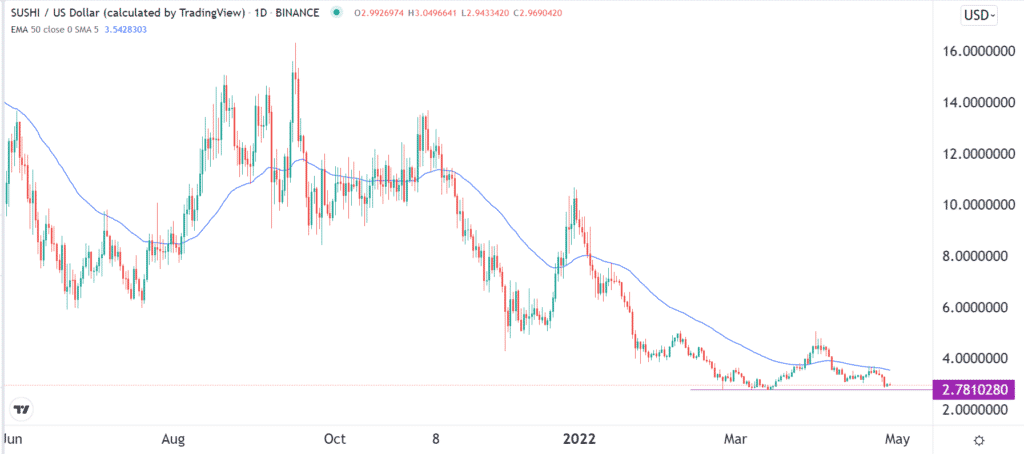 PancakeSwap (CAKE) price prediction for a year
PancakeSwap price action is not encouraging. The coin's price has been in a significant downward trend and there is a possibility that it will continue. Besides, it has already formed a small head and shoulders pattern. Therefore, in my view, I estimate that the coin will crash to about $2 in 2022. For one, competition in the DeFi industry is rising and there are concerns about regulations.
According to Digital Coin Price, the PancakeSwap price is estimated to average about $7 in 2022. This price is about 120% above where it is today. With interest rates set to rise sharply this year, this view seems to be a bit optimistic. On the other hand, Long Forecast estimates that PancakeSwap will end the year at about $1.50. That price is even lower than my estimate of $2.
SushiSwap (SUSHI) Price Prediction for 2025
SushiSwap will have a difficult time in the coming years, considering that it is losing market share in the DeFi industry. The number of existing tokens has grown rapidly. For example, Cronos' mainnet was launched in November 2019, and it has already attracted over $3.5 billion in assets.
Therefore, I expect that the SUSHI price will continue to be under pressure in this period. This view is shared by Long Forecast who expect that the coin will be trading at $2.55 in December 2025. Technical analysis on the weekly chart also shows that the coin has further downside to go.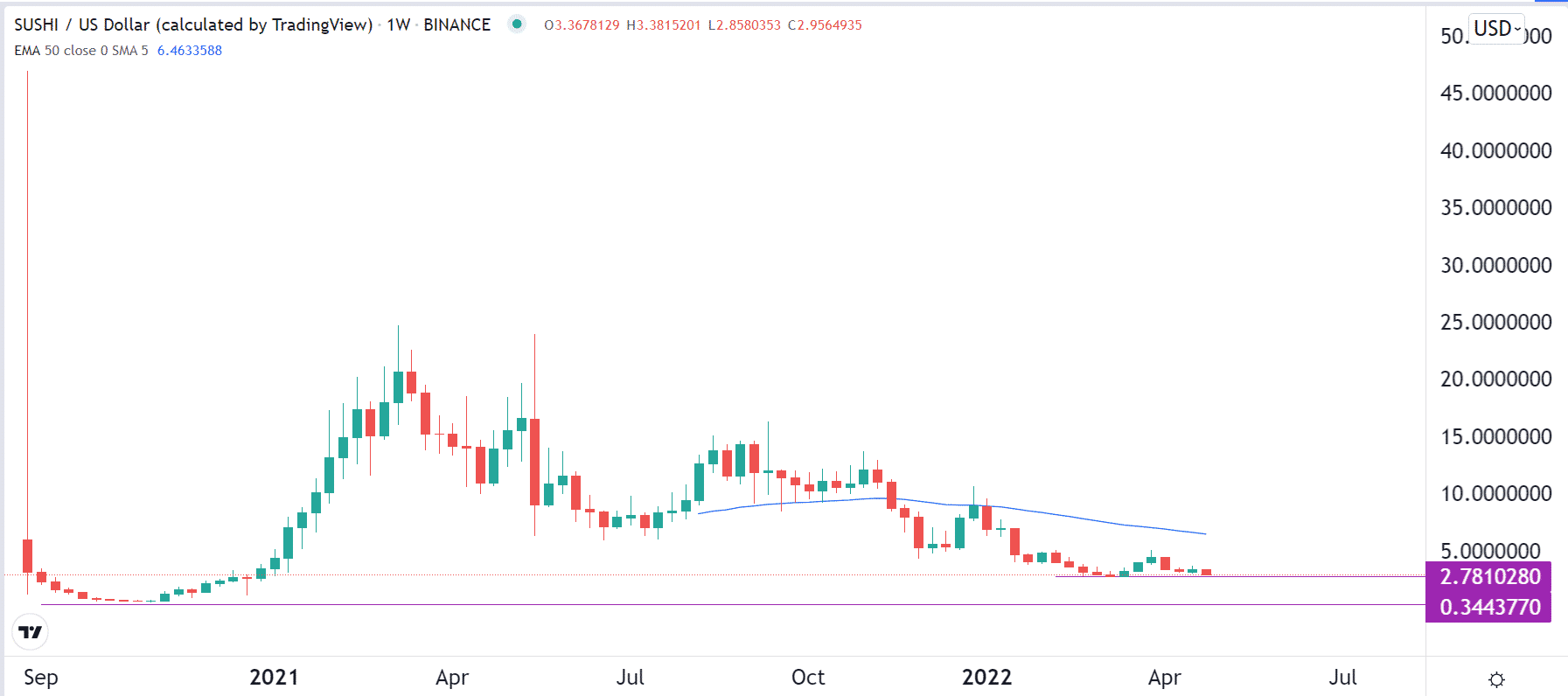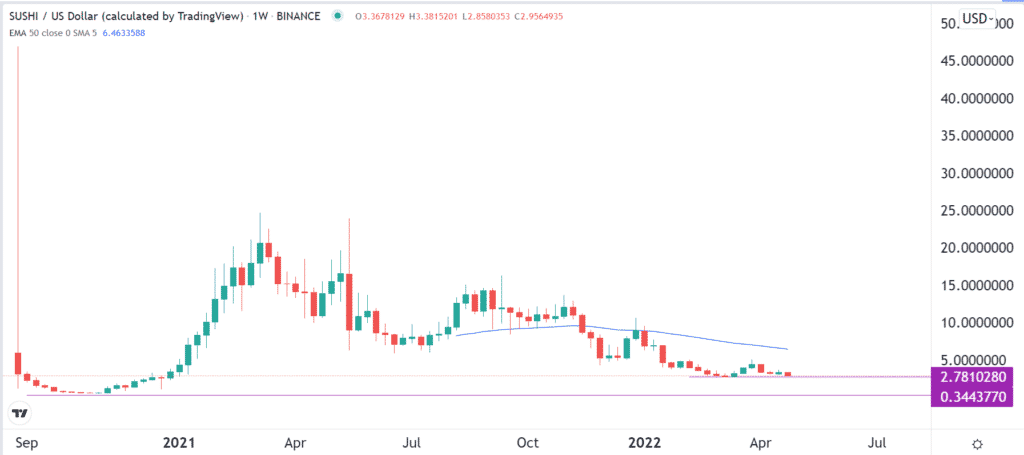 SushiSwap (SUSHI) Q&A
Is SUSHI coin real?
Yes. SUSHI is a real coin. It is a DeFi token that is used for governing the SushiSwap ecosystem.
Will SUSHI reach $100?
SUSHI is trading at about $4. As a result, it needs to go parabolic to get to $100. It also needs to rise above its current all-time high. Therefore, this rally seems highly unlikely.
Should I buy SUSHI Coin?
No. We don't recommend buying SUSHI because it has been in a strong downward trend, and it has also formed a head and shoulders pattern, which is a bearish sign.
How much will be SushiSwap be in five years?
SushiSwap is facing difficult challenges, and it is unlikely that the price will be higher than where it is today. In my estimation, it will be trading at less than $1 in the next five years.
Where do I buy SushiSwap?
SushiSwap is a digital asset that is provided by most cryptocurrency exchanges. The most popular exchanges to buy SUSHI are Coinbase, OKB, Huobi, and Binance. You can also buy the coin in its DeFi platform.
This article represents the views of the author. Cryptocurrencies are highly speculative assets, and the author will not be held liable for any losses.