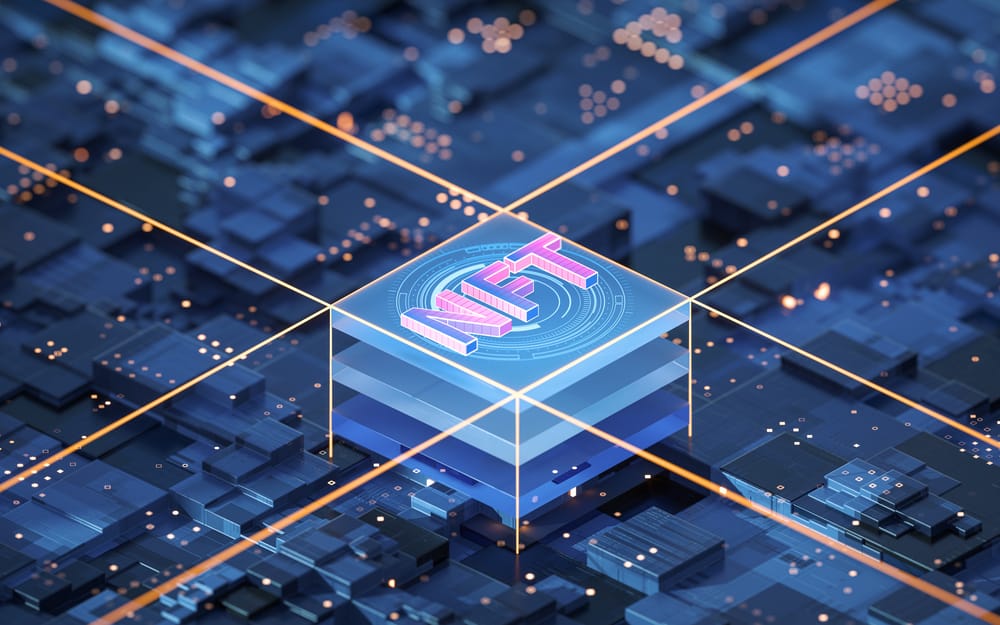 NFTs have been one of the buzzwords in cryptocurrencies for some time. Despite being highly speculative and still a relatively new invention, the value and interest of NFTs (non-fungible tokens) have been soaring, with no signs of slowing down yet.
Beeple, a hugely popular digital artist, made history in March 2021 when one of his artworks sold for an unprecedented $69.1 million. As if things couldn't get any crazier, the mysterious Pak broke this record in December of the same year with his NFT art piece, bought for $91.8 million.
These outrageous prices tell us that there must be some incredible use case value in NFTs. Therefore, to make sense of the madness, we'll look at the top 7 applications for these tokens.
Tokenizing digital artistic items
By artistic items, we refer to photos, videos, music, art pieces, books, and other works of a creative nature. Whether you're a musician, author, or digital artist, you must deal with numerous gatekeepers or middlemen.
For example, if you make music for a living, you'll deal with record labels, publishers, streaming platforms, etc., taking a financial cut from your work.
However, if you went the independent route and tokenized your art, you'd retain complete creative control and, most importantly, have the profits coming to your pockets with little overhead.
Let's look at another quick instance. If you were already an established novelist, you could create a new book only available as an NFT to create scarcity which can be more valuable than your ordinary work.
Gaming
Cryptographic tokenization in the gaming industry has been a (no pun intended) game-changer both for developers and players. Let's look at it from the former perspective.
One of the challenges faced by designers is the advent of dark markets where in-game items are sold without their copyright approval. With NFTs, this issue wouldn't exist as the developers would issue the token to ensure the authenticity of the items in question.
For gamers, NFTs offer similar incentives, mainly with the concept of play-to-earn, which we've seen with platforms like Axie Infinity and The Sandbox. Put simply, gaming isn't just for fun anymore but can be a vehicle for people to earn real money through tokenizing their unique characters and in-game resources into tradable NFTs.
Real estate
The real estate sector is undoubtedly one of the most NFT-ready industries. The uses of these tokens in this sphere are still limited but slowly growing. In real estate, NFTs can solve many administrative problems.
The entire industry has a lot of red tape with slow and seemingly endless bureaucracy involving agents, trustees, lawyers, financial institutions, etc.
NFTs in real estate can transfer land deeds, offer proof of ownership, keep changes in property value over time, and more, with less paperwork and cost. Fractional ownership is another frequently cited way these tokens can radically change real estate.
Think of it like this: property can be turned into an NFT. After that, investors can divide it up essentially into shares using blockchain and smart contract technology. The point is that NFTs can simplify and digitize many transactions in real estate with less labor, time, and money.
Ticketing
One of the significant obstacles the ticketing industry faces is counterfeiting, leading to lost revenue for event organizers and performers. As NFTs are built to authenticate ownership, they are a match made in heaven for creating tickets.
An NFT ticket can do more than simply state that X will see Y concert or sports game and pay Z amount. This token can be designed in a way where a percentage of the revenue automatically goes to all organizers and performers.
Organizers could even create limited-edition NFT tickets with some special artwork offering exclusive perks such as an autograph event, personal meetings with celebrities, and so on. Moreover, you could even keep your ticket as some form of concern memorabilia that might be more valuable over time.
Collateral for decentralized finance
Using your NFTs (NFT lending) as collateral for a crypto loan is increasingly becoming commonplace with many platforms like Nexo, Genesis, NFTfi, Drops, and many others. The concept is pretty simple.
Ordinarily, when using a DeFi (decentralized finance) protocol for a loan, you would put up a supported cryptocurrency as security for the debt. Fortunately, as NFTs are another value-based token, they can act as alternative collateral.
NFT lending is currently happening peer-to-peer and peer-to-protocol. The financial arrangement involves the holder transferring their NFT into some 'escrow digital vault' and receiving credit in another cryptocurrency. Should you default on the loan, ownership of the NFT would be transferred to the lender.
Patents and intellectual property
The use of NFTs in patenting and intellectual property (IP) is a no-brainer, whether we're talking about trademarking or copyrighting. NFTs can simply be a means of digitizing many existing processes to protect IPs better.
An NFT can timestamp the entire history of a particular patent from start to finish and track any essential changes.
CryptoKicks, a patent secured by Nike, is a perfect example of NFTs in IP. In partnership with a virtual sneaker designer called RTFKT or Artifacthe, the giant sportswear corporation released a line of limited-edition virtual shoes.
When you purchase this 'footwear,' you receive an NFT guaranteeing the item's authenticity.
Digital identity
Many people can envision a future where paper documents with your personal information will no longer be required, thanks to inventions like NFTs (think of birth certificates, IDs, licenses, degrees, visas, passports, and even academic credentials).
One of the major challenges here is identity theft. NFTs can provide a much better way for people to protect their data and control their digital identity. For example, if someone can forge your ID, tokenizing your identity information into an NFT can easily prove it's only you who ultimately owns it.
Curtain thoughts
Currently, NFTs are mostly used in the arts, collectibles, and gaming sectors, which account for roughly three-quarters of all minted tokens. However, the point of this article was to highlight other practical applications of NFTs beyond the most popular ones.
Yet, many experts believe NFTs should eventually tokenize or represent practically anything of physical value. Whether this is a bold statement or not, only time will tell.