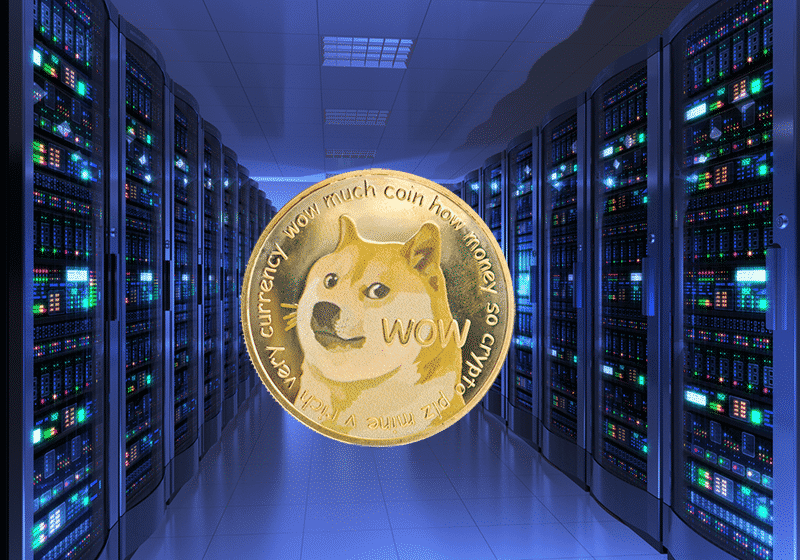 Dogecoin was initially created as a meme coin by engineers Jackson Palmer and Billy Markus. It was designed after the Shiba Inu Japanese dog breed, which was the center of a meme popular at the time. In 2021, the coin saw a lot of attention on the internet, driven largely by the influence of tech billionaire and Tesla CEO Elon Musk. At the time of writing, Dogecoin is worth $31 billion in market capitalization, making it the 10th largest cryptocurrency in market cap.
How is Dogecoin mined?
Dogecoin is based on the proof-of-work consensus system, the same as Bitcoin and Litecoin. In this system, miners use high spec equipment to guess a 64-character code that's called a hash. The first miner to get this hash is allowed to verify a block of transactions on the blockchain, and in return, they are rewarded with freshly minted coins.
Dogecoin and LTC are both altcoins that are mined using the Scrypt algorithm, while Bitcoin is mined using the SHA-256 algorithm. Scrypt boasts faster block confirmation times, which means Doge and Litecoin are mined faster than BTC. A new block is mined on the Dogecoin blockchain every minute, while new BTCs are mined approximately every 10 minutes. Additionally, successful Doge miners are rewarded 10,000 Doge while successful BTC miners get 6.25 BTC.
Before you can mine Doge, you'll need to satisfy a variety of requirements.
Fast, uninterrupted internet
Any interruptions in your internet connections will cut short the mining process. Further, a slow connection will reduce your miner rewards if miners with faster internet submit similar results as you faster.
Electrical power
You'll need several watts of power to run your computers, mining equipment, and cooling systems. The typical Dogecoin ASIC is rated at 1050w, which means running it for 24 hours translates to roughly 25kWh daily.
Heat dissipation
Mining equipment produces a lot of heat; thus, you'll need a cooling system and an isolated space because of the noise made.
ASIC or other mining equipment
Application-Specific Integrated Circuits (ASICs) are the fastest and most efficient mining equipment you can employ. Additionally, you'll need additional CPU or graphic processing unit (GPU) power, which does not come cheap.
Dogecoin wallet
Finally, you will need a wallet that supports Doge, on which you'll receive your mining rewards.
Using a Dogecoin mining profit calculator, you can determine the profitability of your mining operation. More often than not, you will find that mining Doge on your own is unprofitable. To remedy this, miners come together to form a pool. In so doing, they compound their hashing power and attempt to mine new blocks as a single entity. Any rewards obtained are shared among the pool members through some predetermined criteria.
If you already have the necessary mining equipment, pool mining is easy for you. All you need to do is join a pool, and they'll tell you where to point your hashing power. This involves entering a provided line of code into the mining software.
How to join a Dogecoin mining pool
Pools make money by charging a small fee for each reward obtained from mining blocks on the network. Further, the more members a pool has, the faster its total hash rate. Thus, they are highly incentivized to recruit as many new members as possible. For this reason, joining a pool is not difficult.
Typically, each pool will outline instructions on how to join them on their website. To do this, you'll first need to select a suitable pool for you, then download their software and install it onto your computer. Then you'll enter your Doge wallet address where your rewards will be sent to. From here, it's just a matter of connecting your hardware, running the mining software, and your computer will do the rest.
Using a mining profitability calculator, you can easily tell how profitable mining in the pool is going to be. All you'll need is the pool's collective hashing power, your power costs, and the coin's mining difficulty.
Choosing a Dogecoin mining pool
There are a number of Dogecoin mining pools in existence today. Some of the household names include Aikapool, Multipool, Litecoinpool, and Prohashing. Before you can settle on any one mining pool, you need to consider the following factors:
The pool's fees – Each pool charges fees on rewards obtained from successfully mining new Doge. These fees vary from pool to pool, and as you can imagine, you'll want to join a pool with the lowest fees.
The pool's reward distribution system – Most pools reward their members commensurate with the hashing power they contribute to the pool. Other pools will have other distribution criteria, so you should choose the pool with the most equitable system.
The location of the pool's servers – The farther away the pool's main servers are from you, the higher your latency will be. Higher latency means you'll be hashing on an old block for a few milliseconds after a new block has been mined. This leads to a reduction in your contribution to the hash rate, hence reducing your earnings.
The pool's cumulative hashing power – The higher the hashing power a pool has, the faster it can come up with hashes. This increases the chances of the pool getting the winning hash.
Some pools allow mining of multiple cryptocurrencies, which can be beneficial if one currency's price stagnates or falls. This way, miners can just switch to the more profitable crypto coin.
Conclusion
A Dogecoin mining pool is a group of miners who pool their resources to mine blocks on the network as a single entity. By pooling their power, they can have a higher collective hashing power which improves the pool's chances of getting the winning hash. Before joining a pool, consider their fees, reward distribution system, the location of servers, and total hash rate.