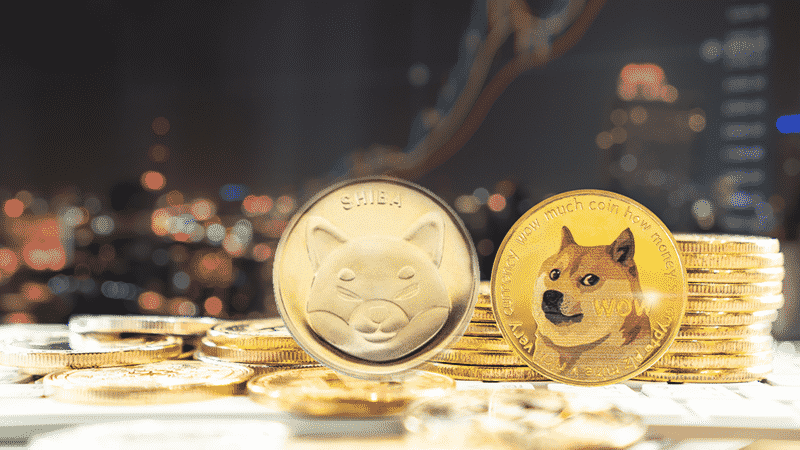 Meme coins are variants of cryptocurrencies that have received widespread attention in a relatively short period of time, primarily as a consequence of online promotion by influencers and retail investors.
The original meme cryptocurrency is Dogecoin. A meme-based joke in 2013 gave rise to the Dogecoin concept. It became well-known after Elon Musk began tweeting about it, and individual investors began purchasing it in large numbers.
Developers have produced numerous meme coins since Dogecoin was published. In reality, creating a meme coin isn't an overly complex undertaking. That explains why there are hundreds of such coins in the market today. The difficult part is convincing potential investors of the practical use of the asset and the type of solutions it can offer. That is where most meme coins fall short.
Major cryptocurrencies were created to address real-world issues. Their ultimate goal is to be widely recognized by businesses, creating a new decentralized currency and transforming a wide range of industries in the process. However, meme coins have no actual use in the real world and were primarily designed for the goal of profit.
Investment in meme coins has many challenges, even for experienced investors. However, if you do your research, you can lower your risks while increasing your profits. The vast majority of the meme coins on the market are rip-offs. This is why you must be at the top of your game to be successful in this industry.
High-value meme coins can be described as "diamonds in the junk." Your job is simply a matter of knowing where to look and how to invest in them. This isn't too difficult. Meme coins have the potential to reward early adopters with a handsome return on investment. However, the search for a meme coin with a high return on investment is similar to searching for a needle in a haystack.
What to look for in a meme coin
Below are useful tips on how to find the next big meme coin.
The initial distribution of tokens
When the development team reserves a large portion of the tokens for themselves, it could be an indication of crypto fraud. If they don't want to do that, they can donate half of their token to a famous personality. In other words, they may dump their massive holdings because they didn't buy as everyone else did. It is a good sign if a coin has all of its tokens listed on a DEX for anybody to buy.
The development team's purpose
Spend some time in the token's community to get a feel of what the development team is up to. If they speak of a long-term vision and the development of a community, that is a positive indicator. Keep your distance if they are always discussing raising the price and urging customers to buy. Stay away from them. See if they have a whitepaper outlining a clear vision and objective that can be put into action.
What are the development team's track record and reputation like?
Do you believe the people behind the project? Or do you believe they're just making false promises? Do they actually follow through on their promises to complete tasks? Do they merely make promises in order to raise the market price of the product? You'll have a better understanding of the token's future potential if you have the answers to these questions. When a development team can't be trusted, they're not interested in long-term success.
Who controls the coin's liquidity pool?
Rugpull gimmicks include putting a token on a decentralized exchange and ensuring that the creators possess the entire liquidity pool of that token. As a result, they have complete control over the liquidity pool and any tokens contained within it. When starting a new project, be sure to look for the best sources of liquidity. The burn address should hold the majority of the liquidity pool for security reasons.
Transaction fees
When you learn that token transfers have large transaction charges and that these fees aren't disclosed upfront, it's time to reconsider your investment. Always do a thorough study to know about and understand the costs ahead of time. For scam meme coins that choose to list on exchanges, they tie down investors by charging exorbitantly high transaction fees. This discourages investors from dumping their tokens.
In summary
While investing in meme coins has the potential to produce money, doing so is extremely risky and is more like gambling than actual investing. You can make money by timing your purchases and sales perfectly.
When it comes to investing in meme coins, you have to dig deeper to unearth any sinister motive behind fake crypto projects. As the saying goes, the devil is in the details. Conduct your due diligence by focusing on the issues discussed above, and remember to diversify your crypto portfolio to cover your downside.