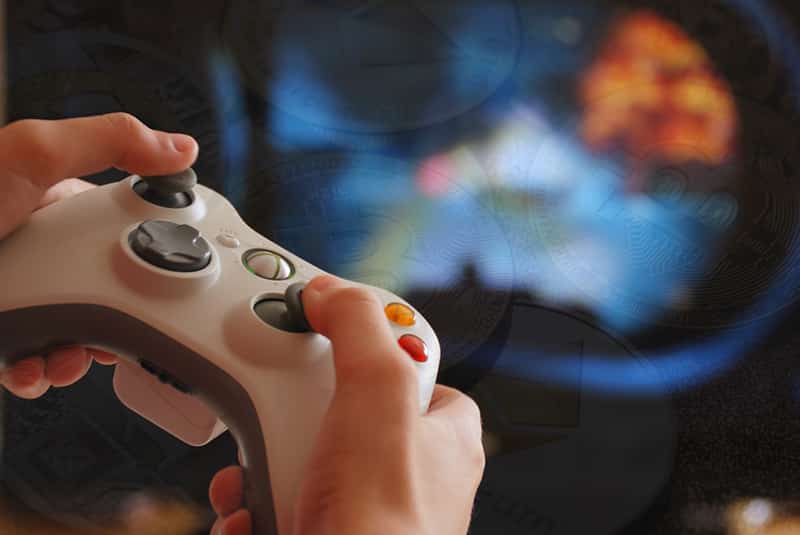 For several years, the gaming industry has been one of the highest-grossing income earners in the entertainment field. Traditionally, most of these earnings went to the developers, with very little, if any, trickling down to the gamers themselves. With blockchain technology, this trend has taken a complete turn, and now, gamers can earn crypto from playing these games and trade in-game collectibles as NFTs.
Decentraland (MANA)
It is an Ethereum-based platform that aims to incentivize a worldwide network of users to govern a shared virtual environment. Users may explore, engage, and play games in this virtual world while buying and selling digital real estate. They use interactive apps, in-world payments, and peer-to-peer communication thanks to the platform's evolution.
Operations are governed by two sorts of tokens:
LAND – A non-fungible token that is used to define the ownership of digital real estate land parcels.
MANA – A cryptocurrency that may be used to buy LAND and other virtual products and services.
Changes to the Decentraland software are made possible through a network of blockchain-based smart contacts that allow MANA owners to vote on policy modifications, land auctions, and new development subsidies. Within this platform, developers are able to experiment with animation and interactivity on their virtual real estate.
Its team has also developed a marketplace and a drag-and-drop editor for users to utilize to create settings outside of the game area. Owners may utilize the marketplace to buy, sell, and trade parcels as well as other in-game products like wearables and unique names.
The Sandbox (SAND)
It is a decentralized NFT game metaverse powered by Ethereum that allows non-techies to design, sell, utilize, and monetize their own virtual reality NFTs. The whole in-game economy is supported by the crypto metaverse's native cryptocurrency SAND.
The game's construction blocks are 3D pixels known as voxels. Using the free Sandbox VoxEdit tool, players build their own gaming experiences out of these lego-like pieces. ASSETS are the names given to characters, objects, and other in-game assets developed in VoxEdit. They can be converted into ERC-1155-compliant NFTs. This standard allows artists to print as many copies of the same ASSET as they want.
Only those asset developers who have been accepted by the Creator Fund are allowed to contribute their ASSETS to the project's marketplace. Players may effectively monetize their digital possessions by selling them to other Sandbox players on the marketplace.
The Sandbox is a collection of separate games, environments, and other experiences. The team has kept the game open-ended, allowing artists and gamers to construct, own and monetize the metaverse in the future. Even unskilled game creators may get started because no prior coding expertise is necessary.
Axie Infinity (AXS)
Here is a digital pet community where you may purchase animals known as Axies and use them to fight, explore, and breed with other Axies. It is created by the game firm Sky Mavis and operates on the Ethereum blockchain. Although the game has an 18+ classification, it is aesthetically enticing to younger children due to its Pokémon-style design and lack of a clear age-verification mechanism.
To begin, you must first purchase three Axies using Ethereum. The first purchase of these Axies might cost up to $1,500 in bitcoin. Also, Sky Mavis has created its own digital wallet, Ronin, which is compatible with Axie Infinity. After you've linked your Ronin wallet, you'll be able to buy Axies using it.
There are two methods to play the game, both of which require you to hunt out two separate assets. One is Smooth Love Potion (SLP) which is earned by completing daily missions and playing adventure games or arena matches. SLP is a resource that can be used to breed Axies in an infinite amount.
AXS tokens are the other resource. The token holders have governance rights in the game, which means they may make choices concerning the game's future. Players can also buy pieces of land.
Gala (GALA)
It operates as a blockchain-based gaming platform built on Ethereum. Its goal is to shift the gaming industry in a new direction by giving gamers back control over their games. The idea aims to change the reality that players may invest hundreds of dollars on in-game assets, as well as countless hours playing the game, all of which can be taken away with a single click of a button. It intends to bring creative thinking into games by using blockchain technology to give players ownership over the games and in-game assets.
Within the Gala Games ecosystem, players can possess non-fungible tokens and influence game governance. The game uses GALA, its own utility token. It has only produced one playable game, Town Star, and one NFT collectible series, VOX, so far. In the future, it wants to produce other games, including a fantasy RPG, a sci-fi strategy game, and a tower defense game.
WAX (WAXP)
This is a purpose-built blockchain that was developed in 2017 with the goal of making e-commerce transactions quicker, easier, and more secure for all parties involved. The consensus technique on its blockchain is delegated proof-of-stake (DPoS).
The WAX-developed unique features and incentive mechanisms are aimed at optimizing the blockchain's value for usage in e-commerce, with the objective of promoting proposal voting. To make this feasible, WAX developed a set of blockchain-based tools that can be used to establish decentralized application (dApp) markets and non-fungible currencies.
Customers benefit from a 500-millisecond block time and zero-fee transactions thanks to WAX's blockchain design. It also uses voting incentives to encourage involvement in block producer selection and enhancement ideas.
Summary
When in-game assets are linked to blockchain networks, they become transferable and tradeable outside of the game. A non-fungible token can be made out of any digital asset. As a result of this feature, blockchain games have become play-to-earn (P2E) games. These games are becoming more and more day by day. The top 5 according to market capitalization are Decentraland, The Sandbox, Axie Infinity, Gala, and Wax.