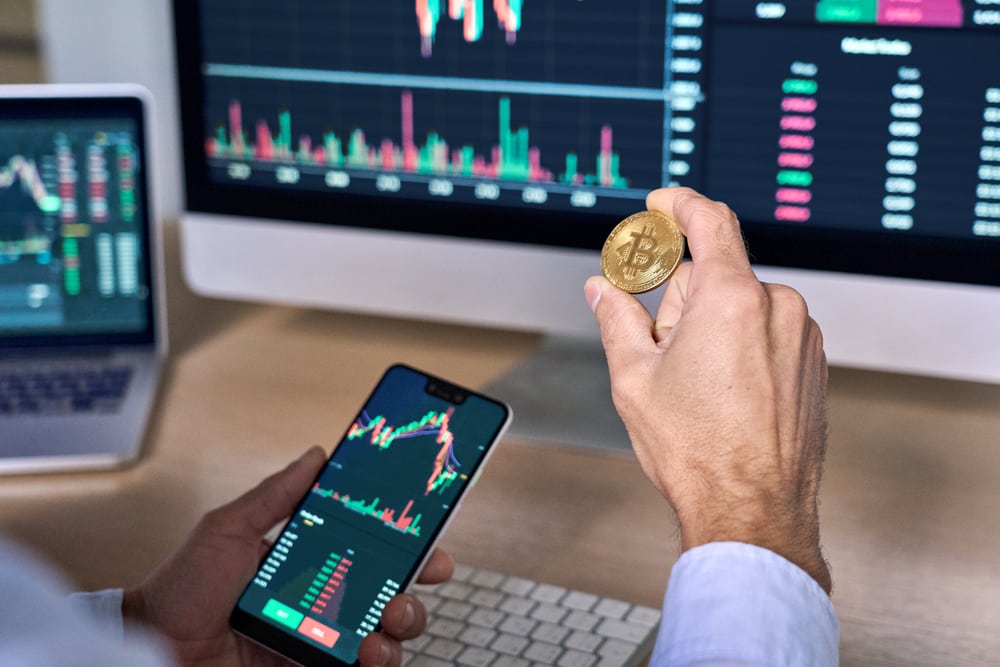 So, you have some disposable money, and you've heard about cryptocurrencies and equities; which do you choose? Stocks are what we may consider the old-fashioned financial market, owing to their existence which stretches back several centuries.
On the other hand, most people would consider investing in cryptocurrencies an incredible leap of faith, particularly if you aren't part of Gen Z. Ultimately, both assets come with their own benefits and risks; it's up to the individual to decide which of these they can handle.
Differences between trading cryptocurrencies and equities at a glance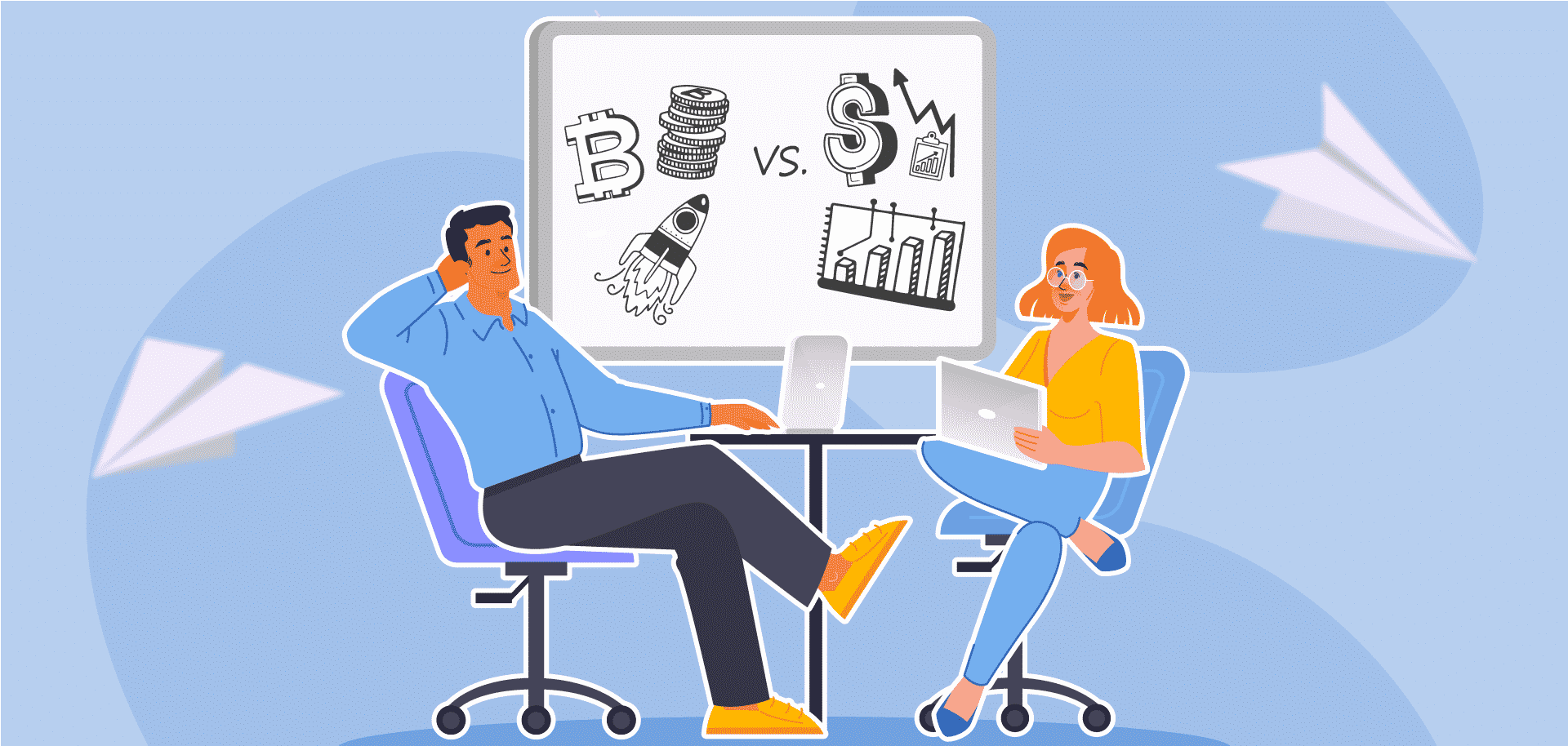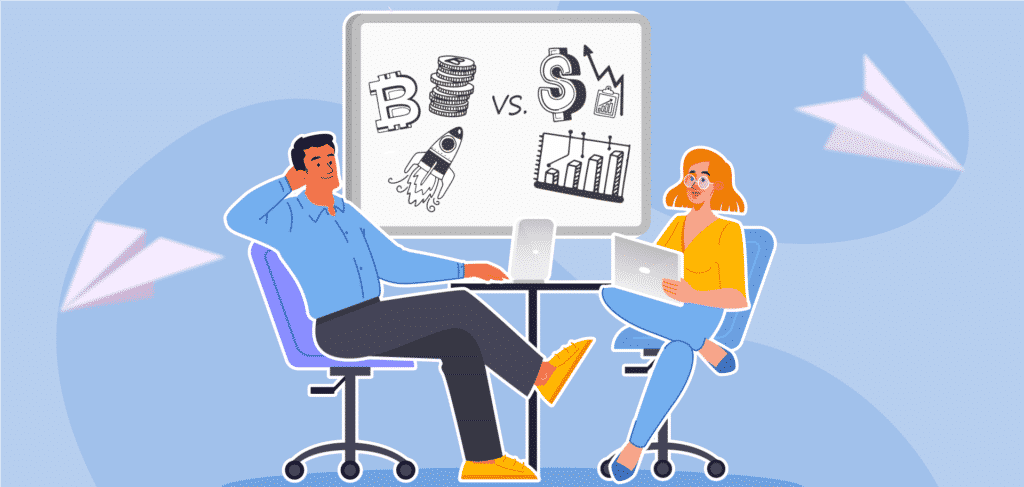 Before diving into the main differences in more detail, we've provided them in a table below for an overview.
| | | |
| --- | --- | --- |
| Aspect | Crypto | Equities |
| Ownership differences | Mostly utility tokens | Equity in a company (except for derivatives) |
| Overall market cap | Lower (with around recognized 18600 different coins globally) | Higher (with over 40 000 listed companies globally) |
| Regulation? | Unregulated | Regulated |
| Market access | 24/7 | Limited business hours |
| Volatility | Much higher | Lower |
Ownership differences
The ownership aspect is one of the most prominent distinctions between crypto and equities. Traditionally, trading stocks has been about fractional ownership of a particular company and receiving a portion of the corporation's profits after some time by way of dividends (assuming they've performed well).
Moreover, being a shareholder in certain companies also affords certain voting rights. It's worth noting, though, that not all stocks provide such benefits. However, the general idea is that one owns a chunk of an enterprise through shares.
This is perceived as a safer investment because businesses will always need to issue shares for growth expansion. In this way, many experts agree you can find real-world intrinsic value for a stock with tangible assets, which cannot be said with cryptocurrencies.
Owning a digital currency doesn't provide much material usage other than remittance or perhaps executing some computer function. As a crypto holder, you have no ownership of the blockchain companies or individuals who have created a particular token.
For these reasons, cryptocurrencies are primarily viewed as more speculative. Yet, just because you cannot attach an office building to a coin doesn't mean they are completely useless. So, there can be actual fundamentals driving their price other than emotion or social media posts.
The only difference is that their value can only be understood in digital terms rather than physically.
The disparities in market cap
According to Wikipedia, the market capitalization or value of the entire stock market is roughly $93.6 trillion (about 57% or $53.3 trillion of which comprises US-based stocks). Conversely, the market cap of cryptocurrencies presently (according to CoinMarketCap) sits at approximately $2.1 trillion.
While the latter statistic is impressive by anyone's standards, it's still about 44 times lower than the market cap of the total equities market. The latter's higher value understandably comes from stocks having existed significantly longer than their counterparts, making them more stable.
However, despite the immense variety of shares from all corners of the globe, it is harder to diversify here. Even if we consider just the US market alone, we have close to 6000 listed companies.
This is one of the reasons why trading indices are seen as a better alternative for diversification. While the rate of new cryptocurrencies is fast expanding, it is much easier to specialize from a numbers perspective than with shares.
Regulation, regulation!
To paraphrase the Securities and Exchange Commission (SEC), "people who seek your investment dollars must tell you the truth about their businesses; they must treat you fairly and honestly by putting your interests first."
Hence, the vast majority of stock markets globally are subject to intense regulatory oversight to prevent any wrongdoing, which has serious consequences. The process of publicly listing a company is challenging and reserved only for a few who meet very selective criteria.
This is in contrast to cryptocurrencies, which were fundamentally built to be decentralized, meaning no regulation exists. It's the fundamental reason why trading digital currencies have been banned in some countries while others have called for stronger laws.
Truthfully, it has become much easier nowadays to build your own cryptocurrency and have millions poured into it on a decentralized exchange. Yet, although non-centralization has many benefits, you are far likelier to encounter scams and other malpractices with crypto than most stocks.
Around-the-clock vs. a nine-to-five
One advantage of decentralization is market access. Cryptocurrencies are probably the only financial instrument tradeable 24/7 (regardless of weekends and holidays).
Conversely, your typical stock exchange is only open according to standard business hours and closes on weekends and other designated days. Therefore, trading coins is a lot more flexible where you can keep tabs on the markets at any time and enter/exit positions at will.
Crypto is a more volatile beast
Stocks have become quite volatile in their own respect in recent history. However, cryptocurrencies generally have higher volatility for a few reasons. Firstly, any currency is meant to change hands frequently, bringing about rapid fluctuation resulting in unexpected price changes.
However, the fundamental reason is that cryptocurrencies are a relatively new asset class, and with this, they bring a level of uncertainty and high socially-driven speculation. Yet, the big price swings we regularly see on crypto are some of the attractive qualities for the less risk-averse investor because you can realize greater profits in a shorter period.
Curtain thoughts
So, the ultimate question most people would naturally ask is: should you invest in crypto or stocks? Equities are theoretically safer and more reliable investments, given they've been around for hundreds of years.
On the other hand, cryptocurrencies have only been prominent arguably in the last five years. Yet, despite their newness, the long-term returns of this financial instrument can outpace all other more established markets as they carry substantially higher volatility.
Overall, no financial asset is significantly better than the other as it depends on the investor's risk tolerance, experience, and various individual factors. Fortunately, you can certainly try your hand at both simultaneously to diversify and have more than one profit source.