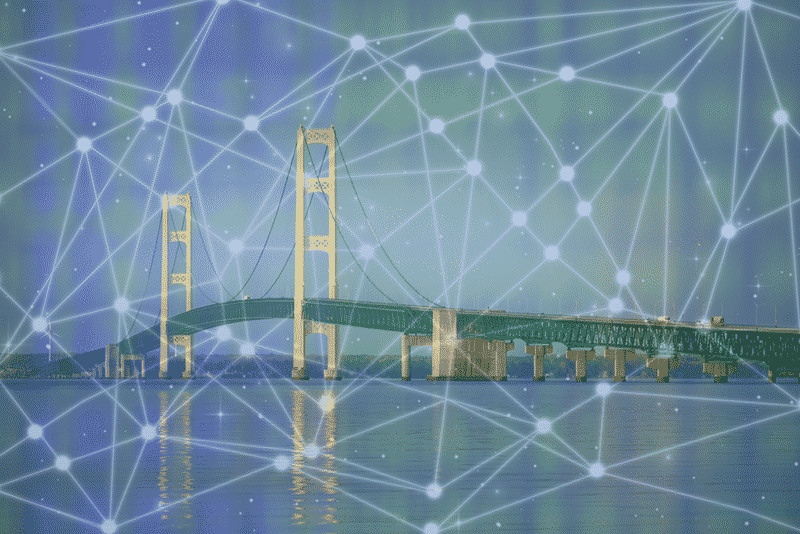 Blockchain technology is centered around decentralization, which enables it to be collectively owned by millions of users as opposed to a centralized entity. By design, each blockchain operates as a standalone entity, with no means of transferring assets between blockchains. In the words of Isaac Newton, we build too many walls but not enough bridges. Cross-chain bridges have been developed as a solution to this problem.
What are cross-chain bridges?
These are essentially bridges between blockchains, which allow the transfer of assets, coins, smart contract instructions, or general data between said blockchains. Usually, blockchains are built independent of each other and thus have different rules and protocols. By utilizing a cross-chain bridge, you can connect two different blockchains and enjoy the best of both worlds.
These bridges allow users to transfer digital assets between blockchains in a quick and simple manner, thus eliminating the difficulties traditionally characteristic of this process. What's more, users get to enjoy lower transaction fees by transferring their assets to blockchains with cheaper gas fees. Further, these bridges help users to implement dApps across different platforms.
Importance of cross-chain bridges to the blockchain community
Before bridges came along, blockchains had to be fully self-sufficient. There was no way to transfer tokens or take advantage of the functionalities of other chains. Such self-sustaining chains were challenging to build, thus several smaller chains failed at some point in their operation cycle. Similarly, if you intended to build a blockchain project, you would be stuck with the crowded Ethereum chain, which is riddled with high gas fees.
With bridges, you can build your project on a smaller, cheaper blockchain and target customers on larger chains like Ethereum. This way, you can ensure faster performance while significantly reducing your operating expenses.
Examples of cross-chain bridges
Ethereum is the leading decentralized finance blockchain, but it is overly congested, which increases transaction execution times. It also charges high gas fees. There are several smaller, third-generation blockchains that are coming up with faster execution times and lower fees compared to the Ethereum chain. What's more, these smaller chains are coming with added support for this leading DeFi chain by being compatible with the Ethereum Virtual Machine (EVM). This has led to the creation of the following bridges to ensure interoperability with the Ethereum chain.
1. Tezos
The bridge from Tezos is called the Tezos Wrap Protocol Bridge, and it utilizes wrapped tokens to bridge to the Ethereum blockchain. A wrapped token is a crypto token whose value is pegged to the value of another crypto. The original token is locked or wrapped in a virtual vault, which allows it to be created on another blockchain. On this bridge, users can wrap ERC20 and ERC721 tokens from the Ethereum chain and use them on Tezos.
2. Binance Smart Chain (BSC)
Binance bridge enables the conversion of crypto assets into wrapped tokens on the Binance Chain and Binance Smart Chain. Additionally, you can easily convert back these changed tokens into their original forms. The concept of wrapping tokens is what enables these tokens to be transferred back and forth from the Binance Chain and BSC. This enables users to easily utilize BTC, USDT, and ETH coins on the BSC dApps. For example, if you wish to transfer USDT from the Ethereum chain to BSC, this bridge will wrap Ethereum's ERC20 token and convert it into a Binance BEP2 or BEP20 token.
3. Solana
Solana has been enjoying increasing popularity in recent years, mainly due to its interoperability with other blockchains. This interoperability is made possible through its Wormhole Bridge. This bridge creates a connection between the Solana and Ethereum blockchains, allowing users to transfer tokens and other assets across both chains. This bridge also supports Terra and Binance Smart Chain networks. Through this bridge, users can transfer NFTs and price data across networks that are inherently independent from each other.
4. Avalanche network
In mid-2021, the Avalanche network launched a bridge to enhance interoperability across multiple chains, which they named the Avalanche Bridge. Through this bridge, users can transfer ERC20 tokens from the Ethereum chain onto the C-Chain of Avalanche and back.
5. Bitcoin Cash
Smart Bitcoin Cash (SmartBCH) is a fork from the Bitcoin Cash blockchain. It is interoperable with Ethereum's EVM and Web 3 API and enables fast execution for dApps in a secure and decentralized environment. The SmartBCH bridge is powered by Coinflex, which is a crypto exchange platform. This bridge enables users to wrap Bitcoin Cash and use it in decentralized finance. Additionally, through this bridge, users can convert Bitcoin Cash into SmartBCH.
There are several other blockchains that are interoperable with Ethereum through bridges, such as Polygon, Near, Fantom, Harmony, and Optimism.
Guide to choosing a suitable cross-chain bridge
Before settling on a cross-chain bridge, you should ensure it has a total value locked (TVL) of at least $1 billion. It should also have sound mechanisms for executing transactions across blockchains, and the verification methods of the transferred data and/or funds must be solid. Additionally, there should be reasonable costs for transferring tokens and data through the bridge. A range from $1 to $5 is a fair price. Further, the bridge should have adequate security measures to keep hackers off the networks.
Conclusion
Blockchains are often intrinsically independent of one another, as each has its own set of laws and regulations. Tokens, NFTs, and other digital assets may be moved from one blockchain to another with the use of cross-chain bridges. This allows for the usage of dApps across several chains as well as the movement of cash across them, allowing for decentralized finance. Consider the TVL, security measures, and transfer charges of your digital asset before transferring it over a bridge. Furthermore, be sure to follow the essential steps while making the actual transfer thoroughly. Otherwise, you may lose your cash.