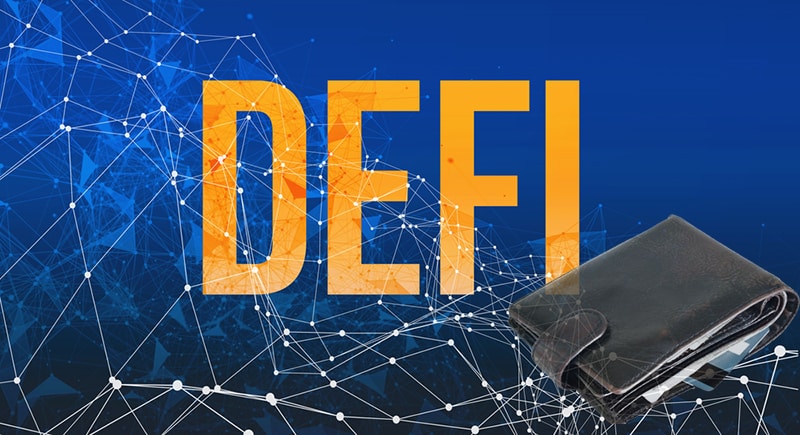 A DeFi wallet is the entry point to decentralized finance products and services. DeFi protocols and apps on Ethereum are currently the most common.
What is DeFi?
"DeFi" stands for decentralized finance, which encompasses the broad concept of eliminating financial middlemen and delivers value in the supply of a wider scope of uses for blockchain technology.
The concept has become disruptive to the global financial services sector, but is still in its infancy stages. Decentralized finance operates on blockchain technology, which is a distributed public ledger system with no central control.
It is likely that the quick expansion of the DeFi concept is due to the fact that it can be used to transfer money in more complex situations. Staking and decentralized exchanges are among the most well-known use cases for the technology, as well as stablecoins and open lending systems.
Thanks to DeFi applications, the financial industry will be decentralized and non-custodial, causing significant disruption. Traditional banks and even cryptocurrency lending programs take ownership of your assets when you need to utilize them to complete a transaction, but DeFi's non-custodial nature means that you retain control over your coins and/or tokens.
DeFi tokens and coins
The terms "DeFi coins" and "DeFi tokens" are frequently used synonymously. Despite their striking resemblance, there are a few critical distinctions to be made.
There is a transfer of value when we use a crypto coin in a financial transaction, much like a digital counterpart of a fiat coin. Because of their distinct, native blockchain networks, DeFi coins are created and usually named after them. Uniswap, Aave, Chainlink, and Ankr are some of the most widely used DeFi coins.
DeFi tokens are also capable of transferring value, though not always in a purely financial sense. For instance, utility tokens enable access to specified resources while asset tokens represent specified assets like digital art and NFTs. The bottom line is that all these resources belong to specific blockchains.
What is a DeFi wallet?
Intuitive and secure, wallets allow users to interact with DeFi and other web 3.0 services while managing their assets. Users need a non-custodial wallet to participate in decentralized financing because of the decentralized nature of the platform. With DeFi wallets, you can keep all of your assets safe even if you don't have access to the internet. To utilize DeFi protocols and exchange crypto-assets, you'll need online wallets that support these protocols and flexible crypto-asset exchanges.
Over the past year, digital wallets and related asset management tools have completely transformed the way investors and users interact with financial technology. As the world prepares to embrace a new paradigm, we need to know as much as we can about wallets.
In order to be a part of the decentralized finance ecosystem, wallets are absolutely essential. Because of its versatility, ease of use, and safety, DeFi is increasingly becoming popular. To keep your valuables safe, you must use reliable and trusted wallets. Due to its non-custodial nature, users can safely store their assets without relying on third-party organizations to keep their assets safe.
DeFi wallets serve as a point of entry for individuals who want a solution that gives them complete control over their funds. This is in stark contrast to a typical bank, which keeps control over all of the user's assets in its possession and, in order to do so, requires user identification and other associated information from the user.
By eliminating the requirement for a third party, wallets are revolutionizing financial services. The majority of DeFi wallets are Web 3.0 wallets with Ethereum (ETH) blockchain compatibility. However, other protocols such as Solana and Cardano are also coming up.
Factors to consider when choosing a wallet
Below are some of the most important characteristics of a wallet.
Non-custodial
For users, this means that they may send and transfer money with confidence that they are the only ones who have access to it. Authentication and transactions are a pleasure with a well-designed wallet.
Key-based
Each DeFi wallet has its own set of secret keys. For decentralized finance wallets, their unique key pair is the most crucial feature. The key pair is a significant departure from the centralized wallets in terms of security.
Because users are in charge of their own private keys, this isn't like centralized wallets. To protect their private keys, which are typically provided in the form of a 12-word key phrase. Users must assume responsibility for the seed phrase because losing it may mean losing all their assets.
Accessibility
Users will need to think about what assets or products they want to access. For instance, staking and yield farming may be accessible through some solutions, while others may not. A wallet is only as good as its usability in line with users' needs.
If you've got a web3 wallet, you can access almost all of your DeFi wallets. In addition, it is now possible to use DeFi apps without ever leaving your mobile wallet, thanks to the integration of dApps browsers.
In summary
A DeFi wallet is one of the safest storage options available today since it gives customers complete control over their funds. By serving as a doorway to Web 3.0's new financial goods, wallets serve as the backbone of decentralized finance, giving users control, visibility, and ownership of their digital assets.